I am so not an expert when it comes to making pies. In fact, I'm not even a pie lover. Give me a Cake, brownie, or cookie over a pie any day! However, I admire the art of pie making (and it truly is an art) and it is something I feel very strongly about becoming better at. It's an age-old tradition handed down through generations; grandmothers and mothers teaching their children how to make pie. I myself just began to dabble in pie making last March when my mom came over and taught me how to make a Huckleberry Pie. Even though my huckleberry pie was quite tasty, I was still extremely intimidated by it.
A couple of weeks ago, there was a groupon deal for a 10 lb box of fresh Apricots, Nectarines, and Peaches from ProFarm Produce. I quickly bought the deal and planned on freezing the fruit for future baking endeavors. Quite the opposite happened. For the past week, my family and I have been enjoying the fruit so much that I decided to not freeze it. We tried donut peaches and nectarines which are so cute and sweet. My kids and I ate our first apricots ever (so delicious) and enjoyed the different flavors that each fruit brought to the table. I was able to pick out all of the fruit I wanted from the Farmer's Market stand in our town, and with my original plan of freezing still in mind, I grabbed mostly beautifully firm peaches.
I had been playing with the idea of making a pie for a few days, but I have to admit, I was scared to go there without my mom by my side (she was a couple hours away camping). I went through all my cookbooks looking at the different dessert pages I had flagged and I was either missing ingredients or it was the wrong season of fruits. I finally turned to my beautiful Taste of Home cookbook that I had gotten as a birthday gift from Josh's parents. I had only used this book a few times mainly because I turn to the internet and other blogs for ideas and inspiration so often. As I was flipping through the different dessert and pie sections, my eyes fell upon a beautiful picture of a Peach Pie – and I had all of the ingredients on hand. It was fate I tell you!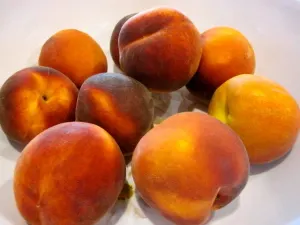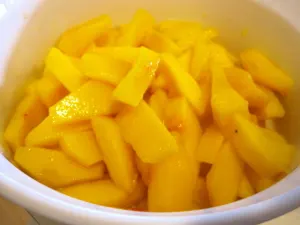 I sliced and peeled 9 beautifully round peaches to make 4 1/2 cups. I then added some regular sugar and brown sugar and mixed them together and allowed them to sit and hang out for an hour.
While the peaches were swimming in their sugary bath, I got to work on my pie dough and crust. I used my Better Homes and Garden recipe for a 9 inch double-crust pie. You can read about how I made the pie dough over in the Huckleberry Pie Post, but if you have a pie dough recipe you love, by all means, make the one you know and love :)
After I had fitted my bottom pie crust into my pie dish, I got to work on making a delightful peachy sauce. I strained the peaches over a bowl so I could save the juice. Then I got out one of my saucepans and measured out cornstarch, nutmeg, cinnamon, and salt; slowly whisking in the reserved peach juice. Once that came to a boil (watch out, it happens fast), I continued to cook and stir until the sauce became thick. Then I took it off the burner and stirred in some lemon juice and butter (Mmm) and carefully folded the peaches into the thickened sauce and poured the peaches and sauce into the bottom pie crust.
I set the pie plate aside and got to work rolling out my second pie crust and cut strips with my pastry cutter. This is the first time I've ever used my pastry cutter. I bought it a few years ago at Target. I saw it, thought it was cute, and had to have it in my kitchen arsenal. But it was only this day that I took it out of its packaging. It's so perfect for making the strips for the lattice because it has the wavy spinning wheel on it which gives it that professional striped pie look. I will also mention that is really the only thing professional looking about my pie, lol! It took me a few moments to kind of get the gist of over-lapping the strips, but once I figured it out, it was really easy.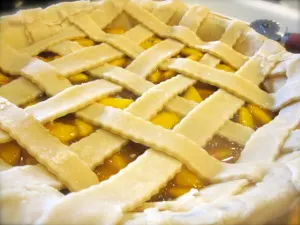 If you carefully look at the above picture you'll see what I'm talking about when it comes to the appearance of my pie. I ran out of dough, basically, and didn't have enough to trim or fold over the edges. I'm a beginner pie maker, what can I say? I'm still learning you know, and the best way to learn is to do it over and over again.
I fluted the edges of my pie, the best I could and covered the pie loosely with foil and set it into my pre-heated 400 degree oven and set it to bake for 50 minutes. The pie can take a total of 60 minutes according to my recipe, but I've learned from experience to always set your timer for the lowest recommended time and work your way up…and one thing I do know about pies, you do NOT want to over bake them.
For my oven, 50 minutes was the perfect amount of time. The crust, though not pretty, was very flaky and tasty if I do say so myself. Remember, I'm not a pie lover, so that's a high compliment coming from me. I let the pie cool on a wire rack until it was ready to be served that evening.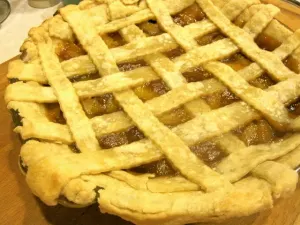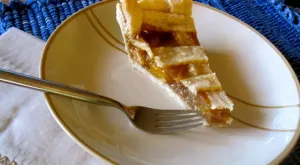 We had my brother in law staying over at our house for a few nights and he was very sweet with compliments when it came to the pie. He thought I had bought it, lol!
Wednesday was really the perfect day to make a pie. The weather had cooled down enough that I could actually get back into my kitchen and use my oven to bake (we don't have A/C) and please my family.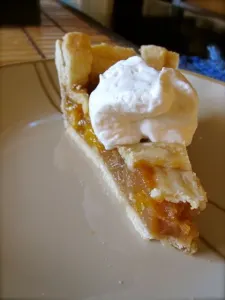 I was so happy that I had some leftover heavy whipping cream left in the fridge, because I was able to make some homemade whipped cream with it and it was glorious! The Peaches and Cream combo really pairs together well in this dessert. And honestly, I'm really excited to try making my next pie. I've got some baking apples on my counter begging to be experimented with. ;)
Peach Pie
1/2 cup sugar
1/4 cup packed brown sugar
4-1/2 cups sliced peeled peaches
pastry for double-crust pie
3 TB cornstarch
1/4 tsp ground nutmeg
1/4 tsp ground cinnamon
1/8 tsp salt
2 tsp lemon juice
1 TB butter
In a large bowl, combine sugars; add peaches and toss gently. Cover and let stand for 1 hr.
Line a 9-in. pie plate with bottom pastry; trim even with edge. Set aside. Drain peaches, reserving juice.
In a saucepan, combine the cornstarch, nutmeg, and cinnamon; gradually stir in reserved juice. Bring to a boil; cook and stir for 2 minutes or until thickened. Remove from the heat; stir in lemon juice and butter. Gently fold in peaches. Pour into crust.
Roll out remaining pastry; make a lattice crust. Trim, seal, and flute edges. Cover edges loosely with foil.
Bake at 400 degrees for 50-60 minutes or until the crust is golden brown and filling is bubbly. Remove foil. Cool on a wire rack.
This recipe is linked to: