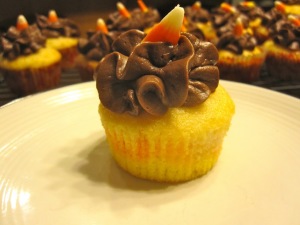 Aren't these just the cutest cupcakes ever?! When I signed up for the Awana snack sheet last week, I knew that these were what I wanted to make for all the Awana kids. I had come across this recipe in one of my frugal saving emails I subscribe too and I quickly pinned it to my Pinterest recipe board ( Pinterest is my newest obsession) so I wouldn't lose the recipe. Speaking on Pinterest, that's the place where I've seen pictures of desserts from people who attend
Designer Cupcakes courses in delhi
! How amazing does that sound? If you love baking as much as we do, going to a baking class will be worth it.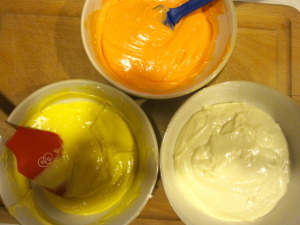 The recipe is very easy. All your doing is following the directions on a box of white cake mix. Since I needed a ton of cupcakes, I used two boxes of cake mix. When you've got your batter all mixed together, divide it evenly into 3 bowls. Take your food coloring and squirt some of the yellow and red into one of the bowls until you get your desired color. The orange, we found to be a bit tricky. It came out a different color of orange every time. Finally, on our last batch, we got the color right. Squirt some yellow food coloring into another bowl, leaving the last bowl with your white cake batter plain.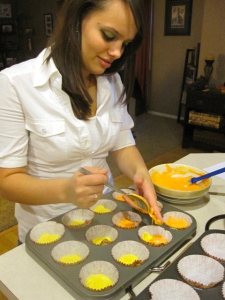 That's my sister Jewel. She was sweet enough to offer her help, which ended up being a lifesaver because cupcakes are fun to make, but more fun when your making them with people you love. Plus, she brought me a Salted Caramel Mocha from Starbucks, which makes me love her even more, lol!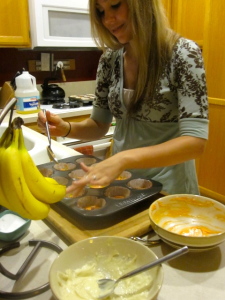 Between me and Jewel, we got our cupcakes layered ( in the order of yellow, orange, and white) in no time. Well, that's a lie. It takes some time because your layering 3 different colors together and then spreading the batter around to make it even. It's probably the most time consuming part of the cupcake making process. But we had fun with it.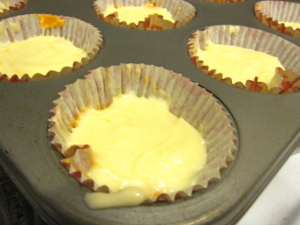 Once the cupcake papers are 2/3rds full, pop them into the oven at the cook time the directions say to cook it at. I used the Pillsbury brand and it said to bake it at 350 degrees for 18-24 minutes.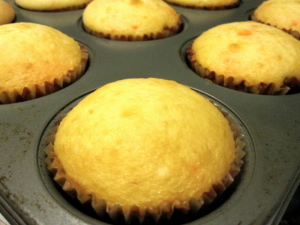 Ours were all perfectly cooked at 18 minutes and then we allowed the batches to cool on a wire rack, while we breaked for dinner and some Captain America.
When the cupcakes were cool, We made a delicious
Chocolate Buttercream Frosting
that I had come across the night before on Savory Sweet Life's blog. This frosting is delicious and I could eat the whole bowl.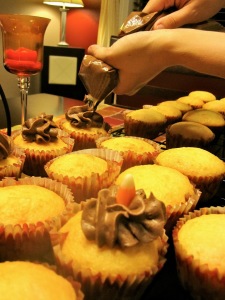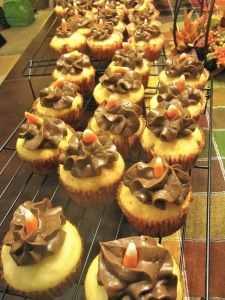 Once you've frosted your cupcakes with whatever frosting you choose, top with little pieces of Candy Corn for added cuteness!
We ended up with about 49 cupcakes, but between my husband, me, the kids, and Josh's two sisters and brother, we ate 3 of them. So we have 46 left, which still isn't to bad :)
Such a sweet treat for a Halloween party!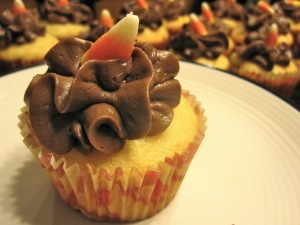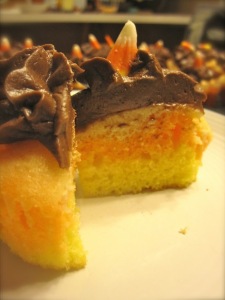 1 box of white cake mix
food coloring
candy corn
Frosting ( your choice)
Follow the direction on a box of white cake mix. When batter is made, divide the batter evenly between 3 bowls. Use yellow food coloring in one bowl, orange in another bowl, and leave the last bowl white. Layer the batter; yellow, orange, white into the cupcake tins and bake for the specified time and degrees. When cupcakes are done, allow to cool. Frost the cupcakes in a frosting of your choice and top with candy corn bites :)
This recipe is linked to: