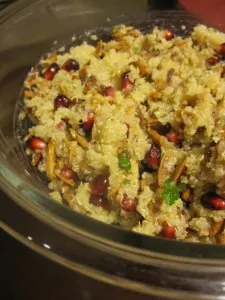 We get our satellite service through DishNetwork and that company has been playing very vicious games on me. My favorite channel is the Food Network Channel. It's also the channel we watch the most with kids. But when the Cooking Channel came out, I was so sad to see that we weren't subscribed to it. But, Dish Network decided to play little pranks on me. One day, I turned on the tv guide and we had the Cooking Channel. So started DVR'ing all the shows that appealed to me. The next day I went back to watch some of the live shows and the channel was gone! *GASP* This prank went on and on for a little while until Dish Network finally decided all on their own that it should be included in my package. * YAY*
One of the first channels I recorded was Kelsey's Essentials. Kelsey was my favorite contestant on The Next FoodNetwork Star a few years ago and I was so sad she lost, because she was full of so much talent and personality. Obviously, the Cooking Channel recognized that talent and hired her and now she has her own show! I am so excited!
This pilaf recipe is from the show I recorded and it was kind of a nod to Thanksgiving. This side dish has so much unexpected flavor that it's going to knock your socks off! And best of all, it's easy and healthy too. If you happen to be in need of a side dish that different and tasty, this is your guy! Your family and friends will be begging you to bring it again next year…or perhaps even sooner like Christmas. :)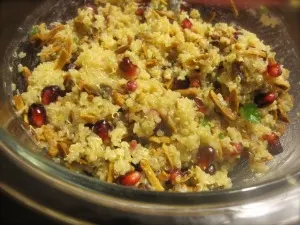 2 TB olive oil
1/2 medium onion, diced
1 cup quinoa
2 cups low-sodium chicken broth
1/2 cup pomegranate seeds
1/2 cup diagonally sliced scallions
1 TB chopped fresh flat-leaf parsley
juice of 1/2 lemon
1 tsp fresh lemon zest
1 tsp sugar
salt and freshly ground black pepper
1/2 cup slivered almonds, toasted
Heat 1 tablespoon of olive oil in a heavy-bottomed saucepan over medium-high heat. Saute the onion until translucent and fragrant. Add the quinoa and stir to coat. Add the chicken broth and bring to a boil. Lower the heat and simmer for about 20 minutes, until the liquid is absorbed and the quinoa is tender.
In a large mixing bowl, combine 1 tablespoon of olive oil, pomegranate seeds, scallions, parsley, lemon juice, zest, ans sugar. Add the quinoa and season with salt, and pepper to taste. Garnish with toasted slivered almonds.