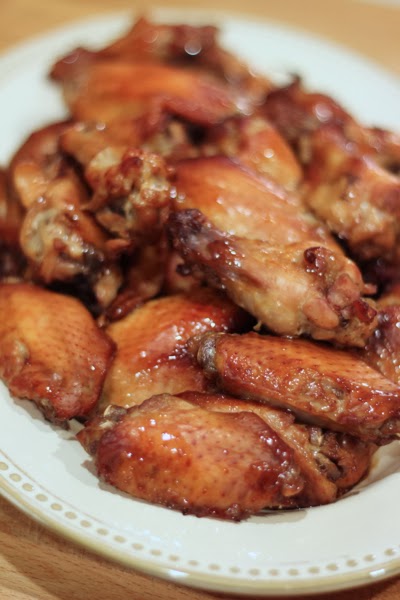 My mom used to make what we called "Soy Chicken" in our house every few months. It was always a favorite and an often requested dinner by me and my brothers. Not only was it very messy (what kid doesn't like that) but we got to eat dinner with our hands, which made it ten times more fun!

One of the things I like about this dinner is how cheap it is. It's basically two ingredients, soy sauce and chicken. We've always used the party wings chicken, which are generally pretty cheap. But when they are marked down to sell fast, I can get them for about $2.00 a package. If I can't find the party wings on markdown, I'll buy drumsticks and wings instead. These packages of chicken go on sale fairly often at our grocery store, so I always buy an extra package here and there and keep it in the freezer for those days when I need a quick and easy dinner.
That's the other thing I love about this dinner. It's so easy! Here, let me show you!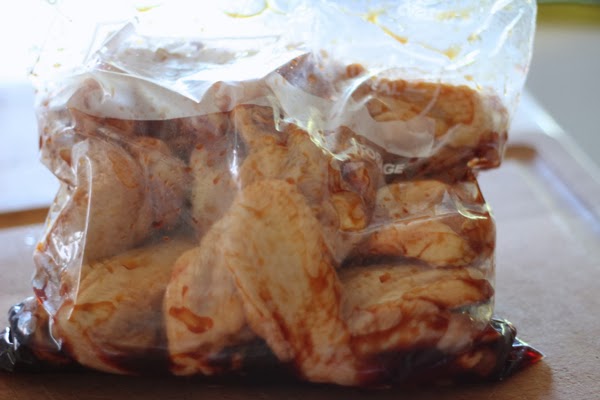 I thaw my chicken out the night before so it's all ready in the morning. I place the chicken in a ziploc bag or a large bowl. Then I pour in the soy sauce and marinate the chicken all day long, flipping the chicken and sauce occasionally throughout the day making sure everything gets coated well.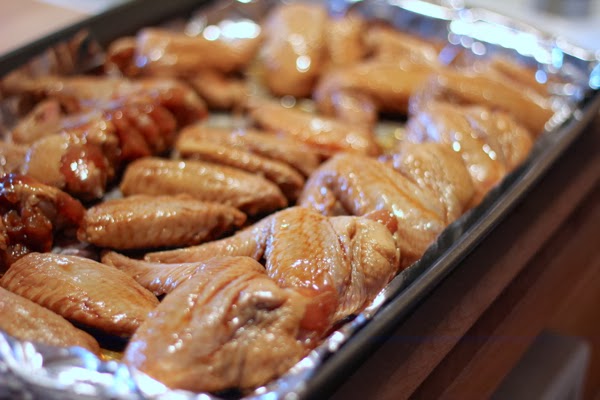 I pre-heat my oven to 425 degrees and prepare the chicken. In a large rimmed baking sheet lined with aluminum foil, I remove the chicken from the ziploc bag and place them in a single layer on the sheet, discarding the used soy sauce. I pour, just a little bit more soy sauce over the top of the chicken and then bake it for about 35 minutes.
That's it! While the chicken bakes, you can prepare whatever sides you want and just wait for dinner to be done.
I know this isn't the healthiest of dinners, but ya know what…I don't care. This is a dinner that my mom made for me and I loved it then and I still love it now, and even my kids really enjoy it. This dinner is what we call a double napkin night because your going to have sticky, yummy fingers!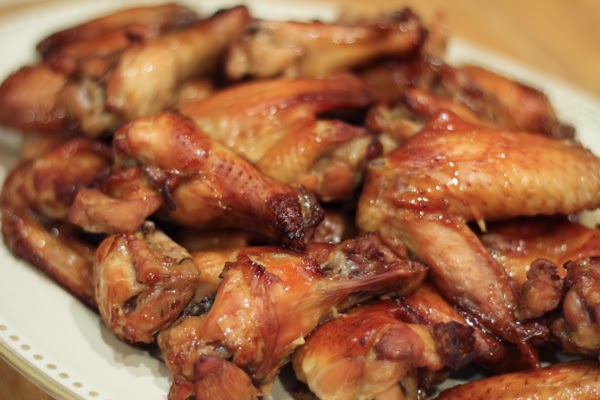 Soy Chicken
Recipe by Chelsia Rief (adapted from recipe by Connie Anderson)
A sticky and salty way to enjoy small pieces of chicken roasted to perfection to make a super simple and easy dinner.
Prep time: 5 min
Cook time: 35-45 min
Total time: approx 40 min
Yield: 6 servings
Ingredients
2 pkgs (3.5 oz ea)

party wing packs (wings and drummettes)

1 cup

low sodium soy sauce
Cooking Directions
Place thawed chicken in a large gallon sized ziploc bag. Pour 3/4 cup of soy sauce over the chicken and seal the bag. Swish the sauce around the chicken making sure the chicken gets well coated. Store bag in fridge all day, swishing the sauce over the chicken every few hours.
Pre-heat oven to 425 degrees. Line a large rimmed baking sheet with aluminum foil and lay chicken out in a single layer. Discard the remaining sauce in the bag. Take a 1/4 cup of soy sauce and drizzle it over the tops of the chicken.
Roast chicken for 35-40 minutes, or until the juices run clear in the chicken. Serve while still hot and with plenty of napkins.