When you need festive cupcakes for a celebration, this recipe for sugar and spice cupcakes brings just the right mixture of moisture, sweetness, & spice.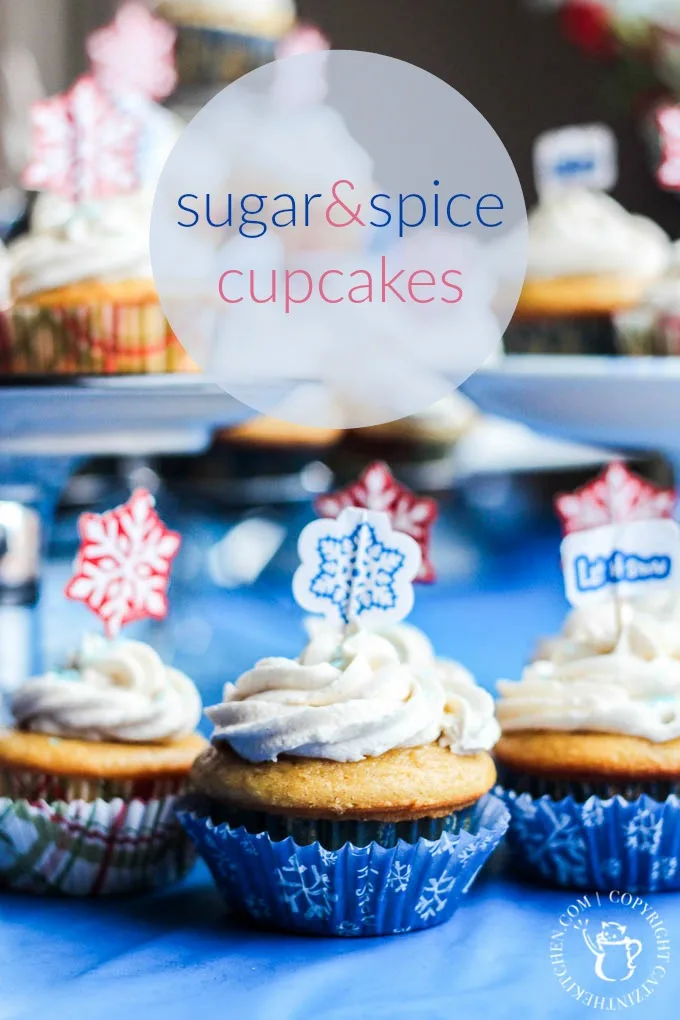 I'm going to tell you a little story about this cupcake recipe being morphed into a personal cake that went a little haywire. It's a funny little icky story that has a happy ending.
Christian's first birthday party was last Saturday and I planned on making him a personal little "smash cake," but I couldn't figure out the right vessel to make his cake in. I mentioned it in my Tuesday's Tidings post a few weeks ago and Karen, from The Food Charlatan, pointed out that I could make a little personal cake using the can of a chicken.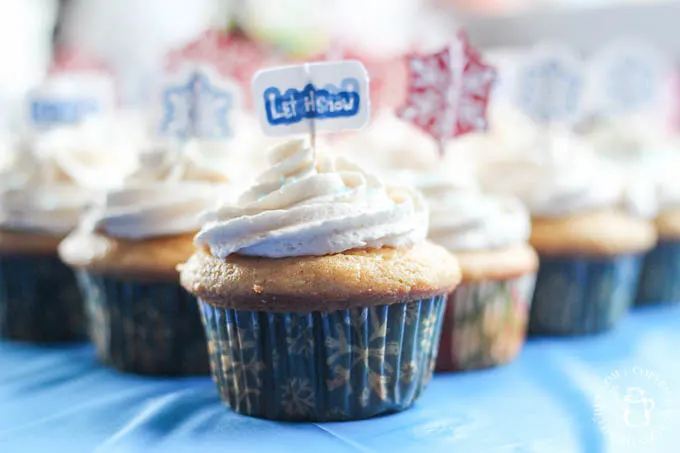 Instead of buying chicken cans, I used tuna cans because that's what I had on hand. I cleaned the cans out very thoroughly and even ran it through the dishwasher to make sure they were squeaky clean.
Last Friday came and I got busy making the cupcake batter for the personal little cakes and using the remaining batter for cupcakes. I greased and floured the cans like I would a cake pan, filled them a little less than usual, and stuck them in the oven to bake.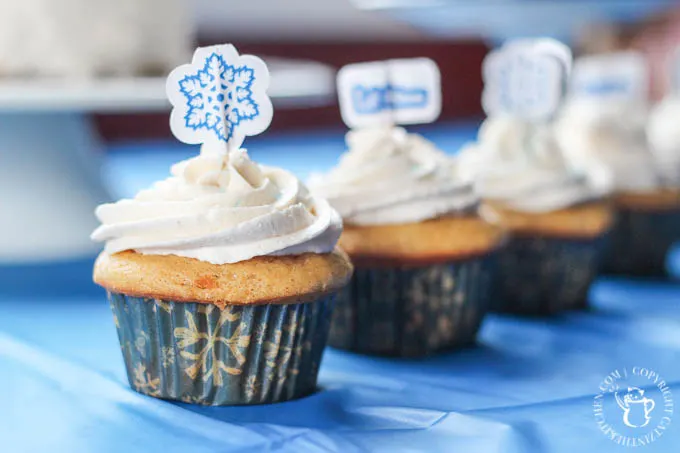 They baked up like a gigantic muffin, including the muffin top, and I assumed I would have to cut the top off and level it. I allowed the cakes to cool completely before removing them from the cans. So far, so good! I went to remove the cakes and that's when things began to go awry. The cakes didn't come out as easily as I would have liked, but it was still fixable. The problem came immediately after I removed the cakes from the can. I could smell…tuna? I picked up one of the delicate little cakes and took a whiff! It reeked of tuna fish!
Obviously, I couldn't serve my son a tuna-smelling cake, so I ditched them and started working on the rest of the cupcakes. I ended up using two mini deep dish pizza pans for the cakes and it worked out perfectly. I had enough cupcakes for the party and Christian had a fun little cake to smash.
These cupcakes are the perfect little sugar and spice holiday treat for birthdays or parties. Josh isn't normally one to eat cupcakes, and he went nuts for these, helping himself to quite a few, which I take as a compliment. So, if you're looking for an easy way to dazzle your guests and you happen to love cupcakes, this is the cupcake for you!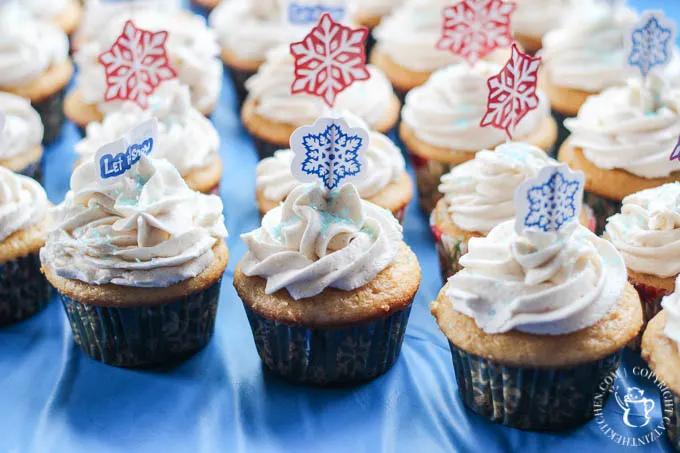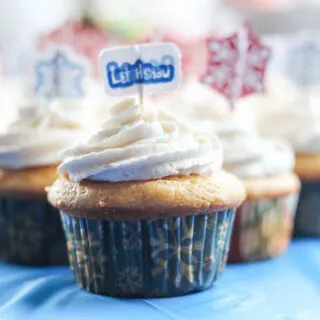 Sugar and Spice Cupcakes
When you need festive cupcakes for a special celebration, this sugar and spice cupcake recipe brings just the right mixture of moisture, sweetness, and spice.
Ingredients
Cupcakes
1 box (15.25 oz) Betty Crocker Yellow Cake mix
1 pkg (3.4 oz) instant vanilla pudding mix
1 tbsp pumpkin pie spice
3/4 cup sour cream
3/4 cup vegetable oil
1/2 cup warm water
4 eggs, lightly beaten
2 tsp pure vanilla extract
Spice Buttercream Frosting
2 cups (4 sticks) unsalted butter, room temperature
1.5 lbs (approx 5 3/4 cups) powdered sugar, sifted
1/2 tsp pumpkin pie spice
2 tsp pure vanilla extract
4 tbsp heavy whipping cream
Instructions
Cupcakes
Preheat oven to 350 degrees.
Line muffin tin with paper liners.
In a large mixing bowl, beat together all ingredients. Beat for 2 minutes on medium speed until well combined.
Distribute the batter between the paper liners, about 2-3 tbsp of batter per liner.
Bake in preheated oven for 18-22 minutes.
Allow cupcakes to cool inside muffin tins for about 10 minutes.
Remove from tins and allow to cool completely.
Frost cupcakes (recipe follows) and garnish with sparkling sugar.
Spice Buttercream Frosting
In a large mixing bowl, beat butter on medium to high speed for six minutes.
Turn mixer to low speed, gradually adding powdered sugar, until completely mixed in.
Add pumpkin pie spice and vanilla and mix until combined.
Gradually add in heavy cream and mix until combined.
Shut off mixer and check for taste and texture.
Return mixer to medium high speed and beat for an additional 3-5 minutes, or until light and fluffy.
If the mixture is too thick, add a teaspoon of heavy cream at a time until you have achieved the desired consistency.
Nutrition Information:
Yield:

24
Serving Size:

1
Amount Per Serving:
Calories:

205
Total Fat:

12g
Saturated Fat:

3g
Trans Fat:

0g
Unsaturated Fat:

8g
Cholesterol:

41mg
Sodium:

241mg
Carbohydrates:

23g
Fiber:

0g
Sugar:

14g
Protein:

2g
Nutrition information isn't always accurate.