I can't believe Halloween is over and November is officially here. Josh and I were talking on our drive home last night about how once November hits, it's like full on Holiday Season. (Which makes me very happy)
Josh and I are already talking about what we would like to do with the kids this holiday season. This is my favorite time of year. The food, the colors, the decorations, and the music and movies; and I can't forget the holiday commercials. Remember the Campbell's Soup commercial with the little boy who is the snowman and once he eats his soup he melts into the boy? I love that commercial.
How was everyone's Halloween? Ours was good. The kids had a lot of fun and got a decent amount of candy. Grace was a cowgirl and little Eden got Gracie's old chicken costume.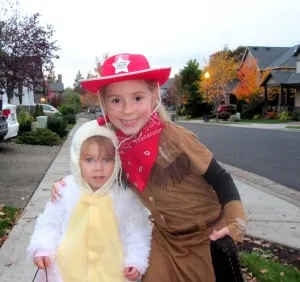 Super Cute, huh?!
The Chili I was supposed to make yesterday, never happened. Sunday Mornings, are just not great mornings for me to try and prepare something. I'm always running late, haha!
Monday
Soy Chicken, steamed broccoli, and
roasted parmesean potatoes
Tuesday
Leftover Lasagna and garlic bread
Wednesday
Crockpot Three Beans and Sausage with rice
Thursday
Stuffed Shells and rolls
Friday
Crockpot Harvest Ham with Sweet Potatoes
and carrots
Saturday
Josh and I will be at a wedding in the evening so we'll be eating there :)
Sunday
Sausage Ziti ( Josh would make this meal) Not sure what sides…
Back-up Meals
Chicken with Mustard Gravy and corn
Chili and Homemade Cornbread
Crockpot Stuffed Peppers
Snacks/Treats
and
Maybe a Berry Pie
Are you trying anything new this week?