Looking to dress up a plain exterior window? It doesn't get any cheaper, easier, or more flexible than this plan for a DIY Window Box and Shutters!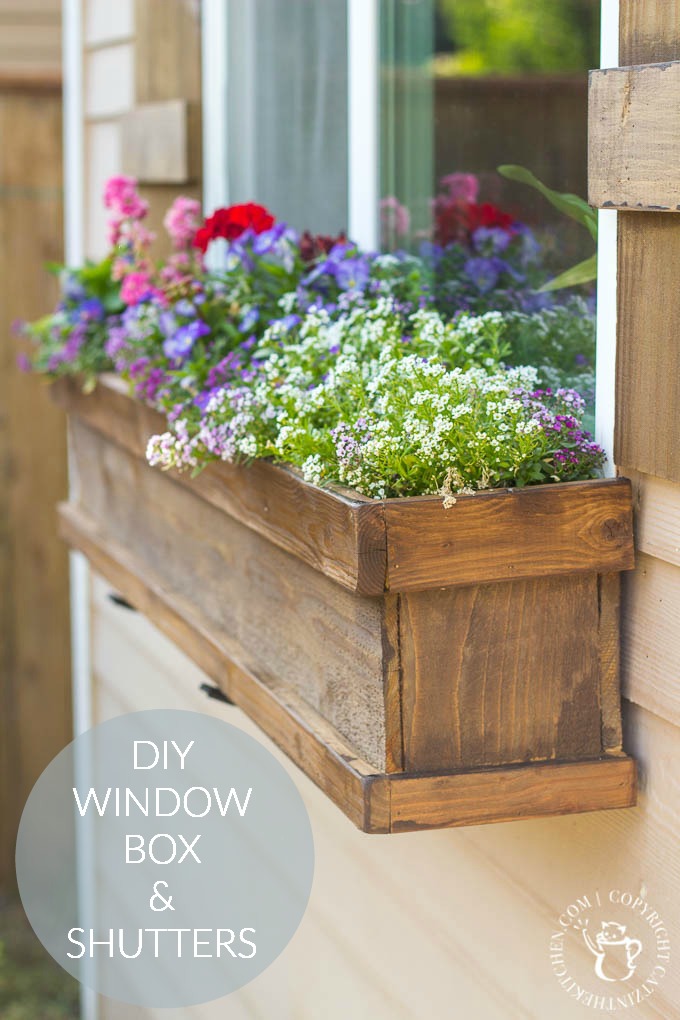 Chels and I have been working on a few DIY projects this spring and summer that we haven't shared with you yet (we did recently share the farmhouse style dining room table we built last fall, and we've just finished a less formal round table that we'll share soon!). Those are perhaps a bit more ambitious projects, but if you're looking for something super easy…look no further than these easy window boxes and shutters!
We live in a "development," like so many Americans in the suburbs. Each house is designed to have a bit of character out front – alternating elevations, rooflines, paint colors, finishing materials, and landscaping, to keep things from looking too cookie cutter. In back, however…other than color, everything looks the same! It's a big flat wall. That's fine, of course, and from the developer's point of view, makes all the sense in the world. We spend quite a bit of time in our little backyard, though, and so we started looking at little ways to personalize it. We haven't done much yet, though we have lots of ideas! Some of them are spendy…so let's start with one that's definitely not. Each of these little projects (window box and/or shutters) can be built for around $10, so they're not going to be breaking any banks! We highly recommend you try this project out for yourself!
Window Box
Let's talk about the window box first. As I've been doing a lot lately, I paged through Shanty 2 Chic's impressive library of DIY projects until I came across this post about window boxes from three summers ago. It didn't have the spiffy step-by-step PDF directions that their larger projects typically have, but it also didn't really need them – this is a simple project!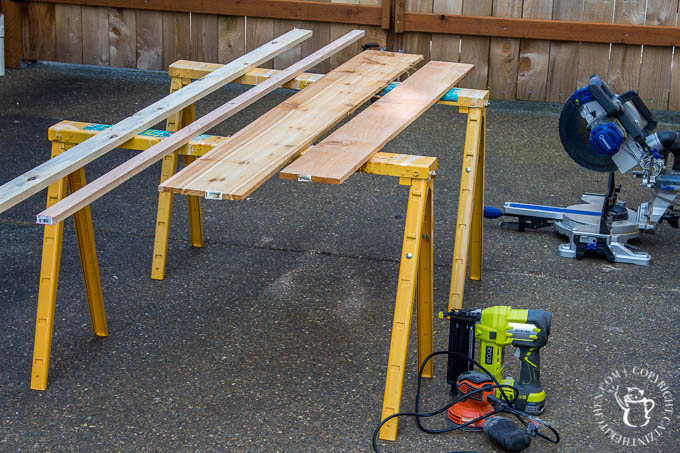 So, what do you need in the way of lumber and tools? Not much. A 1×8 cedar board, a 1×6 cedar board, and two pieces for the trim, a 1×3 and a 1×2. The length of the boards you need will depend on the size of window box you're building. We wanted ours to stretch the full width of our kitchen window, which is about 40 inches wide. I build a couple of these for gifts in addition to the one we put on the kitchen window, so you'll see a few sizes in these pictures. Shanty 2 Chic's is about 28 inches long. Additionally, the type of boards you buy depends on the look you're going for – the original post uses good quality finished cedar lumber, which is a little more spendy. We were going for a rustic, worn look, so we were able to get away with cedar fencing, which is very cheap – think $1-4 per board!
For tools, you'll need a miter saw, preferably, or a skill saw. A nail gun is nice, but finishing nails and a hammer will work, too. An electric sander is a good idea, though you could get by with sandpaper.
To figure out the length of the boards you need, think about it like this: the narrower cedar board (the 1×6) is going to make up the bottom and ends of the box. The ends need to reach the top of the 1×8's, so you'll need about 15 inches of 1×6 to cover that. The wider cedar board (the 1×8) is the front and back. So, for a 28 inch box, you'll need about 56 inches of 1×8 and about 43 inches of 1×6 (so, maybe a five foot 1×8 and a four foot 1×6, if those are the lengths your home improvement store is selling). For a 40 inch box, you'll need about 80 inches of 1×8 and 55 inches of 1×6. Always buy a little extra if you can…well, at least if you're like me and make mistakes!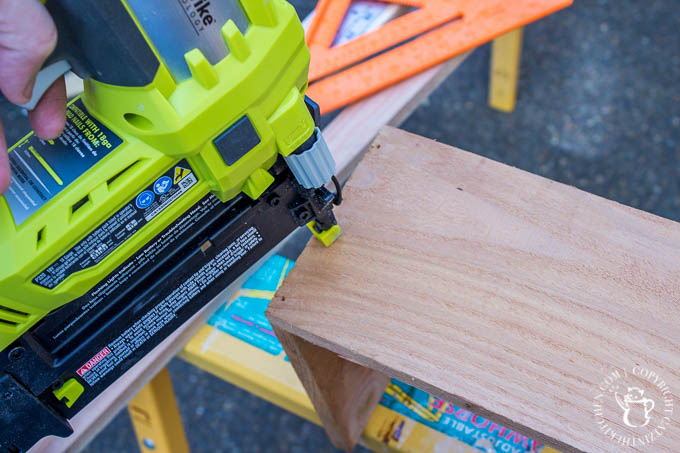 Getting the "box" put together can be a little challenging the first time, but it's not too bad. Take the bottom piece, set it on top of the end pieces, and use outdoor wood glue and nails to put them all together. Once you have this "U" structure in place, the front and end pieces go on easily, add strength, and keep the whole thing square.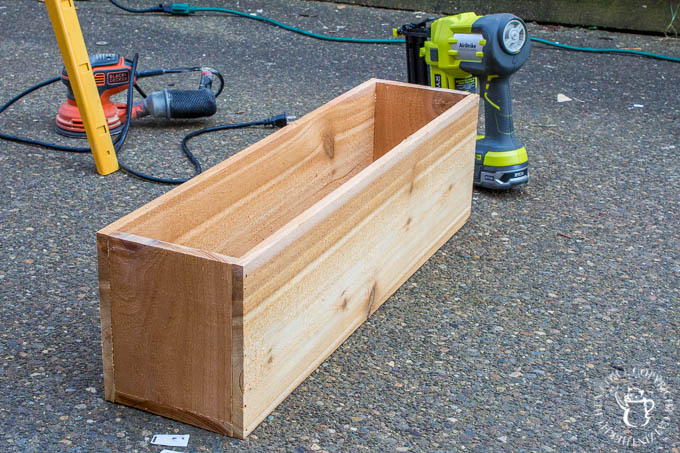 Now you have the box, of course. The trim is easy – just measure and cut as you go. Especially if you're using the cheap fencing cedar, you can get a little variability in widths, so be sure to measure for each piece of trim rather than just assuming that everything will come out the way it's supposed to. In this plan, the wider piece goes on top and the narrower piece goes on the bottom, while the back gets no trim at all, as it will be facing the wall. If you are planning to make a box that will just sit on a porch or a table, you can add additional trim pieces to finish the back as well.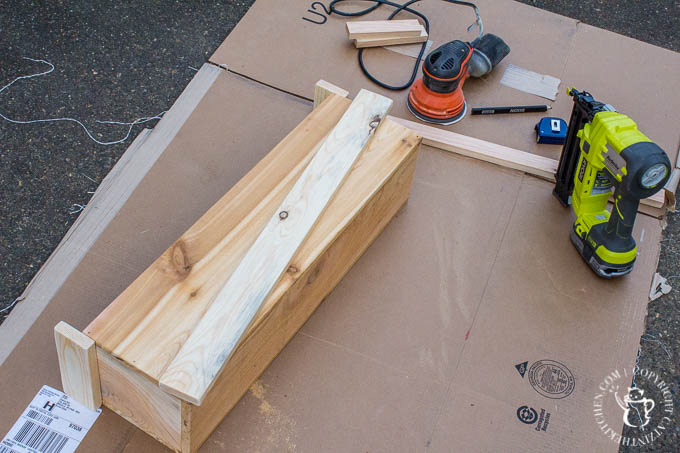 And that's it! The basic box is complete. Your call on how to finish it, where to mount it, how to plant in it, and what to plant in it, of course. We needed to mount ours on the siding of our house, so we had to find an appropriate mounting kit at Home Depot – I think it was under $10. For our finish, we used Behr's transparent weatherproofing water-based stain, and had the good folks at Home Depot mix it to our desired hue, which was something called Cordovan, if I remember correctly. I sanded down the rough cedar a bit prior to staining, but it still soaked up a lot of stain.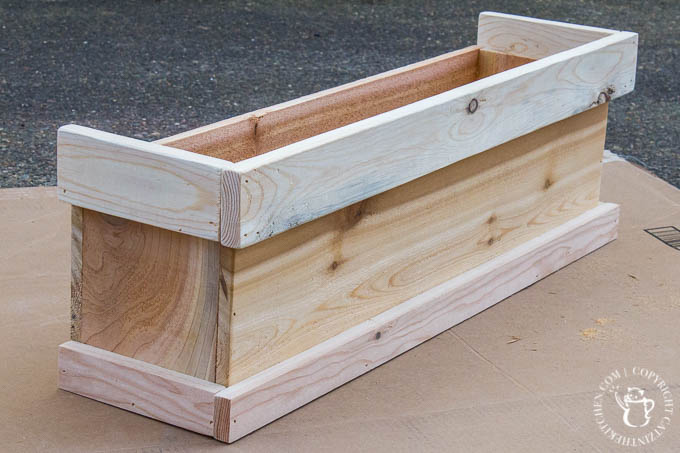 One tip that I loved from Shanty's plan was to use plastic planter inserts in the box, rather than putting dirt directly inside. For one thing, I have to imagine that the box will last much longer, especially here in the Pacific Northwest where everything is constantly wet. Secondly, it makes replanting so much easier! Pull out your insert, replant, drop it back in. Brilliant.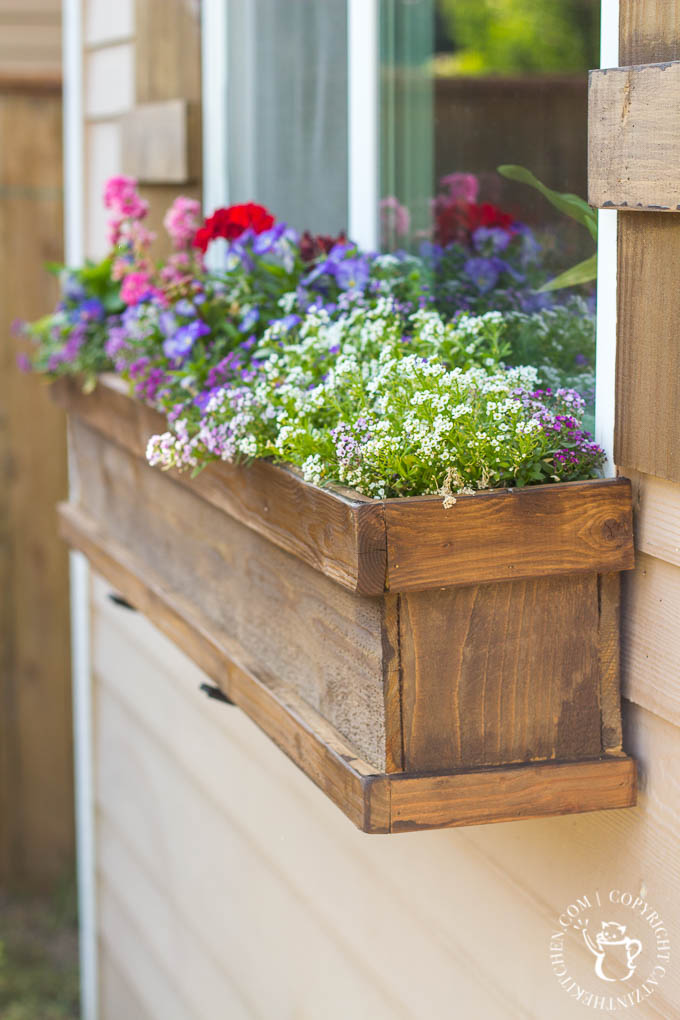 Shutters
Now, what's easier than these incredibly simple window boxes? These ridiculously simple shutters, of course. These will run you something like $5 apiece, depending on the cost of the panels and the size of your windows, and they take all of 15 minutes to build.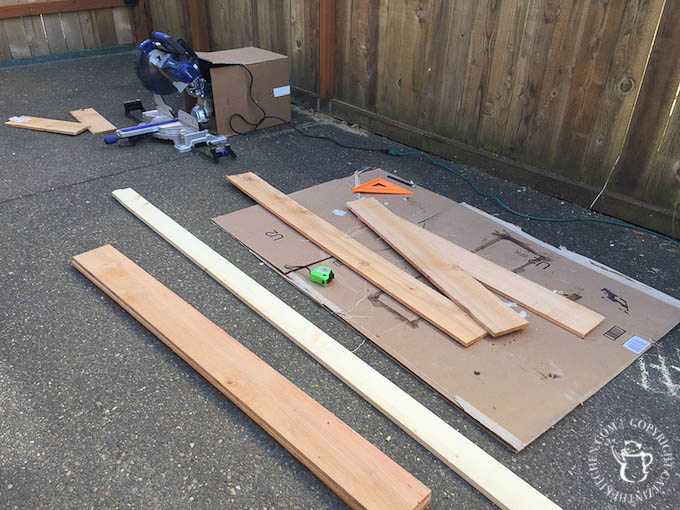 You basically need two types of wood for this little project. The same 1×6 cedar boards that we used for the window box, and the same 1×3 trim boards as well! Again, overall measurements will depend on the size of your window. This window was roughly four feet high, so I went ahead and bought a separate piece of cedar fence board for each slat, and then one really long (eight foot) piece of trim that I could chop up for the cross pieces.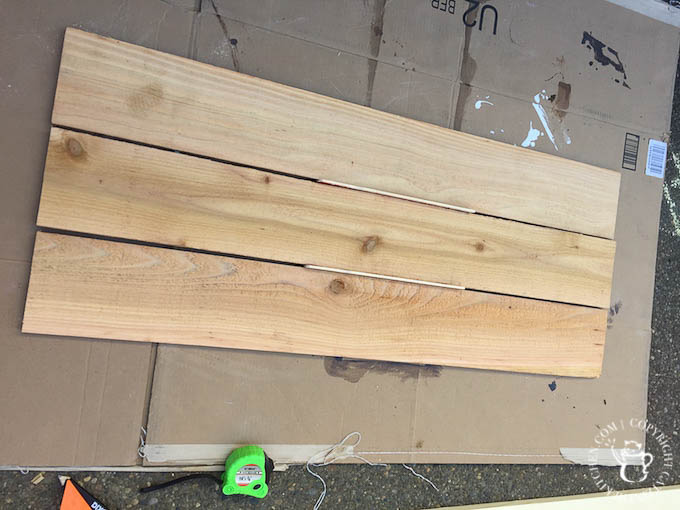 I can't remember where I read this tip, but it's brilliant. Once you've cut your boards to the correct length (equal to the height of your window), use those little free paint mixing sticks to space them! This keeps the spacing perfectly even, which is key. Once they're laid out, spaced, and square, measure across for the length of your trim pieces, cut appropriately, and lay them out to make sure everything fits. Be careful to use the same side of the trim board facing out for all of your shutters – different sides can have different levels of finish, which will result in the stain taking very differently. You could end up with some unwanted variation shutter to shutter.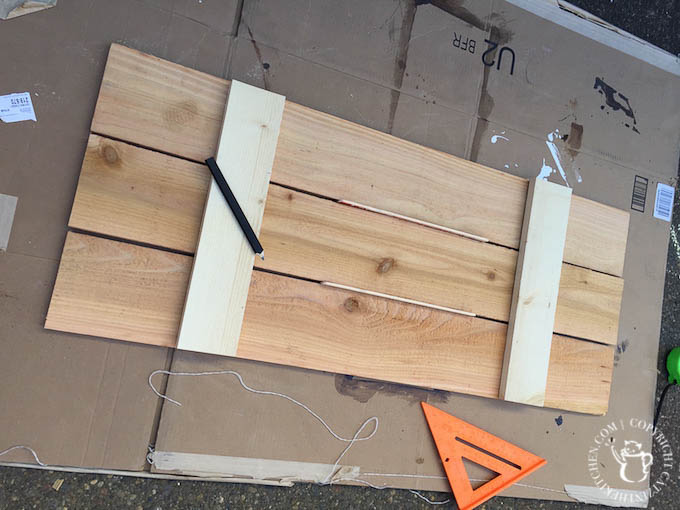 You can use wood glue and finishing nails to secure the trim pieces in place – make sure your nails are short enough that they don't come out the back of the shutters, though! Measure carefully to make sure everything is evenly spaced and square, and then nail it all together! Don't forget to pull your paint stirrers out when you're done.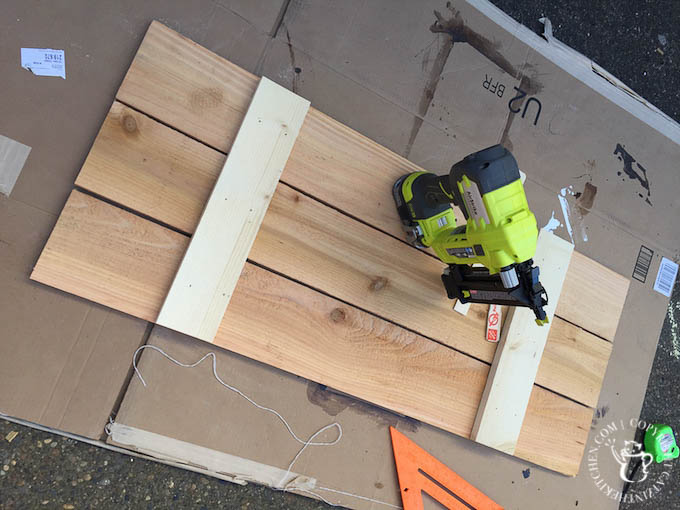 That's it! They're done and ready to be stained. We used the same Behr stain I mentioned above for the shutters, as we wanted them to match the window boxes – sort of rustic barn wood look. Or, at least, that's what we were trying for! We are definitely amateurs here…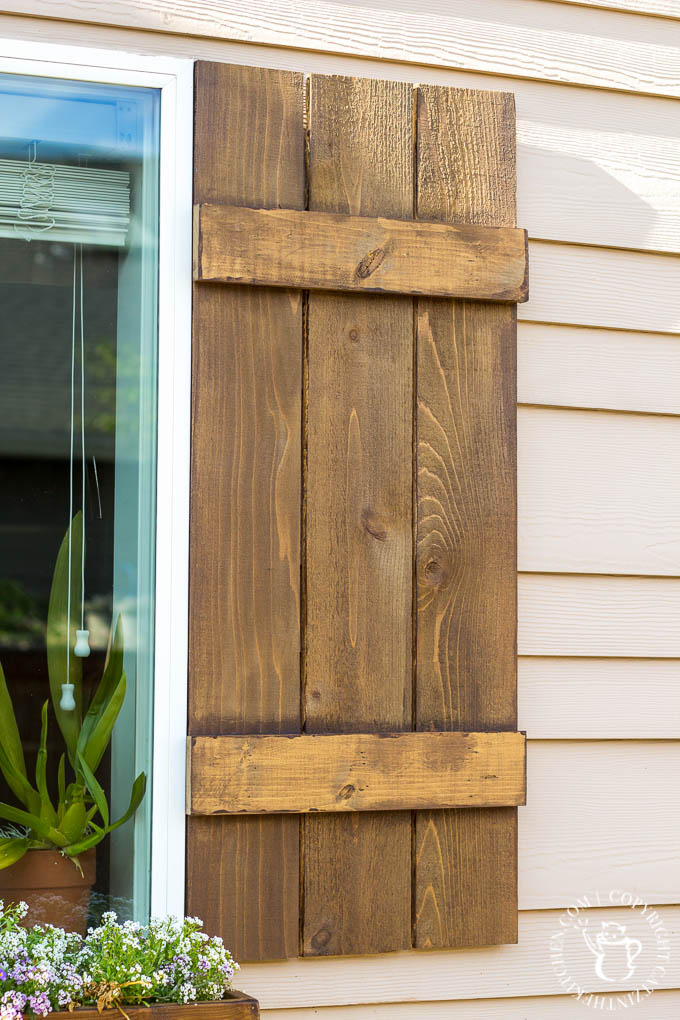 So, that's it. A quick and cheap way to pretty up a plain window. We're going to work on adding shutters to more of the windows in the back of the house, and maybe (maybe!) add a really long window box to this one six or seven foot wide window we have back there. I'm not totally sold on that idea, but we'll see.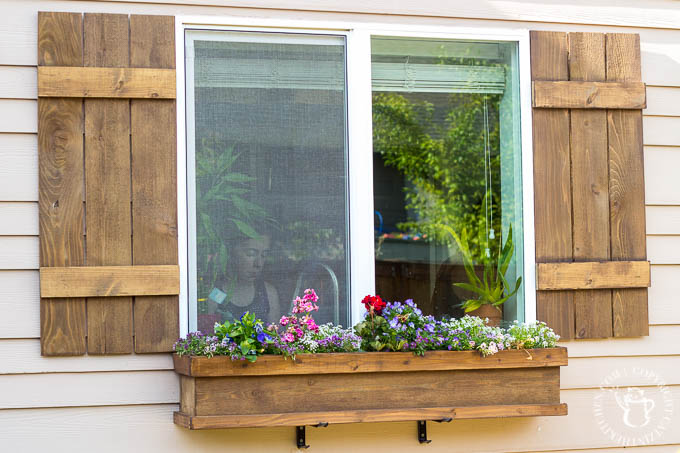 If you missed it earlier, the link to Shanty 2 Chic's original window box post is here. Please let us know if you have any questions about the methods or materials we used, or suggestions for improvement – we all benefit from that! We hope to bring you more DIY posts soon!