Grilling these simple chicken foil packets is an easy, tasty way to get a flavorful, healthy meal on the table, whether you're camping or at home!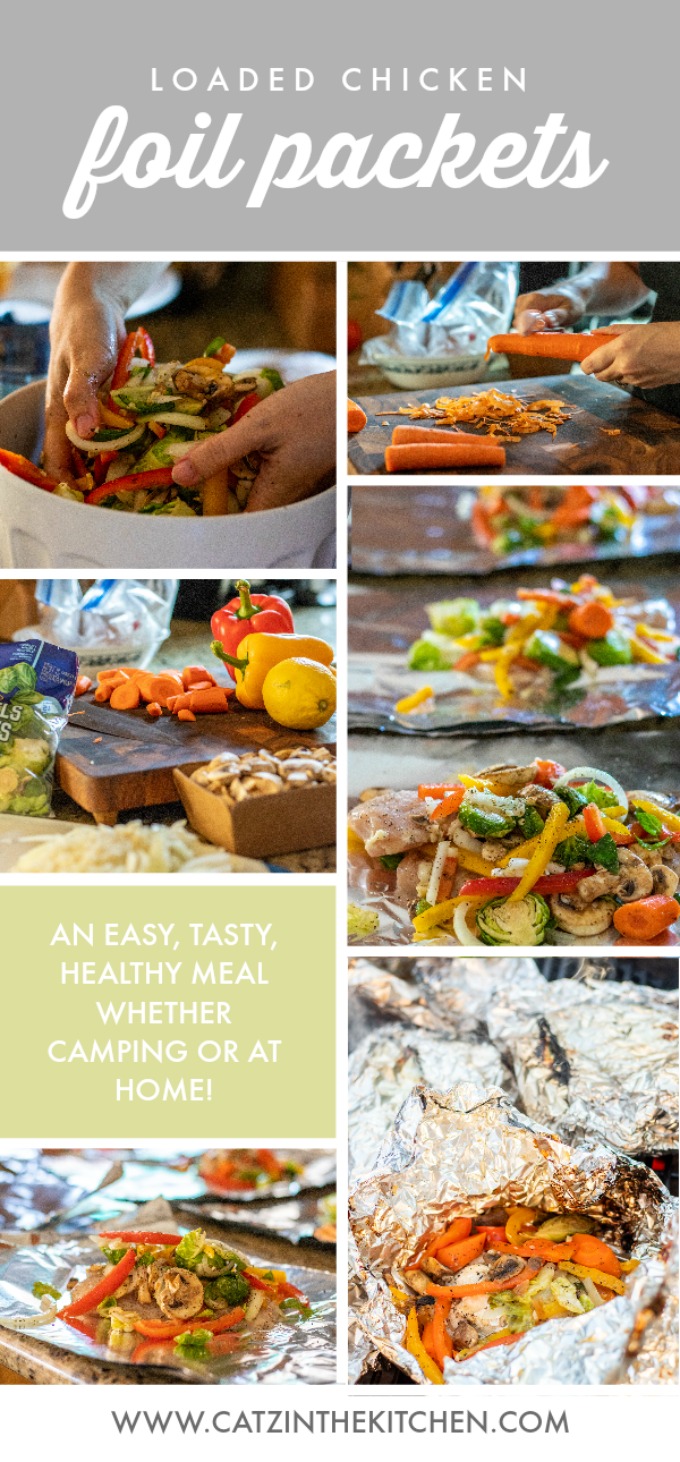 I'm guessing you won't be surprised to hear that I'm not much of a camper. I could possibly be a "glamper" and do the whole "glamping" thing. But, between you and me…I still just don't want to go camping. It's sad, I know.
But in an effort to get my kids excited about camping without actually going camping, Josh and I bought a tent off Amazon and set it up so the kids could go camping in the backyard. All the best aspects of camping (from my perspective) minus the dirt, the smokey campfire smell that sticks to your clothes (and hair), and lack of electricity. (Does this make me a horrible person?)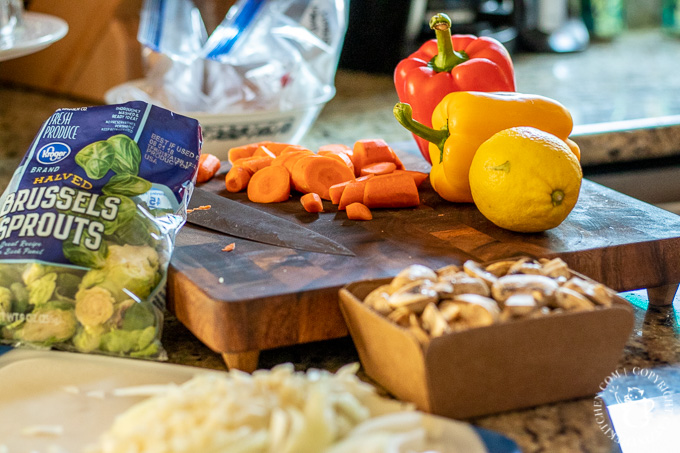 Christian and Eden LOVED sleeping in the backyard, but I fear that Grace is more like her mother and could completely pass on the whole thing all together. Although…she is a fan of trailer/camper "camping" whereas I'm just not a fan period.
Hey, if I could go camping at a hotel, I could probably get into that. Maybe get a little spa treatment. Eat at a restaurant with white tablecloths, sleep in a king size bed…ya know, this isn't sounding much like camping anymore. Just sounds like staying at a hotel, which I have to say is definitely more my speed. I'm not knocking it for you all that love it – more power to you! I wish I did!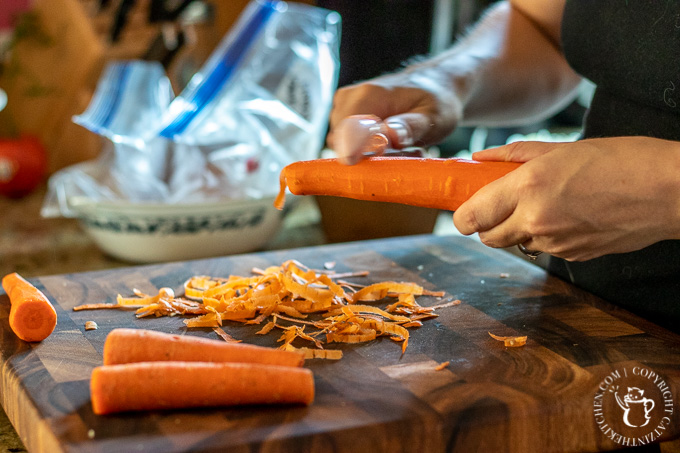 What I do like about camping, though…is the food. That probably shouldn't be a surprise. It's one of the only times I actually enjoy a campfire. I know, I'm weird – most people love it (Josh does!). I do not. But the food…it gets that great smokey flavor, grill marks, and it's a little more special because it was made outside.
However, I can do all (or most) of that on our Weber kettle just the same. And so can you! Whether you still have a camping trip planned out or you're camping "at home" this is one of those meals that is easy and delicious, not to mention filling and healthy.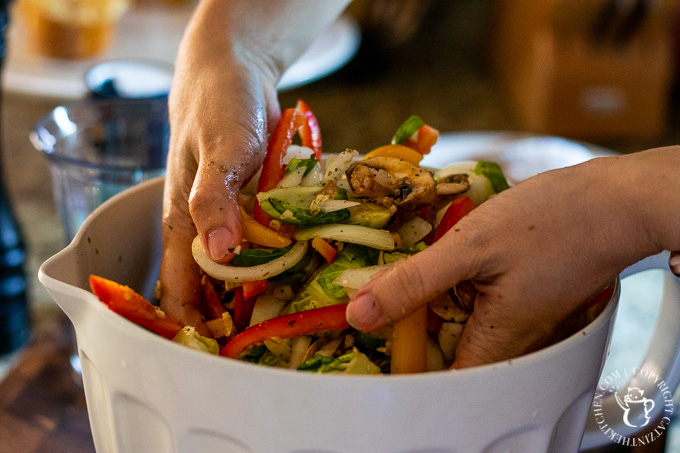 Caution: it does require some chopping, slicing, and cutting, which admittedly is the most time consuming aspect of this recipe. That is when you get the kids, your husband, or your friends involved and split the responsibility. It makes the whole thing move faster.
I've made this recipe three of four different times this summer, each time with slightly different mix of vegetables. I've used Brussels sprouts, zucchini, yellow squash…and every time, it's perfect. The only thing I would recommend is carefully salting the food. You can always add more later if you need too after it's cooked – better than too much up front.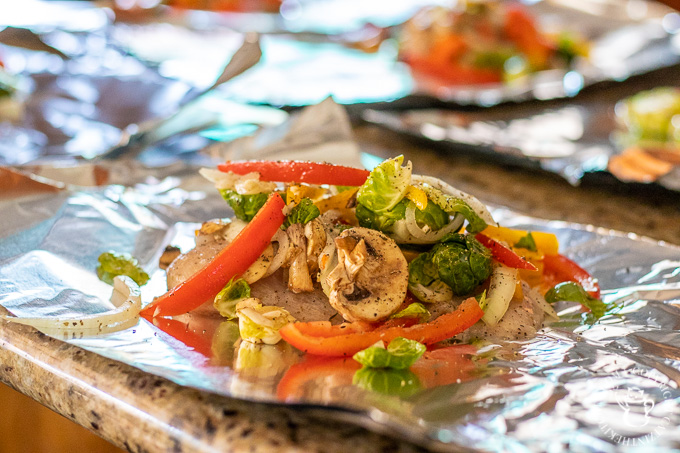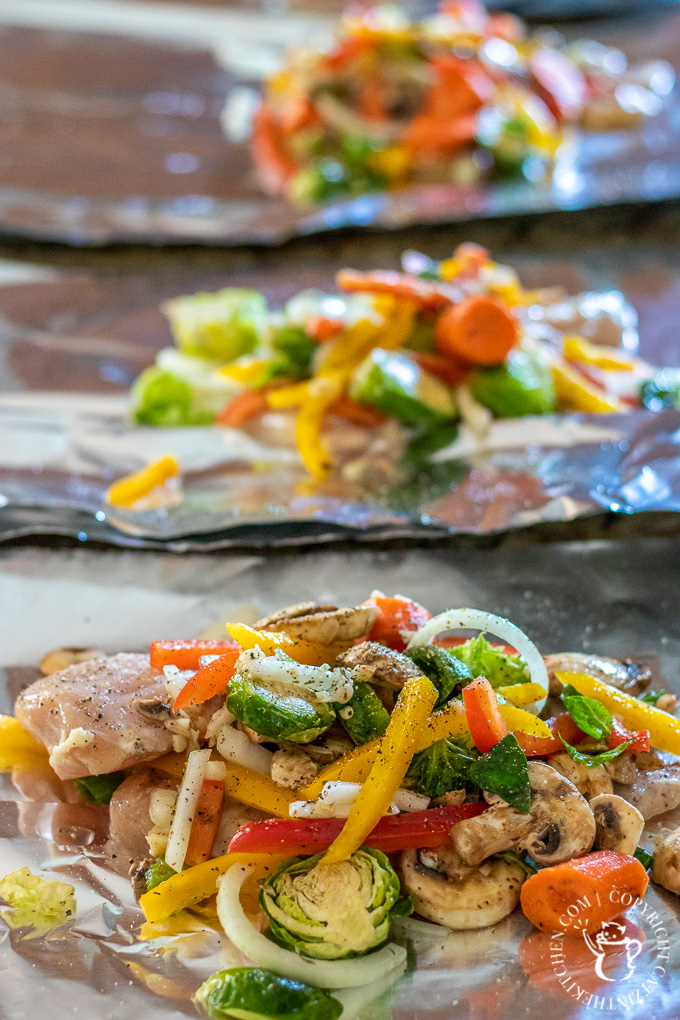 You could even add potatoes to this. Basically, whatever is in your garden, freezer, or potato bin is acceptable here.
Which is kind of why I like it – veggies this time of year tend to be cheap, and this is the kind of meal that is perfect for getting those picky veggie eaters to take some ownership in the meal. Take them to the Farmer's Market and let them choose something for their foil packet. My kids LOVE this! It's such a fun and easy way to include them in the dinnertime process.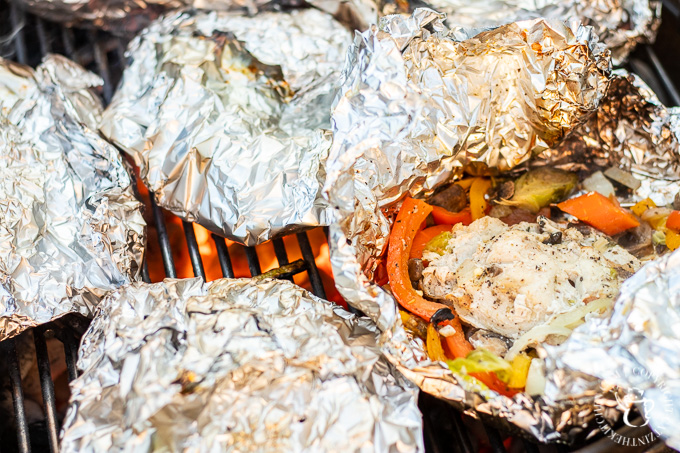 I would love to hear if you make this what your family thought or if you have a favorite foil packet meal, what ingredients you include in yours.
Happy "Camping"!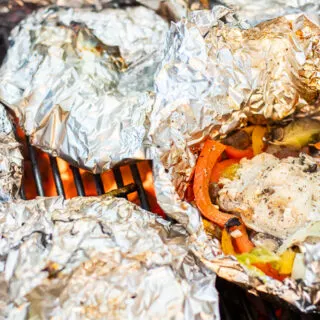 Loaded Chicken Foil Packets
Grilling these simple chicken foil packets is an easy, tasty way to get a flavorful, healthy meal on the table, whether you're camping or at home!
Ingredients
3 boneless, skinless chicken breast, halved lengthwise
1 onion, thinly sliced
3 carrots, peeled and chopped on a diagonal
2 zucchini, thinly sliced
1 (8-ounce) package sliced mushrooms
1 yellow bell pepper, thinly sliced
1 orange bell pepper, thinly sliced
4 cloves garlic, minced
1/4 cup olive oil
1 large lemon, juiced
1 1/2 tsp sea salt
1 1/2 tsp freshly ground black pepper
1 tsp Italian seasoning
Instructions
Preheat an outdoor grill or campfire to medium heat (325 degrees - 375 degrees).
Mix together all the ingredients in a large bowl or ziplock bag. I actually used a large bowl for the veggies and a plate for the chicken and carefully seasoned everything equally.
Lay 6 large sheets down on the counter and place a chicken breast halve on each foil and evenly top it with all of the vegetables.
Tightly wrap each packet, crimping the edges before wrapping it a second time with another sheet of foil, making sure it's packed tightly.
Grill packets or place them down in the embers for the campfire, rotating occasionally for even cooking. Cook until chicken is opaque and the vegetables are tender for about 20-25 minutes, about 10 minutes per side. Let rest an additional 10 minutes before opening the foil and serving.
Notes
I've found that Reynolds grilling foil works best for this meal because it prevents the vegetables and chicken from sticking to the foil.
Feel free to add your favorite seasoning and vegetables to this meal. You can't go wrong.
Nutrition Information:
Yield:

6
Serving Size:

1
Amount Per Serving:
Calories:

225
Total Fat:

12g
Saturated Fat:

2g
Trans Fat:

0g
Unsaturated Fat:

9g
Cholesterol:

51mg
Sodium:

644mg
Carbohydrates:

10g
Fiber:

2g
Sugar:

4g
Protein:

21g
Nutrition information isn't always accurate.