Juicy tomatoes, fresh basil & garlic, seasoned chicken breast – this bruschetta chicken pasta makes dinner a snap on back to school nights.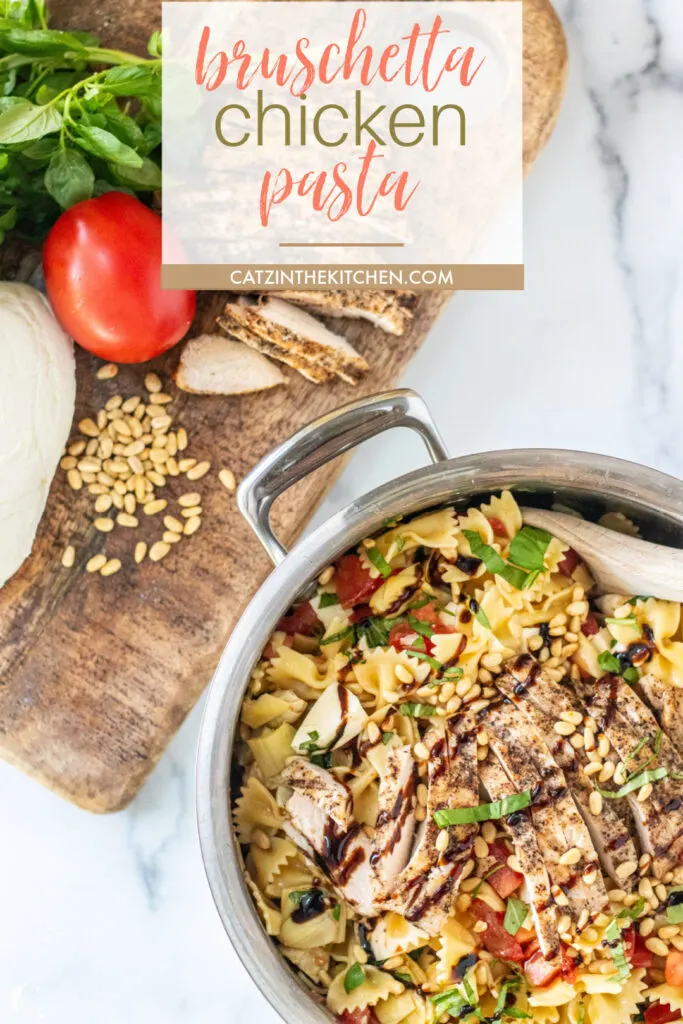 This post originally appeared on Catz in August 2014! In the intervening nearly ten years, we've made a few modifications (and taken new photos), but it remains an excellent choice for a scrumptious evening meal. Make it and see!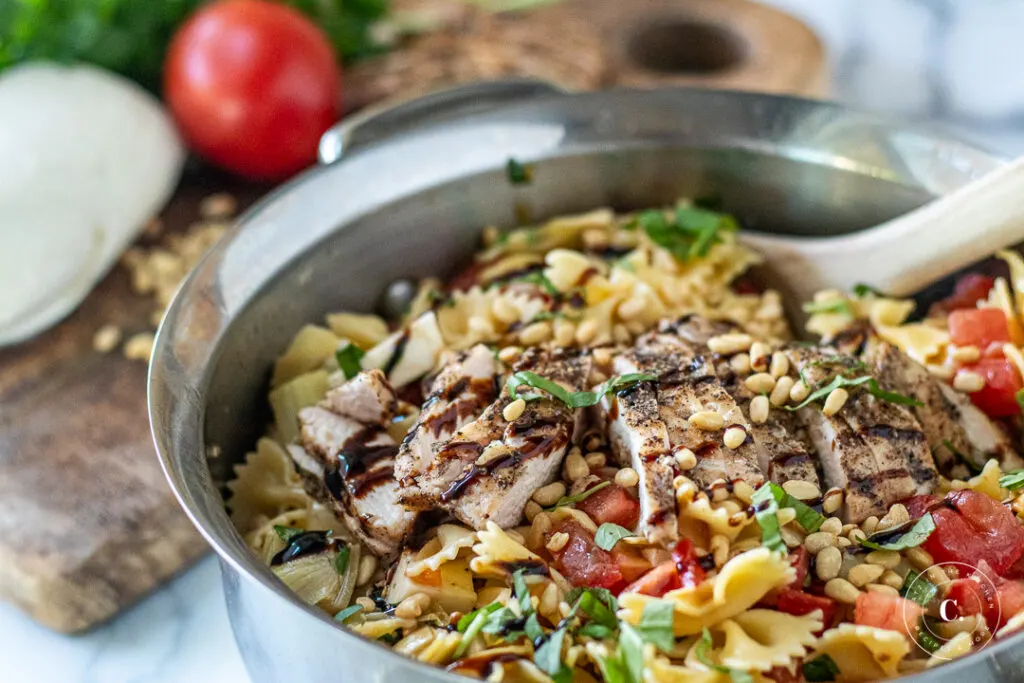 I know that school is just around the corner for a lot of you, I mean I know it is still July, but the stores are in full on Back to School mode. I don't know about you, but it is still summer to me and I'm going to live every day until our school season officially starts as if we're still on summer break. One thing that summer and back to school season all have in common is the need for dinner simplicity. During the summer, we're off our routine and some days we just want an easy dinner. Maybe you're a family that escapes the heat by lounging in the river all day on floats. Or perhaps there are summer camps your kids are getting home from or fairs you're attending, or VBS? During the school year, it's sports, new activities, and dinner needs to be on time.
I do know how hard it can be to get everyone around the dinner table and enjoying a meal together, whether you're yelling for your kids to come home from the neighbors house in the summer (is that just me) or scheduling dinner in between soccer practice. As a busy mom myself, I know that we want quick, snappy meals that don't take long to prepare, but will also nourish our kids.
Am I right, or am I right?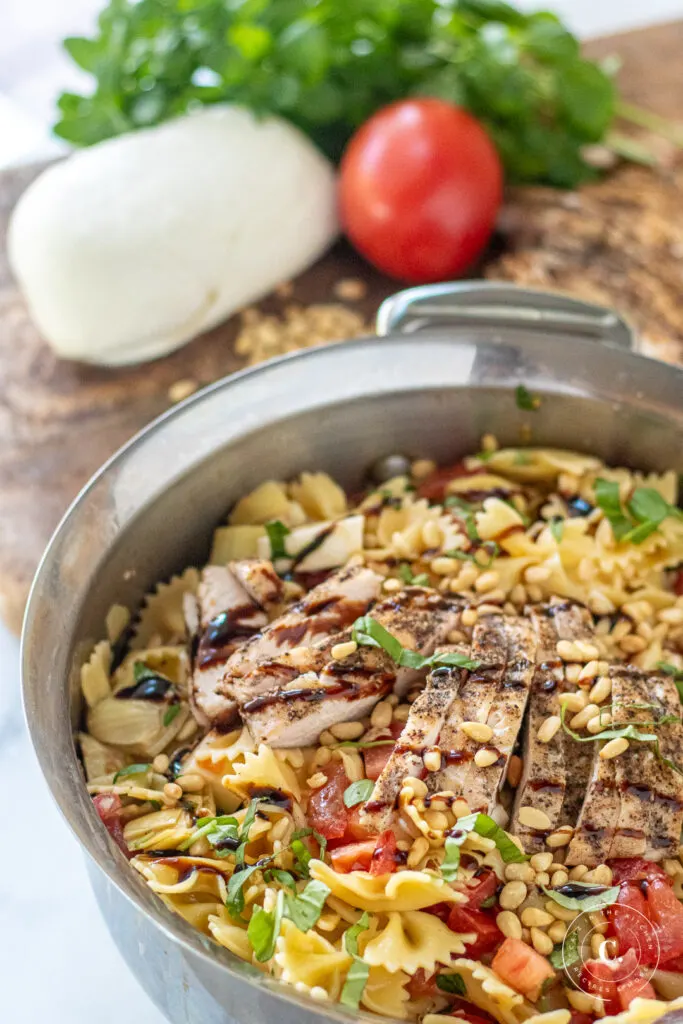 Seeing as how we've still got like 5-6 weeks left of summer yet (did I really just say that?)… I'm guessing that those of you who planted gardens are seeing a lot of tomatoes ripen and you're still enjoying some of the herbs that are growing as well. Even if you didn't plant a garden, you can still find Roma tomatoes and fresh basil super cheap in the store right now. Or even, if you're like me, you're depending on your local farmers at the Farmer's Market to buy your seasonal produce/dairy from. I got you covered with this recipe.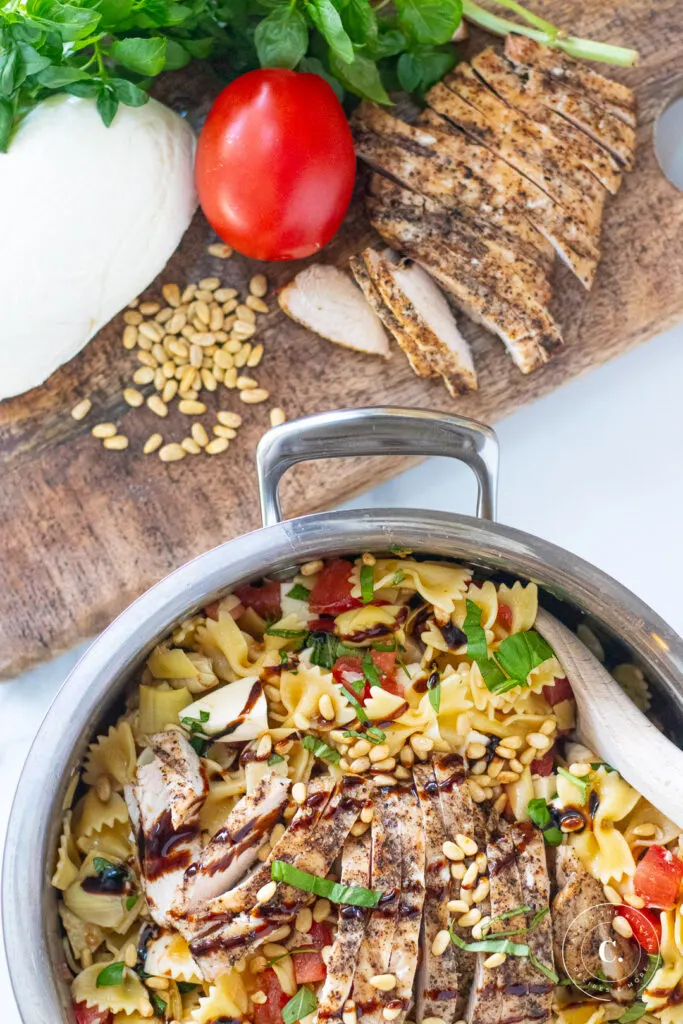 With a little advance planning, this dinner can be done in as much time as it takes to cook pasta. A couple of ways to go about getting this meal on the table is figuring out how you want to cook your chicken. I've baked it my baked my chicken breasts before in the oven with a drizzle of olive oil, and some salt & pepper at 375 degrees for about 30-35 minutes or until the juices ran clear, and then chopped it up and stored it in a container in the fridge until I was ready to add it to the pasta. I've diced the chicken into bite sized pieces and cooked them in a skillet. Or, you could grill the chicken breasts, like we did here. Whatever you prefer! I usually prefer the easiest method at whatever time I'm cooking. You could also skip all of that entirely though and just use shredded rotisserie chicken in a pinch though too.
Not only is this dish filling, and makes a ton of food, which is great for my family of seven or when I'm having company over, or when I'm just trying to plan out one more meal for the week and need something rather affordable. This is a great option for that.
This updated recipe features: artichoke hearts, fresh mozzarella that I cubed, farfalle pasta, toasted pine nuts, and because I don't always want to stand in front of my stove and reduce balsamic vinegar, I opted for a store bough balsamic glaze which I really feel gives it that finishing touch.
My whole family loved this and it's great because you can serve this meal cold or immediately. Just be sure to let the pasta and chicken cool a bit so they don't melt the cheese. You want that full on cheesy texture.
I hope you enjoy this meal as much as we do!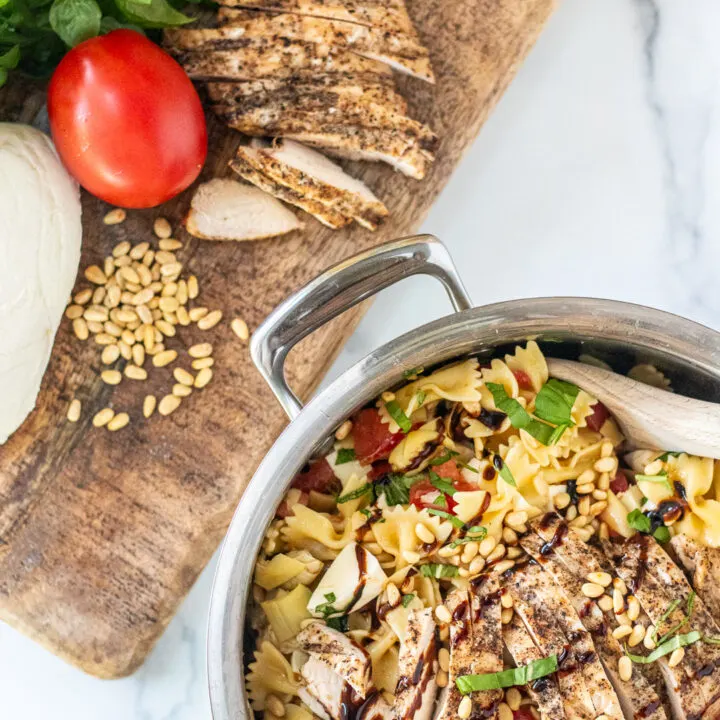 Bruschetta Chicken Pasta
Juicy tomatoes, fresh basil & garlic, seasoned chicken breast - this bruschetta chicken pasta makes dinner a snap on back to school nights.
Ingredients
1 lb farfalle pasta, cooked according to the box directions
1/3 cup extra-virgin olive oil
2 lbs fresh Roma tomatoes
4 cloves garlic, minced
Salt and pepper
1/2 cup sliced basil, fresh (reserve a tablespoon for topping the pasta with)
1 lb cooked chicken breast, chopped or sliced (I like it sliced if we grill it)
12 oz jar marinated artichoke hearts, lightly chopped
12 oz fresh mozzarella log, cubed
1/2 cup pine nuts, toasted
*optional Balsamic Glaze for drizzling on top
Instructions
Heat water in a large pot to a boil and cook pasta as instructed by the package directions. Reserve 1/2 cup hot pasta water. Drain.
Preheat oven to 350 degrees and place pine nuts on a baking sheet. Bake for 10 minutes and remove. Alternatively, you can place the pine nuts in a small skillet and toast them for 5-8 min over medium-low heat. Careful that they don't burn. Set aside
While the water is heating up, dice tomatoes, reserving juices and place in a medium sized bowl. To the bowl of tomatoes, add garlic, basil, chopped artichokes,and oil and toss. Season to taste with salt and pepper and toss again. Allow to sit for 15 minutes.
Add the hot pasta water to the bowl of tomatoes, and stir. Pour pasta in a large bowl with chicken and tomato sauce and toss gently to coat. Toss in cubed mozzarella and gently toss again. Sprinkle with toasted pine nuts and reserved basil. Drizzle with Balsamic Glaze. Serve immediately.
Nutrition Information:
Yield:

10
Serving Size:

1
Amount Per Serving:
Calories:

405
Total Fat:

23g
Saturated Fat:

6g
Trans Fat:

0g
Unsaturated Fat:

16g
Cholesterol:

60mg
Sodium:

592mg
Carbohydrates:

24g
Fiber:

4g
Sugar:

4g
Protein:

26g
Nutrition information isn't always accurate.