1. I made it through the week with Grace gone camping. Eden and I had a lot of fun together and I tried really hard to make it a fun time even though her best friend was gone. On Friday, we did some Father's Day shopping combined with a Mommy/Daughter Date because has been begging me to take her one. So we split a cinnamon roll from Cinnabon and she got a Jamba Juice and she wouldn't share with me.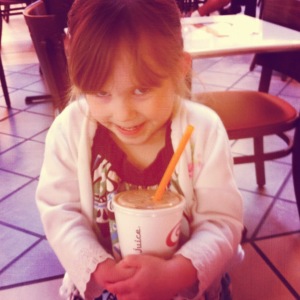 My sister in law says she looks like Gollum here. LOL, "My Precious!"
2. While we were out Father's Day shopping I perused through the kitchen section of Target because I can't resist that section. I'm in love with
these ramekins
in that color. They had so many cute new kitchen things there and I wanted to buy it all. But, I was so good. I went to Target and ONLY bought the items that were on my list. I think this may of been the 1st time ever that I've done that, haha!
3. This is my last week of the 1st trimester. It's kind of sad to me. I feel like in the past, this time just dragged on by, but this pregnancy is going by way to fast. And so far, it's been so easy, that I'm loving every second of it. But…soon enough we will hopefully be finding out what this little baby cakes is!
4. Speaking of pregnancy, I've been building onto my maternity wardrobe. Even though I'm not wearing maternity clothes yet, I will be probably very soon and though I was pregnant with Eden in the summer, I didn't invest in to many pieces then because she was born in August. With me having to deal with the summer heat with out A/C throughout most of our house and going on vacation to Central Oregon in September…I've been needing some summer clothes. And I've been finding pieces here and there that are gently used or brand new with tags still on for almost nothing. I'm beyond thrilled. I actually love Maternity Clothes shopping and I love it even more when I don't have to spend much money!!!
5. My tomato plant is getting flowers! YAY!!!
6. I feel so dumb. I had no idea that last Sunday was the season finale of Mad Men. And I'm so mad too, because they take forever in getting the new season out to all of us. This season was excellent!!!
7. It's raining right now and I'm thrilled! The rain not only brings me some relief from my allergy attacks, but also it waters my plants so that I don't have to, bwhahaha!
8. Am I the only one who can't use a regular can opener?
9. So I've been using the same old mascara for way to long. Since, February I think. I finally bought a new one the other day and grr, I accidentally grabbed waterproof! Yeah, I had to figure that one out the hard way as I scrubbed my eye lashes to death to get the black stuff off. So annoying!
10. I adore craigslist!