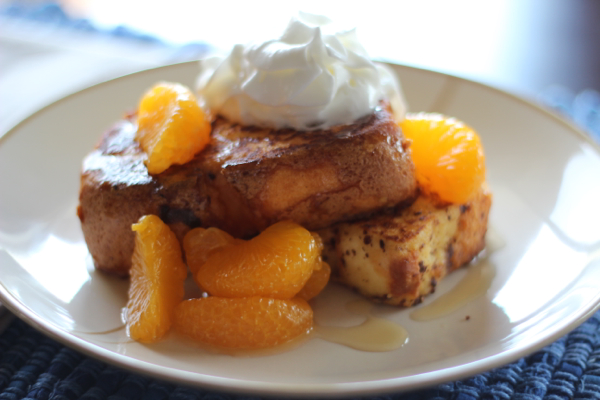 Listen up, readers who are fathers…or sons! Do I even have readers who are of the male persuasion? Okay, well forget it then. Listen up, readers! I've got a breakfast here that I insist you make for you dear, sweet, mothers. Mother's Day is just around the corner and I don't know any moms who wouldn't love this breakfast served to them in bed. I know, I would!

I'm kind of in love with angel food cake. I could just stand in a corner of my kitchen and eat it straight out of the package. I saw this recipe posted a few weeks ago and I pinned it and then I couldn't get it out of my mind. In fact, I even talked about it on this week's Tuesday's Tidings. I was tempted to make a bread pudding out of it, but the french toast won out, and so here it is!
I happen to find french toast to be a very decadent breakfast. I mean, you can do so many things with it, and Josh and I have compiled about six different variations of it alone on this blog. This one, though, is Aaaamazing! The sweetness and fluffiness from the angel food cake lends its flavors so nicely to the traditional vanilla and cinnamon pairing. The whipped cream and fruit makes this breakfast seem like something that you would order from your hotel suite. This french toast is a vacation from all of the other french toasts.
So ladies, start dropping hints to your husbands and sons. Print out these pictures and start taping them in places where the men in your life are bound to find them. For example: if your husband plays with tools, tape it to his pegboard above is workbench. If your husband is a gamer, tape it to his computer. If your husband wears a suit and tie, tape it to his tie rack. For the sons, anywhere in the fridge, freezer, or tv stand should work well. Eventually, they should get the message. And if not, well, then you can always email them the recipe, because some guys seem to need a bit more help, lol!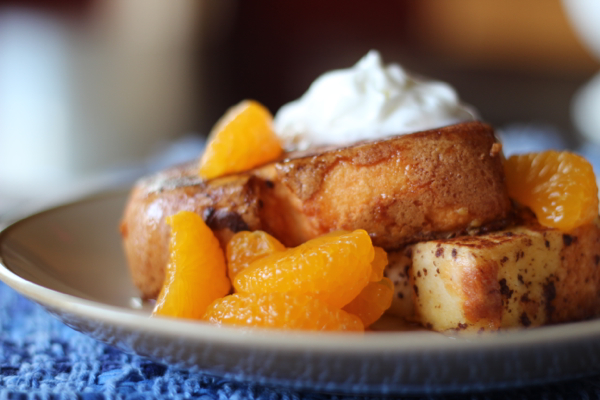 Angel Food Cake French Toast
If there was a monarchy of French Toasts, this one would be the queen.
Serves: 4
Prep Time: 10 minutes
Cook Time: 12 minutes
Total Time: 25 minutes
Ingredients
1 angel food cake loaf, sliced into 9 pieces
3 eggs
3/4 cup milk
1 TB flour
2 tsps vanilla extract
1/4 tsp salt
1/4 tsp cinnamon
2-3 TB butter
Directions
In a measuring cup, whisk flour into two tablespoons of the measured milk until it's completely dissolved to create a bit of a thickened milk. Add this back to rest of the milk.
In a large bowl, whisk together eggs, milk, vanilla, salt, and cinnamon. Set aside.
Heat a large skillet or griddle over medium-low heat. Place a tablespoon of butter in the skillet. Dip the angel food cake into the egg mixture until completely coated. Allow the excess egg mixture to drip off before transferring it the buttered skillet.
Place the cake onto the skillet and cook until golden, about 2-3 minutes per side.
Repeat with remaining slices, adding a tablespoon of butter at a time.
Serve with maple syrup, whipped cream, fruit or berries.