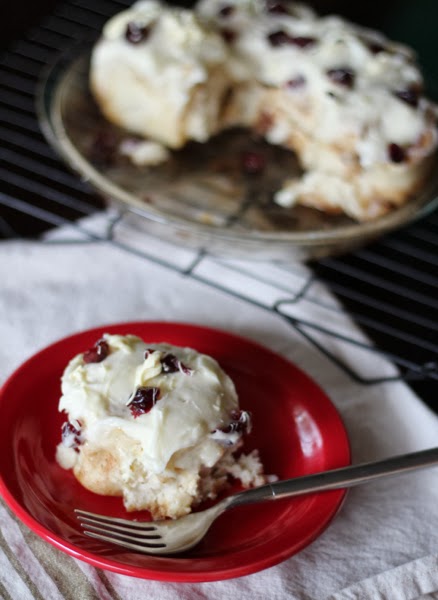 I have a weakness for Starbuck's Cranberry Bliss Bars. They only serve them in their stores this time of year and I can never wait to get into the stores and buy one. Last year I posted a very similar version of their beloved bliss bars that I had found from Taste of Home. But I love the combination so much, I thought it would be a lot of fun to make them into my newest obsession. Cinnamon rolls.

I make cinnamon rolls at home probably way more than I should. Ever since I got over my fear and made them back in June at my friend Lisa's Hospitality & Cooking class, I've been kind of hooked. So many different things you can do with them.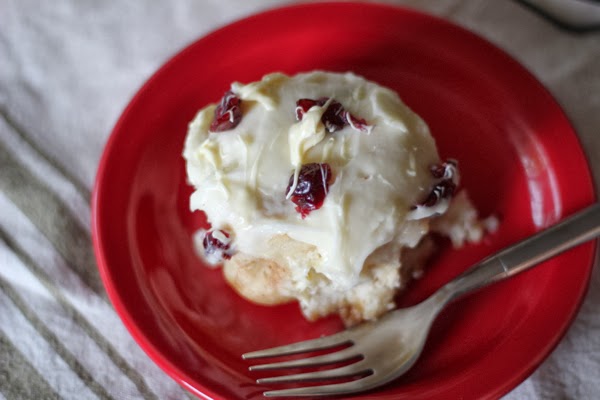 I mean, c'mon! Doesn't a Cranberry Bliss Cinnamon Roll just sound completely amazing?! As soon as I got the idea in my head, I couldn't escape it. I was dreaming about them constantly. And let me tell you, these are even better than the ones I dreamed up!
You can eat these for breakfast. You can eat them as a snack. You can even eat them as a dessert. You just have to make these! And this recipe makes a ton of cinnamon rolls. So make sure you share a pie plate with someone you love. I saved one batch for us and gave the other plate to my in.loves. since they were all kind of sick and under the weather.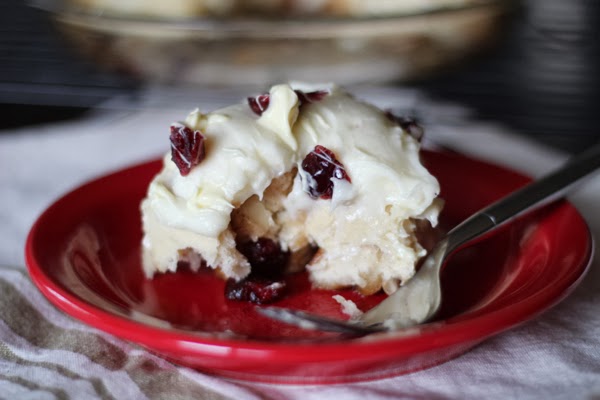 Cranberry Bliss Cinnamon Rolls
Recipe by Chelsia Rief
Cranberries, sweetened cream cheese, and smooth white chocolate wrapped up into a cinnamon roll. The only thing better than one pie dish of this is having two pie dishes full so you can share!
Prep time: 45 min
Cook time: 20-25 min + additional 15 min of whipping frosting
Total time: 1 hr 20 min
Yield: 18-20 rolls
Ingredients
2 cups

warm water

1 tbsp

yeast

1 tbsp

sugar

1 tbsp

kosher salt

1 tbsp

vegetable oil

1

egg

6 cups

all purpose flour

1/2 cup

unsalted butter, softened and divided

1/2 cup

sugar divided

3 tbsp

ground cinnamon

1/2 cup

brown sugar

1/2 cup

dried cranberries, divided

1 pkg (8 oz)

cream cheese, softened

1 cup

powdered sugar

4 oz

white baking chocolate, melted
Cooking Directions
Add yeast, sugar, salt, and oil to warm water and let sit until yeast starts to bubble, about 5 minutes. Pour into bowl of a stand mixer (or a large bowl if mixing by hand) with the dough hook attachment. Add egg and flour. Mix until dough forms into a ball. Let sit for about 5 minutes.
Divide dough into two balls. On a silpat or floured surface, roll one of the balls into a 19″ long by about 11″ rectangle. (About the length of a rolling pin.) Spread 1/4 cup of the room temperature butter over the dough. Sprinkle with 1/4 cup sugar, about 1 1/2 tablespoons of cinnamon, 1/4 cup brown sugar, and 1/4 cup dried cranberries.
Roll it up and pinch seams together. Slice into even rounds, about the spacing of your thumb length wise. Place in prepared pie dishes. Repeat with second bath of dough and ingredients. Let sit covered for about 25 minutes or until dough is "puffy."
Bake for about 20-25 minutes. Take out of oven and while the cinnamon rolls are cooling, prepare the frosting.
In a large mixing bowl, beat the cream cheese and powdered sugar. Over a double burner, melt the white baking chocolate until smooth and velvety. Cool slightly, and mix in about 1/4 of the white chocolate into the cream cheese and stir to combine.
Frost the cinnamon rolls with the cream cheese and white chocolate frosting. Evenly sprinkle the remaining cranberries over the top of the rolls. Take a whisk and drizzle the remaining of the white chocolate over the dried cranberries.