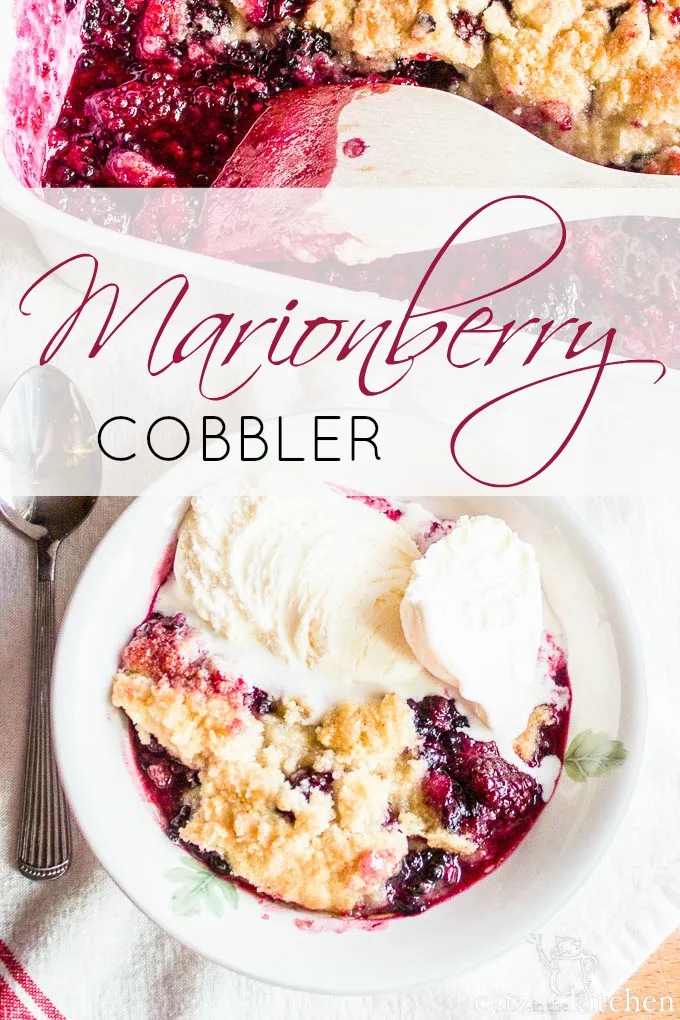 Berry picking. I hated it as a kid. I adored the book
"Blueberries for Sal"
but obviously it wasn't enough to change my bad attitude when my mom would drag me out of the cool, air conditioned house and onto our neighborhood street where blackberries grew amuck! All I wanted to do was play with my barbies in my room. Those who know me in real-life know that Barbies WERE my life. I could play make believe all day.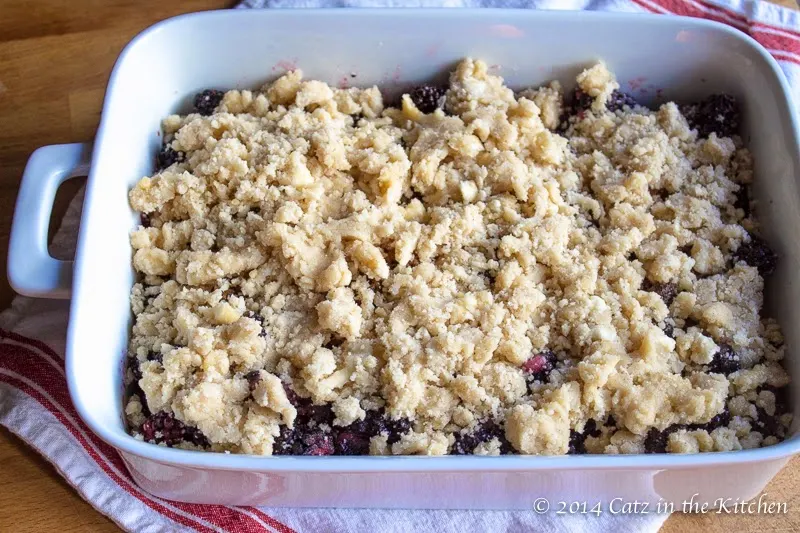 Fast forward 20+ years later and I don't have a make believe bone in my body, but I do love to go berry picking. My, how things change as we grow older. I wish I could go back and happily skip down the street with my bucket in one hand and my mom's hand in my other hand.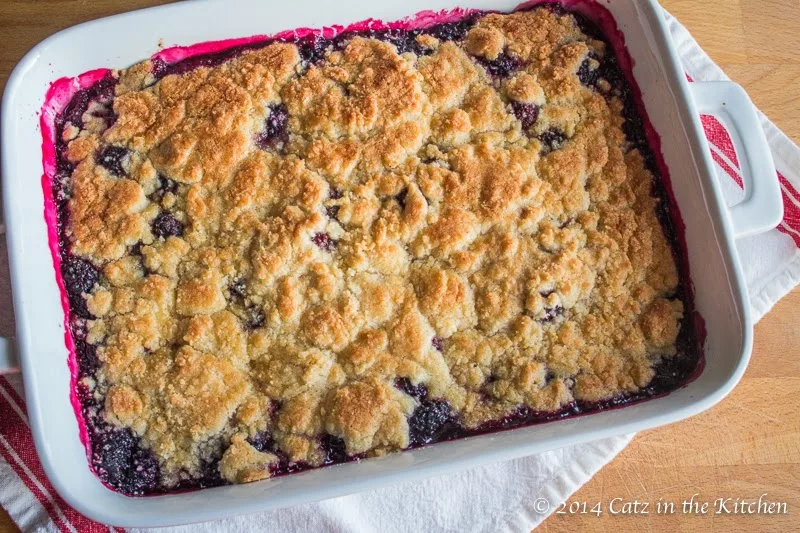 I can't go back in time, but I can make these memories with my kids. And unlike me, they love berry-picking. All three of them. Grace is a picker who occasionally samples the goods. Eden is more of a sampler than a picker, but she gets a few into the bucket. And Christian? He's just a sampler-and boy does he love sampling berries! Out of our three kids, Grace is the most like me. I'm a fast picker and I don't really sample. I'll try one berry-but I'm all about how many can I pick in the amount of time I have. Sampling berries only slows me down-I hate being slowed down.
Last weekend we went berry picking for all of 15 minutes, maybe? We got there right before the farm was closing. I got busy and down to work and by the time we were done, I had enough to make dessert. Cobbler. My favorite of all the berry desserts in the land. This recipe is the recipe that is always used by Josh's family. It's a basic fruit cobbler recipe, so any fruit or berry would work. Marionberries are what I had recently picked, so that is what I used and it was perfect! Warm, fruity, and bubbly on the inside with a beautiful buttery crunch crust. (The crust is always my favorite part.) Serve this cobbler with some old-fashioned vanilla ice cream and you've got a true taste of summer.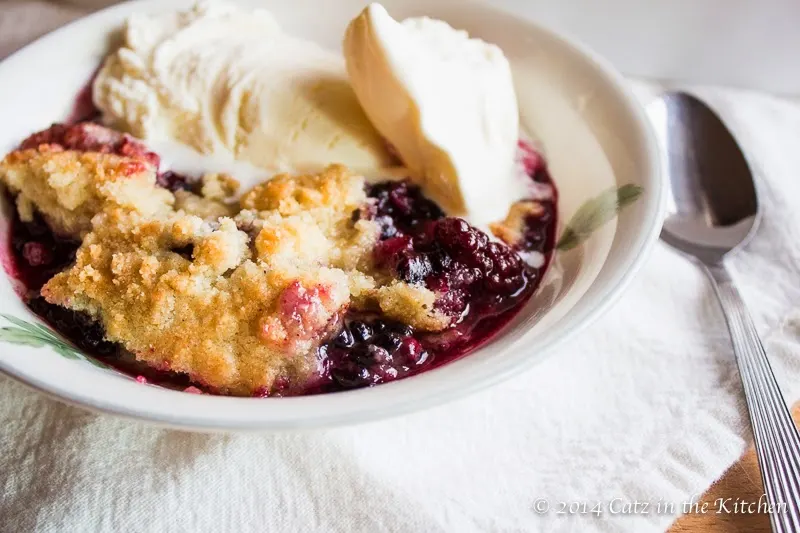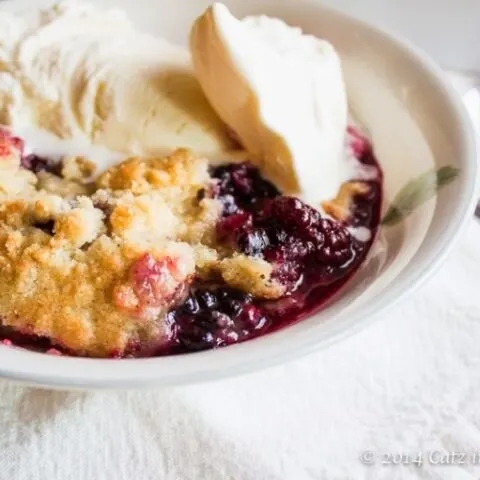 Marionberry Cobbler
Fresh, sweet berries and a beautiful golden butter crust-this marionberry cobbler is the perfect dessert for summer!
Ingredients
1 cup sugar
1 cup all-purpose flour
1 tsp.salt
1 scant tsp.baking powder
2 tsp. ground cinnamon
1/2 cup (1 stick) butter, chilled and cubed
1egg, beaten
6 cups marionberries
1/2 cup sugar
2 tsp. ground cinnamon
1 1/2 tsp ground nutmeg
1/4 cup instant tapioca pearls
Instructions
Pre-heat oven to 350 degrees. In a large bowl, combine 1 cup sugar, flour, salt, baking powder and 2 tsp of cinnamon. Cut in the cold butter with a pastry blender until the mixture resembles wet sand. Mix the beaten egg into the flour mixture until the egg is evenly distributed.
Pour the berries into an 11×13 baking dish and stir in the remaining sugar and tapioca pearls. Sprinkle the cinnamon and nutmeg over the top of the berries. crumble the cobbler dough over the berries until the dough covers almost all of the berries.
Bake in the pre-heated oven for 40 minutes or until the berries start to bubble and the crust gets golden brown. If you find that the crust isn't browning-turn the broiler on and broil the cobbler for a few minutes only-careful to watch it and make sure it doesn't burn.
Serve with a scoop of vanilla ice cream
Notes
Recipe adapted from my mom Connie Anderson and my Mother-in-love, Lisa Rief.
Nutrition Information:
Yield:

6
Serving Size:

1
Amount Per Serving:
Calories:

299
Total Fat:

0g
Saturated Fat:

0g
Trans Fat:

0g
Unsaturated Fat:

0g
Cholesterol:

0mg
Sodium:

1mg
Carbohydrates:

73g
Fiber:

2g
Sugar:

50g
Protein:

2g
Nutrition information isn't always accurate.
SaveSave