This traditional Amish pumpkin pancakes recipe can also be sweet potato-based, but no matter how you make it, it's an autumn breakfast treat!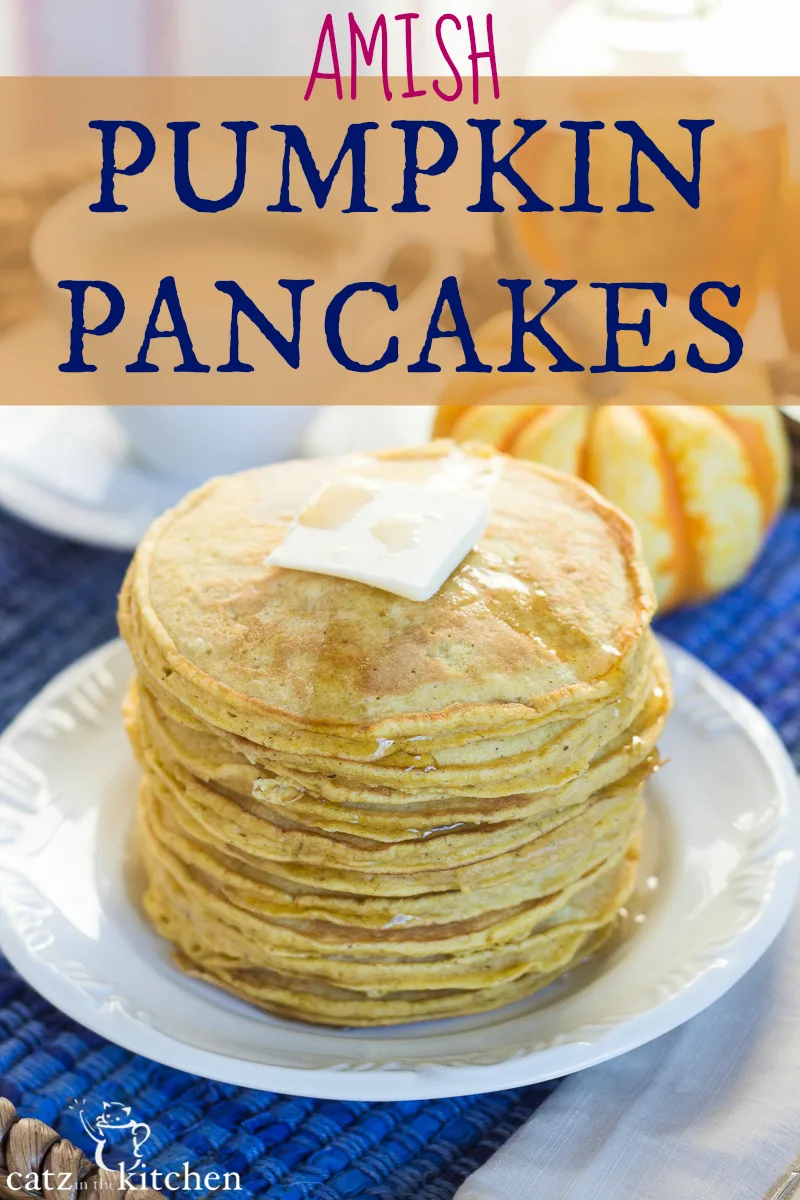 This post was originally published in February of 2011. We have reshot it and brought it back from the archives for you. Enjoy!
Well, my Gracie is sick again. I'm feeling pretty bad about this because she has only been over her last cold/flu for a about a week and a half and here she is not feeling well again. My kid needs a break. Thankfully, it's a really mild cold, though…or so it seems. I'm keeping my fingers crossed. I need her to get better fast because not only will she be a happier child, but if she has to miss one more Awana Club night I think I (and she!) might scream. Her Valentine's party is tomorrow and I need her well enough to go and play with her friends!
Since I've made a ton of progress on getting the house all cute and pretty and my kitchen is in complete working order, I thought I would make pancakes. I've had this Amish Pumpkin Pancake recipe lying around for years now and I've never made it. I've also had a can of Pumpkin hiding in my cupboards for awhile now and I wanted to use it. And since pumpkin is apparently a super food, I thought it would be a great breakfast for my girls.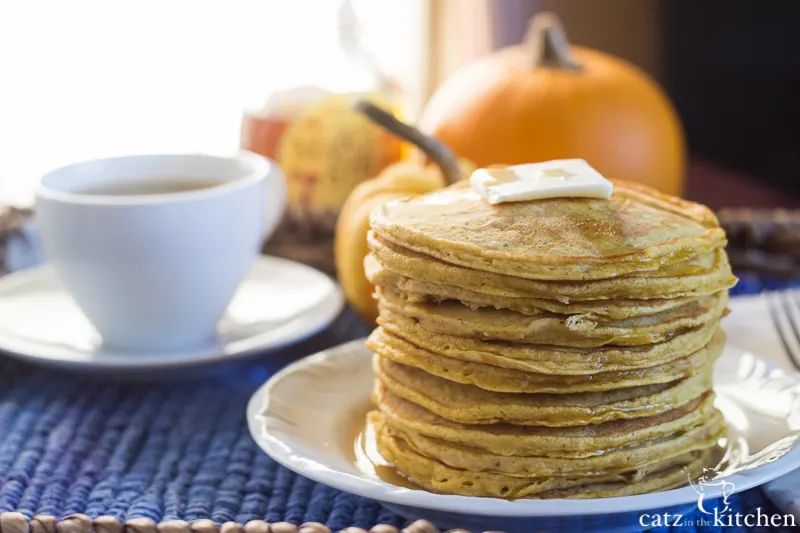 The recipe is a really easy one to follow. It's just a matter of mixing all the ingredients together in one bowl. But since I'm still finding my way around the kitchen and figuring out where my mom stashed everything (I am grateful, don't get me wrong!), it took me a lot longer than it normally would have!
I didn't take a group shot photo of all the ingredients this time around – like I said, I'm still finding my way around my kitchen, but you literally just fill up your mixing bowl with all the ingredients and stir until it's smooth.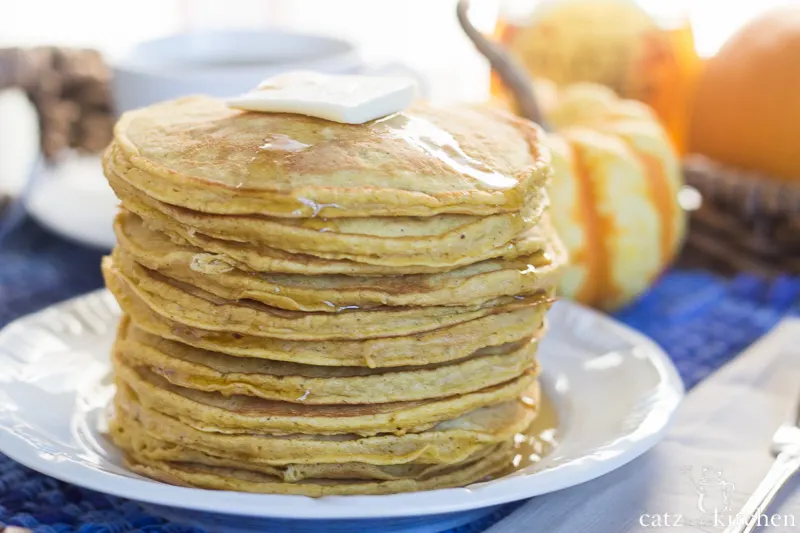 Once your batter is combined, place spoonfuls of batter onto your griddle or frying pan. I used a griddle (and without my husband's help, I might add!), and it worked best for the amount of pancakes the batter made. I was able to get 17 small to medium sized pancakes out of the batter.
I'm not a very good pancake flipper so excuse the excess batter. You all know I don't generally eat heavy breakfast items in the morning and I rarely make pancakes. So with time, hopefully, practice will make perfect.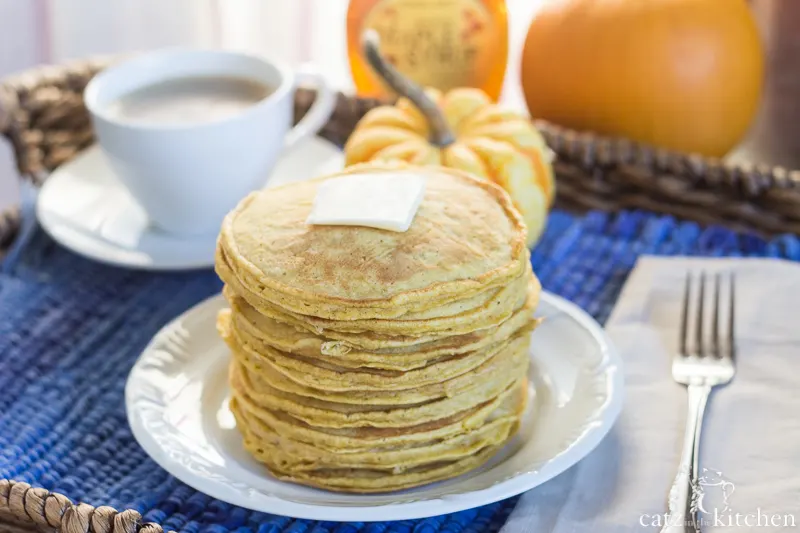 The girls LOVED these pancakes! Eden ate seven pancakes and Grace ate eight pancakes, while I only had three (the leftover two are chilling out in the fridge, which could be for Josh in the morning). Grace said, "Mommy, these pancakes are incredible!" Eden really enjoyed them too. I couldn't get them on her plate fast enough, heehee!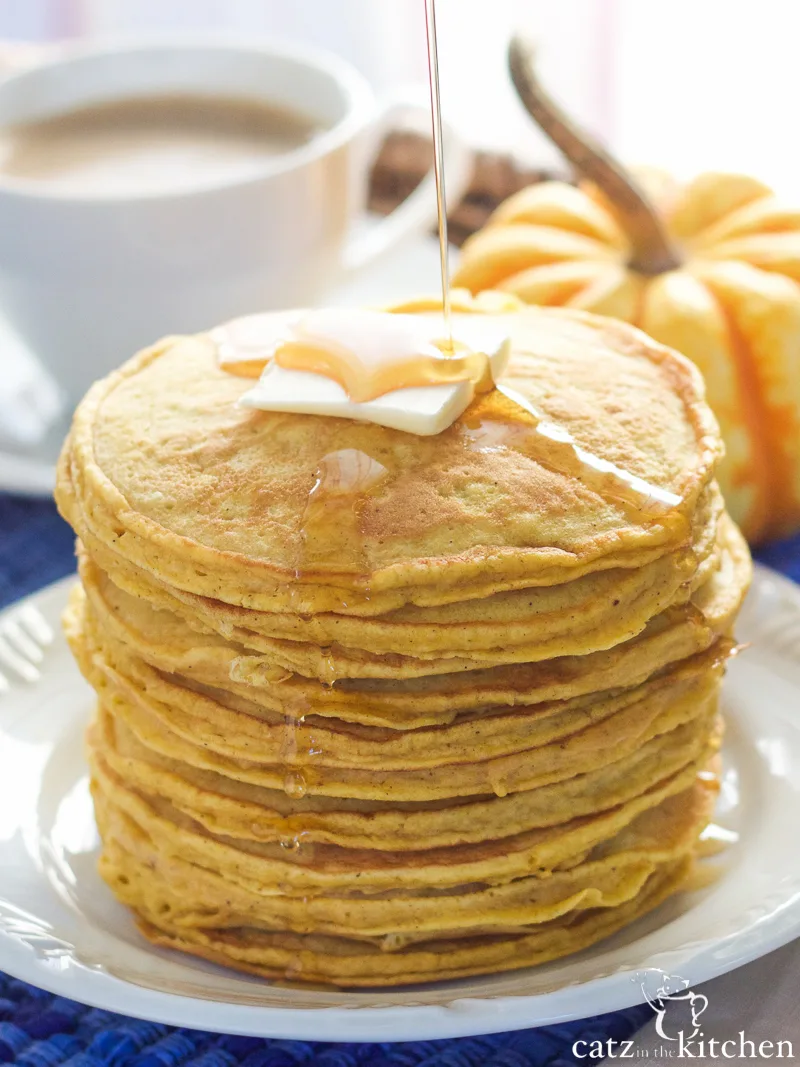 What I like about these pancakes is that they taste homemade and authentic. Maybe the only thing I would have changed was to add a bit more sugar to the batter mix, but that's just me and I have a sweet tooth anyways!
Amish Pumpkin Pancakes
This traditional Amish pumpkin pancakes recipe can also be sweet potato-based, but no matter how you make it, it's an autumn breakfast treat!
Ingredients
1 cup flour
2 1/2 tsp baking powder
3/4 tsp salt
2 tbsp granulated sugar
1/4 tsp cinnamon
1/8 tsp ginger
1/8 tsp nutmeg
1 egg, beaten
1 1/4 cups milk
2 tbsp melted butter
1/2 cup canned pumpkin or mashed sweet potatoes, cooked
Instructions
Combine all ingredients in a bowl and mix until smooth.
Cook on a lightly greased griddle or frying pan, turning only once.
Serve with butter and syrup.
Notes
Originally from AmishRecipes.net, now offline
Nutrition Information:
Yield:

15
Serving Size:

1
Amount Per Serving:
Calories:

94
Total Fat:

3g
Saturated Fat:

2g
Trans Fat:

0g
Unsaturated Fat:

1g
Cholesterol:

21mg
Sodium:

238mg
Carbohydrates:

14g
Fiber:

1g
Sugar:

4g
Protein:

2g
Nutrition information isn't always accurate.