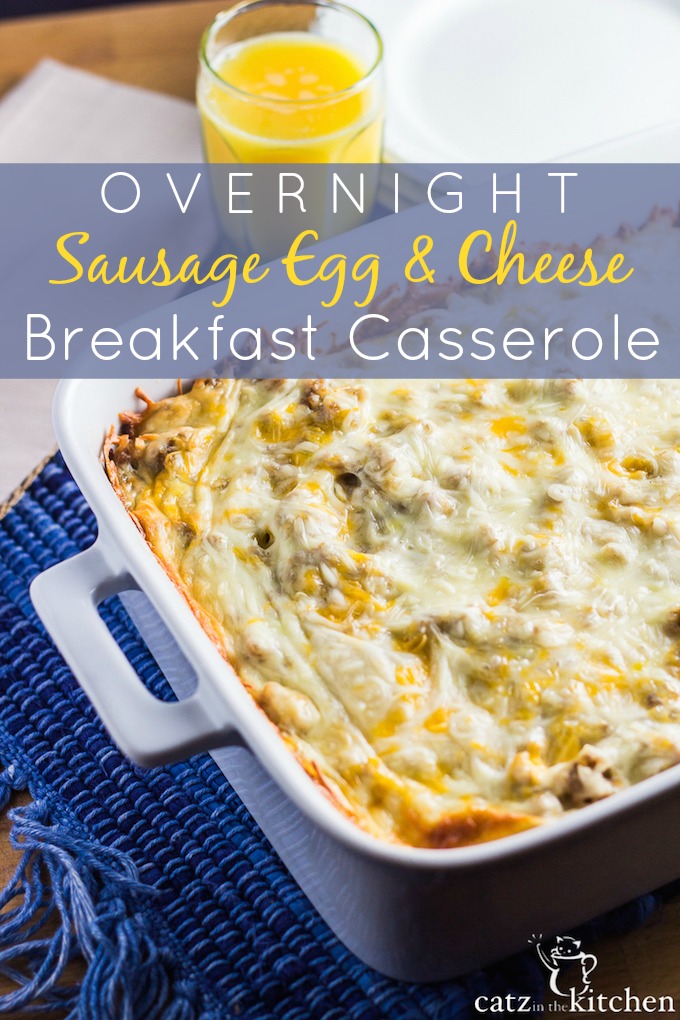 So, I wrote this post back in 2010 when Chels first started writing her blog. Apparently, I was in a bit of a zany mood, as it's basically insane. The recipe, however, is a traditional Rief dish – my mom always made it the night before a holiday. Morning of, no one had to cook – we just popped this excellent little casserole in the oven, and, voilà! 30 minutes later we had breakfast. If you feel like a random chuckle or two, feel free to read the post. Otherwise, just skip to the recipe, print it out, and file it away for the night before Christmas (or Thanksgiving, or New Year's, or…)!

It is with great pleasure and arduous fanfare that it is my distinct honor to present to you, dear reader, this, my guest blog in three parts. And let it be known, and duly noted, that this is the only three part guest blog available to read today! In Oregon. Or, at least, in Wilsonville. Well, maybe only at my desk. Regardless, a claim has been made, and validated. If you wish to be able to read a three part guest blog (at least one originating at my desk), it may only be read here. And there you have it.
Why in three parts, you say? Why, that is simple. Besides the fact that it gives me two additional chances beyond what I would normally have to actually produce a readable (not to be confused with "worth reading") piece of online literature, it gives one the perfect opportunity to address not only breakfast, and not only lunch, but also dinner. And, in reality, what culinary repertoire is complete without all three? So there you have it. Yet again.
Welcome then, now that the appropriate exercises in vanity have drawn to a close, to Part I of the three part blog (hey, did I mention this would be a three part blog?), a meal commonly known as breakfast. Now, it should be known that there was a time in the Middle Ages, around the 15th century, when breakfast was not observed, prepared, eaten, or otherwise enjoyed, due to an unfathomable frowning-upon by the Catholic Church. Thankfully, common sense eventually prevailed, and we are now free to enjoy the proverbial most important meal of the day without fear of excommunication. It is perhaps more well known where the origin of the word "breakfast" itself came from. Shall we move on then? What is that? You are not familiar with the origin of the word? Well, then, in that case, consider this your formal enlightening. A momentous hour indeed. The word breakfast is composed of the words "break" and "fast." Ah, I see, you had that much figured out. Well, then, this next part should be quite simple for you. The longest span of time during the day in which you will generally go without nourishment is the nighttime (Taco Bell's marvelous invention "Fourth Meal" excepted). Thus, to a certain extent, from about six or seven in the evening to seven or eight in the morning, you are "fasting," as it were. Upon the taking up of morning nutriment, you are "breaking" said fast. So, of course, we should, for grammar's sake, all refer to this morning time of victual consumption as "breaking-fast." However, rather than attempt to upend 600+ years of tradition, grammatical heresy though it may be, we will, at least until the opportune time for a revolution of culinary verbiage presents itself, refer to our slightly post-dawn subsistence as "breakfast." Have all historical curiosities been satisfied? Excellent. There you have it. Once more.
This particular breakfast recipe is one of some renown and history in the Rief household, both my own and that of my father and mother. Primarily on Christmas morning (and for many, many church potlucks), I can remember my mother fixing this wonderful breakfast (so much more depth to the word now that you know its history, don't you think?) casserole. And, as such, courtesy of my mother and eldest (still younger than me however – I have no intention of letting her forget that…) sister, we have been able to successfully duplicate and pass down this recipe time and time again. At this point, it spans but two generations. However, I have every intention of passing it down to my daughters (and sons, God willing), at which point it will span three, and who really knows what course it will take from there? Surely, if the tradition of breaking-fast can withstand church persecution and Toaster Eggs (another story for another time – consult the archives of the Failed Product Museum in Ithaca, NY) for upwards of 600 years, our humble sausage egg casserole can last more than three measly generations…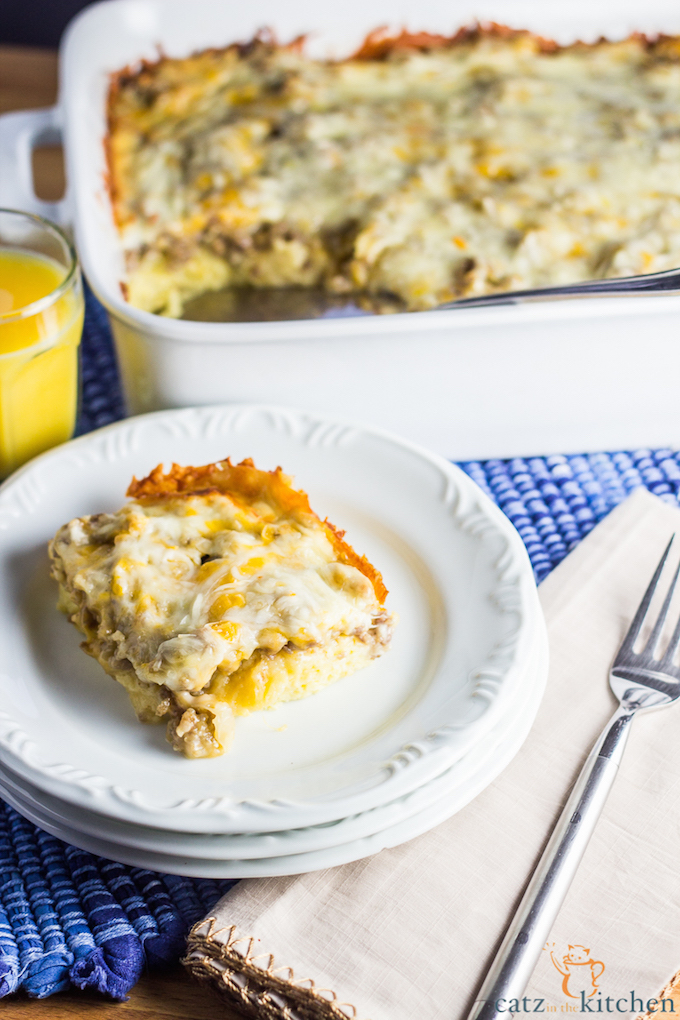 On to the food then. This recipe is so simple, you absolutely must give it a whirl. You will never be sorry you did. And when you have made it successfully for the 60 or 70th time, you will still not feel the pangs of regret. Indeed, you will simply revel in the wonder that is a combination of browned Jimmy Dean sausage, cheddar and mozzarella cheeses, eggs, and, wait for it…bread. Really, how can you go wrong? One quick tip, then. A best practice where this particular meal is concerned is to make it the night before whatever blessed morn you are anticipating, place it gingerly in the refrigerator, and simply pop it in the oven when the morning light has shown its smiling face. And, reeling in my pathetic poetic impulses…
Begin by browning the sausage. I strongly recommend Jimmy Dean, and I strongly recommend the maple flavor, although you can get by with whatever suits your fancy (or whatever is on sale, as the case is more likely to be). The smell is simply glorious – and I am not generally a fan of pork-based substances.
Once the meat is browned (or, better yet, while the meat is browning), grease a glass 9×13 baking dish.
This task complete, take six slices of white bread and cut off the crust. I know, I know. Just do it.
Lay said slices out in the pan as shown above. Once your meat is fully browned, spread it evenly over the bread. See, the pieces are slowly coming together…its like a puzzle with layers…
Next, take six eggs and crack them into a bowl. Much the same (actually, truth be known there is no difference) as if you were preparing scrambled eggs (in the Rief family tradition, not the Chinchen family tradition – those of you who don't know of whence I speak, just move along – nothing to see here…), add approximately a tablespoon of milk for each egg (that would be six tablespoons, for those among us not of the rocket scientist persuasion). Beat the eggs until they are a soft, uniform yellow, with as little white as possible.
Set aside the bowl of cruelly-beaten eggs for a moment, and sprinkle the sausage-covered bread in the pan with generous helpings of grated cheddar and mozzarella cheese. There is no rule here other than the key word – generously. Then again, am I really the best person to ask about this? You all should know my feelings by now on the subject of cheese. In my humble, modest, lowly-thought-of opinion, cheese is only second to chocolate on the international scale of delectability (the word "international" serves absolutely no purpose in the preceding sentence, other than to add an additional modifier of marginal substance and elongate the paragraph unnecessarily). In the profundity-ridden words of Facebook flair, "Cheese – milk's leap towards immortality." So, I am biased. Nevertheless…generously.
Once the bread in the pan under the sausage under the cheese is ready to go, you should then proceed to pour, as evenly as possible, your bowl of brazenly oppressed eggs over the multi-layered mixture. At this point, you're done. Seriously. That's it.
Now, all that is left to do is put a lid on the pan, put it in the fridge, and hit the hay. Wow, there's a colloquialism I hadn't used in a while. Ah, well. Still, that bothers me. Who among us has actually ever spent a night sleeping in hay? If you have, I implore you to leave a comment explaining your harrowing ordeal, as I would be terribly interested in hearing it.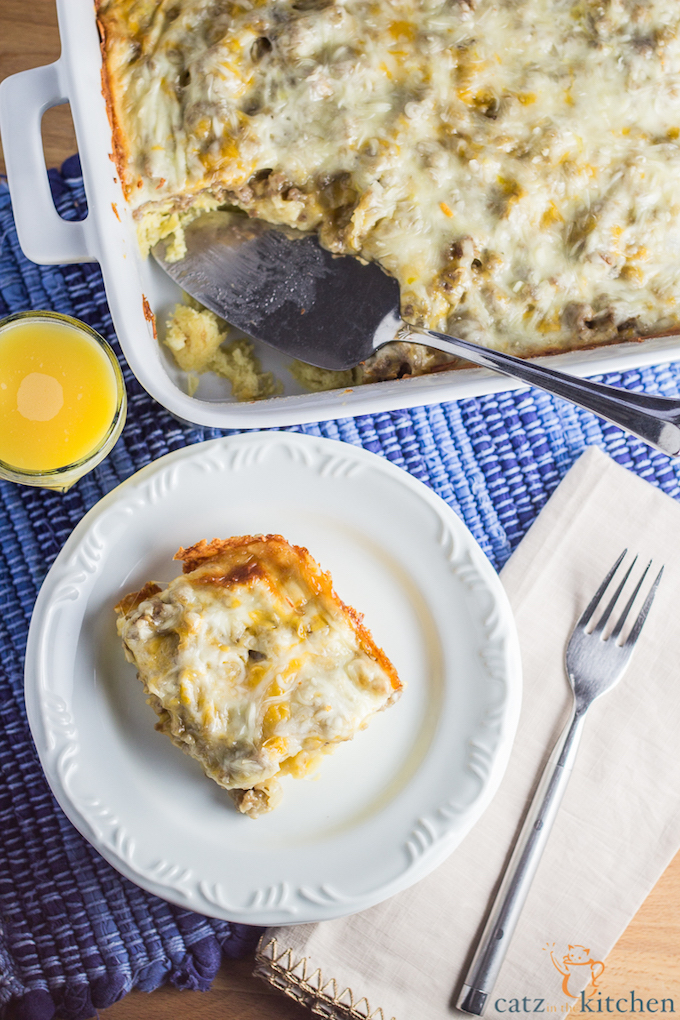 When the morning comes, as the bard known as Smashmouth once said, preheat your oven to 350 degrees, and place your delectable morning treat, sans lid, inside for about 35 minutes. Just enough time to finish the stockings, as the case may be. This will absolutely be our Christmas morning meal, as it was for Thanksgiving as well. Enjoy, and don't forget to take a moment to enlighten the rest of your abode on the history of breaking-fast – perhaps the culinary circumlocution revolution can start with you!
And so Part I concludes. Part II shall commence soon! (Editor's note: Nope.)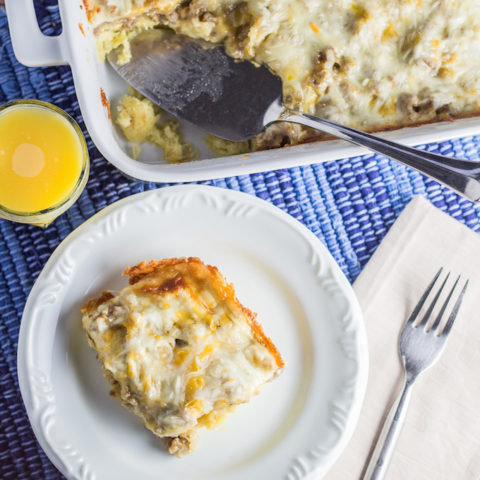 Overnight Sausage Egg & Cheese Breakfast Casserole
This overnight sausage, egg, and cheese breakfast casserole recipe is incredibly simple to prepare, and so convenient when you don't have time to cook in the morning!
Ingredients
1 loaf Italian bread (use plain white if Italian is unavailable)
1 cup shredded mozzarella cheese
1 cup shredded cheddar cheese
8 eggs
1 cup milk
Instructions
Brown sausage in skillet.
Slice Italian bread into 1-inch thick slices and cut off crusts.
Grease high-sided 9x13 baking dish and arrange bread so that it completely covers the bottom of the dish (this part is a bit like a jigsaw puzzle).
Drain sausage and spread evenly over bread. Sprinkle cheeses evenly over bread and sausage.
In separate bowl, beat eggs and milk. Pour evenly over all ingredients in pan.
Let set covered in fridge overnight.
When ready to serve, preheat oven to 350 degrees and remove covering.
Bake for about 35 minutes, or until knife poked in center comes out clean. Let stand a few minutes before serving.
Notes
Slightly Adapted from Original Recipe by Lisa Rief
Nutrition Information:
Yield:

8
Serving Size:

1
Amount Per Serving:
Calories:

559
Total Fat:

33g
Saturated Fat:

12g
Trans Fat:

0g
Unsaturated Fat:

18g
Cholesterol:

272mg
Sodium:

1079mg
Carbohydrates:

33g
Fiber:

2g
Sugar:

3g
Protein:

32g