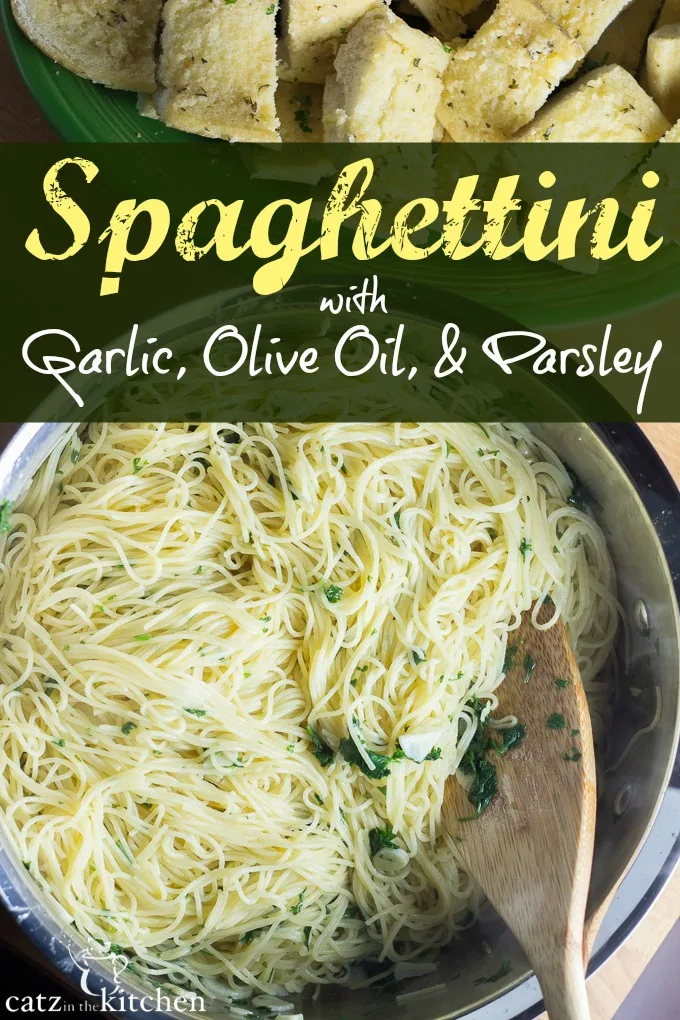 This Spaghettini with Garlic, Olive Oil, & Parsley recipe is getting updated from the archives – the pictures were old, but the recipe is one of our favorites. Since it's the holiday season and we're all posting a ton of sweet things, I realize you have to eat dinner, too, and I know for our family, we've been busy almost every weekend and several times during the week! So, a quick and easy dinner that is also only about 300 calories per serving is just the ticket! Don't forget, you can always bump up the fiber and use whole wheat pasta and make this even healthier!
September came and just kind of snuck up on us! Last week, I thought I still had a good two weeks left of August, but when I went and questioned my calendar, I realized I was wrong. Fall began to show its face around our neck of the woods last week. The windows have to be shut at night, the evenings have gotten colder faster, and there is a bite to the morning air. I, for one, have really welcomed the coolness that has greeted me during the days. It means I can get back to some of the things I love to do, most of which are baking and cooking. Speaking of cooking, I can't really remember the last full meal I cooked all by myself. We've been doing so much grilling and I've been helping Josh with a lot of prep work…but cooking? Yeah, not so much.

Our summer was really only about five to six weeks long, and though I love fall and am super excited for it to come…I am going to miss the warmer days (not the 87 degree and up days) and it staying light out longer in the evenings. I've decided to embrace the changing of the season…Josh, on the other hand, is slightly bitter. So it's up to me once again to show him how beautiful fall can be and what delicious meals we can still devour and enjoy, even if they are not made on the barbecue – and this pasta dish was just thing to ease Josh back into the fallish spirits without being in your face.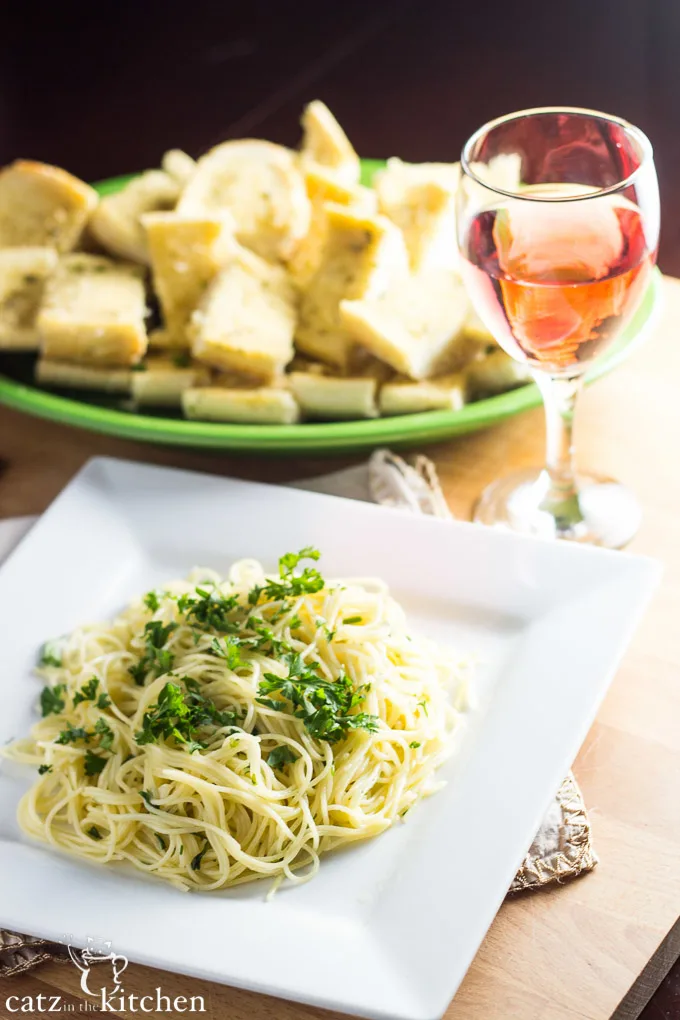 This pasta dish could not be any easier! It's just a few ingredients: Spaghetti, Olive Oil, Garlic, and Parsley, plus salt and pepper. That's it! And this pasta is so flavorful and aromatic! I was a bit skeptical about making this at first because there isn't a true sauce that goes over the spaghetti, but after eating it…there is no need for a sauce. The flavor and ingredients give enough moisture so that it's neither dry or unsatisfying. It's actually incredibly filling! And what I loved about this meal was that there was zero shopping on my end for ingredients. I always have fresh garlic on hand, I have parsley growing in one of my herb containers, olive oil is also a staple in our home, as well as many kinds of pasta. It's the perfect pasta to make in a pinch!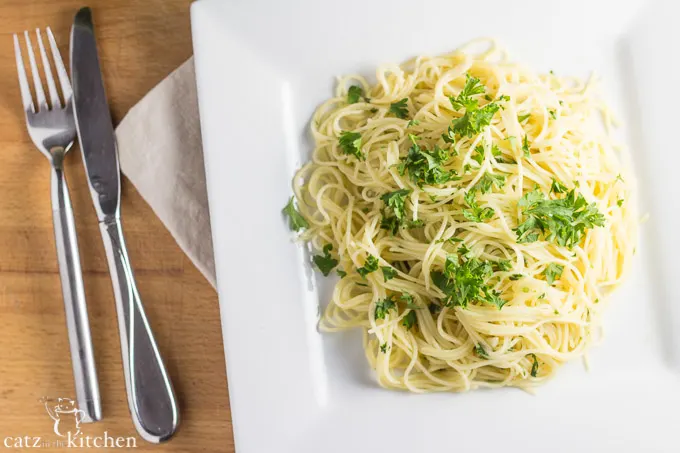 With pasta, garlic, parsley, and olive oil…how could this meal not be a winner? Hey, you had me at garlic ;)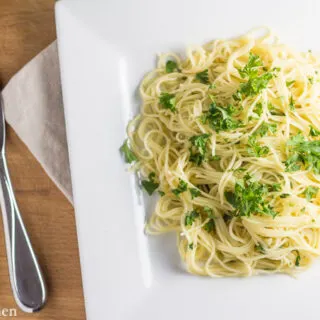 Spaghettini with Garlic, Olive Oil, & Parsley
Craving simple, classic pasta flavors and have less then 30 minutes to make it happen? Memorize this recipe for spaghettini with garlic, olive oil, & parsley - you'll use it a lot!
Ingredients
2/3 pound spaghettini or angel hair pasta
6 tbsp extra virgin olive oil
6 garlic cloves, minced
1 bunch Italian parsley, chopped
sea salt
pepper
Instructions
Prepare pasta according to package directions.
Add olive oil and garlic cloves to a large sauce pan over low heat, and cook gently until garlic begins to sizzle and release its fragrance.
Add chopped parsley leaves to the pan, along with 1 cup of the pasta water.
When the pasta is cooked, use a pasta spoon or skimmer and fish the pasta out of the water and place directly into the saucepan, adding more pasta water if needed.
Toss the pasta and let it simmer briefly in the sauce to finish cooking and absorb the flavors.
Grind some fresh black pepper and sea salt over the pasta.
Serve immediately.
Nutrition Information:
Yield:

6
Serving Size:

1
Amount Per Serving:
Calories:

202
Total Fat:

14g
Saturated Fat:

2g
Trans Fat:

0g
Unsaturated Fat:

11g
Cholesterol:

0mg
Sodium:

101mg
Carbohydrates:

17g
Fiber:

1g
Sugar:

1g
Protein:

3g
Nutrition information isn't always accurate.