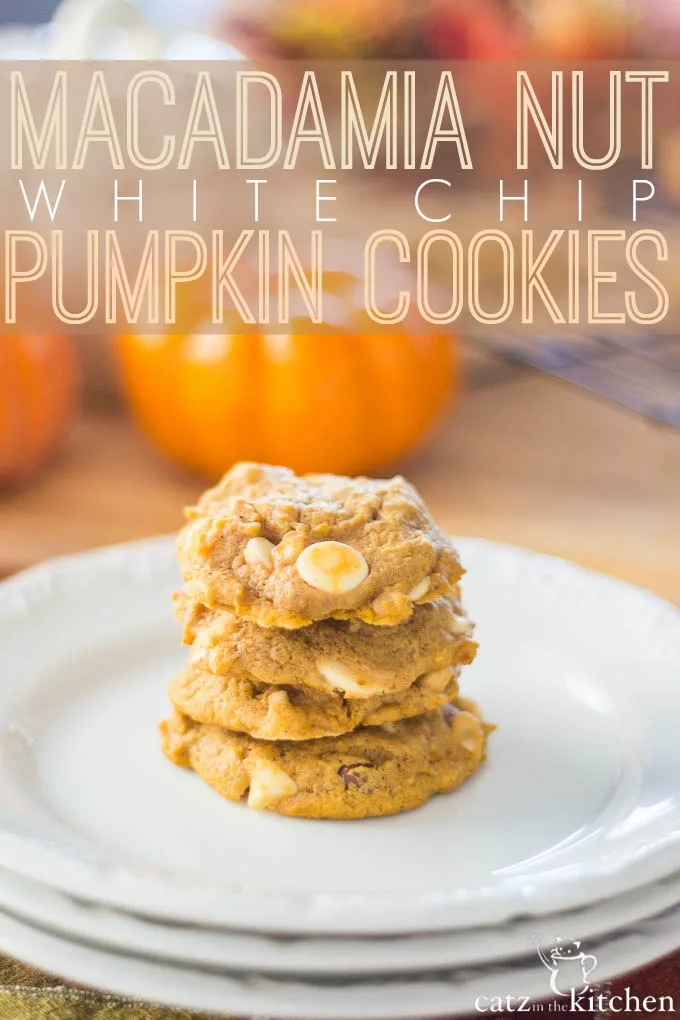 This post has been updated from the archives. It was originally published in November of 2011. The text is unchanged, but the pictures have been retaken and the recipe rewritten.
Dear Readers, just in case you didn't notice already, we have finally (drum roll please) added a print friendly button at the bottom of each post. :) No more copying and pasting for you. Just hit print!
This week I fell prey to some sort of virus that was not fun. My intention was to be baking Sunday night so these cookies would be all set for Josh's lunches for the rest of the week. I didn't actually feel up to baking or cooking until Wednesday. And let me tell you, the moment I began to feel like myself, I jumped at it. These cookies just spoke to me. The recipe teased me with promises of, "You will feel better if you bake these." And it worked! These cookies are a truly magically moist morsel of goodness in your mouth.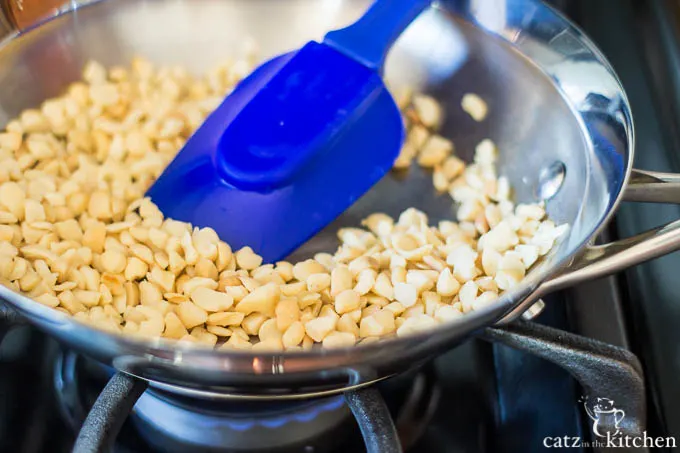 Dare I say that this cookie would even make a delightful little breakfast appetizer? I did indeed help myself to two cookies yesterday morning along with a glass of milk. While Grace was busy working on her cursive tablet in her school book at the dining room table, I had my back turned out of Grace's view so she couldn't see me savor each bite from the cookie. I kind of felt like Gollum holding a "precious" cookie instead of a ring. But I promise I am not a hoarder. My girls each got a cookie after they had finished eating their entire lunch.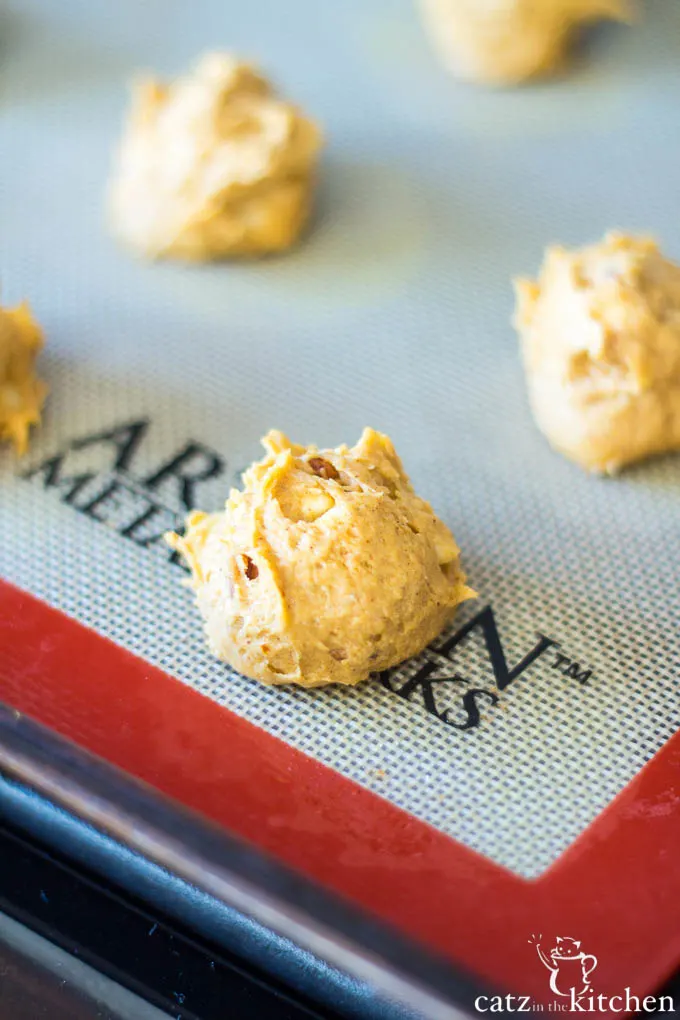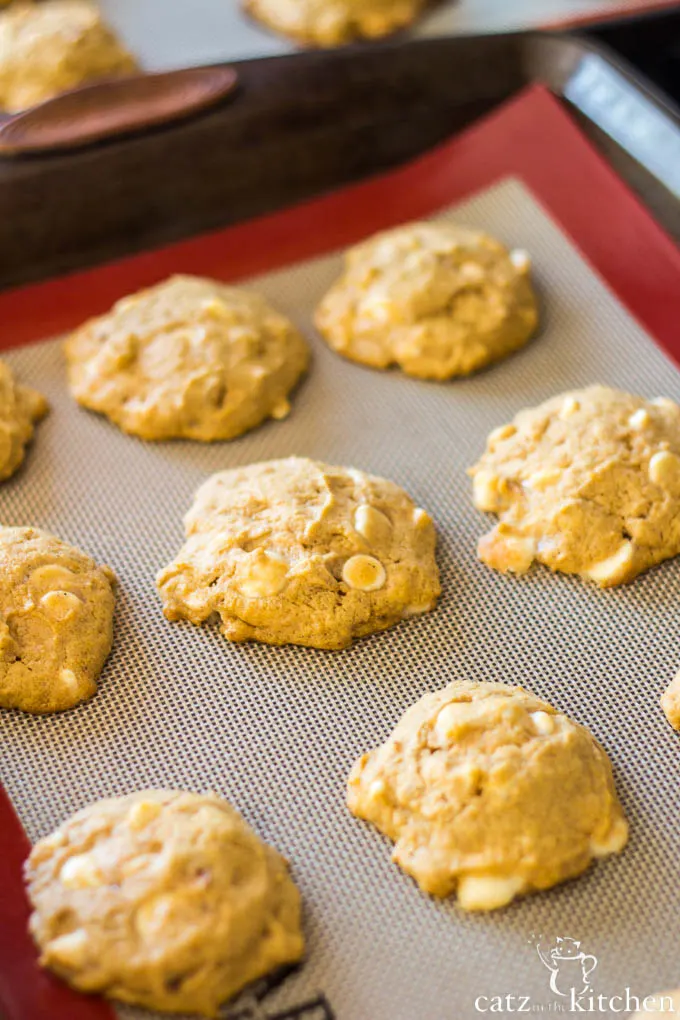 …And when they weren't looking, I snuck another cookie. :) I probably snuck a few too many cookies yesterday. For penance today, I promise I won't any cookies. Okay, maybe one or two. Or three or four!
But let me just say that if you are on dessert duty for your family's upcoming Thanksgiving feast, this little cookie will be sure to please many (already full) bellies. But don't be surprised if you see random family members standing alone in a dark hallway. They are just enjoying their cookie to the last bite. :)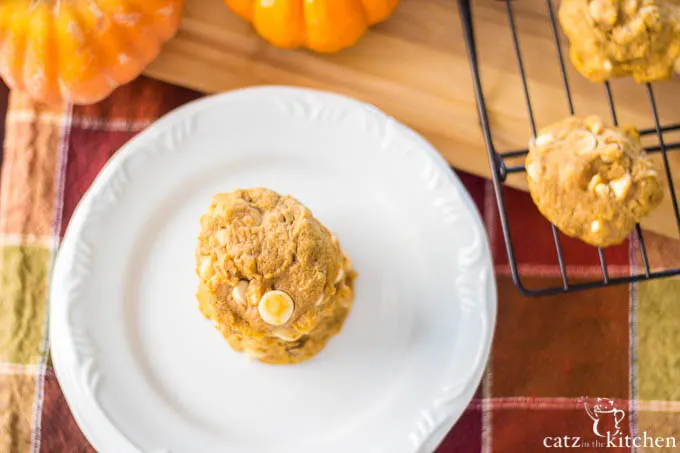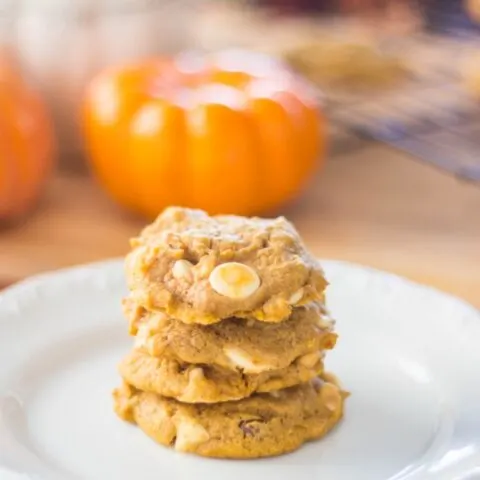 Macadamia Nut White Chip Pumpkin Cookies
This festive holiday macadamia nut white chip pumpkin cookie recipe is easy, quick, and full of fun fall flavors!
Ingredients
2 cups flour
2 tsp cinnamon
1 tsp of cardamom
1 tsp baking soda
1 cup butter, softened
1/2 cup sugar
1/2 cup brown sugar, packed
1 cup solid pack pumpkin
1 egg
2 tsp vanilla extract
2 cups white chocolate chips
2/3 cup macadamia nut, coarsely chopping and toasted
Instructions
Pre-heat oven to 350 degrees.
Combine the first 4 ingredients in a small bowl.
Beat butter and sugars until creamy.
Beat in pumpkin, egg, and vanilla until well combined; gradually beat in flour mixture. Stir in chips and nuts.
Drop by rounded TB onto greased baking sheets; flatten slightly with back of spoon or greased bottom of glass dipped in sugar.
Bake for 11-14 minutes.
Cool for 2 minutes and move to wire rack to cool completely.
Notes
If you don't have cardamom, you can substitute 1/4 tsp nutmeg and 1/4 tsp ginger.
11 minutes seemed to be the sweet spot for my oven.
Nutrition Information:
Yield:

40
Serving Size:

1
Amount Per Serving:
Calories:

147
Total Fat:

9g
Saturated Fat:

5g
Trans Fat:

0g
Unsaturated Fat:

4g
Cholesterol:

19mg
Sodium:

78mg
Carbohydrates:

15g
Fiber:

1g
Sugar:

10g
Protein:

2g
Nutrition information isn't always accurate.
This recipe is linked to: