This recipe for Pumpkin Cranberry Cheesecake is simply bursting with fall flavors, from its sweet cookie crust & creamy filing to its tart festive topping!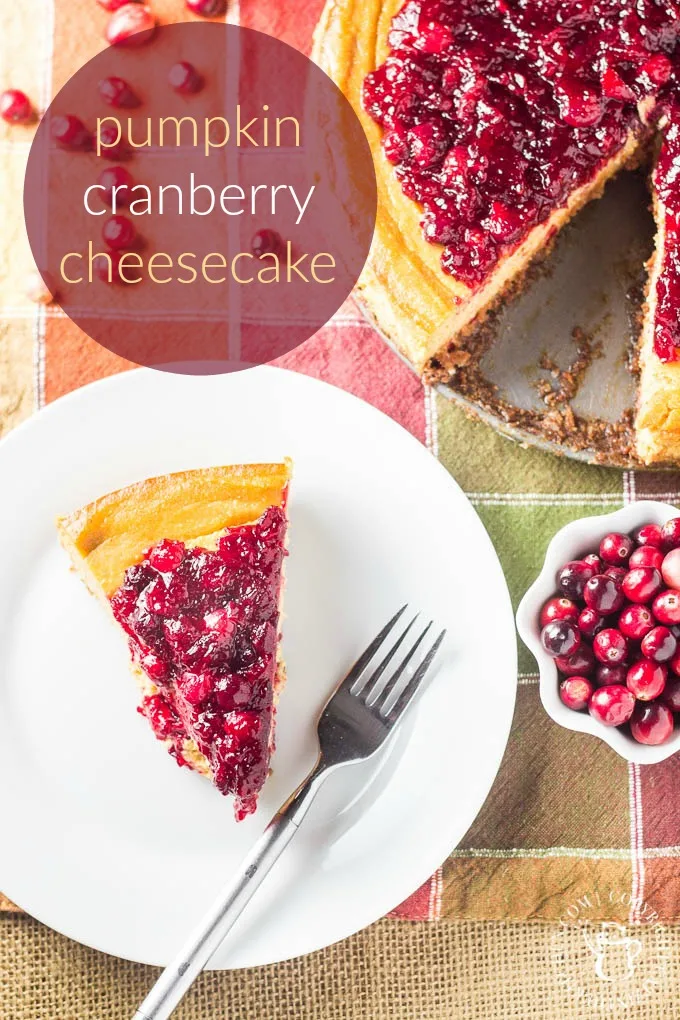 I've been promising my daughter Gracie that I would follow through on her request and make her a cheesecake. You see, she asked if I would make her one for her birthday back in May, but we were very busy with the whole moving into a new house thing and Grace's birthday happened to fall smack-dab in the middle of it.
So you see, I owed her big time.
Back when I went through all the recipes that I wanted to make during pumpkin season, I knew I wanted to surprise Gracie with this Pumpkin Cranberry Cheesecake. I knew she would love it as much as I loved the idea of it simply because she shares my affinity for #pumpkinflavoredeverything!
Is she a keeper or what?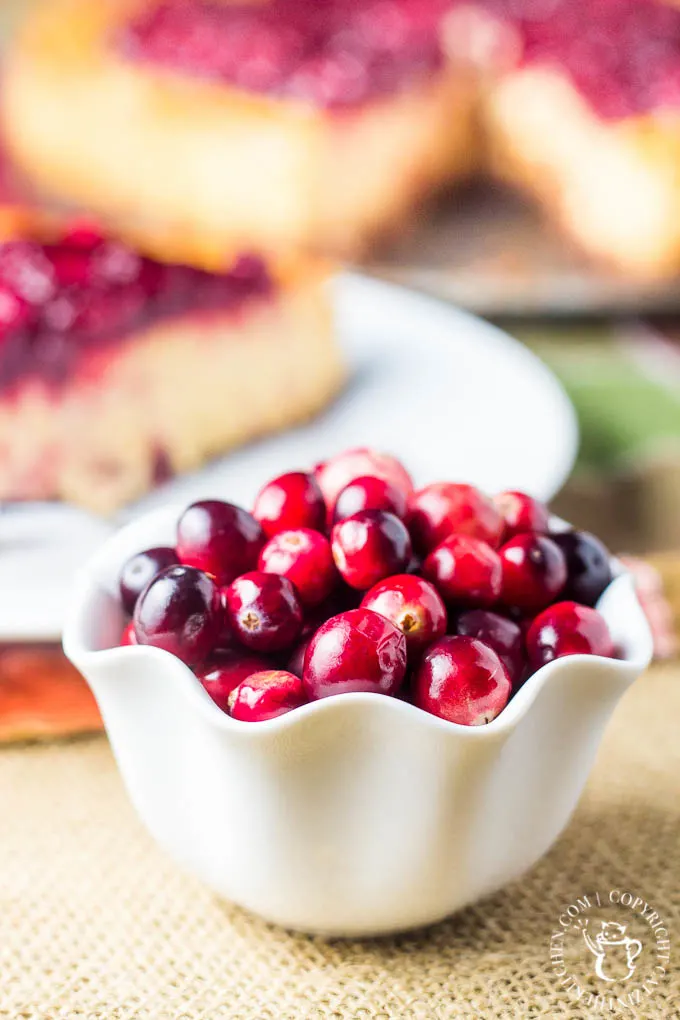 Since cranberry season is on its way in and pumpkin is on its way out, this cheesecake seems like a perfect way to meld these two holiday favorites into one festive dessert. And no joke, this cheesecake is just oozing flavor from the bottom to the top, starting with the crust.
The crust is made entirely of these delightful cookies called Amaretti cookies. I believe you can find them at Walmart, but they are also on Amazon, and I bought mine at World Market. Trust me, these cookies help make this cheesecake what it is.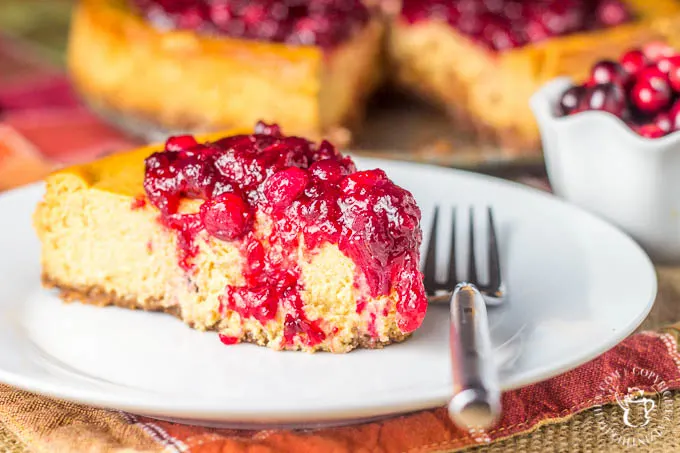 Since this recipe is made with ricotta cheese versus cream cheese, it's a bit softer, which is why is it requires so much chilling time. But that's kind of perfect if you make this for Thanksgiving – just make it a few days in advance and then you are good to go!
However…it was killing the kids to wait a whole day before they could eat it, especially Christian. He kept running around saying, "Eat punka cheeeeeesecake!" The wait was definitely worth it.
Let's just say there were a ton of mmm's while we sat around the table and ate it.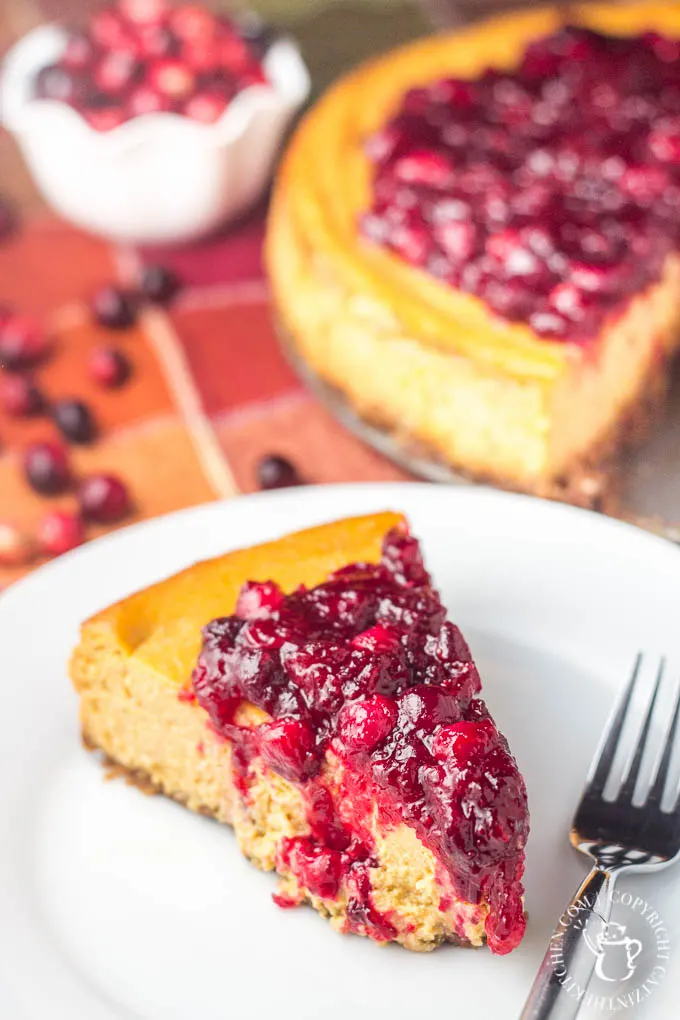 I don't really know how many people stray away from pies on Thanksgiving. But if you're feeling daring enough, I highly suggest, urge, beg, and plead with you to make this Pumpkin Cranberry Cheesecake. It will blow your friends,' families,' and tastebuds' minds!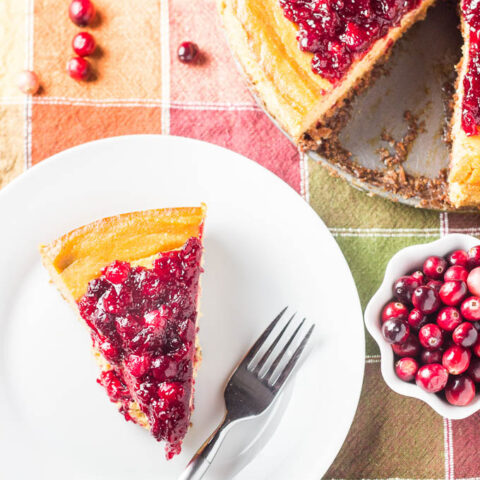 Pumpkin Cranberry Cheesecake
Cook Time:
1 hour
30 minutes
This recipe for Pumpkin Cranberry Cheesecake is simply bursting with fall flavors, from its sweet cookie crust & creamy filing to its tart festive topping!
Ingredients
Crust
1 tbsp sugar
6 tbsp unsalted butter, melted + a bit more for the pan
Filling
1 pound whole-milk ricotta cheese (I actually used part-skim)
1 1/2 cups sugar
1 15 oz can pumpkin puree
3 large eggs
3/4 cup mascarpone cheese
1 tbsp pure vanilla extract
1 1/2 tsp pumpkin pie spice
1/2 tsp salt
Topping
1 3/4 cup fresh cranberries
1/2 cup sugar
1 tbsp fresh lemon juice
Pinch of salt
Instructions
Pre-heat oven to 325 degrees. Wrap the outside (bottom and side) of a 9-inch springform pan with foil. In a food processor, pulse the cookies until a fine crumb appears. Add the melted butter; pulse to combine. Press into the bottom and about 1/4 inch up the side of the pan. Brush the side of the pan lightly with melted butter. Bake until golden and set, about 12-15 minutes. Transfer to a cooling rack and cool completely.
To make the filling, combine the ricotta with the sugar in a stand mixer and beat until smooth. Add the pumpkin, eggs, mascarpone, vanilla, pie spice, and salt. Beat until combined, not overmixing. Pour the filling into the cooled crust. Bake until set around the edges but the center still jiggles a little bit, about 1 1/2 hours - 1 hour and 45 min. Transfer to a rack and let cool to room temperature. Cover and refrigerate until cold and set, at least 8 hours or overnight.
To make the topping, chop one cup of cranberries (careful, they are wiggly little suckers) and put in a small saucepan with the sugar, lemon juice, salt, and 1/3 cup water. Cook over medium heat 7-10 minutes. Stir in the remaining 3/4 cup whole cranberries; cook for 2 more minutes. Let cool.
Allow the cheesecake to sit at room temperature for 20 minutes, then run a knife around the edge before removing the pan. If the cranberry topping seems stiff, add a splash of water to it and stir before spreading over the cheesecake.
Notes
If you have a Trader Joes near you, look for the mascarpone cheese and whole-milk ricotta cheese. It will be cheaper there than at a regular grocery store. Baking time does not include chilling time.
Nutrition Information:
Yield:

10
Serving Size:

1
Amount Per Serving:
Calories:

580
Total Fat:

34g
Saturated Fat:

18g
Trans Fat:

0g
Unsaturated Fat:

13g
Cholesterol:

143mg
Sodium:

344mg
Carbohydrates:

60g
Fiber:

3g
Sugar:

53g
Protein:

11g
Nutrition information isn't always accurate.