These eggnog thumbprints are the cutest, tastiest little holiday cookies! The recipe is simple & fun, and you get creamy & crunchy altogether in one bite!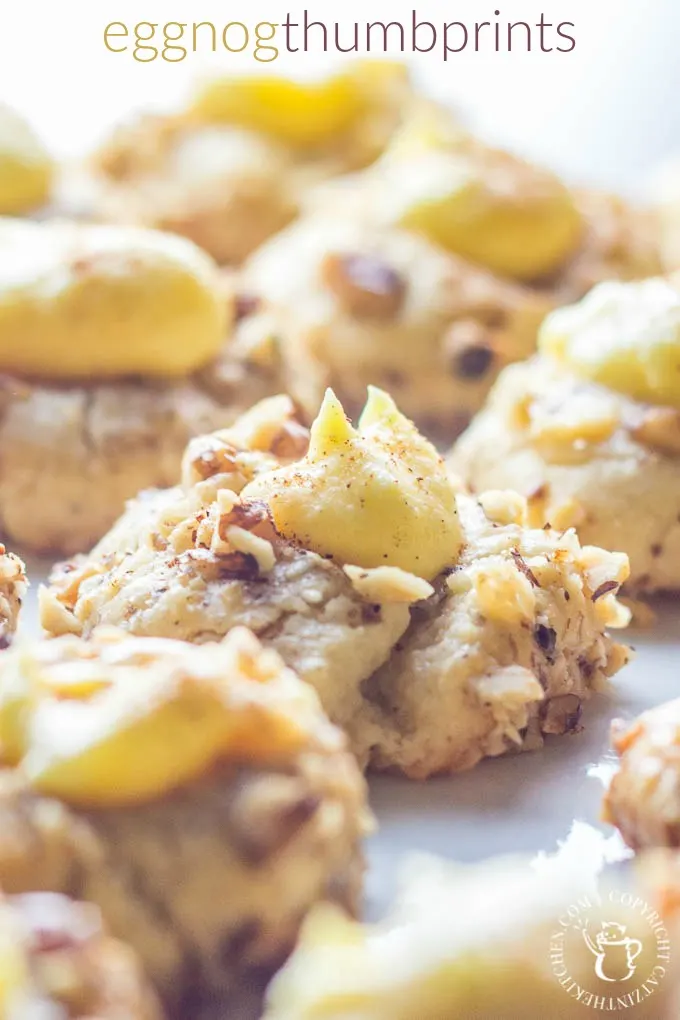 I seriously wasn't going to post this eggnog thumbprint recipe until sometime next week. For today, I had planned on sharing one amazing pasta recipe that will blow your mind. Well, actually, Josh was going to get behind the keyboard and share the recipe with you, as he is the one who initially discovered it and is always the one to prepare it. But seeing as how life happens and gets busy, that incredibly flavorful and simple recipe will have to wait till next week.
But for now, I have cookies.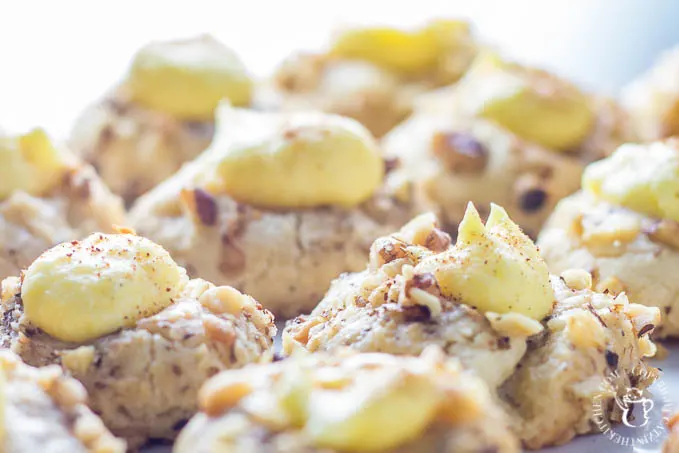 Eggnog Thumbprint cookies, in fact, that are just as yummy as pasta…um, in a different way. Don't believe me? Well, then I guess you'll have to make them for yourself and find out!
I know a lot of you are already planning and preparing for your Christmas cookie exchanges. I'm not exactly sure when those cute little cookie tins usually start circling the neighborhoods as my old neighborhood never really did that – which is really sad. I guess the Christmas baking spirit never descended on our little hamlet. Maybe I should have done something about that…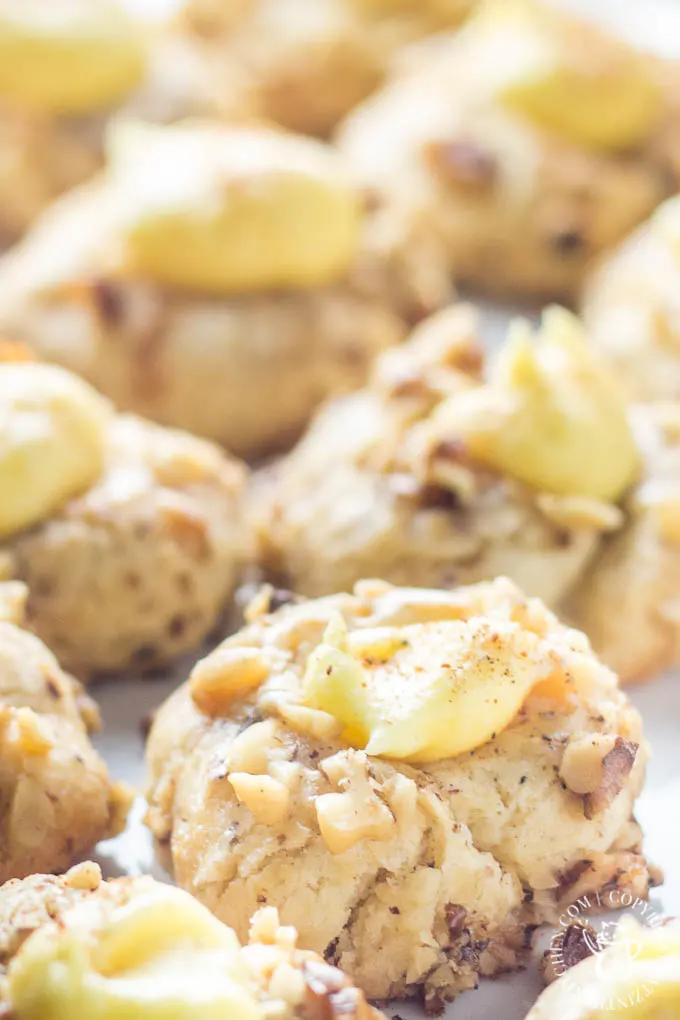 However…I have heard that my current/new neighborhood does have quite a festive baking spirit, and that several of the moms go baking crazy!
I knew this was my kind of neighborhood. I haven't seen any holiday-themed cookie tins yet…so, maybe they are still in the cookie planning stages like you (and me)?? BTW – neighbors, if you're reading this…I'm waiting…and I'm hungry.
#totallyserious #eatALLthecookies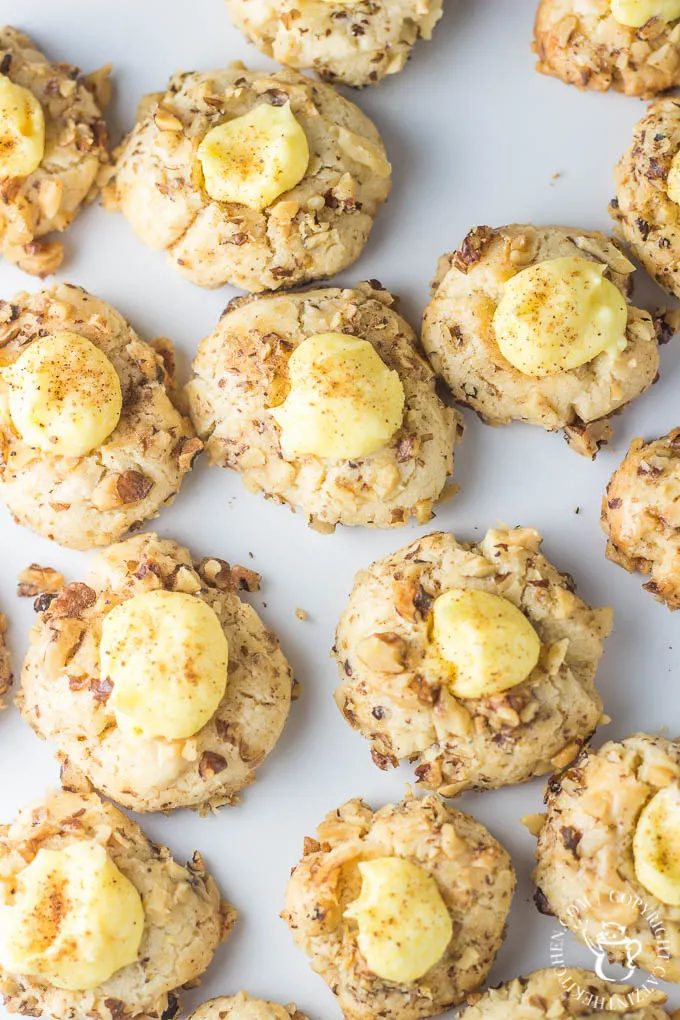 So, before you finish your cooking baking Christmas list, make sure these eggnog thumbprints are on there, because I promise, they taste just like eggnog…which I happen to love. The kids will love poking their thumbs into the dough and helping you fill the cookies with the easiest buttercream filling in the world (#nojoke), and the chopped walnuts on the outside…they, I think, are what really set this cookie apart from other cookies. It's like the cherry on top. Except, in this case, it's on the sides. And not a cherry.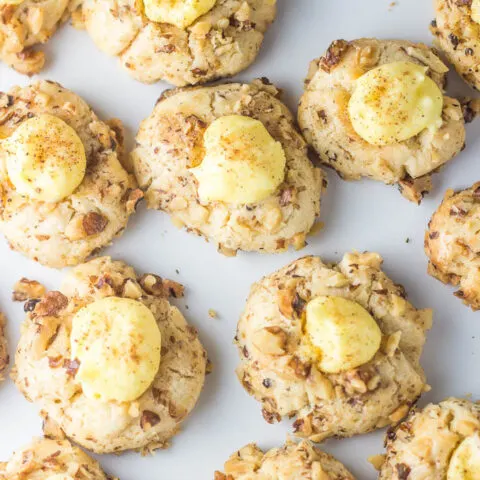 Eggnog Thumbprints
Prep Time:
1 hour
30 minutes
Total Time:
1 hour
40 minutes
These eggnog thumbprints are the cutest, tastiest little holiday cookies! The recipe is simple & fun, and you get creamy & crunchy altogether in one bite!
Ingredients
2/3 cup butter, softened (I used unsalted)
1/2 cup sugar
2 large egg yolks
1 tsp vanilla extract
1 1/2 cups all-purpose flour
1/4 tsp salt
1/8 tsp ground nutmeg
2 large egg whites
1 cup finely chopped walnuts
Filling
1/4 cup butter, softened (unsalted)
1/4 tsp rum extract
1 cup powdered sugar
1-2 tsp milk
1-2 drops yellow food coloring
Additional ground nutmeg for sprinkling on top of cookies
Instructions
In a large bowl, cream together butter and sugar until light and fluffy. Beat in egg yolks and vanilla. In another bowl, whisk flour, salt, and nutmeg together and gradually beat into the creamed mixture. Refrigerate for 1 hour, covered or until firm enough to handle.
Preheat oven to 350 degrees. Shape dough into 1 inch balls. In a shallow bowl, like a pie plate, whisk egg whites until foamy. Place walnuts into a separate shallow bowl. Dip dough balls into egg whites and then roll into walnuts.
Place 2 inches apart on greased cookies sheets, parchment, or silpat. Press a 1/2 inch deep indention in center of each cookie with your thumb. Bake 10-12 minutes or until center is set. Let cool for 2 minutes on baking sheets before removing to wire racks to cool completely.
For the filling, in a small bowl, beat butter and extract until creamy. Beat in powdered sugar alternately with enough milk to reach the desired consistency. Beat in food coloring. Fill each cookie with 1/2 tsp of filling and sprinkle with nutmeg.
Nutrition Information:
Yield:

48
Serving Size:

1
Amount Per Serving:
Calories:

87
Total Fat:

6g
Saturated Fat:

3g
Trans Fat:

0g
Unsaturated Fat:

3g
Cholesterol:

21mg
Sodium:

48mg
Carbohydrates:

8g
Fiber:

0g
Sugar:

5g
Protein:

1g
Nutrition information isn't always accurate.