Overnight Blueberry French Toast is a recipe that is simple and indulgent. When you make it the day before, the morning meal is tasty and effortless!
We recently had some of our family staying with us, which was a real treat because not only did that mean that we got to spend time with family, but also that our guest room was finally going to be put to good use! We've lived in our house for over a year now and the only use it's had was when Josh's brother stayed with us for two nights (and when Josh works from home and sets up a desk in there so he can work) – otherwise, it doesn't get any use.
While our guest room is not huge, it does have enough space for a queen size bed, a dresser, two night stands, and a closet – and we discovered we could squeeze in two pack 'n play cribs and a changing table…probably a partridge in a pear tree, too, if we had tried really hard! Luckily, our guests weren't picky about extra leg room…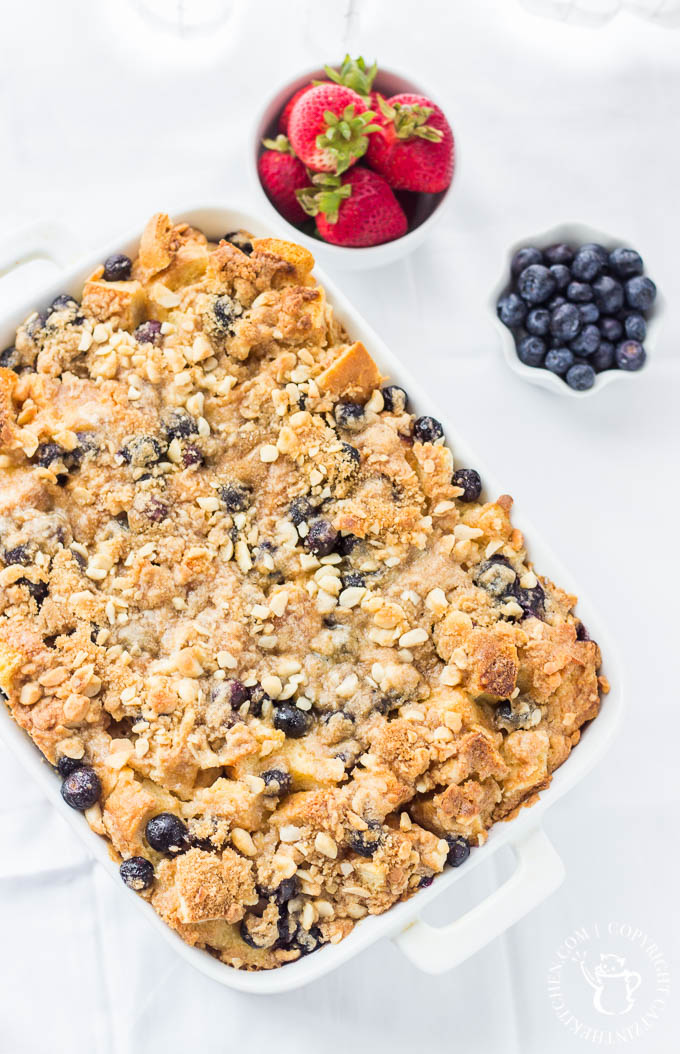 So if you did your math correctly, you could probably deduce that we had two adults in the queen bed and two toddlers in the pack 'n plays, right? Well, you're correct, except that we had one other tiny little guest staying with us, too – our 6-week-old niece, who we hadn't seen since she was born in Spokane in May! So five members in my sister-in-love's family and five members in ours. Which meant we were outnumbered by kids, but we didn't mind. The house was a little louder than usual, but it was so fun to watch all of these tiny cousins play with each other. Not to mention, of course, snuggling with my little niece, which you may have seen on my Instagram page…
Hence why I figured an easy breakfast, like an overnight blueberry French Toast with be perfect for sharing with our company. It tastes like you spent a ton of time making it, but really, it probably took closer to 15 minutes to prepare.
I had heard my sister-in-love's boys loved fruit and berries so I thought this breakfast would be something that they might enjoy. And they did, though they were a little dubious about the blueberries at first. I served strawberries on the side, though, just in case – which they devoured! I can't say I blame them, I love strawberries, too!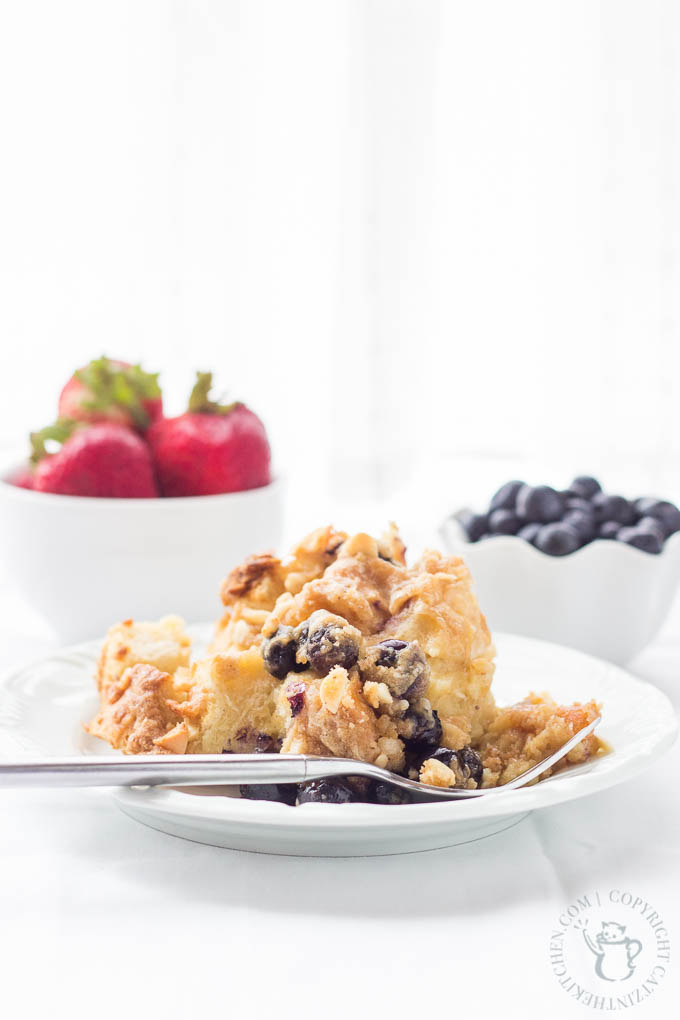 The morning I made this breakfast, I woke up before anybody else (except Josh – because he makes the coffee that is necessary to, you know, living) and went for a run while everyone slept. By the time I got back, Josh was working out upstairs, breakfast was in the oven, and everyone was just starting to emerge from their slumber and being greeted with the scent of freshly brewed coffee and this overnight blueberry French Toast baking away in the oven.
The morning was just easy, which made me wonder why I don't make overnight breakfasts more often? Our mornings (even without company!) are kind of crazy (you should see us all trying to get ready for church), but with company, you would have thought this was the norm. I think the breakfast helped make everything more relaxed.
#overnightFrenchToastforthewin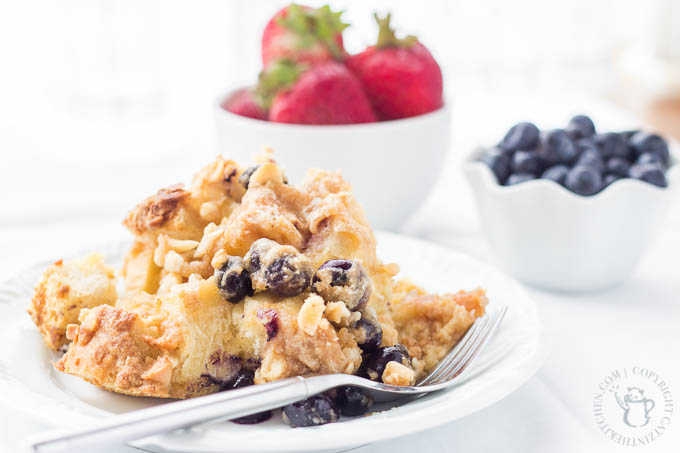 Since blueberries are still abundantly in season, take 15 minutes the night before and prep this delicious breakfast for your family to enjoy. Everyone can get ready at their own pace, you can sip your coffee while trying to catch any Pokemon that happen to land in your living room reading the paper (that's still a thing, right?) and just enjoy a weekend morning with your family.
Doesn't that sound nice?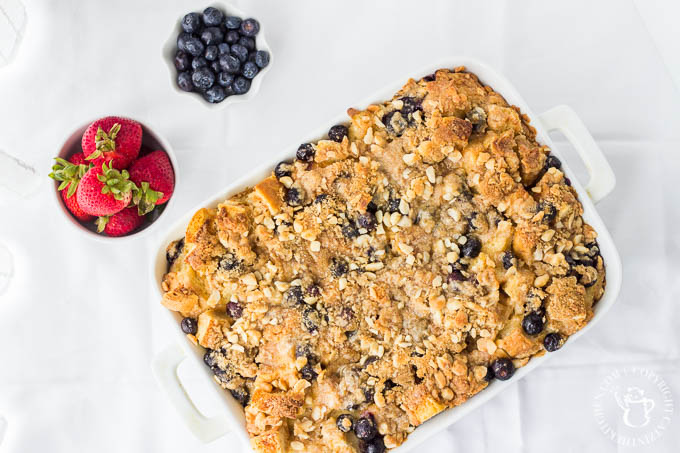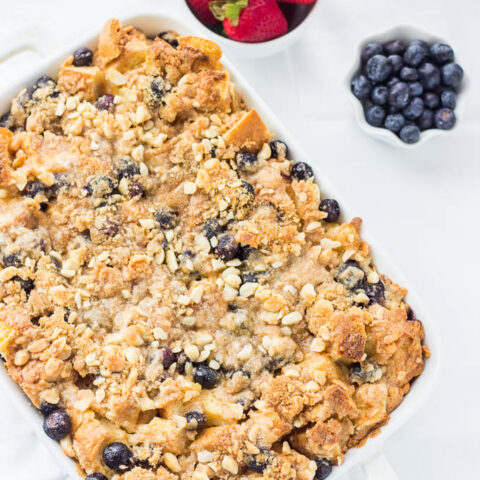 Overnight Blueberry French Toast
Overnight Blueberry French Toast is a recipe that is simple and indulgent. When you make it the day before, the morning meal is tasty and effortless!
Ingredients
French Toast
1 large loaf of artisan French Bread, sliced into chunks
8 eggs
2 cups milk
1/2 cup heavy cream
1/4 cup sugar
1/4 cup brown sugar
2 tbsp vanilla extract
Half of a lemon, zested
Half of a lemon, juiced
1 1/2 cups fresh blueberries
Butter, for greasing the baking dish
Topping
1/2 cup cold butter, cut into pieces
1/2 cup all-purpose flour
1/2 cup brown sugar, packed
1 1/2 tsp ground cinnamon
1/4 tsp ground nutmeg
1/4 tsp salt
1/2 cup macadamia nuts, chopped
Instructions
Grease a 9x13 baking dish with butter. Place bread chunks in the baking dish and layer over the fresh blueberries and set aside.
In a large bowl, combine the eggs, milk, cream, sugars, vanilla, lemon zest, and lemon juice. Whisk together until completely combined. Pour the egg mixture over the bread and blueberries and set aside.
In a medium bowl, add the cold butter, flour, brown sugar, cinnamon, nutmeg, and salt and using a pastry blender, cut it all together until its chunky, but crumbly. Gently stir the nuts into the mixture until combined and spoon the cinnamon sugar topping over the top evenly. Cover with foil and refrigerate for several hours, but best if overnight.
In the morning, preheat oven to 350 degrees, remove foil and bake for 45 min - 1 hr.
Serve with maple syrup and fresh berries.
Nutrition Information:
Yield:

12
Serving Size:

1
Amount Per Serving:
Calories:

330
Total Fat:

21g
Saturated Fat:

10g
Trans Fat:

0g
Unsaturated Fat:

9g
Cholesterol:

161mg
Sodium:

224mg
Carbohydrates:

29g
Fiber:

1g
Sugar:

18g
Protein:

8g
Nutrition information isn't always accurate.