Not a morning person? Make this yummy Overnight Apple French Toast Crisp the night before, & then effortlessly savor the goodness of fall food the next AM!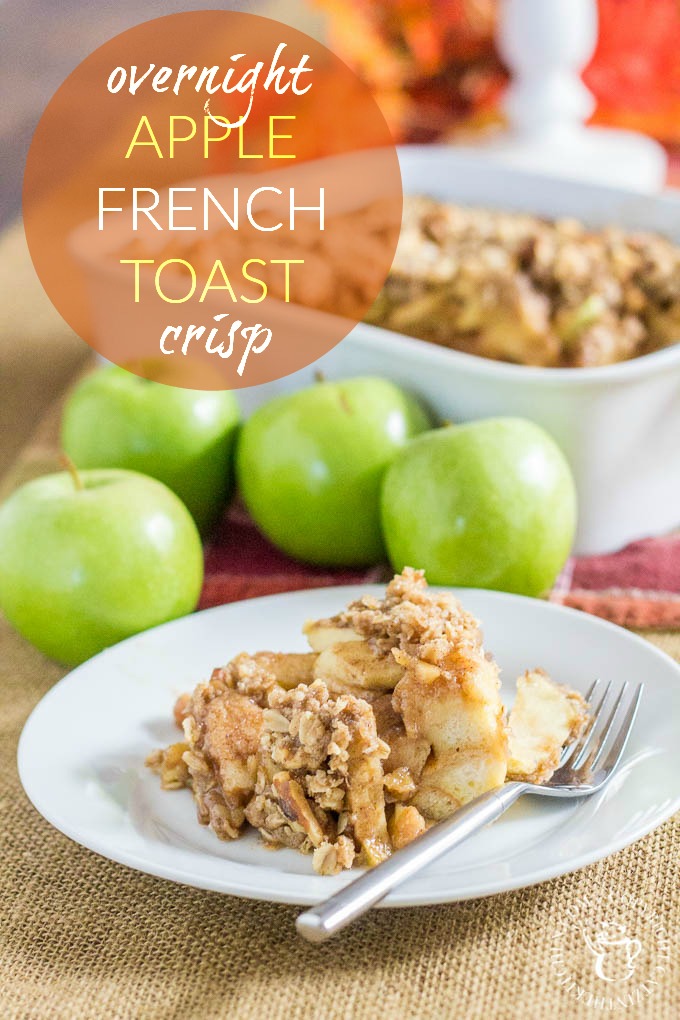 I don't know about you, but I'm not much of a morning person. I know this probably comes as a surprise to many, but it's true. I would much rather be laying in bed and slowly wake up then have an alarm (aka my son) charging through my room to see if I'm awake.
Which he does. Every morning. (It's really sweet, and I'll miss it when he stops!)
During the week, I typically wake up anywhere between 6 and 7am, but on the weekends, if I can sleep in until 8 or 9am, I'm feeling pretty lucky. And what I mean by lucky is fortunate, because Josh will get up with Christian and make the coffee and do the entertaining of him so I can get a few more minutes of shut-eye.
With church on Sundays, we don't usually have our big breakfast those mornings. The kids will have cereal and some fruit while Josh makes a protein smoothie or something for the two of us. Saturdays are usually our big breakfast (or brunch) mornings and typically Josh steps up to make something delicious like pumpkin spice crêpes or almond waffles with a raspberry basil sauce (yum)! But, I do like to pitch in every now and again and make something the night before – that way, we can just pop it in the oven the next day, relaxing and enjoying the morning!
See what I did there? It's all about the slowly waking up, lazy morning for me!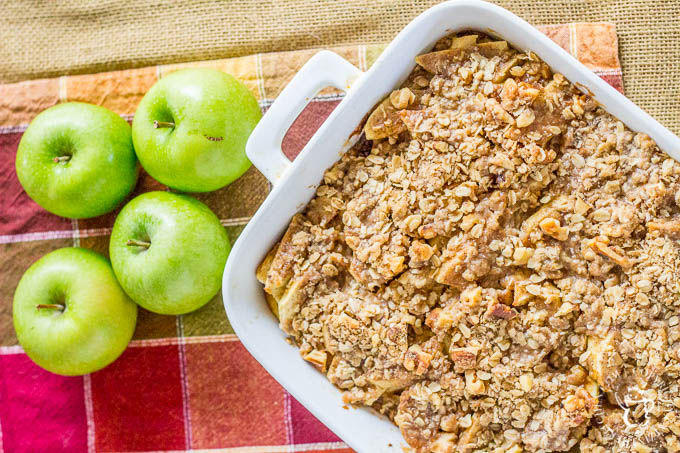 In case you haven't noticed, I'm a big fan of overnight breakfasts and I think at this point, I've got one for almost every season. Our overnight sausage egg and cheese breakfast casserole is always our Thanksgiving morning breakfast (also happens to be the most popular recipe on our blog). For Christmas, we've got the overnight eggnog pecan French toast, which just tastes like Christmas morning. And then more recently, this overnight blueberry French toast with macadamia nut topping which is perfect for spring and early summer (without being too heavy).
For this overnight apple French toast crisp, I took inspiration from one of my mom's recipes. My mom has a delicious recipe for a basic apple French toast that you prepare and bake the same morning.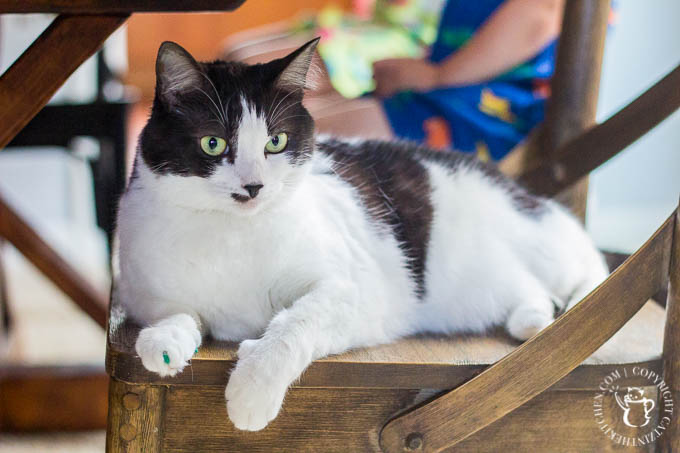 That is just too much work for me! So, I adapted and tweeked the recipe to fit my lazy Saturday morning lifestyle a bit better and it turned out so good! Like crazy, tastes like fall, give me another helping of that if you please, kind of good! Even better is that it takes like an apple crisp…BUT FOR BREAKFAST!
Get out of town, right? I know! Dessert for breakfast! I'm just crazy enough to go for it.
The cubed French bread goes on the bottom followed by the egg mixture (which is what makes the French toast fluffy), then the sliced apples, followed by a crazy yummy spiced sauce that gets drizzled over the apples. To top it all off, we have an oat streusel topping!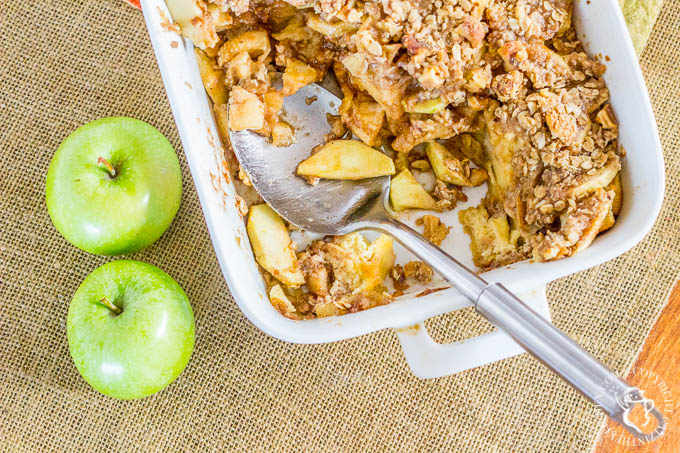 I recommend using granny smith apples vs golden delicious because it takes longer for granny smiths to break down and cook up – which I like. When you take that first bite you want the apple to still have texture and crunch – and it's harder to get that from a golden delicious.
Make this the night before your next lazy weekend morning and pair it with a hot cup of coffee. Your kids will love it (the breakfast, not the coffee…). Your spouse will love it. Your house will smell amazing and it will make you simply happy that we're in the fall season. Like I am. All the time.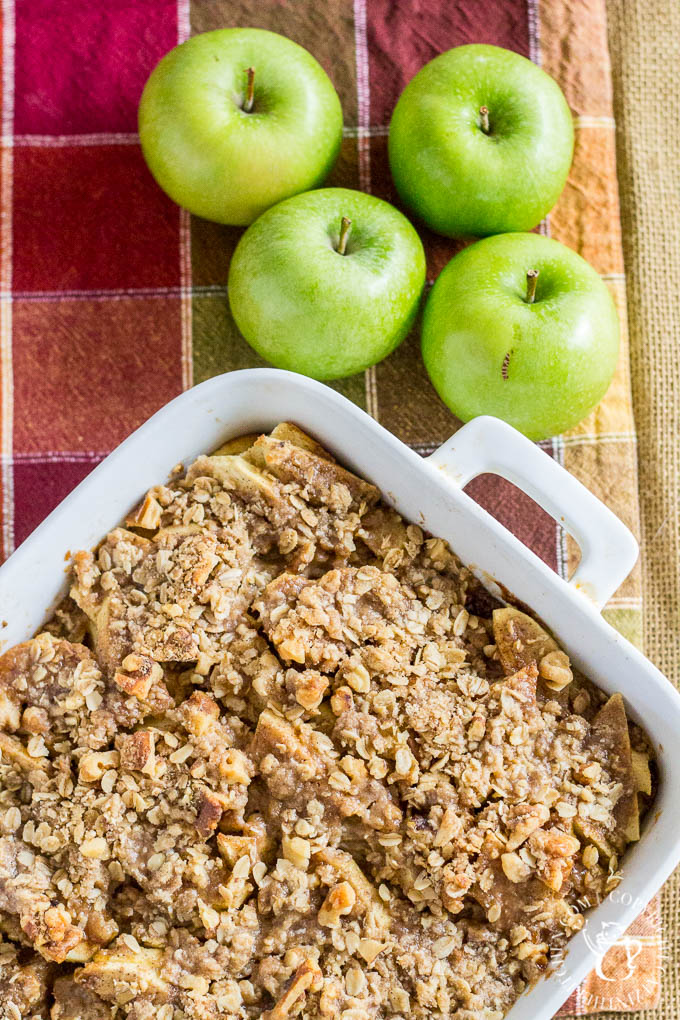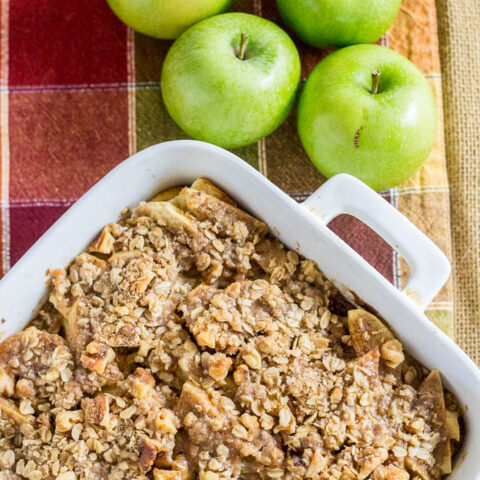 Overnight Apple Crisp French Toast
Prep Time:
8 hours
20 minutes
Total Time:
9 hours
5 minutes
Not a morning person? Make this yummy Overnight Apple French Toast Crisp the night before, & then effortlessly savor the goodness of fall food the next AM!
Ingredients
French Toast
1 loaf French bread, cubed
1 cup milk
1/2 cup heavy cream
6 eggs
2 tsp vanilla extract
4-6 granny smith apples, peeled and sliced
3/4 cup walnuts, chopped
1/2 cup butter, unsalted
1 cup brown sugar
2 tbsp maple syrup
1 tsp cinnamon
1/8 tsp cloves
Topping
1/2 cup flour
1/2 cup brown sugar
1/2 cup old-fashioned oats
1/2 tsp cinnamon
1/2 tsp salt
1/4 tsp allspice
7 tbsp unsalted butter, cubed + chilled
1/2 cup chopped walnuts
Instructions
Spray a 9x13 baking dish with nonstick cooking spray ( I used coconut spray) and place the cubed bread not he bottom of the baking dish.
In a medium bowl, whisk together the eggs, milk, cream, and vanilla extract. Pour over the bread evenly. Layer the peeled and sliced apples over the bread mixture and sprinkle 3/4 cup chopped walnuts over the apples.
In a medium saucepan, combine the 1/2 cup butter, brown sugar, maple syrup, cinnamon, and cloves until melted. Pour evenly over the apples.
For the topping - In a large bowl, whisk together the flour, brown sugar, oats, cinnamon, salt, and allspice. Using a pastry blender, cut in the butter until the mixture resembles coarse crumbs. Gently stir in the remaining 1/2 cup of walnuts and spoon the topping over the top of the apples and sauce. Cover with aluminum foil and refrigerate 8 hours to overnight.
In the morning, preheat oven to 350 degrees. Remove foil, and bake for 45 minutes to an hour. The French toast is delightful on it's own, but a drizzle of maple syrup poured over each slice is delicious too.
Notes
Recipe adapted from my mom's Apple French Toast
Nutrition Information:
Yield:

10
Serving Size:

1
Amount Per Serving:
Calories:

669
Total Fat:

36g
Saturated Fat:

16g
Trans Fat:

0g
Unsaturated Fat:

18g
Cholesterol:

173mg
Sodium:

470mg
Carbohydrates:

75g
Fiber:

5g
Sugar:

38g
Protein:

14g
Nutrition information isn't always accurate.