Try zucchini pancakes if you're looking for a healthy, budget-friendly dinner that will not only taste delicious, but also new & unusual…in a good way!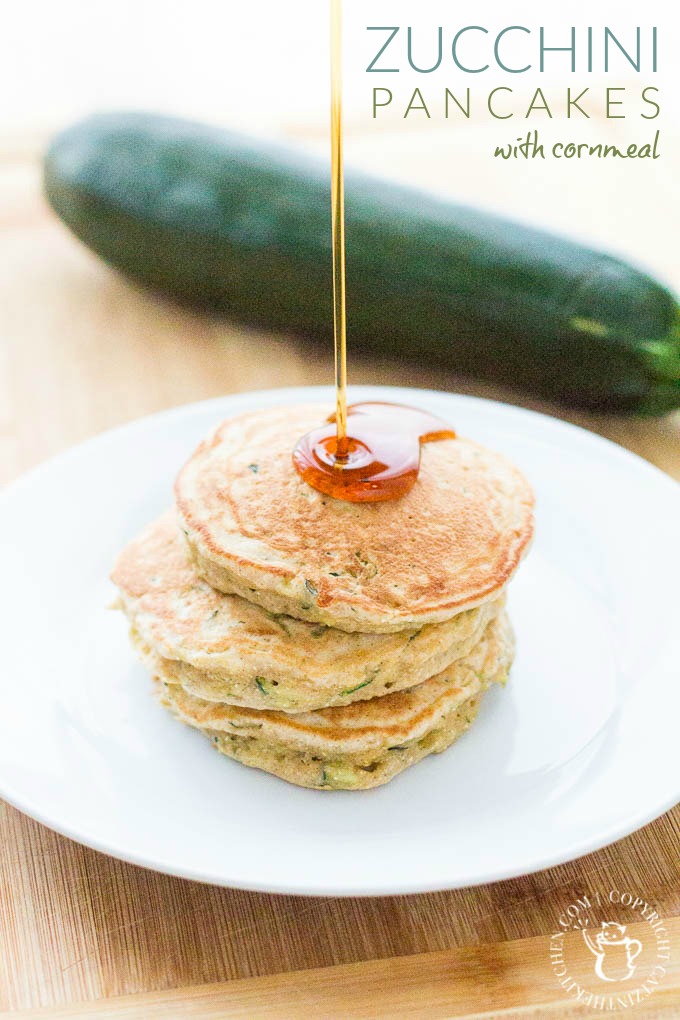 I'm going to be real with you for a second. Sometimes, all of that weekly meal planning I do falls through the cracks a bit. I can't tell you how many times over the years I've had to skip to plan B for a meal because I was sick or because I forgot that one specific ingredient I needed when I went grocery shopping or something was moldy (I hate that!) or life simply got in the way and didn't leave me with enough time for the allotted meal for that evening!
Even though I work hard on my menu every single week and mean to follow it diligently Monday to Sunday, it doesn't always happen. We live out in the country a bit and it's not super easy for us to run out and just grab something if mom messes up. Our options for fast food are basically McDonald's, a taco truck, and Papa Murphy's (Notice that the last two aren't fast food! Also, one is a taco truck. So, that's actually pretty rad.). But 25 minutes and 15 plus dollars later, I always regret that choice (Except the taco truck – because you never regret a taco truck!). I know I could have made something better with what I already had on hand and saved the time and the money!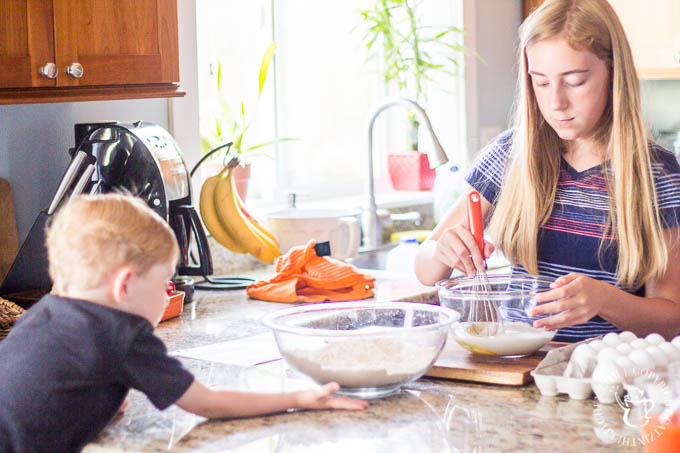 So, I guess you could say experience in that area over the years has taught me to be a bit of a planner – to always (okay, almost always) have that extra dinner option. Josh and I joke with the kids and say, "If you've got tortillas, cheese, and eggs in the house – you can always make something." (No, not just a breakfast burrito!) We've tacked onto that list the occasional baking ingredients, because if you've got flour, salt, and some sort of leavening agent, like baking powder, you can always make pancakes, too!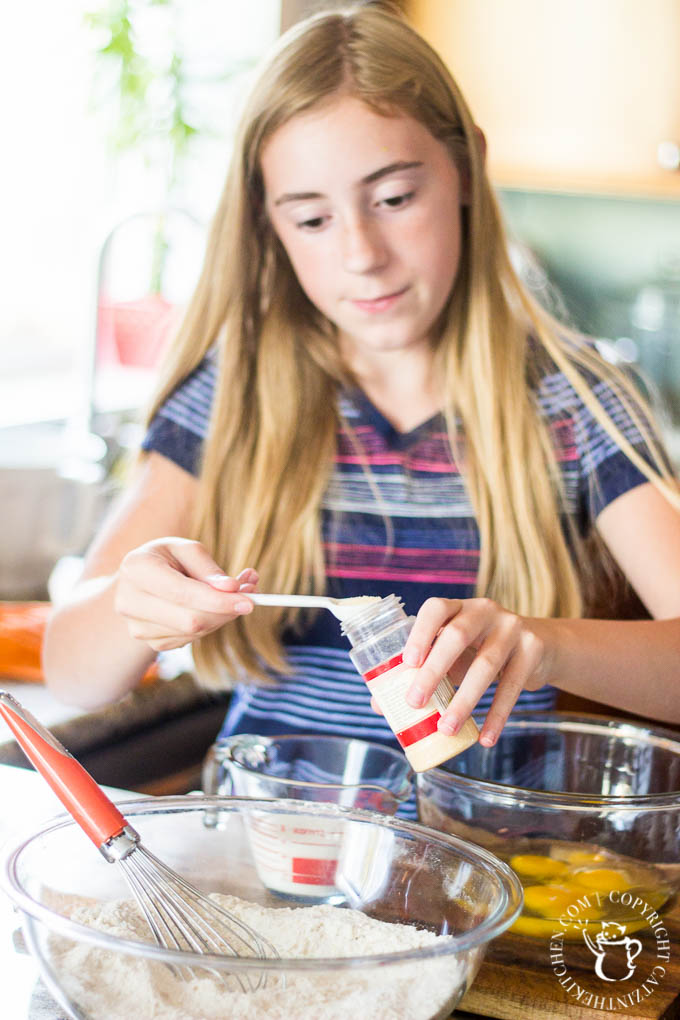 I happen to like the idea of breakfast for dinner. When my mom would serve up pancakes and bacon or hash browns and eggs for dinner, it was a good night! It never bothered us, in fact, it felt like a treat – while I'm sure my mom was trying to make our grocery budget stretch a little, trying to make sure she had a proper menu for the week.
If you read our weekly menu, you'll see crêpes are always on for our Sunday dinner. That was my daughter's Grace suggestion. But sometimes we don't make crêpes. Sometimes we make some sort of sandwich. Or if we're really running short on time in the evening and need to get the kids off to bed, we'll do pancakes, like our Amish pumpkin pancakes (those only take a few minutes to prep) or even waffles!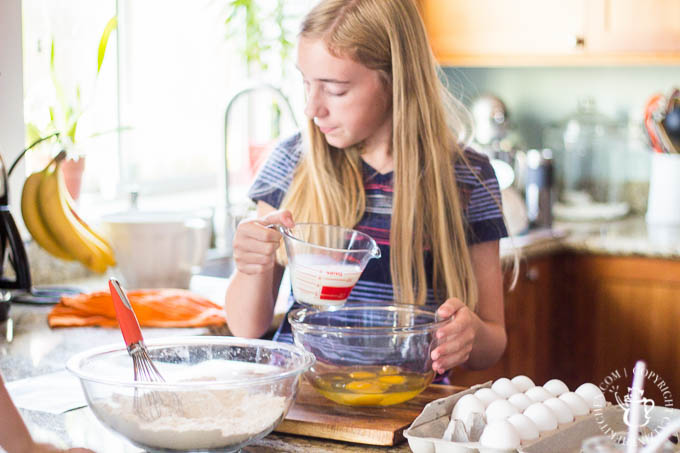 And, yes…sometimes cereal. Admittedly, when you're a food blogger, and you find yourself eating cereal for dinner, you can't help feeling like you've failed miserably somewhere along the way.
But…this is real life, and sometimes, cereal happens for dinner! And, hey, my kids aren't hating on me for serving them cereal (okay, so there's not really a lot of serving involved when it comes to cereal…). Actually, they love it!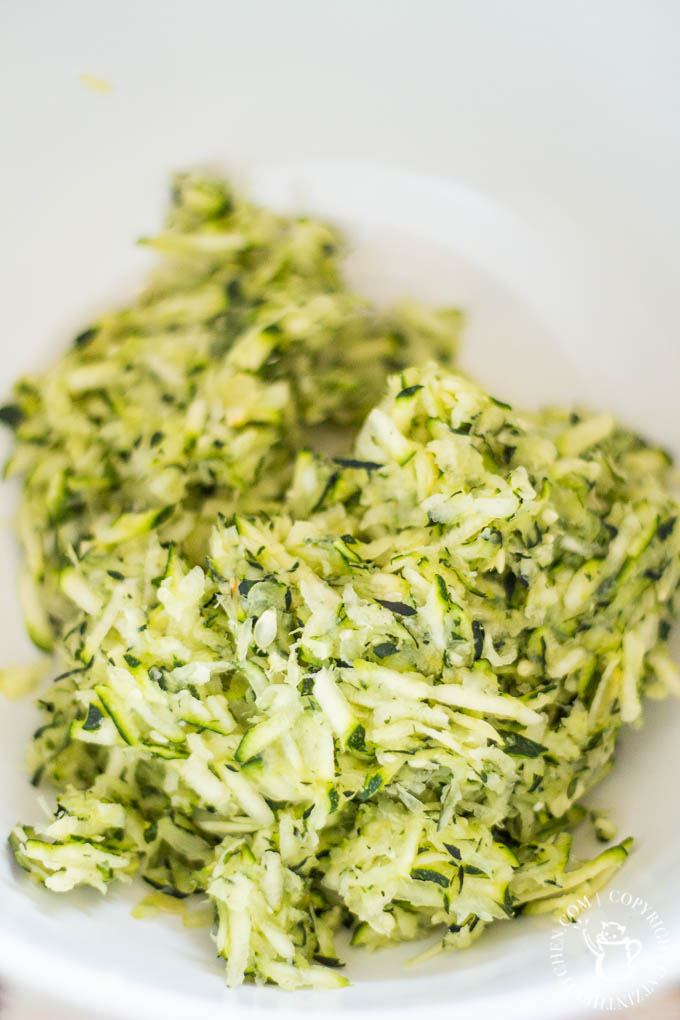 These zucchini pancakes are pretty unusual as they are a bit savory. I actually had virtually all of the ingredients I needed on hand for this recipe, so I loved only having to buy a few zucchinis to make this meal possible. And, as I mentioned at the beginning of the post, I even forgot one specific ingredient at the store, which was an onion, so I subbed in onion powder. That's fine in a pinch, but Josh and I highly suggest using a fresh onion if you've got one lying around in your potato bin, or throwing that onto the list with your zucchini – onions are a pretty budget-friendly ingredient, too!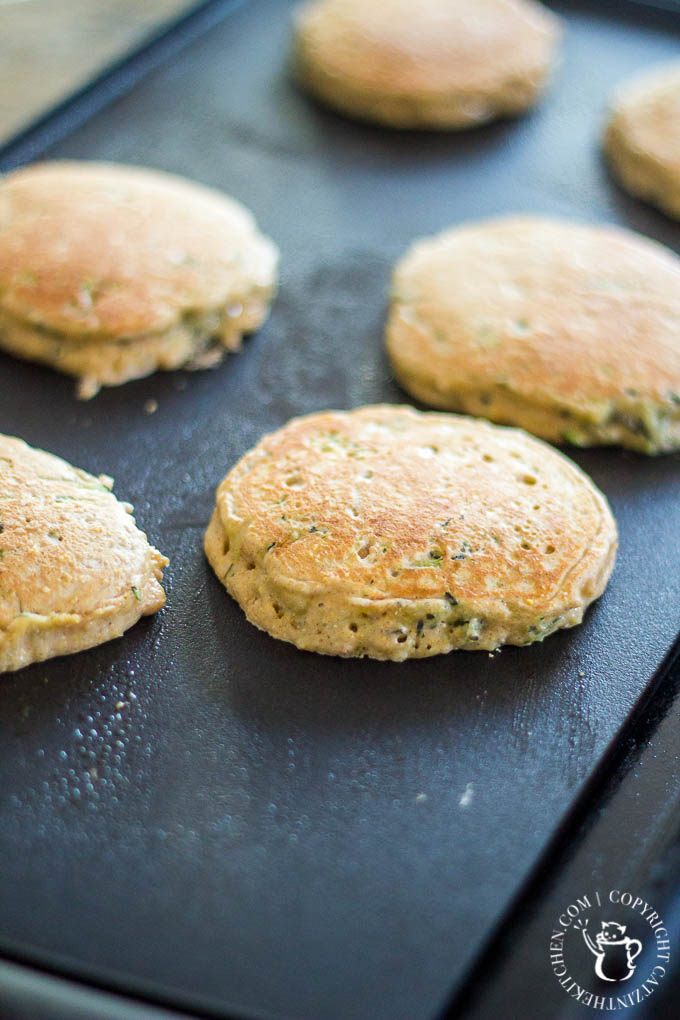 The kids and I topped our pancakes with a bit of real maple syrup – (we absolutely love Ben's Sugar Shack!), which made them a little sweet and savory, but Josh found some crumbled feta cheese at the bottom of our cheese drawer and topped his pancakes with that – I will say it made for one decidedly savory, delectable pancake. I don't think I'd ever tasted anything like it before! If the budget allows for some crumbled feta (if you have a Trader Joe's near you, you can get it for something like $2.99 vs. the $6 you typically pay at the supermarket), I highly encourage you to try that. Obviously, we would have snapped a photo of that, but it was a last minute thought and way after we had put all the photography equipment away! Maybe next time.
Just trust us, it's good.
Try these zucchini pancakes if you're looking for a quick, healthy, budget-friendly dinner that will not only taste delicious, but also taste new and unusual…in a good way!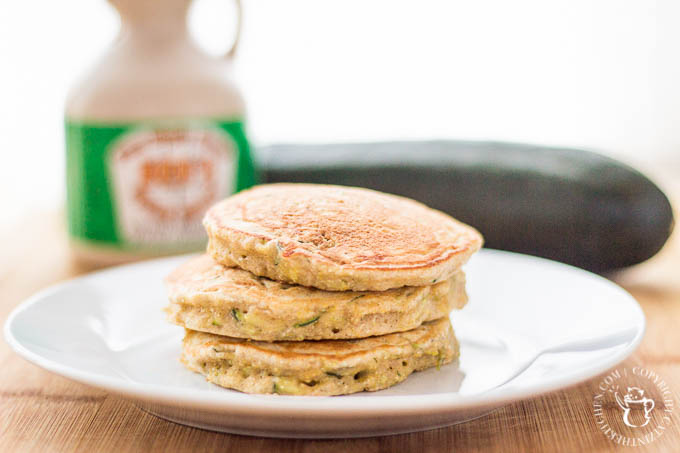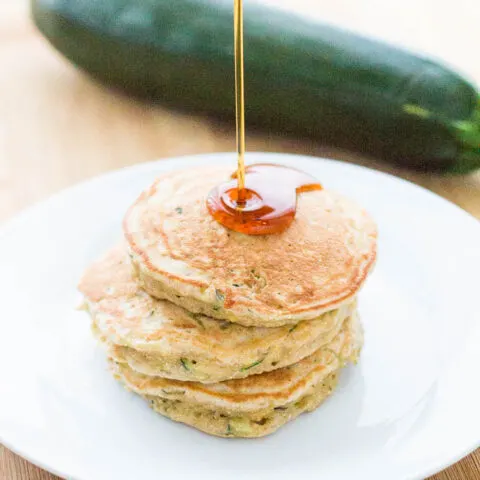 Zucchini Pancakes with Cornmeal
Try zucchini pancakes if you're looking for a healthy, budget-friendly dinner that will not only taste delicious, but also new & unusual...in a good way!
Ingredients
4 cups shredded zucchini ( about 3 large zucchinis)
2 cups all-purpose flour
1 cup grated Parmesan cheese
2/3 cup yellow cornmeal
1/2 cup sugar
3 tsp baking powder
2 tsp salt
1/2 tsp pepper
1 tsp cinnamon
4 large eggs
2/3 cup milk
1/2 cup onion, finely chopped or 1/2 tsp onion powder
Topping
Butter
Maple Syrup
Crumbled feta cheese
Instructions
Place zucchini in a colander to drain, squeeze well to remove excess liquid. Pat dr.
Whisk together flour, parmesan cheese, cornmeal, sugar, baking powder, salt, pepper, and cinnamon. In another bowl, whisk together eggs, milk, and onion (or onion powder). Add to dry ingredients, stirring just until moistened. Fold in zucchini.
Lightly grease a griddle with cooking spray; preheat over medium heat. Pour batter by 1/4 cupfuls onto griddle. Cook until bubbles appear on top of the pancake and bottoms are golden brown. Serve with butter, syrup or feta cheese.
Nutrition Information:
Yield:

16
Serving Size:

1
Amount Per Serving:
Calories:

176
Total Fat:

5g
Saturated Fat:

2g
Trans Fat:

0g
Unsaturated Fat:

2g
Cholesterol:

56mg
Sodium:

544mg
Carbohydrates:

27g
Fiber:

2g
Sugar:

8g
Protein:

7g