This slightly modified version of Fogo de Chão's delectable Blackberry Arugula Salad is an easy, affordable way to get your fix between visits!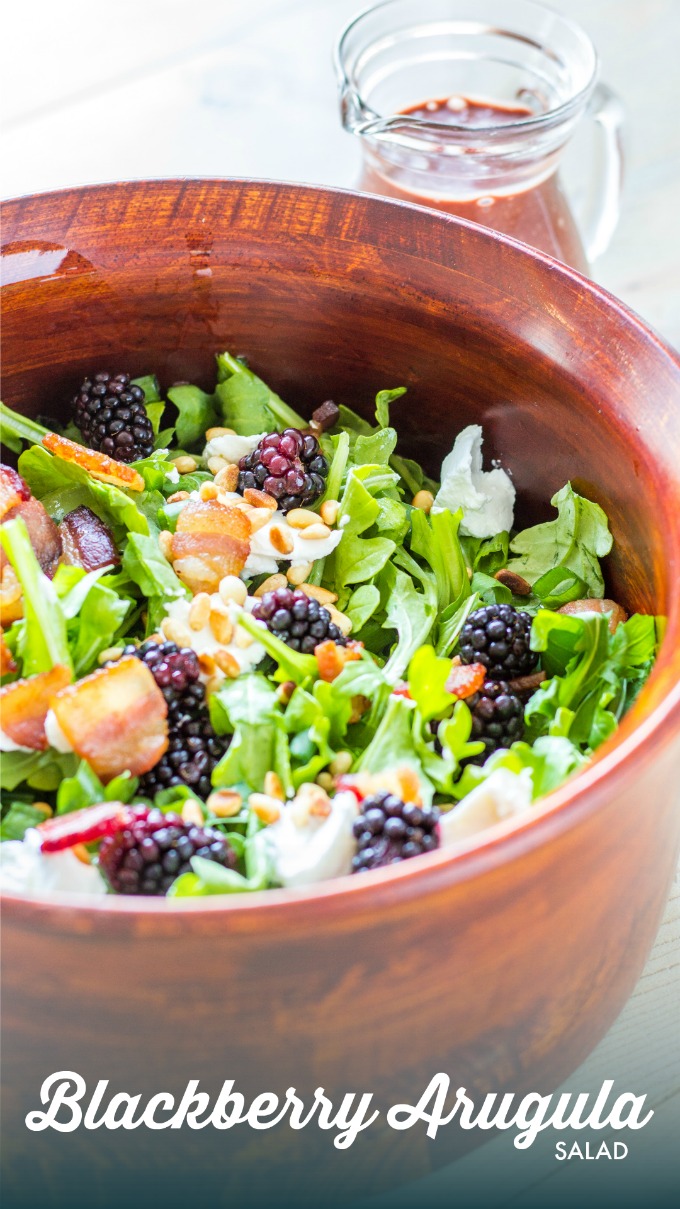 Ice cream and the occasional cookie have been my go to sweet treat cravings. I'm not even joking, since the first trimester I've been eating ice cream bars and as the pregnancy progressed it's turned into ice cream sandwiches and pints of Halo Top Ice Cream.
But, I've also craved smoothies, meat (like that rib eye in our nachos), and salads. Like, ALL the salads! My favorite has been the Caesar salad, mainly from one of my favorite little eateries, Pastini! (Seriously, they make the best!)
But when we went to a resort in Texas on our "baby moon" back in April, we went out to dinner with my cousin and her beautiful little family to Fogo de Chão (a Brazilian steakhouse chain, if you're not familiar) and it was GOOD! It's not the cheapest date night, but it is definitely a dining experience that every foodie should have. Aside from the crazy good, tender, juicy meat that's being carried around on skewers by the servers (which smells amazing), the salad bar (which I think they call the "market table") is out of this world incredible! It's got a charcuterie board on one end, fresh fruits scattered all over, and then the salads – a wide variety, including this Blackberry Arugula Salad that I've adapted just a bit.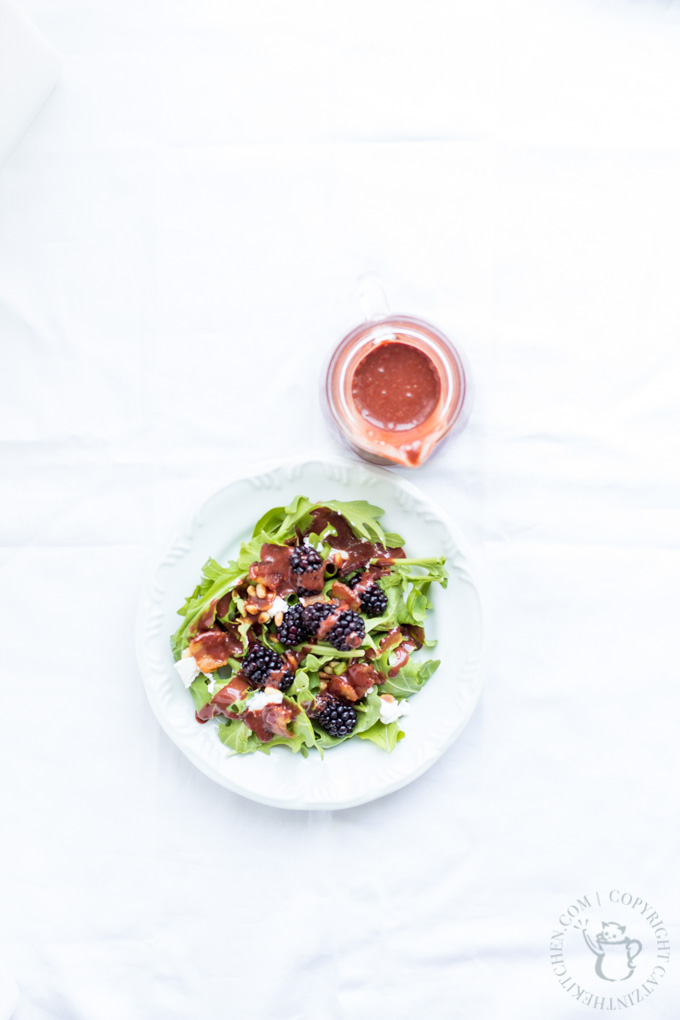 This was the salad I went back for seconds and thirds of. There was just something about it…it could have been the fresh blackberries or the blackberry vinaigrette, the creamy goat cheese crumbles, crispy procuitto, or spicy arugula. Whatever it was that had me going back for more (and then dreaming about it), it was GOOD and I needed to be able to make this salad at home for me. I mean…for my family!
Luckily for me at the Dallas location they actually had recipe cards for certain salads available to the patrons located around the bar, and this salad was one of the recipes they were giving out!
Merry Christmas to me!
I made a few tweaks to make it a little more affordable (and to satisfy a few of my own personal cravings) and it's pretty darn good. Actually, my kids gobbled the salad up and proclaimed, "THIS IS THE BEST SALAD EVER!"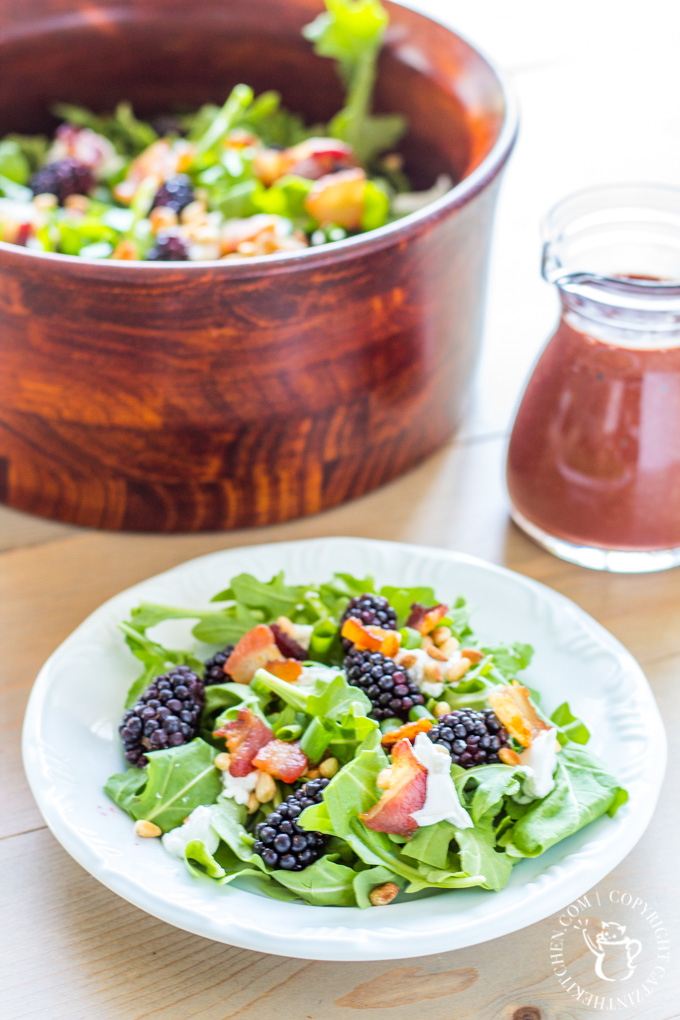 I did that! I made the best salad ever! Now, it may very well actually not be the best salad ever, but I will take their very generous compliment.
Let's me talk a bit about the changes to the original recipe. The original called for procuitto…which is on the spendy side. I went the bacon route, but amped it up with some brown sugar bacon from the deli counter of my grocery store and cooked it until it was nice and crispy. I also added toasted pine nuts because I feel like if a salad doesn't have croutons – and some salads and croutons just don't jive well – it should still have a crunch factor, and toasted pine nuts just seemed like the nut for this salad. Of course, you could toast up some almonds or walnuts, too.
…or leave them out. But this salad is delicious with nuts. I do think the star(s) of this salad are the blackberries and the goat cheese though, and I believe that once you make this, you'll agree with me. So, before summer is over and while the blackberries are ripe for the picking (haha), make this salad. You will not regret it!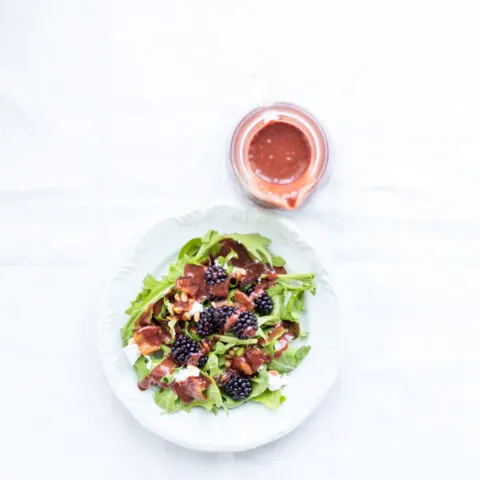 Blackberry Arugula Salad
This slightly modified version of Fogo de Chão's delectable Blackberry Arugula Salad is an easy affordable way to get your fix between visits!
Ingredients
4-5 cups fresh arugula
1 tbsp extra-virgin olive oil
1/4 cup green onions, thinly sliced
2/3 cup crumbled goat cheese
1 cup fresh blackberries
1/4 lb brown sugar bacon, chopped
1/3 cup toasted pine nuts
Balsamic Blackberry Dressing
1 cup balsamic vinegar
2 tbsp white sugar
1 tbsp brown sugar
1/2 cup blackberries - fresh or frozen will work, just thaw if frozen
1 tsp dijon mustard
1/2 cup orange juice
Salt and pepper to taste
1 cup extra-virgin olive oil
3-4 tbsp cool water
Instructions
Prepare the salad dressing: place the balsamic vinegar, sugar, brown sugar, and blackberries in a small saucepan over medium heat. Cook until reduced by half (about 20 minutes). Remove from heat and cool. Pour reduction into a blender and add the dijon mustard, orange juice, and salt and pepper. Blend on high speed while streaming extra-virgin olive oil into the blender until emulsified. Add the cool water to the blender to thin out if needed.
Cook the chopped bacon over medium heat until crispy, about 5-6 minutes.While the bacon is toasting, pour pine nuts into a small pan and lightly toast, about 10 minutes. Set aside. Remove the bacon from pan and drain on paper towel until cool.
Drizzle extra virgin olive oil over arugula in a salad bowl and toss to coat.
Sprinkle sliced green onions, goat cheese, and blackberries into salad. Top with crispy bacon and pine nuts and serve with dressing.
Notes
Slightly Adapted from Fogo Market Table at Home
Nutrition Information:
Yield:

6
Serving Size:

1
Amount Per Serving:
Calories:

642
Total Fat:

54g
Saturated Fat:

11g
Trans Fat:

0g
Unsaturated Fat:

40g
Cholesterol:

24mg
Sodium:

429mg
Carbohydrates:

29g
Fiber:

3g
Sugar:

24g
Protein:

13g
Nutrition information isn't always accurate.