This breakfast quesadilla recipe is one of our family's most requested "breakfasts for dinner"! It is incredibly simple and totally craveable!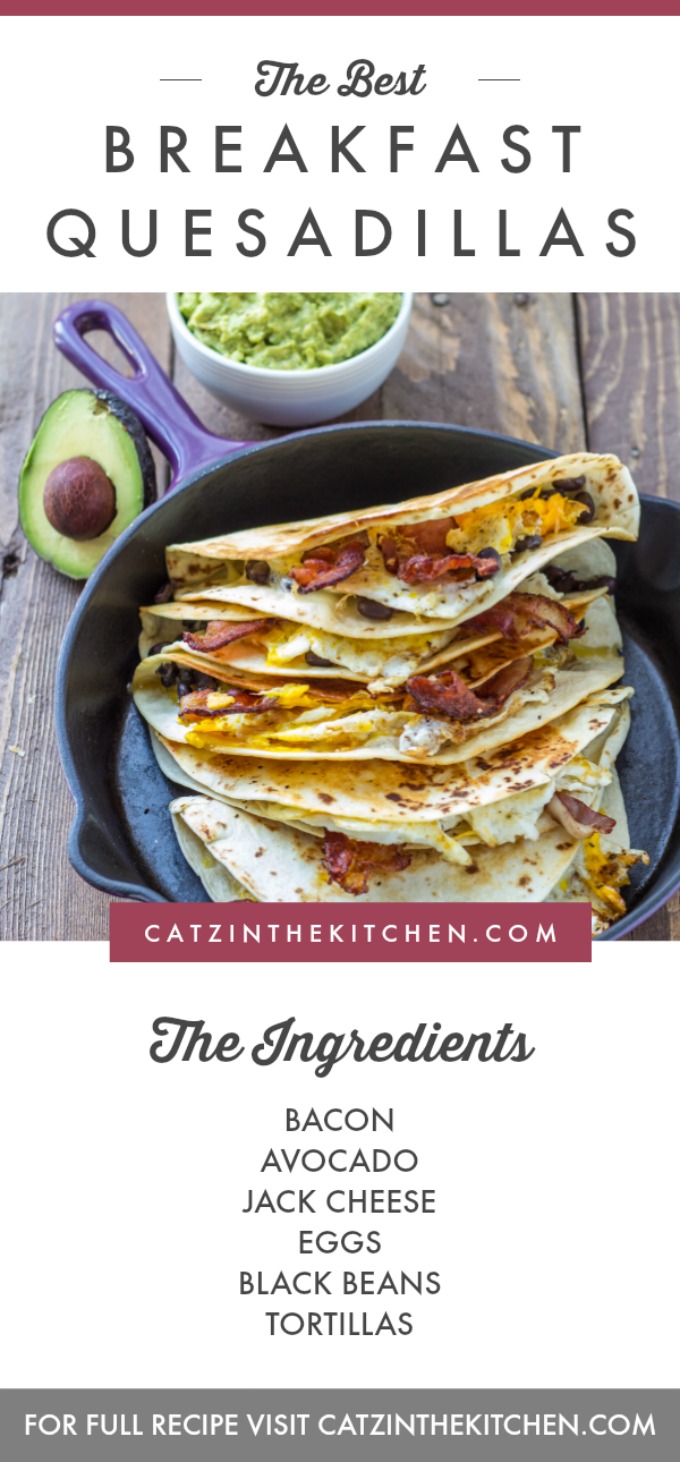 Along with breakfast pizza, the breakfast quesadilla is one of those marvelous ideas we always crave but don't actually make super often! Imagining the combination of Mexican food and breakfast cuisine typically brings the classic standby breakfast burrito to mind (yum!), but it's far from the only entry in this fusion-ish culinary genre. We adore breakfast tacos and salsa baked eggs, and those are just two of literally dozens of breakfast ideas inspired by or utilizing more traditionally Latin ingredients. I'm not sure what they actually eat for breakfast in Mexico (it's been over twenty years since I lived on the border) – chilaquiles, maybe? Oh, man. Chilaquiles. If I wasn't hungry already, I am now…okay, that's a recipe for another time. Back to the topic at hand.
Of course, the thing about the incredible edible overachieving quesadilla is that it is so danged flexible. Chels and I will not soon forget the marvelously simple but perfectly executed Oaxaca cheese quesadillas that consistently lure in the tourists along the beach in Cabo San Lucas, while our kiddos rant and rave about the cheesy goodness of the basic flour tortilla and jack cheese versions at the local taco truck. Then, of course, you can add your choice of protein, change up your cheese, your salsa, your tortilla…the possibilities are myriad. But, one thing the majority of quesadillas have in common is this – they are served for dinner or lunch, and constitute themselves primarily around cheese.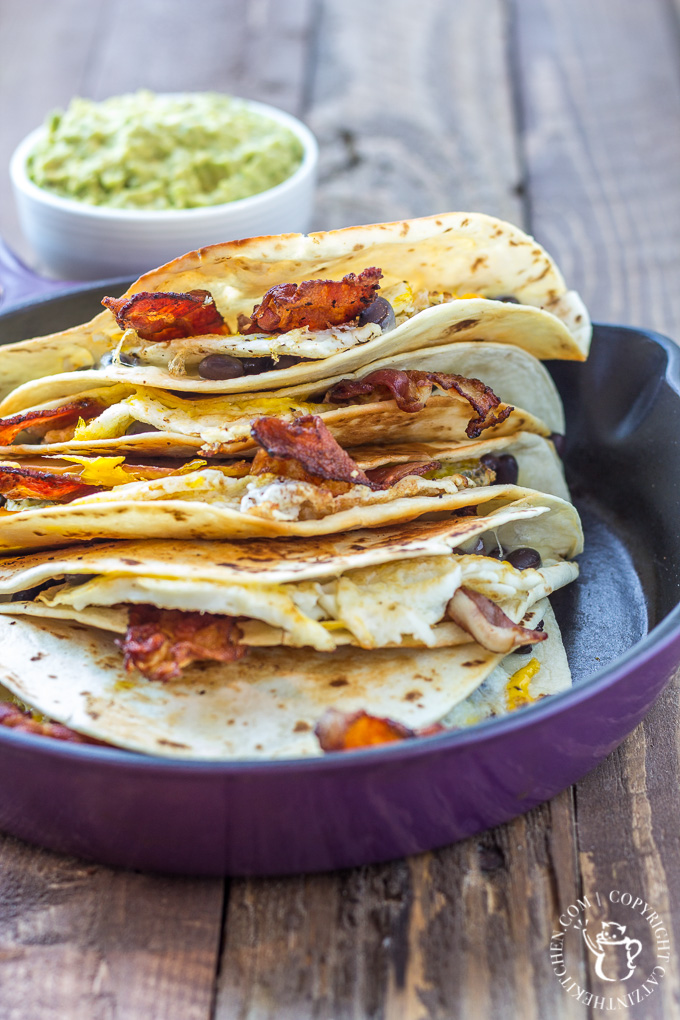 I'll be honest about this breakfast quesadilla recipe, though – we usually eat it for dinner! It's a lot of food for breakfast or brunch, even if the ingredients do scream "Good morning!" However, if you find yourself with a serious appetite one morning, this could certainly be your fix. At any rate, while cheese is important here, the eggs take the starring role as the "base" of the quesadilla, while the simple avocado dip is bound to the ingredient that keeps you coming back for more.
There's no complicated cooking technique here, no advanced preparation or tools required – it's a simple dish made by combining spectacular but common ingredients. And the result is superb and craveable. Almost ridiculously so. I find myself dreaming of this breakfast quesadilla at all times of the day, and wanting to add it to the menu multiple times per week (Chels wisely puts a stop to this impulse…tragically).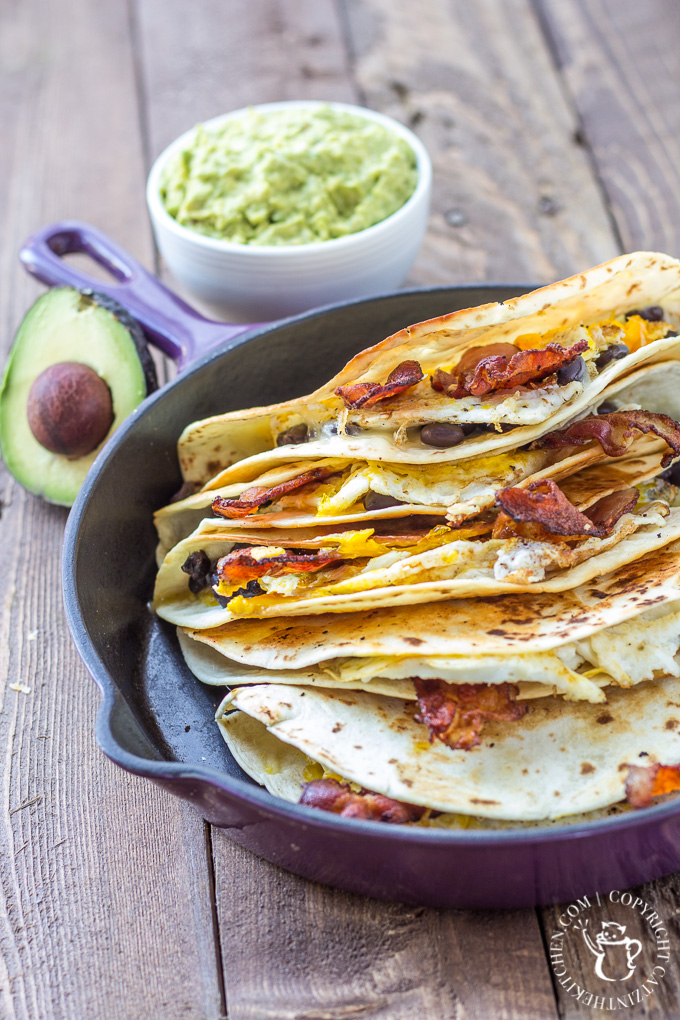 A quick note on the bacon preparation. You can cook the bacon in a skillet, of course, and then cook either the eggs or the tortillas (or both!) in the resulting bacon grease. The flavor created is yummy, as you can imagine, but I don't usually do it this way for three reasons – one, baking the bacon in the oven is easier, two, I find that the eggs and the tortillas burn easier in the grease, and three, it can be healthier to cook the eggs and tortillas in a tiny bit of butter or oil, if you're looking to cut a bit of the fat out of this admittedly indulgent meal.
One last note on servings – the amounts below are what we typically fix for our family, which makes for a minimum of two quesadillas per person, with a few to spare. You may wish to pare it down a bit depending on the size of your brood.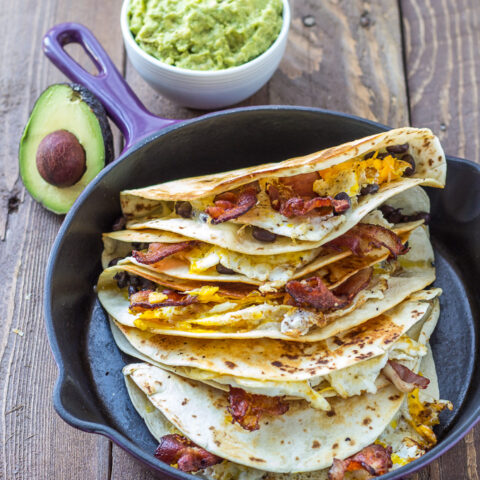 The Best Breakfast Quesadillas
This breakfast quesadilla recipe is one of our family's most requested "breakfasts for dinner"! It is incredibly simple and totally craveable!
Ingredients
12 8-inch flour tortillas
2-4 avocados, depending on size
1 1/2 tbsp lemon juice (fresh juice of one lemon, if available)
12 oz bacon
12 eggs
12 oz shredded monterey jack cheese (pepper jack, if you want it spicier)
2 cans black beans (15.5 oz ea), rinsed and drained
Butter or canola oil
Salsa or hot sauce of your choice
Instructions
Cook bacon in oven to desired crispness. Cut cooked bacon strips in half and set aside.
Lower oven temperature to 200 degrees. Divide the tortillas into two even stacks of six each, and place in the oven.
Bring a large skillet to medium high heat. Melt some butter in the skillet (just enough to coat), and work in batches to cook all eggs over easy. Set aside.
Skin the avocados, remove the pits, and mash with lemon juice in a medium bowl. Salt and pepper to taste.
Remove tortillas from oven and lay open (leave oven set to 200 degrees). Top each tortilla with cheese, beans, egg, and bacon, and fold in half to close.
Heat a large skillet or griddle set to medium high heat and coat with a bit of butter or canola oil. Cook quesadillas for around 3 minutes, turning once, until desired crispness and brownness is reached. Repeat with remaining quesadillas, adding more oil or butter as needed.
Place finished quesadillas on a large cookie sheet and keep warm in oven. Serve as soon as possible, with avocado dip on the side, topped with salsa and/or sour cream as desired.
Nutrition Information:
Yield:

12
Serving Size:

1
Amount Per Serving:
Calories:

634
Total Fat:

39g
Saturated Fat:

13g
Trans Fat:

0g
Unsaturated Fat:

23g
Cholesterol:

242mg
Sodium:

997mg
Carbohydrates:

41g
Fiber:

9g
Sugar:

1g
Protein:

31g
Nutrition information isn't always accurate.