We customize these easy, healthy, & convenient Overnight Oats to make them "His & Hers"! They save us time & money, while keeping us full in the mornings!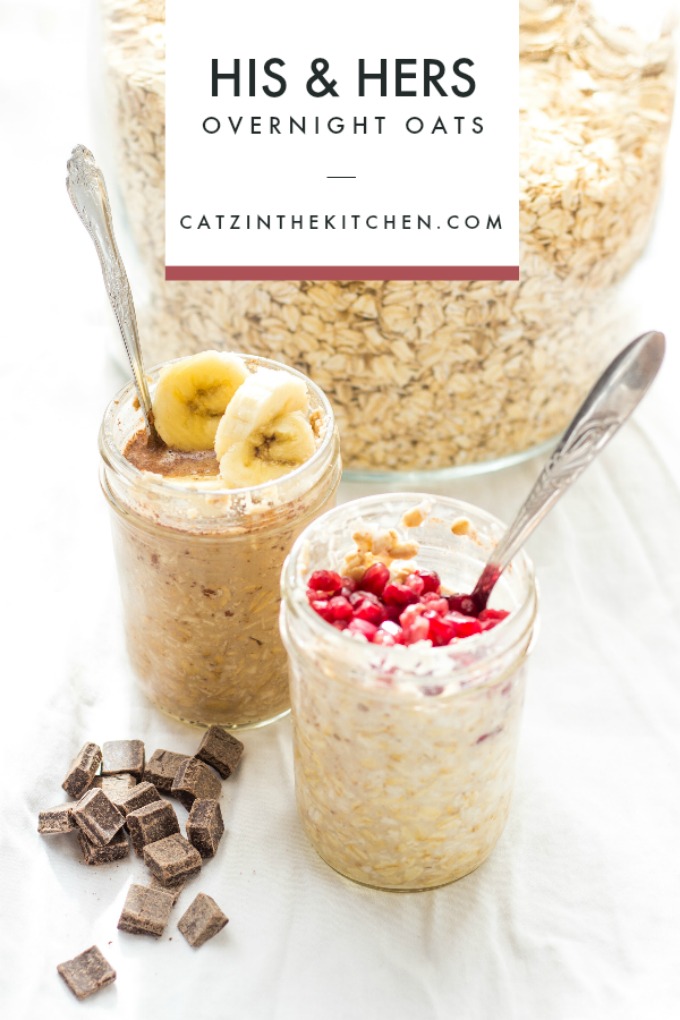 For close to two years now, we've been meal prepping mine and Josh's weekday breakfasts on Sunday evenings before bed. Not only has it saved us money, but also time. And time, as a parent, is a precious thing, let me tell you!
Overnight Oats have the added benefit of being a healthier breakfast option than most, in addition to being filling enough to get you through to lunch time without snacking! We bought cereals. We did yogurt. We even bought the oatmeal packets in the store. Overnight oats just have more "filling power" than all the others. Which is saying a lot because Josh, ya know, is a pretty energetic dude…and if it fills him up and give him energy, then it's a win in my book.
We've honestly been meaning to share this recipe with you for a long time. In fact, when we visited with some friends last fall, they were like, how have you not shared that yet!?
Good question! But, not only am I sharing this post today, but I also did a Facebook Live for it, and Josh filmed me giving a quick tutorial on YouTube. It seems as though that now we've made the decision to actually share the recipe, we're sharing it in ALL THE PLACES. Do bear with us as we work on our video-making skills. It's new territory for both of us, and it's going to take some practice. That being said, we'd love for you to subscribe to our YouTube channel, and as we begin to add content to it, we'd love your feedback even more! Here's the video for this one – what do you think?
So, let's jump into this ultra-basic recipe. My measurements are specifically for one 8 oz mason jar of oats, but it is way easy to double, triple, etc, until you cover the entire week. The reason I set the measurements out one jar at a time is so you can adjust for out-of-the-ordinary weeks – weeks with a planned breakfast or
brunch
, weeks with a holiday, etc. Not every week has five weekday breakfasts, does it? What I do, is just make each jar individually which makes the process super fast. The only utensils you need are the jars, a 1/3 cup measuring cup, and a tablespoon!
What makes these oats "His & Hers" for us are a few simple things. Of course, the idea here is just that you can customize them easily for different tastes – not that all guys like them Josh's way and all gals like them my way! Though, that would be convenient… Josh likes his oats made with natural peanut butter and a liquid combo of almond milk and coffee. I like mine with honey and just almond milk. And then we top it a bit differently, too. He likes sliced bananas, while I prefer fresh berries, granola, or, in this case, "pom poms" (POM Wonderful's pomegranate arils)!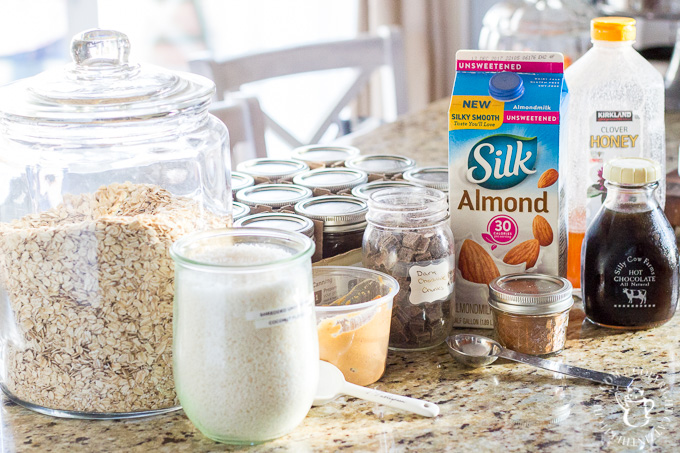 That's it! So simple! Like I said, I make these on Sundays, but the chocolate does begin to break down a bit by Wednesday or Thursday. You could always make enough oats for Wednesday and then make more later in the week. But I just prefer to be done with it on Sundays.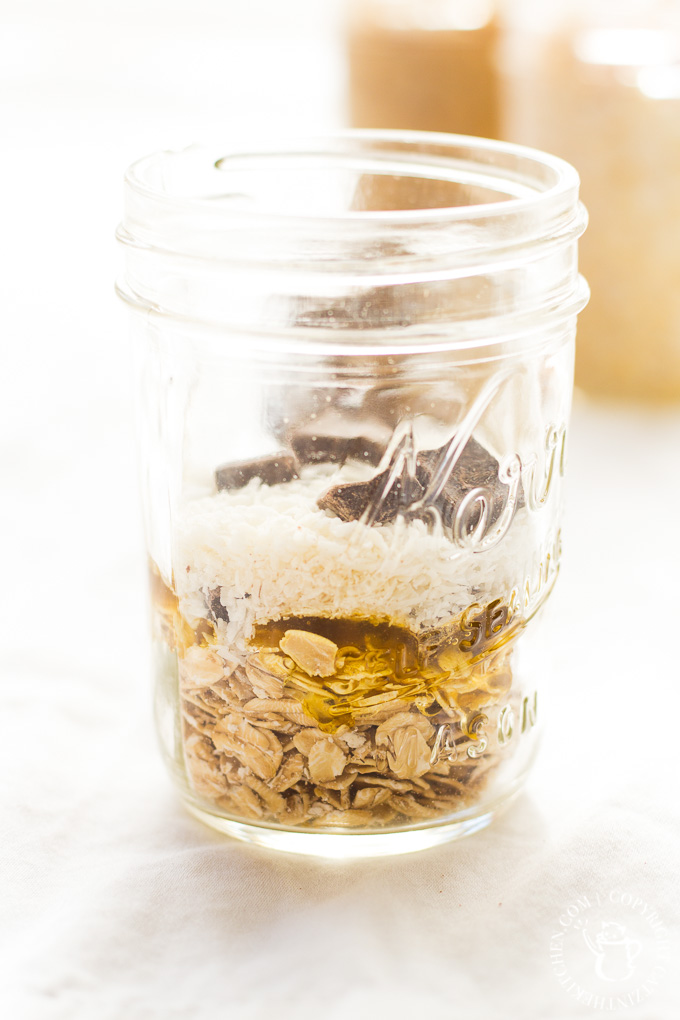 These overnight oats have proven more times than I can count to be a morning lifesaver. So many times I've had to unexpectedly run out the door on a weekday morning and it's been easy to just throw the oats into my purse with a spoon and eat them on the go!
Overnight Oats are a breakfast miracle in this house, and let me tell you, having these around make me not only eat breakfast every day, which has routinely been a meal I've skipped (naughty me), but I feel good about eating it because it's healthy, keeps me full, and gives me energy.
I will add that I eat my oats with the leftover half of Josh's banana in the morning, and when I was pregnant, I added a slice of cinnamon sugar toast. But now, it's just the banana and oats and I'm good to go in the morning!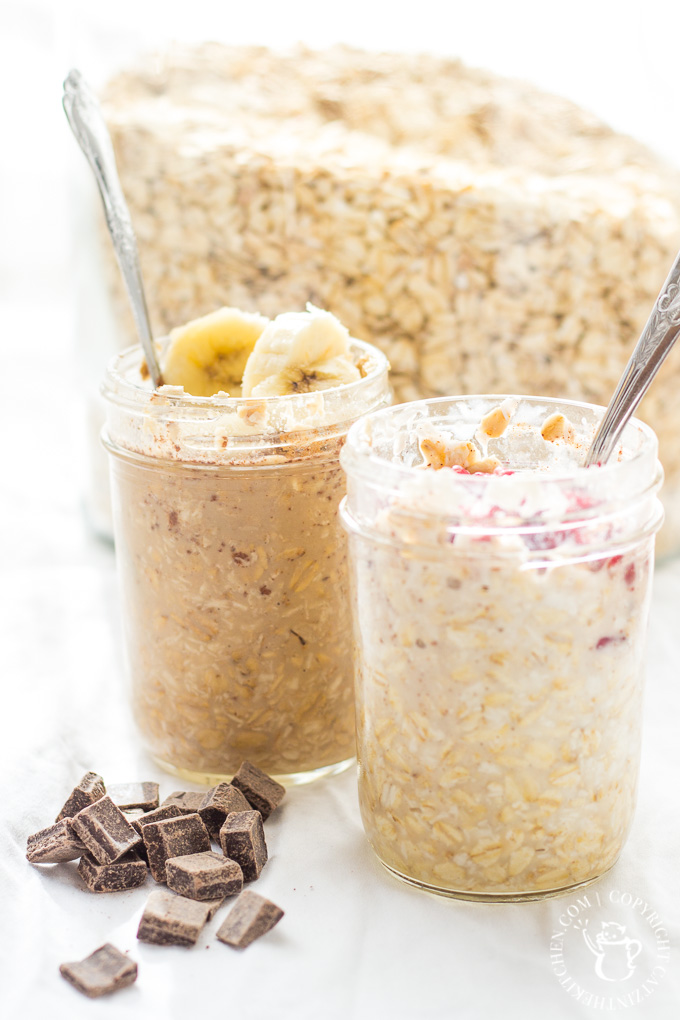 Also…our kids are fans of these, too, which I think could be a good breakfast option for kiddos as well, because it just means less rushing around in the morning for everyone – which hopefully means breakfast can be a more happy and relaxed time for everyone.
Get the whole family involved in making oats and let me know what fillings you and your spouse or kiddos like!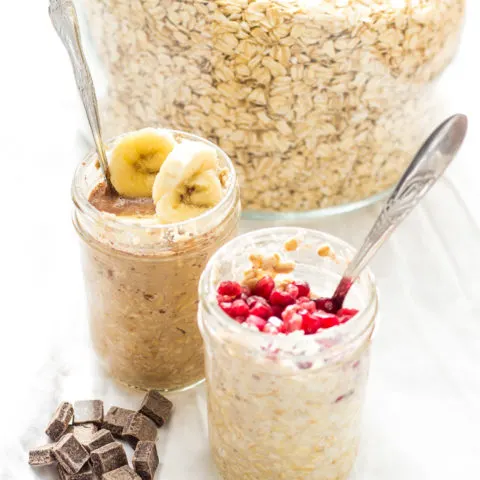 His & Hers Overnight Oats
Yield:
1 (8 oz) mason jar
Total Time:
1 day
5 minutes
We customize these easy, healthy, & convenient Overnight Oats to make them "His & Hers"! They save us time & money, while keeping us full in the mornings!
Ingredients
1/3 cup rolled oats
1 tbsp honey
1 tbsp dark chocolate chunks or cacoa nibs
1 tbsp unsweetened shredded coconut
about 1/2 cup Unsweetened almond milk
Pinch of ground cinnamon
Granola or fresh berries for topping
Instructions
In an 8 oz mason jar, measure out 1/3 cup of rolled oats and pour it into the bottom of the jar. Layer one tablespoon of honey (hers) or sub in peanut butter (his), dark chocolate chunks, and unsweetened shredded coconut.
Pour almond milk over the oat mixture (or almond milk and coffee, for "his"), just until the oats are submerged. Go slow, the milk will bubble as it fills the jar. You're filling the jar just until everything is slightly submerged. But if you like your oats with a bit more liquid, feel free to add more.
Screw the lid tightly onto the jar and shake the whole jar really well. Store in fridge overnight.
In the morning, top with cinnamon and desired toppings (granola, berries, pomegranate arils, etc for "hers" or sliced bananas for "his").
Notes
Use whatever oats you prefer. Quick cooking oats or gluten free all work really really well!
Mix up your liquid. Use vanilla or chocolate almond milk, or coconut milk, regular milk or cashew milk would all work.
Nutrition Information:
Yield:

1
Serving Size:

1
Amount Per Serving:
Calories:

293
Total Fat:

11g
Saturated Fat:

6g
Trans Fat:

0g
Unsaturated Fat:

4g
Cholesterol:

1mg
Sodium:

9mg
Carbohydrates:

46g
Fiber:

5g
Sugar:

25g
Protein:

5g