Easy, fresh, bright, sweet, & creamy, this Strawberries & Cream Overnight French Toast features frozen Oregon berries so you can make it all year long!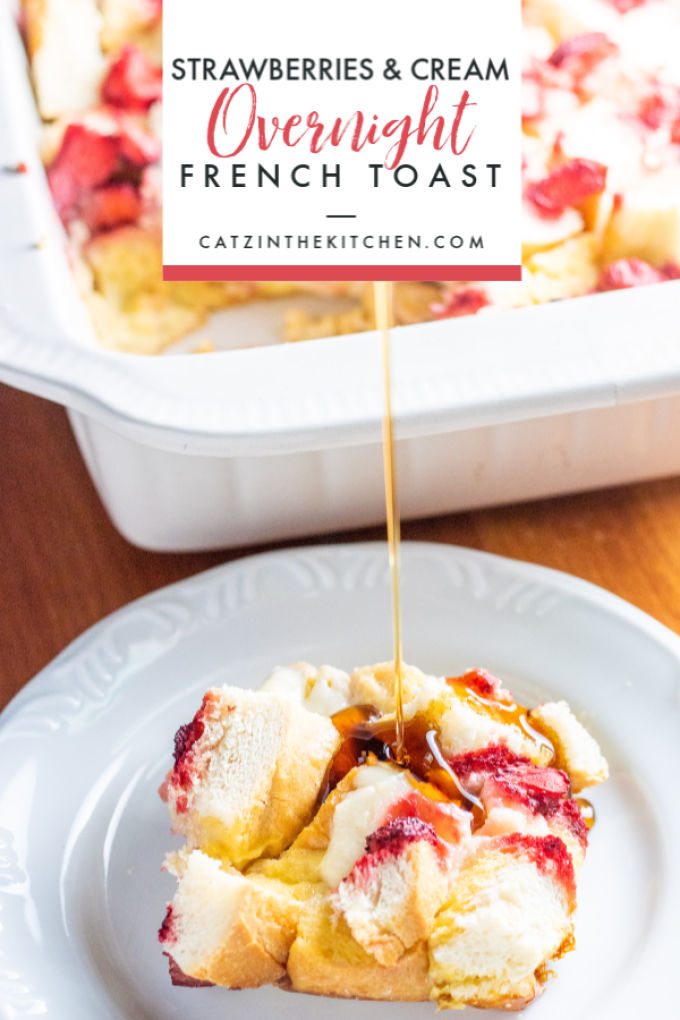 I'm going to let you guys in on a secret. It's January and strawberries are not in season. I repeat, strawberries are not in season! I know this because, well, it is January and I don't know of many berries that thrive during the cold, rainy, windy, snowy months. And, well, I also bought two containers of strawberries last week for Josh's tres leches birthday cake and not only did the strawberries not look like they were in season, they also looked…bad. As in I had to pick through the containers looking for strawberries that didn't look mealy!
However, there is hope for us year-round strawberry lovers. If you've been reading Catz for awhile, then you know we love the opportunity to partner with our local berry farms, and this time, they come bearing the sweet, sweet news that when you buy Oregon Strawberries, you get strawberries that have been grown and picked at their peak from these same family farms to ensure all of that color and flavor we love. In fact, a little more than 90% of the strawberries picked have been frozen within 24 hours to ensure that their color, flavor, and nutrients have been locked in at the very max! Oregon Strawberries are grown and harvested with love, and I have to agree that it shows in the way they look and taste.
Aren't you just drooling now? If you, too, want to support our local, family berry farms, look for brands like Stahlbush Island Farms, Willamette Valley Fruit Co, and Sturm's Berry Farms at your local grocery store. When in doubt, check the label to see where your strawberries are coming from. Maybe I'm partial because I'm a native Oregonian, but I happen to think that strawberries from Oregon are far superior to the rest, which is why I love working with them.
So, when our friends over at Oregon Strawberries asked me if I would be interested in creating a new recipe featuring the strawberry in its off-season frozen glory, I was all in! I love frozen berries because you can use them in so many ways!
Enter this Strawberries and Cream Overnight French Toast. The inspiration for this recipe came from a breakfast I ordered at one of my favorite restaurants in Central Oregon, McKay Cottage. In October, we stopped there for breakfast and I ordered their stuffed French toast. It was made from croissants stuffed with mascarpone cheese and topped with a strawberry compote. I knew I needed to recreate this dish, but…I also needed it to be simpler and more approachable.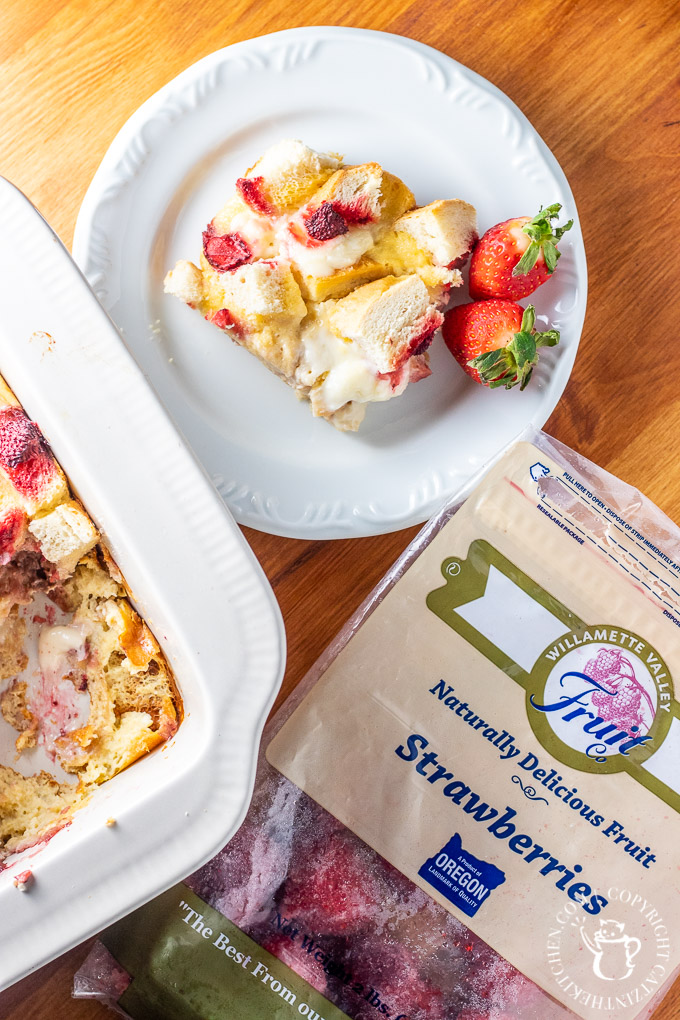 What better way than to do that than with an overnight French Toast? I've got a few different versions on our blog already, but none of them used frozen berries and I had a feeling that it would be delicious and the perfect dish to utilize the berries in. I swapped the croissants for French bread, the mascarpone cheese for cream cheese, and the strawberry compote for the frozen Oregon strawberries layered in the dish.
The result? Mouth watering (if I may say so myself)!
It's sweet and creamy. Fresh and bright. All the right amount of texture from the layered bread cubes. Crispy on top, tender in the middle.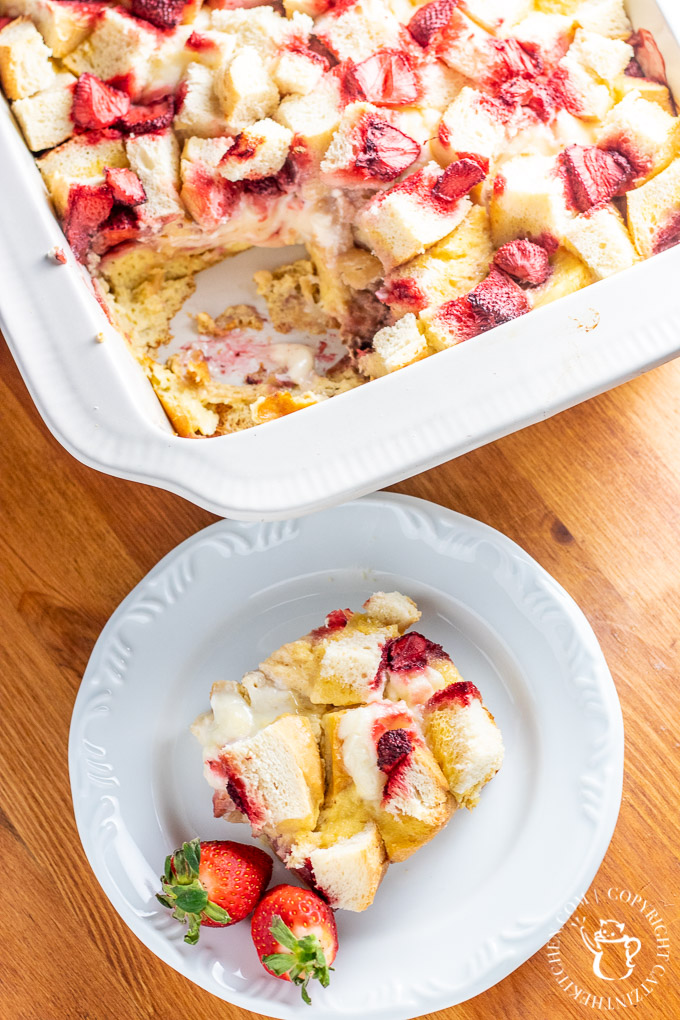 I used my standard base recipe for overnight French toast (which never fails!). I cubed the loaf of bread, placing half of the bread cubes on the bottom of the baking dish. For the strawberries, I wanted to keep the integrity of their color and shape. I didn't thaw the berries all the way – that would soften them too much and then they wouldn't hold up to the baking process. I simply rinsed the berries under water just to take the frozen edge off and then sliced them before layering them throughout the dish. For the cream, I used softened cream cheese and beat it…with a bit of lemon juice to brighten up the dish and some sugar to sweeten things up a bit. Easy, simple, and approachable. The cream gets dolloped on top of the strawberries, the egg mixture gets poured over the top, and then the remaining bread and strawberries are placed on top.
I mean, doesn't that sound good and easy enough for anyone to make?
You should definitely try it out this weekend or save it for a Valentine's Day brunch with your whole family or loved one.
This is one overnight casserole you can make all year round. Frozen Oregon strawberries in the off season and fresh strawberries when they are at their peak. Your choice!
This is not a sponsored post, and all opinions and the recipe are my own. The Oregon Strawberry Commission does help out with the cost of ingredients for creating the recipe.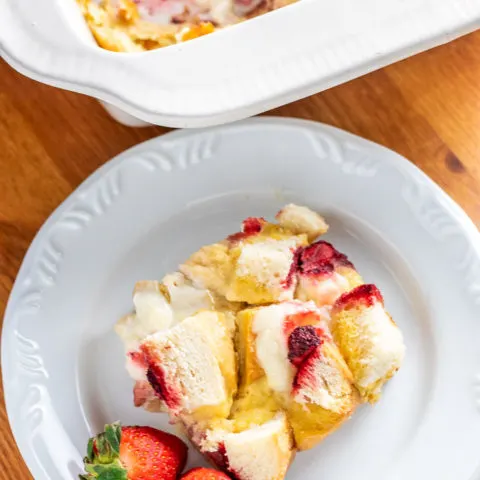 Strawberries & Cream Overnight French Toast
Refrigerator + Sitting out:
8 hours
30 minutes
Total Time:
9 hours
40 minutes
Easy, fresh, bright, sweet, & creamy, this Strawberries & Cream Overnight French Toast features frozen Oregon berries so you can make it all year long!
Ingredients
1 loaf French bread, cubed
8 eggs
1/2 cup heavy cream (whole milk works too)
2 cups milk
2 tsp vanilla extract
1/3 cup sugar
8 oz. cream cheese, softened
1/2 cup sugar
1 1/2 tsp lemon juice
1 1/2 cup frozen strawberries, sliced and divided (But not thawed)
Instructions
Spray a 9x13 baking dish with non-stick spray. Place half of the cubed bread on the bottom of the dish. In a large bowl, whisk eggs, heavy cream, milk, and vanilla together. Set aside
In a bowl of a KitchenAid, whip cream cheese, sugar, and lemon juice together until silky and combined. (This can also be done with an electric mixer.)
Pour the frozen strawberries into a colander and lightly rinse the strawberries, just taking the edge off the strawberries so you can slice them, but don't thaw them - you want them to keep their shape. Slice the strawberries and scatter 3/4 cup of the berries over the bread. Dollop spoonfuls of the cream cheese over the strawberries.
Pour the egg mixture over the cream cheese and strawberries before adding the remaining bit of bread on top, followed by the rest of the strawberries. Gently press down on the bread to ensure the bread is soaking up the mixture.
Cover with foil and refrigerate for 8 hours or overnight. Remove French toast from fridge and let sit and come to room temperature for 30 minutes. Preheat oven to 350 degrees and bake with foil on for 30 minutes. Remove foil after 30 minutes and bake for another 15-30 minutes - the baking time should be closer to an hour.
Sprinkle with powdered sugar and maple syrup if desired.
Nutrition Information:
Yield:

8
Serving Size:

1
Amount Per Serving:
Calories:

524
Total Fat:

23g
Saturated Fat:

12g
Trans Fat:

0g
Unsaturated Fat:

9g
Cholesterol:

239mg
Sodium:

567mg
Carbohydrates:

61g
Fiber:

2g
Sugar:

27g
Protein:

18g