This recipe takes some time and work, but it's so worth it. The dough, the topping, the caramel…these caramel pecan sticky buns are straight up addicting.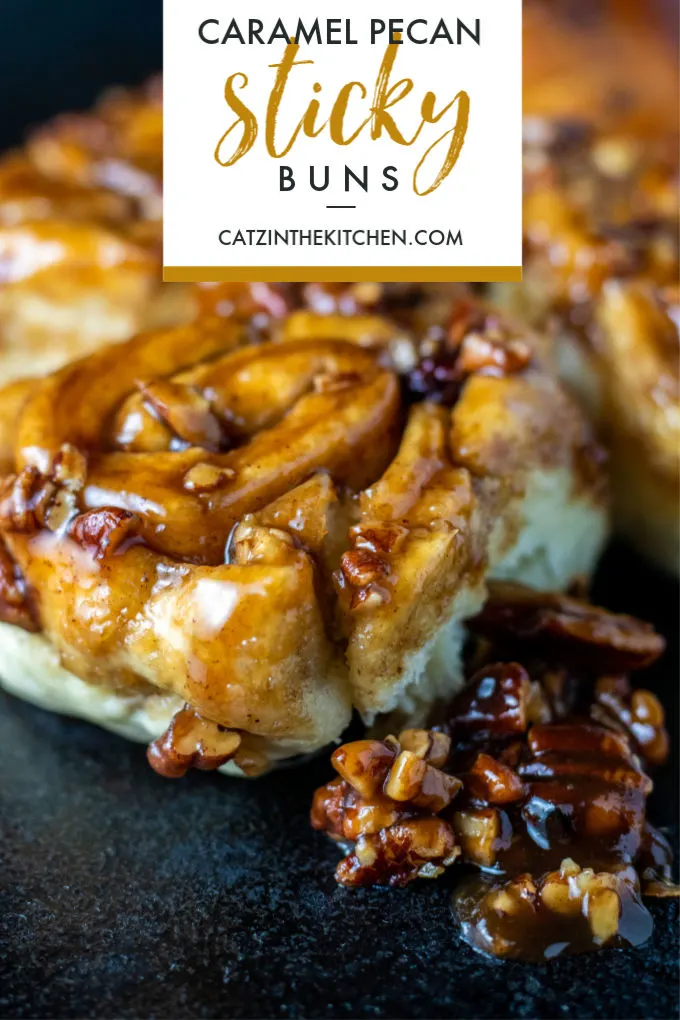 I'm just going to forewarn you – this is not a recipe you can make in 15-30 minutes. This is a recipe that requires time and patience from you, but if you can give it that…it will be so, so worth it!
It just might become a new holiday favorite for you and your family (maybe even your neighbors…?), and that would make me so happy because I definitely think it became that for us.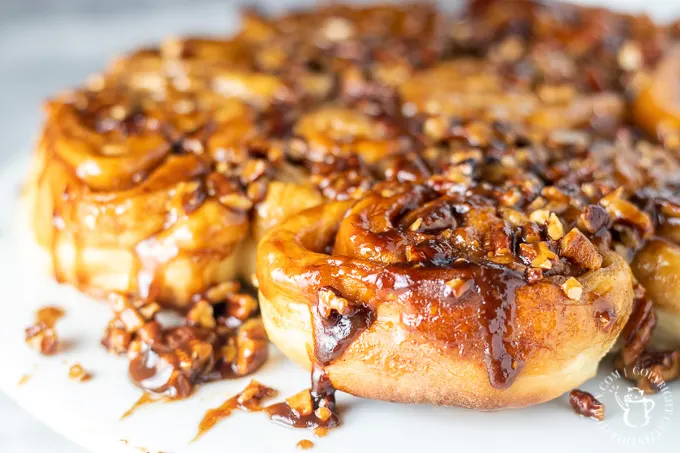 In fact, when I made this, I made half of the recipe with a neighbor in mind and we kept the other half, so just keep that in mind from a how-many-does-it-serve point of view! You may want to consider sharing! Although…I don't think you will have any trouble eating any of these sticky buns on your own if you so choose. The half our family kept did not even last 24 hours in the house!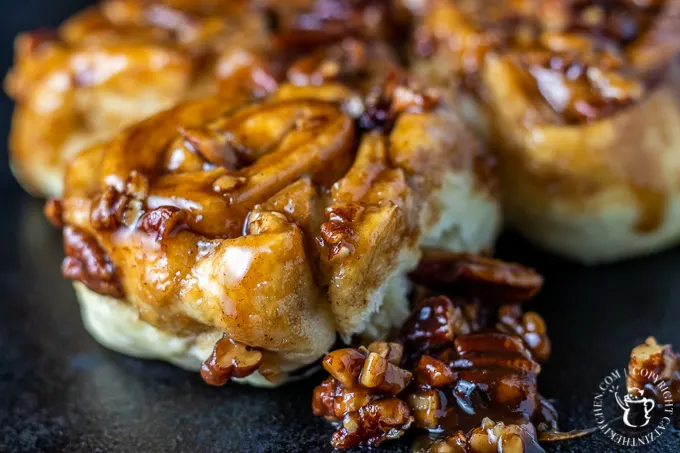 The morning you decide to make these, give yourself plenty of time to read through the directions a couple of times (don't be like me and assume that you have heavy cream in your fridge when you don't) and be thinking about where a warm spot in your house is so you can help the dough rise properly. I actually brought my dough up to our bedroom because A) heat rises, making our room is one of the warmest areas in the house, and B) I actually hopped on the treadmill while the dough rose and so I was able to create a bit more heat in that room because of that!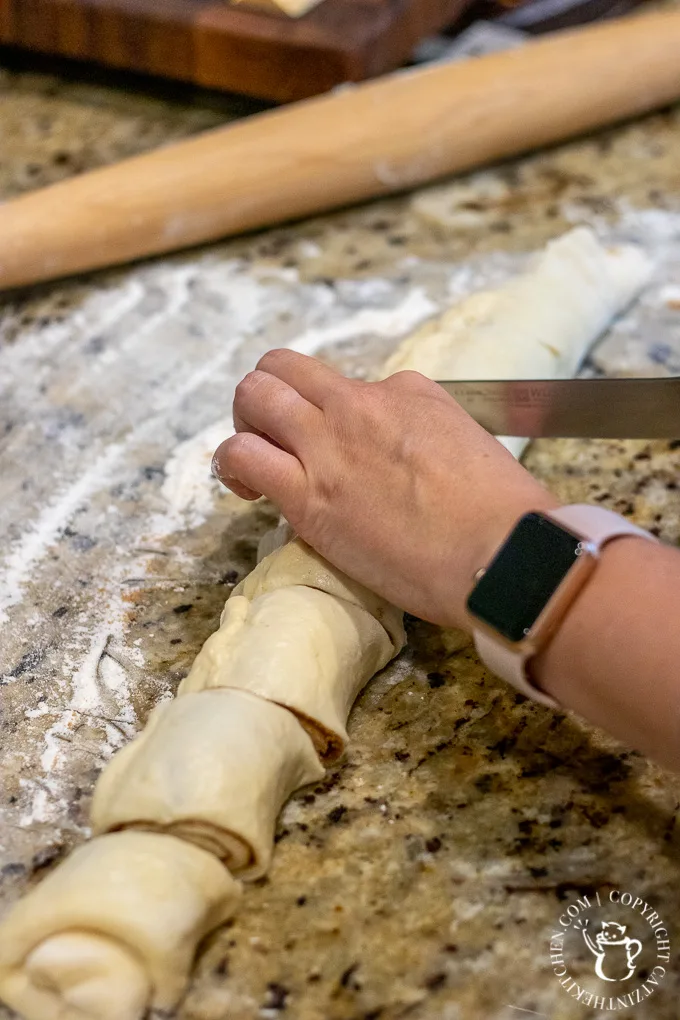 Do not skip steps! I know you might be a risk taker when it comes to cooking…maybe you don't like to measure. Maybe you like to play with cooking times, etc. Follow this recipe – baking just generally requires that of you, but even more so when playing with yeast.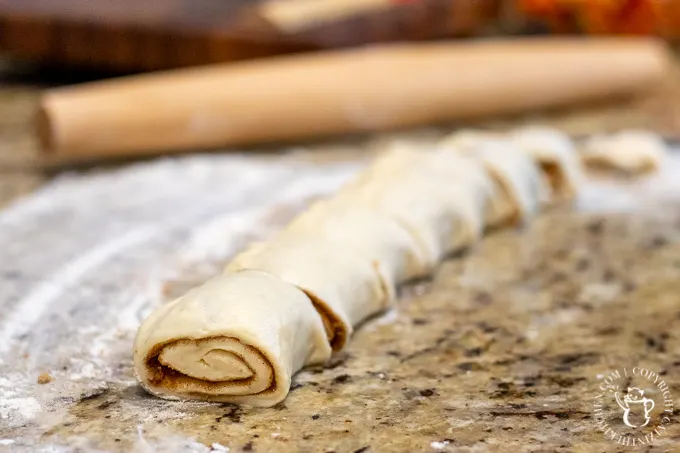 And one last thing…do not be afraid to play with your dough. If you've got a KitchenAid mixer (fitted with a dough hook), kneading the dough will be the simplest way to create the dough consistency you're looking for (which is just beautiful, by the way – one of the prettiest doughs I've handled), but you can always do it by hand…it is a lot more work and more challenging, though, because this dough is pretty tacky and wet when you begin – which is why the dough hook on the KitchenAid really…well…aides you in during this process. Also, when removing the dough from the bowl it's risen in, to prevent it from sticking to your hands, lightly oil your hands with cooking spray or olive oil.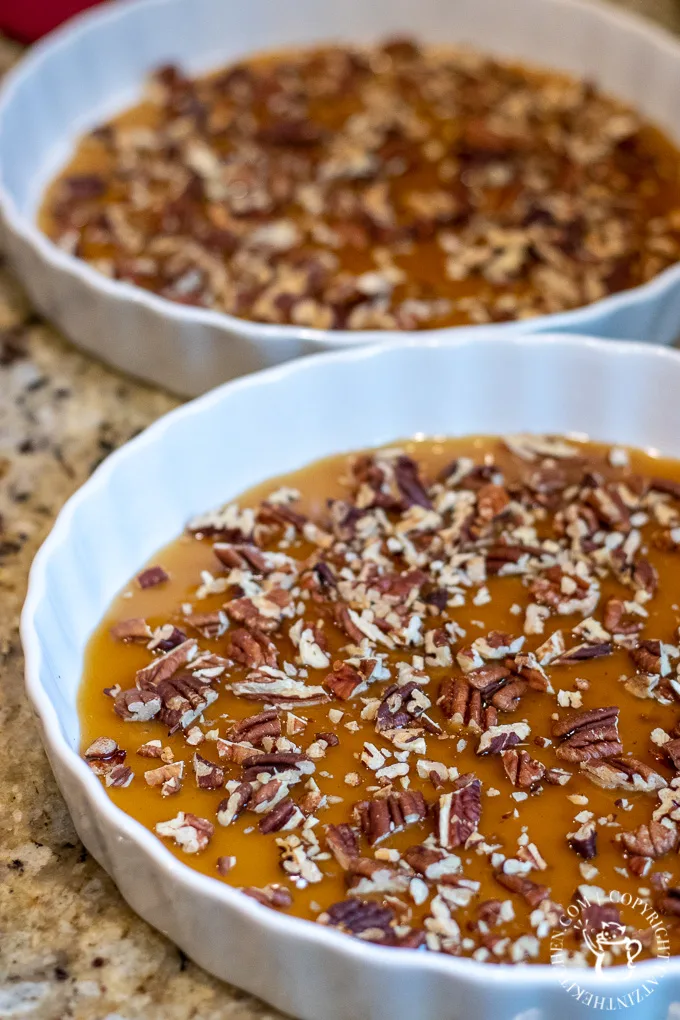 Now that I've properly prepared you, can we talk about how amazing these taste? It's unlike any sticky bun I've ever tasted and not only because the dough is elegantly airy and smooth and soft, but the combination of the caramel and pecans is delectable. It's not as overly sweet as you might think…might be because of the salt you add to the caramel, but the flavor is really delicate and yummy. Soft and sweet and finger-licking good. I think, for all of those reasons, you can get away with serving these for brunch or dessert.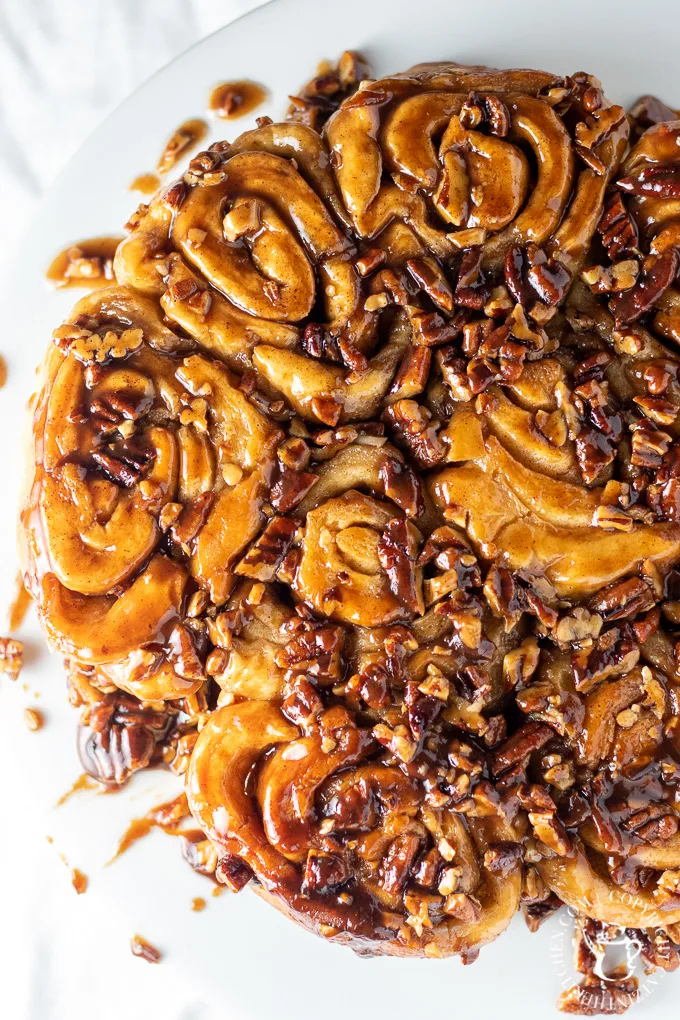 I really hope you make these Thanksgiving or Christmas morning or anytime in-between and don't forget to bless your neighbors or friends with the other half, because they really are too good not to share.
Caramel Pecan Sticky Buns
Cook Time:
4 years
60 days
20 hours
Total Time:
4 years
60 days
22 hours
35 minutes
This recipe takes some time and work, but it's so worth it. The dough, the topping, the caramel...these caramel pecan sticky buns are straight up addicting.
Ingredients
1 cup milk
1/2 cup water
1/2 cup white sugar
3/4 cup, plus 1/4 cup melted butter for filling (1 cup total)
2 tbsp active dry yeast (or three 0.25-oz packets)
1 egg
1 tsp vanilla extract
4 1/2 - 5 cups all purpose flour
3/4 tsp Kosher salt
2 cups packed brown sugar
3 tbsp heavy cream
1 1/3 cups chopped pecans, toasted
2 tsp ground cinnamon
Instructions
Preheat oven to 350 degrees. Add chopped pecans to baking sheet and toast for 10 minutes. Remove and set aside to cool.
Heat milk, water, white sugar, and 1/4 cup butter in saucepan over medium heat, stirring until warm (120 degrees F - 130 degrees F) and butter almost melts. (I used this candy thermometer to make sure I didn't let the mixture get too hot.) Transfer to a large mixing bowl (A KitchenAid mixing bowl would be great here). Stir in yeast and allow to sit until foamy, 5-10 minutes.
Stir in egg and vanilla. Stir in 4 1/2 cups flour and 1/2 tsp Kosher salt until dough forms. Knead, adding more flour as needed until dough is smooth and elastic, (8-10 minutes on medium speed). Transfer to a very large oiled bowl; cover with a tea towel and let rise in a warm spot until the dough has doubled. 1 - 1 1/2 hours.
Combine 1 cup brown sugar and 1/2 cup butter in a small saucepan. Cook, stirring, over medium heat until sugar dissolves, about 5 minutes. Stir in cream and 1/4 tsp of Kosher salt and remove from heat (do not boil). Divide the thick sauce equally among two lightly greased 9-inch cake pans; sprinkle with chopped pecans.
Cut dough in half. Roll each half in a 6x14 -inch rectangle on a lightly floured surface. Mix together cinnamon and remaining brown sugar in a small bowl. Brush 1/4 cup melted butter evenly over dough and sprinkle with cinnamon mixture. Starting with the long side, roll the rectangle into a log, tucking the ends as you roll and pinching the seams together when rolled together. Cut the log into 8-9 rolls; and arrange rolls over sauce and pecans, evenly spaced. Repeat this same process with the remaining dough and ingredients. Cover and let rolls rise in a warm spot until doubled, abut 30 minutes. Preheat oven to 375 degrees.
Bake until browned and cooked through 25-30 minutes. Immediately (and carefully) invert each pan onto a plate or cake stand. Serve warm.
Nutrition Information:
Yield:

18
Serving Size:

1
Amount Per Serving:
Calories:

771
Total Fat:

11g
Saturated Fat:

3g
Trans Fat:

0g
Unsaturated Fat:

7g
Cholesterol:

21mg
Sodium:

139mg
Carbohydrates:

147g
Fiber:

6g
Sugar:

26g
Protein:

18g