Once you try this classic ham and cheese quiche version of this tasty breakfast pie, you'll want to make a different one for every morning of the week!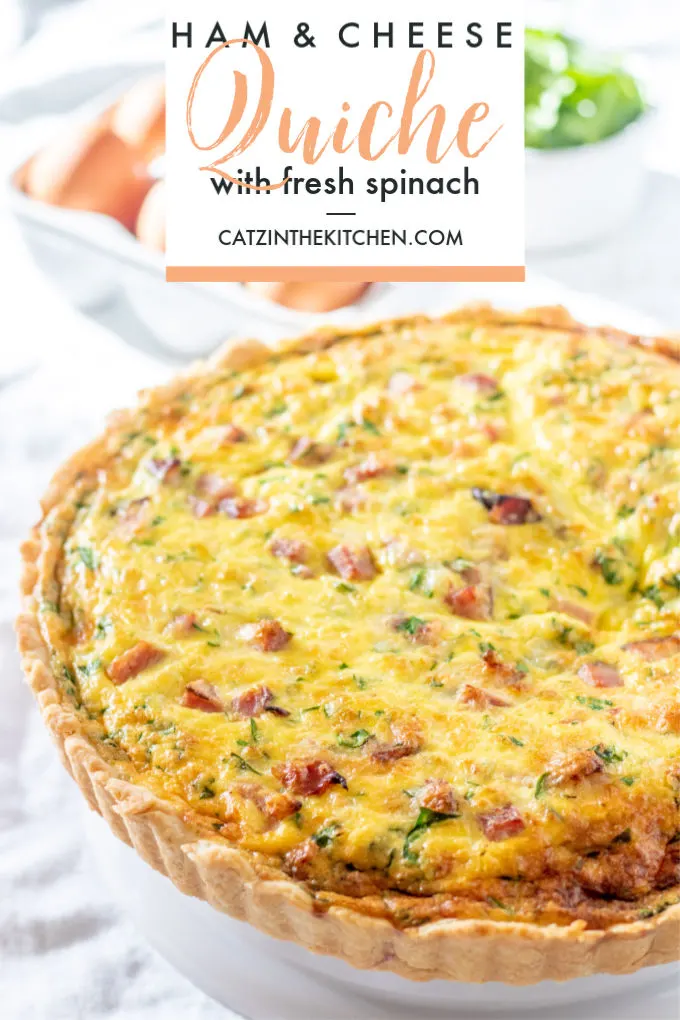 This post originally appeared on Catz in March of 2013. We've continued to make and enjoy this wonderful, simple recipe for homey, rustic quiche, so we thought we'd update the pictures and the recipe card and re-share it with you!
For as long as I can remember, if you asked me what my favorite breakfast dishes were, quiche would be near the top of the list. Ever since I was a small child, I can recall savoring the flakiness of the crust, the cheesiness of the filling, and the way the "pie" would stay warm longer than anything else on my plate. Of course, those memories require a quiche cooked properly. Not traditionally, necessarily, but properly. We've all, I'm sure, had less than stellar quiche experiences where the crust is mushy or hard, the filling isn't appropriately spongy, or, that worst of all quiche sins, it's served cold. Unfortunately, through the first few years of our marriage, I committed a variety of these offenses in an effort to win Chels, Gracie, and Edie over to my vision of quiche-filled Saturday mornings. Suffice to say, it didn't go well.
A few years passed, the majority of my little family still unconvinced, and I decided to give it another go around. This time, though, food blogging had come into the mainstream, and I had Ree Drummond's Perfect Pie Crust at my disposal. For those of you who don't read Catz often, let me say this: I don't bake. I grill, barbecue, deep fry, pan sear, and saute, but I don't bake. No cakes, muffins, cookies, pies, or donuts – that's Chels's department in our kitchen. So, in essence, it took my deep and abiding longing for quiche to entice me to face a kitchen full of flour, sugar, and rolling pins and make pie crust. Good thing it was this particular pie crust. If you haven't had the opportunity to try Ree's phenomenal pie crust recipe, stop everything you're doing and make it now. I don't even care if you put a pie in it. Just make the crust. Chels and I both agree it is the tastiest, flakiest crust we've ever had – the only one I've ever tasted that I would put on par with the ones my mom made when I was growing up!
Okay, if you didn't follow my advice and go make the pie crust right now, you can probably just hold off until the end of this post, and then you'll also have a quiche to put in it. That might work out better, come to think of it…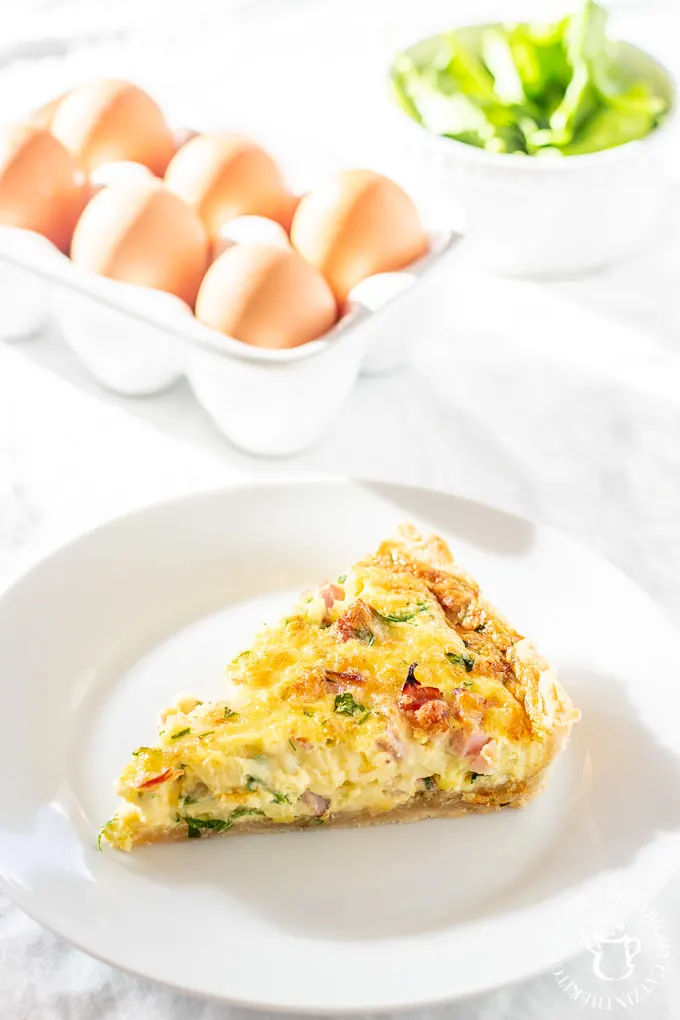 As I normally do when I'm seeking the best way to make a traditional dish in the way I want it, I perused and read a wide variety of recipes from cookbooks and websites on quiche fillings. Needless to say, there are a lot of different opinions out there. However, once I had settled on using the Perfect Pie Crust from The Pioneer Woman, I noticed she also had an elaborate quiche recipe on her site. I wasn't looking to do anything quite so heavy or involved as the quiche she made, but I noticed something as I read through the recipe. It echoed a common theme I had seen across a variety of others – eggs, heavy cream, and cheese. As to the rest of the ingredients and types of cheese, well, that's where whatever you happen to have in the fridge comes into play!
Since trying this combination for the first time, and thinking it was too simple to work, I've made this particular quiche about four more times, with identical results. We've switched up the ingredients, making one that was just eggs and cheese, one that was "southwestern" with bell peppers and pepperjack, but the base (eggs, heavy cream, and cheese) is the key. Seriously, you can't go wrong, and it gives you an incredible creative license to do pretty much whatever you want. I've got the other half of the Perfect Pie Crust recipe sitting in the freezer from the last quiche I made, and I'm trying to decide what should fill it this time!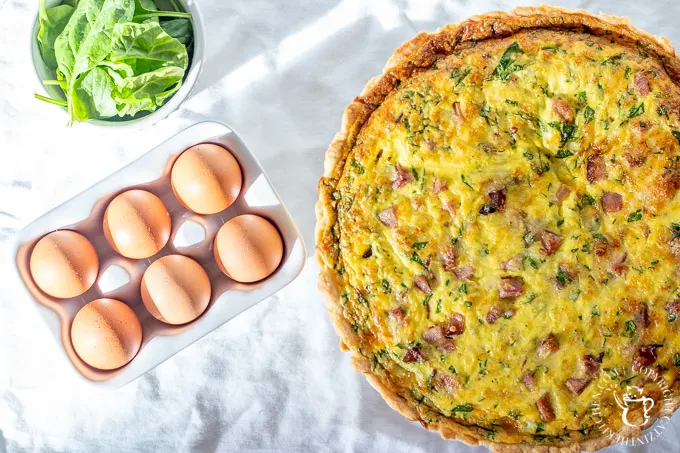 If you decide to try this quiche with the traditional fillings I'm using in this example (ham and spinach), you'll probably discover, as we did, how delightful fresh spinach leaves are in this application. Chels is not a fan of wilted spinach – the texture is very unappetizing to her – so when I told her I was including it in our quiche, she was not particularly optimistic. However, if you simply chop the fresh spinach and mix it in to your filling, it doesn't really wilt. Through the cooking process, it maintains a bit of its own body and texture, resulting in a much more appetizing final product. It probably goes without saying at this point, but I have successfully won over my girls to the cult of quiche. It is now demanded on a weekly basis!
Update Note (Dec 2019): We use our 11″ tart pan when we make quiche, as quiche is so much easier to slice up when you can just pop it out of its pan first! If, however, you don't have a big tart pan, I would expect that you could divide this recipe – both the crust and the filling – into two smaller pans without too much trouble. Bon Appétit!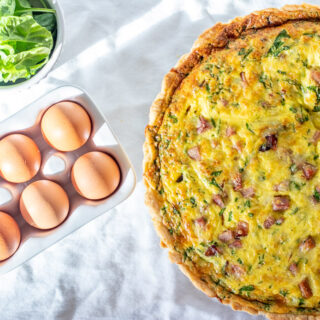 Ham and Cheese Quiche with Fresh Spinach
Once you try this classic ham and cheese quiche version of this tasty breakfast pie, you'll want to make a different one for every morning of the week!
Ingredients
7 eggs
1 cup chopped fresh spinach
1 cup chopped cooked ham
Salt and pepper
1 1/2 cups heavy whipping cream
2 cups shredded cheese (I recommend a blend of cheddar, mozzarella, and monterey jack, but swiss is good, too)
Instructions
Preheat oven to 400 degrees.
Roll out your pie crust on a well-floured surface, measured to the point that it's about an two inches wider than the pan you plan to use. Place pie crust in pan, flattening it into the sides and trimming any excess. Place in fridge while preparing filling.
Crack eggs into a large bowl, and add heavy cream. Beat until smooth. Add salt and pepper to taste, and then stir in cheeses. Add ham and spinach and stir the entire mixture until well combined.
Pour mixture into pie crust, using a spoon to ensure that it spreads about evenly. Carefully (it will spill easily) place quiche in oven, and bake for 35 minutes, or until texture is "jiggly" but solid. Cooking times may vary depending on size and depth of pan used. We used an 11″ pie pan that was about an inch deep.
Remove from oven and let sit for three to four minutes, then cut and serve immediately!