If you haven't fallen completely in love with crepes yet, this easy recipe for Berries & Cream Crêpes is sure to do the trick.
This post originally appeared on Catz in August of 2013. We've remade it, updated the photographs, and updated the recipe format, and these berries & cream crêpes are ready to be enjoyed again! We have made them many, many times over the years, and the whole family is wild about this tasty brunch!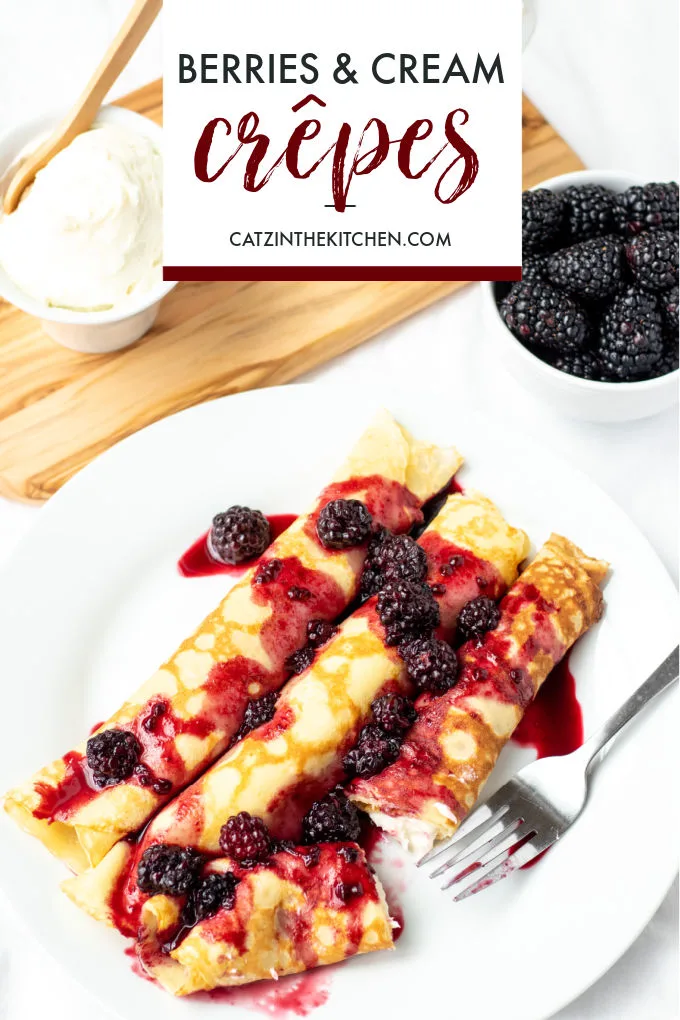 I don't know that we've ever blogged a crepe recipe here at Catz. If that's true, it's a shame, because crepes are not only completely fantastic, they happen to be one of our all time favorite breakfast foods. My girls love them, Chels essentially faints in her chair whenever we make them, and no doubt little Christian will be devouring them shortly – they are easy to chew, after all. We decided to give crepes a whirl about five or six years ago, when Chels purchased an inexpensive crepe pan for me. At that time, I still focused primarily on breakfast foods, with the occasional grilled meal thrown into the mix. We'd both had crepes before, and enjoyed them immensely, but neither of us had ever actually made one. Once we did – we were hooked.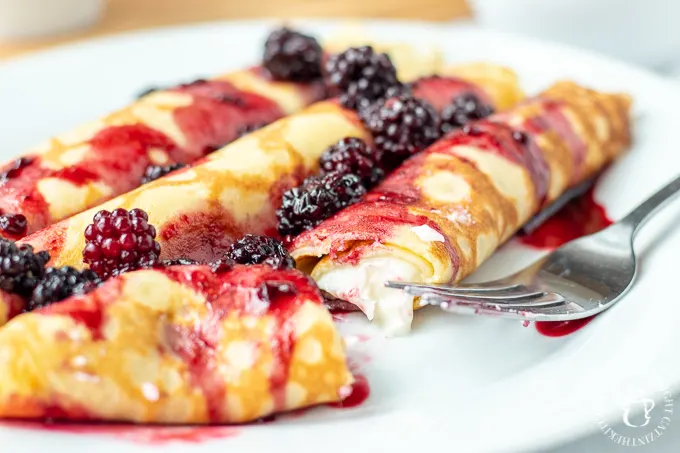 Chels came across an absolutely stunning photo on Pinterest about a month ago from Oh Sweet Basil – simply put, the photos Carrian took for her site made this recipe look far too good not to try. So, when I had a Saturday off a couple of weeks ago, I decided to give it a shot. I made a couple of small modifications, as per usual. First, I didn't have any strawberries, so I subbed in raspberries instead. Secondly, a crepe pan isn't used in the recipe, so I modified the cooking directions to fit the use of one. Truthfully, cooking crepes in a crepe pan as opposed to a skillet is quite different. The biggest change is that you simply don't need to cook the crepe on both sides. The heat is so direct and intense (and perfectly distributed) that the crepe cooks through in a matter of seconds, at which point you just flip it onto the waiting cookie sheet and move on. The slightly browned side of the crepe faces out when you roll it up (it's the beautiful part, so you want to see it), and the soft, yellow side faces in and gets coated with any and every wonderful filling you can imagine.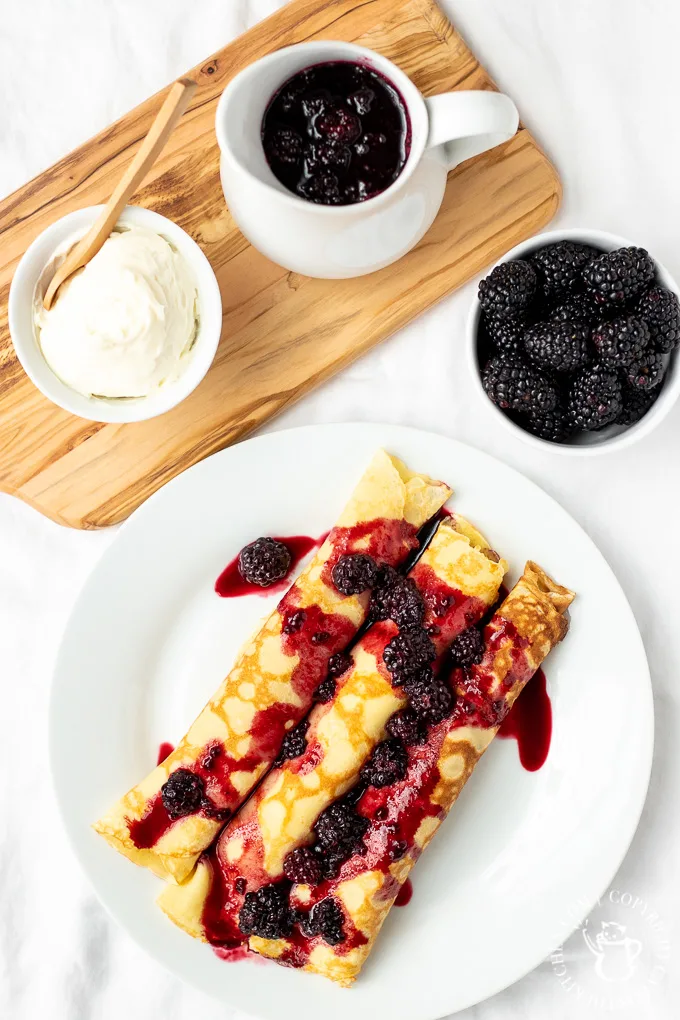 I can truthfully say that this recipe is probably one of the best breakfasts I have ever had in my life, and from her memorable reaction, I know that Chels would agree with me. The cream cheese filling is marvelous, the crepes are light and tasty, and berry syrup is bright and refreshing. It's a tad involved, as you have to prepare three separate components (the filling, the crepes, and the topping), but it really doesn't take an incredibly long time. Two crepe pans would make it go faster, but I'll count myself blessed to have one for the time being!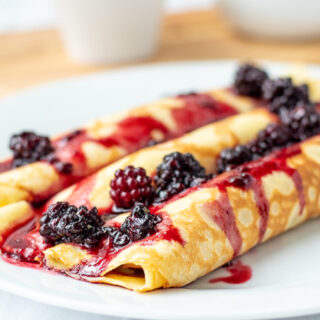 Berries & Cream Crêpes
If you haven't fallen completely in love with crepes yet, this easy recipe for Berries & Cream Crêpes is sure to do the trick.
Ingredients
Creme Filling
8 oz cream cheese or neufchâtel cheese
1/2 cup powdered (confectioner's) sugar
pinch of salt
1 tsp lemon juice
Crêpes
2 tbsp melted butter
softened butter for crepe pan
1/4 cup sugar
1/4 tsp salt
1 1/4 cup 2% milk
3/4 cup plus 2 tbsp flour (14 tbsp or 7/8 cup)
3 eggs
Brown Sugar Berry Syrup
4 cups berries (mixture recommended, raspberries, blackberries, strawberries, marionberries, etc)
1 cup brown sugar
1/2 tsp vanilla
Instructions
Add the cream cheese, lemon, powdered sugar, and pinch of salt to a bowl and beat until smooth (use a KitchenAid mixer if available). Set aside.
Add berries to a blender and puree until smooth.
Combine flour, sugar, and salt in a medium bowl. Whisk together and set aside.
In a medium bowl, add eggs and milk. Whisk together, and add dry ingredients whisked together in previous step. Add the melted butter and whisk the entire mixture together until smooth.
Preheat the oven to 200 degrees, and place a large cookie sheet inside.
Heat a medium crepe pan (about 10 inches) over medium heat. Take a bunched up paper towel and dip it in the softened butter. Carefully wipe the butter around the heated crepe pan, greasing it thoroughly.
Using a 1/3 cup measuring cup, draw 1/3 cup batter from the bowl and add to the greased crepe pan. Lift the pan from the heat and swirl it to coat the pan evenly with the batter. Allow the crepe to cook for 30 seconds to a minute, watching the surface of the crepe closely. When it appears to have thickened slightly, slide a rubber spatula under one edge and check to see if the crepe is slightly browned. As soon as the slightest browning appears, remove the cookie sheet from the oven with an oven mitt, and flip the crepe onto it directly. Replace the cookie sheet in the oven to keep the crepes warm. Re-coat the pan with additional butter, and repeat for remaining crepes. The batter should make about 12.
Add berry mixture to a medium saucepan, and heat slightly. Add brown sugar and vanilla and bring to a simmer, stirring occasionally. Remove the mixture from heat and transfer to a serving dish for pouring.
Lay a crepe out flat, and spread about a tablespoon or two of the cream cheese filling on one side. Roll the crepe up tightly, ensuring that the cream spreads evenly throughout the length of the crepe. Serve immediately, topping with the warm berry syrup.
Nutrition Information:
Yield:

4
Serving Size:

1
Amount Per Serving:
Calories:

713
Total Fat:

37g
Saturated Fat:

21g
Trans Fat:

0g
Unsaturated Fat:

12g
Cholesterol:

248mg
Sodium:

582mg
Carbohydrates:

86g
Fiber:

6g
Sugar:

72g
Protein:

14g
Nutrition information isn't always accurate.