Sweet custard, flaky crust, warm flavors of vanilla and nutmeg…this sugar cream pie is the perfect holiday recipe for your sweet tooth!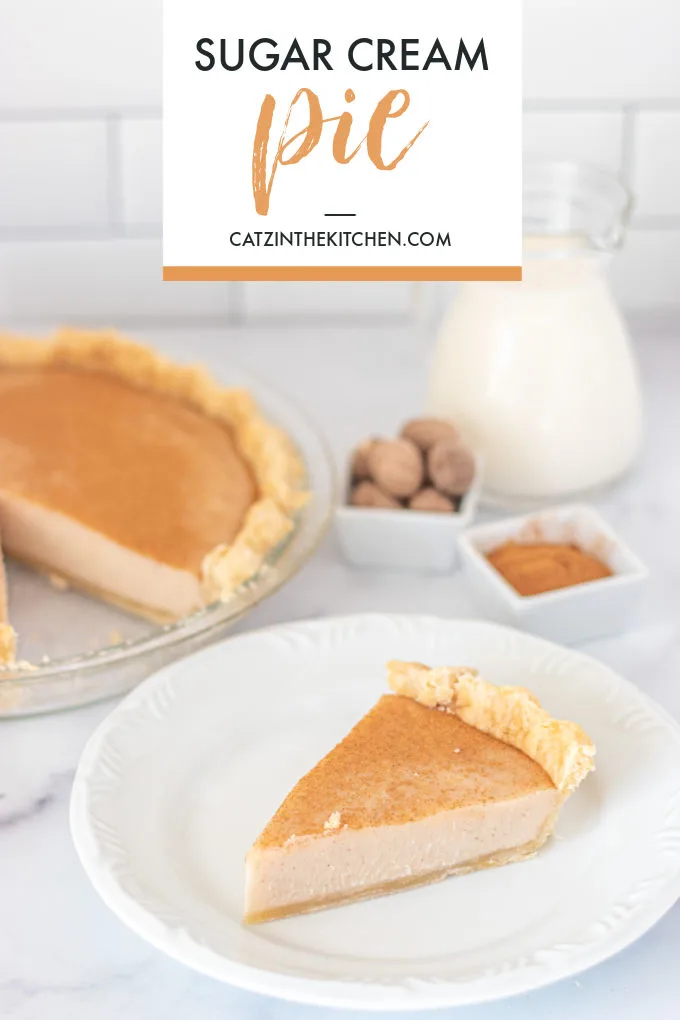 This wonderful sugar cream pie recipe originally appeared on the blog for the 2013 holiday season. Well, seven years have gone by, we've remade and rephotographed this delightful dessert for you, and updated the post and recipe card to boot! If you didn't take notice of this recipe way back then, we'd encourage you to add it to your holiday menu this time around!
Sooo, this pie. I've been thinking, dreaming, and fantasizing about this pie since last year. LAST YEAR PEOPLE! It all started when I was 8 1/2 months pregnant and I got the Thanksgiving issue of The Food Network Magazine in the mail. I was flipping through it a few weeks before Thanksgiving and came across THIS PIE. OMG! I was gone at the first mention of the word sugar. I knew I had to make it. But ya know, being so pregnant was preventing me from actually wanting to *gasp* bake…so I held off. Until last week.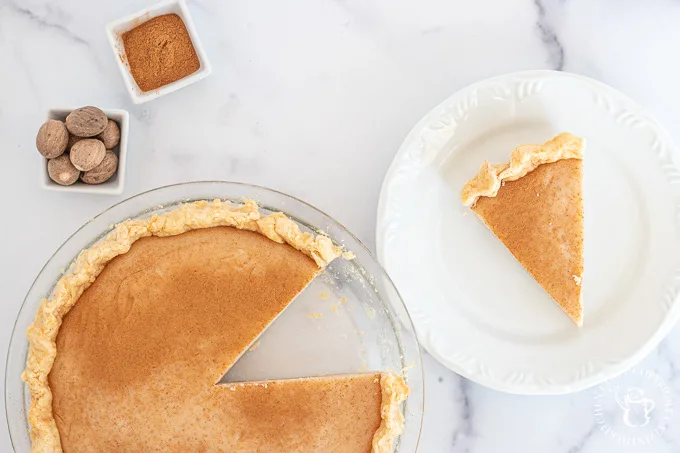 Believe it or not, I had never even heard of this pie until I read the recipe in the magazine. Apparently, this pie dates back to the 1800's when the Quakers would bake it up because it used a lot of staples they already had on hand, like cream and sugar. I hear this pie is pretty popular in Indiana, too. Are any of my readers from Indiana? Is this little fact true?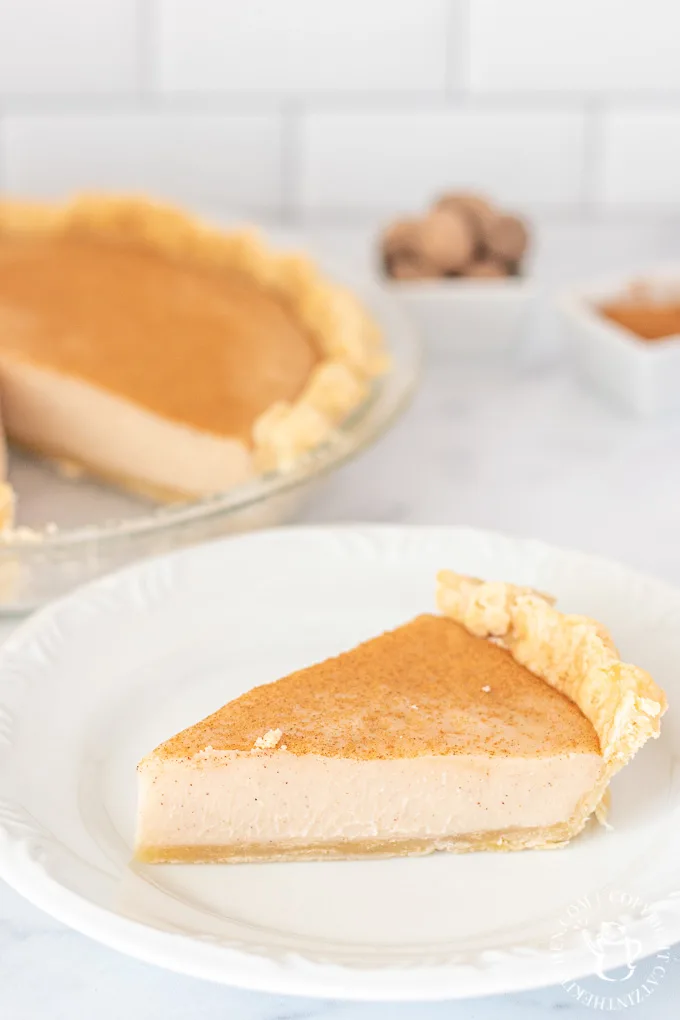 I'm quite giddy over this pie because not only is it super easy – all you do is mix the ingredients together and throw it into a pie crust and then bake it – but it tastes amazing and is the perfect pie to serve along with your Thanksgiving dinner. Make it ahead of time and wow your guests with this sweet little unexpected surprise of a dessert!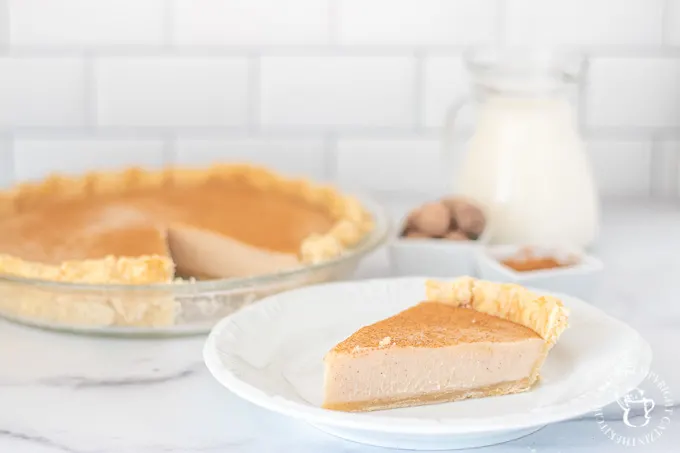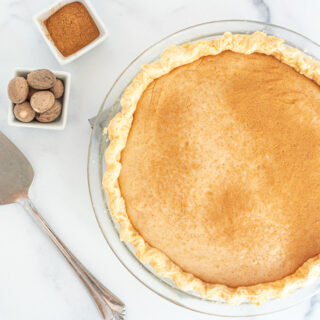 Sugar Cream Pie
Cook Time:
1 hour
5 minutes
Total Time:
1 hour
40 minutes
Sweet custard, flaky crust, warm flavors of vanilla and nutmeg...this sugar cream pie is the perfect holiday recipe for your sweet tooth!
Ingredients
19 inch pie crust (premade or your favorite recipe)
2 cups heavy whipping cream
1 cup sugar
1/4 cup cornstarch
1/2 tsp vanilla extract
2 tbsp unsalted butter, cut into 1/2 inch pieces
1/8 tsp ground nutmeg
1/2 tsp ground cinnamon
Instructions
Preheat oven to 350 degrees. Prepare the pie crust and fit it into your 9-inch pie plate, trim and crimp the edges with your fingers. Pierce the bottom with a fork and bake for 10-12 minutes.
In a medium-sized saucepan, whisk the heavy whipping cream, sugar, cornstarch, vanilla, cinnamon and nutmeg over medium-low heat, until the mixture is thickened and bubbling. This takes about 10 minutes. Make sure you whisk continuously, especially towards the end as the mixture thickens to prevent burning on the bottom of the saucepan.
Add the butter and whisk until melted and mixture boils for another minute or two.
Pour the filling into the prepared and cooled pie crust and place on on a baking sheet and place in oven. Bake for 10-15 minutes or until you see bubbling towards the edge of the crust.
Carefully remove hot pie from oven and allow to cool on a wire rack for one hour. Cover with plastic wrap and chill in the refrigerator for 8 hours before serving.
Sprinkle lightly with cinnamon and serve. Pie keeps in the fridge for up to one week. This is an easy make-ahead pie for the holidays.
Nutrition Information:
Yield:

8
Serving Size:

1
Amount Per Serving:
Calories:

452
Total Fat:

30g
Saturated Fat:

17g
Trans Fat:

1g
Unsaturated Fat:

11g
Cholesterol:

75mg
Sodium:

107mg
Carbohydrates:

43g
Fiber:

1g
Sugar:

28g
Protein:

4g
Nutrition information isn't always accurate.