This meatless butternut squash and sage lasagna recipe is decadent & rich, with a creamy white cheese filling. Add bacon to be over the top!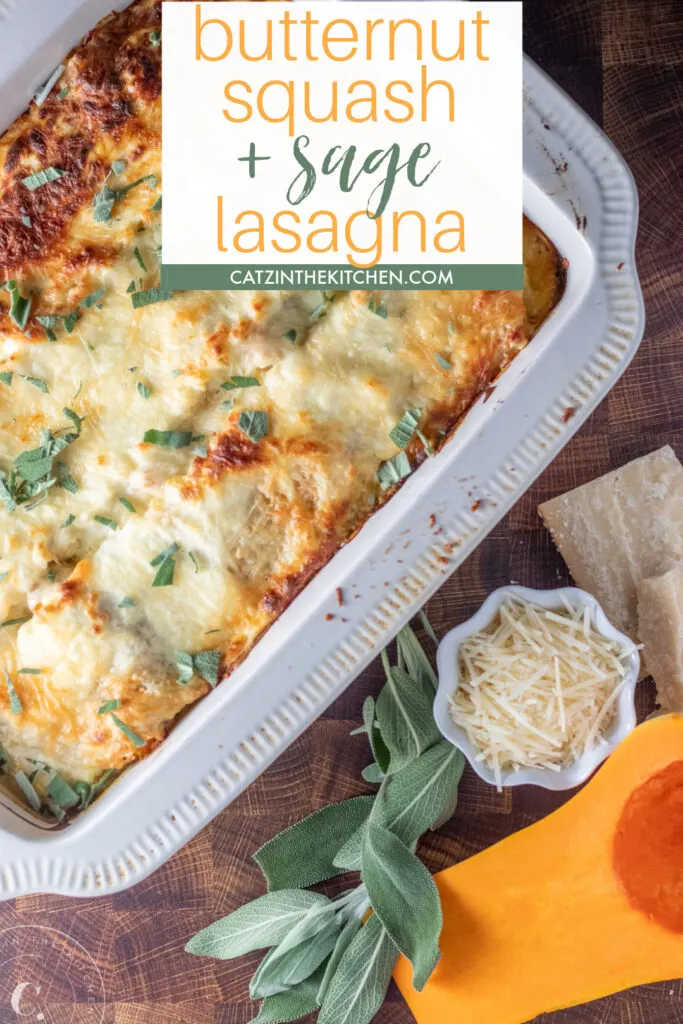 This post originally appeared on Catz in September 2013. In the intervening nine years, this recipe and combination of flavors continues to be a family favorite. We decided to make it again and update the post and the photos for this autumn season. Enjoy!
We have some wonderful older ladies in our church who garden and one or some of them (I'm never quite sure) often share some of their garden harvest with all the people in our church. I'll sometimes see a big bag or a box filled with zucchini, cucumbers, and tomatoes. But I never know who brings in the goods so I can never properly thank them!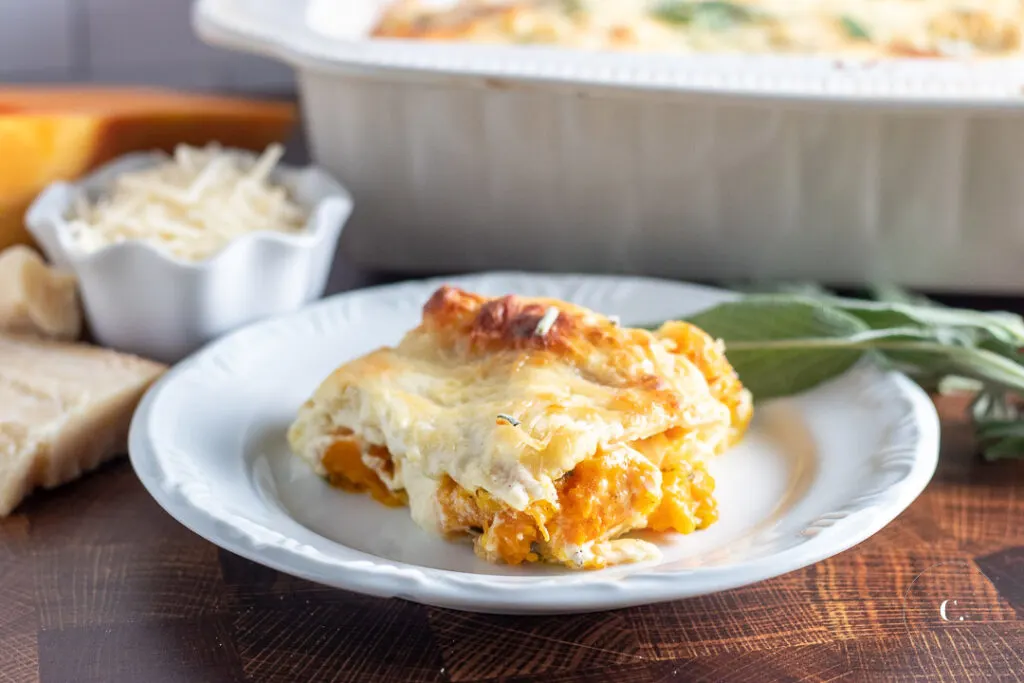 A couple of Sundays ago, when the service was over and we were all standing around talking and eating, I wandered over to the food table and found another bag of vegetables. This one, though, had butternut squash in it! I couldn't believe it! I didn't know any of the ladies grew the squash and when I inquired about who brought the bag, several of the women said they weren't sure. So I grabbed one of the squashes and kept it in my pantry for about a week till I decided on a recipe for it.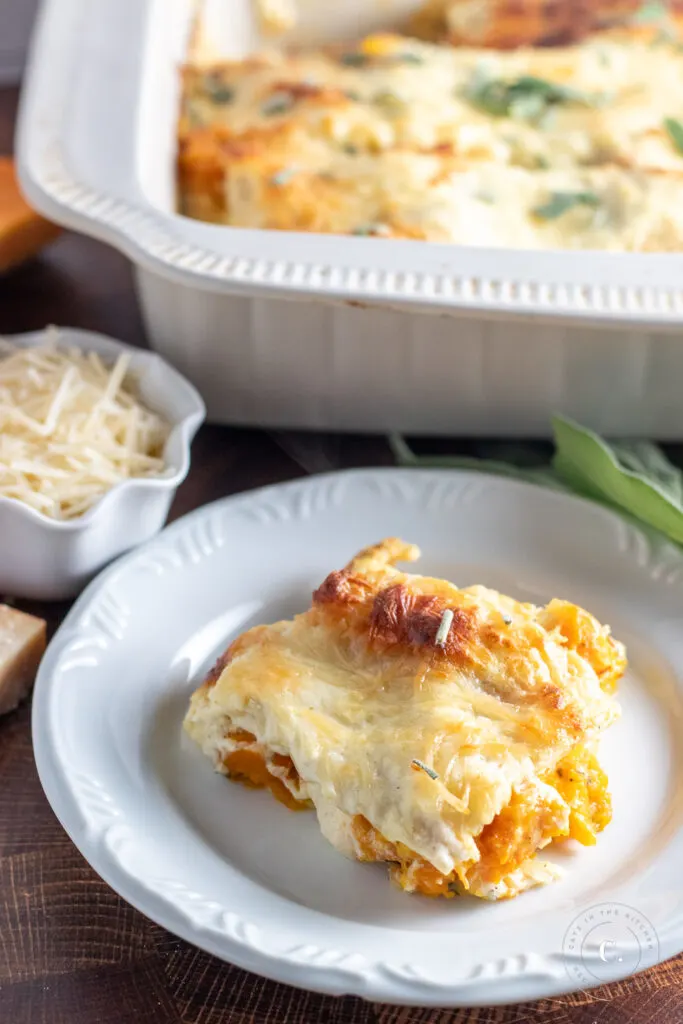 Since I'm really into our Meatless Monday's on our menu, I decided that this butternut squash needed to star in our Monday night dinner. I finally decided on a Martha Stewart recipe, knowing that "Ms. I Can Do Everything Perfectly" wouldn't steer me wrong.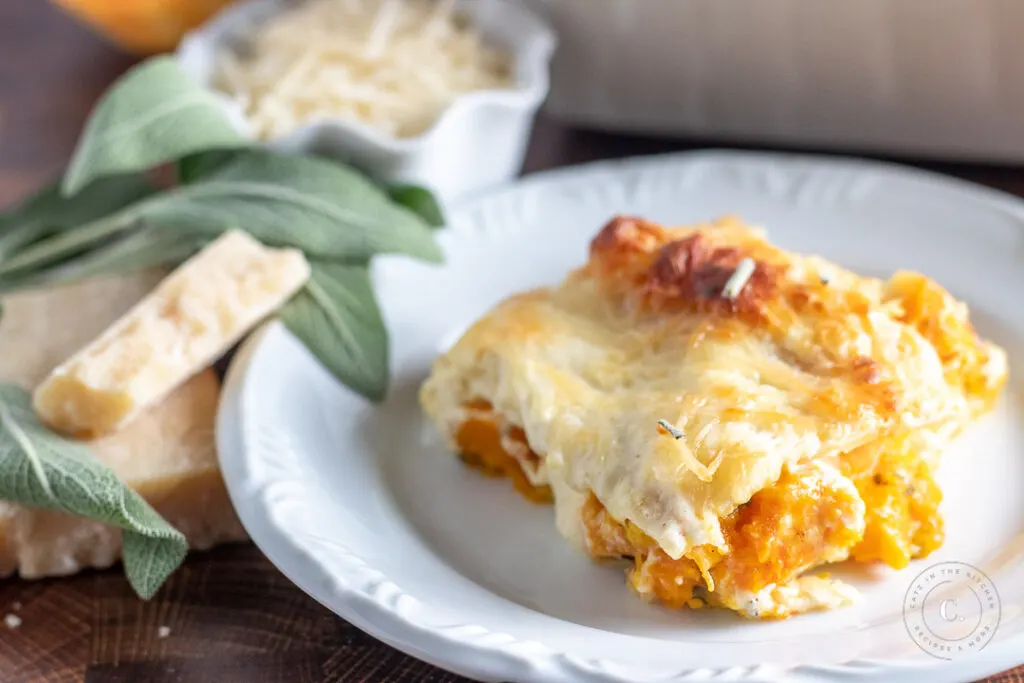 Oh boy, this recipe did not disappoint! This lasagna is amazing. If I had to give it a star rating, I would give it 5+ stars! Josh even told me that if he had any doubts or misgivings about my meatless Mondays, I had changed all of that…that he actually looks forward to our Monday night dinners now!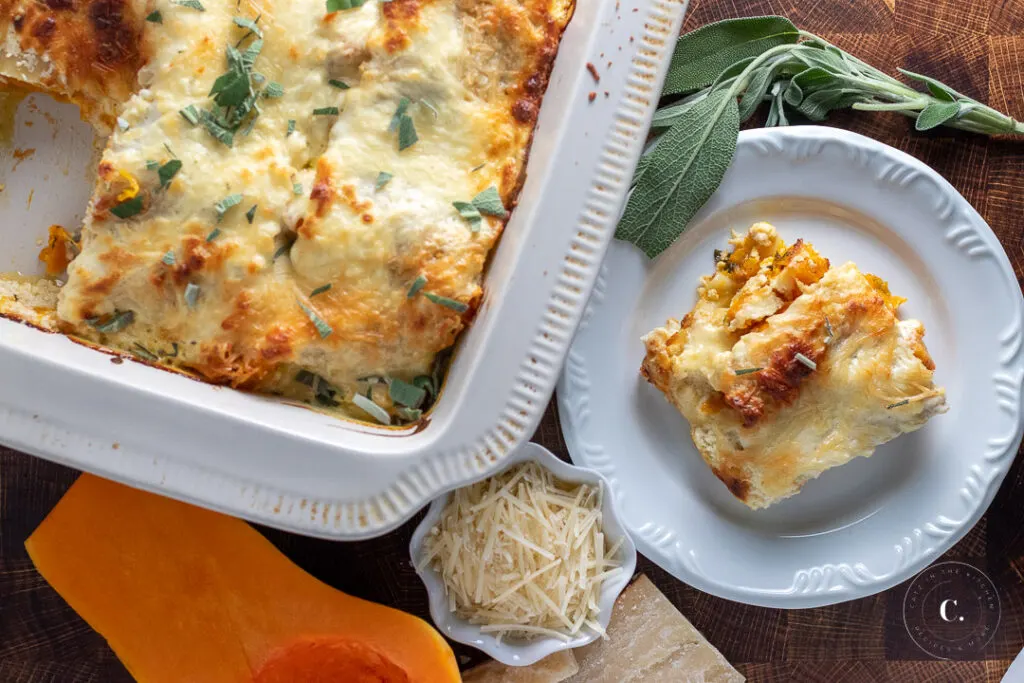 Um….Wow! That's kind of a big vote of confidence. I'm kind of scared. How do I keep up the streak? What happens when the next meatless dish I make doesn't quite reach such lofty heights? Eeek! It certainly does give me something to strive toward…or I could just make this lasagna every Monday from here on out! What do you think?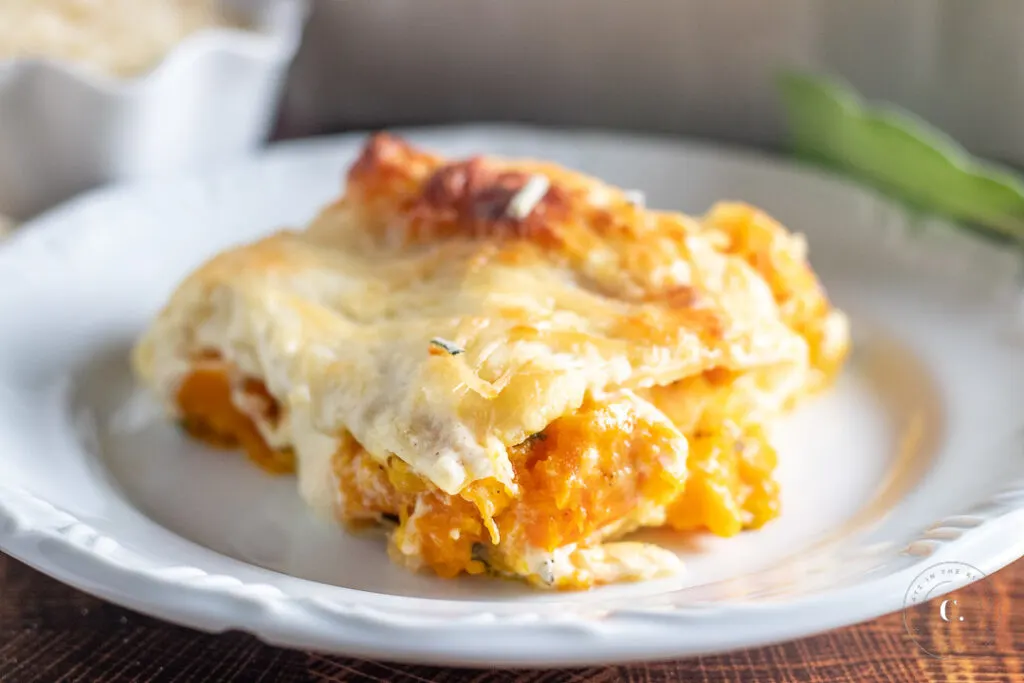 (Editor's Note: Not only have we continued to enjoy many, many meatless – and meatful! – meals in the years since Chels wrote this post, but I even make quite a few of them myself!)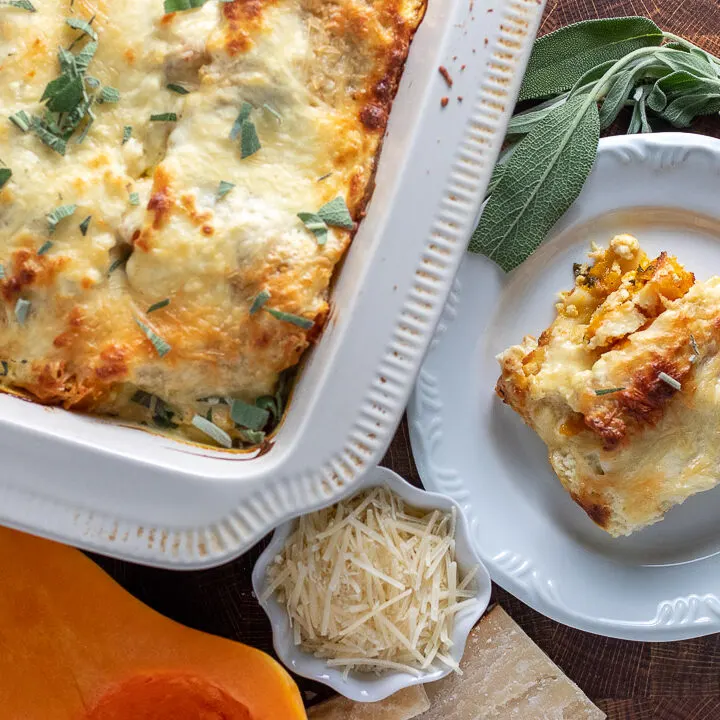 Butternut Squash and Sage Lasagna
Cook Time:
1 hour
15 minutes
Total Time:
1 hour
45 minutes
This meatless butternut squash and sage lasagna recipe is decadent & rich, with a creamy white cheese filling. Add bacon to be over the top!
Ingredients
3 1/2 lb butternut squash, peeled, seeded, and cut into 1-inch pieces
2 tbsp extra virgin olive oil
Freshly-ground black pepper
Kosher salt
1 pound whole milk ricotta cheese
1/2 cup heavy cream
2 large egg yolks
1/2 lb shredded mozzarella (2 cups)
grated nutmeg
2 tbsp unsalted butter
1/3 cup loosely packed sage leaves, coarsely chopped
1 1/4 cups chicken broth
Lasagna noodles, cooked (I used oven ready noodles and it was so easy)
4 ounces shredded parmesan cheese (1 1/4 cups)
Instructions
Pre-heat oven to 425 degrees.
Toss squash, oil, and 1 tsp salt on a baking sheet. Season with pepper. Bake until light gold and tender, 25-30 minutes. Let cool.
Reduce oven temperature to 375 degrees.
Combine ricotta, cream, yolks, mozzarella, and a pinch of nutmeg in a medium bowl. Season with salt.
Melt butter in a small sauté pan over medium-high heat. As soon as it starts to sizzle, add sage, and cook until light gold and slightly crisp at edges, 3-5 minutes.
Place squash in a medium bowl, and mash half of the squash with the back of a wooden spoon, leaving the other half in whole pieces. Gently stir in the sage, butter, chicken stock mixture, season with salt and pepper.
Spread 3/4 cup of the ricotta mixture in the bottom of 9-cup baking dish. Top with a layer of noodles. Spread half of the butternut squash mixture over the noodles.
Top with a layer of noodles. Spread 1 cup of the ricotta mixture on top of the noodles. Repeat layering once more (noodles, squash, noodles, ricotta). Sprinkle Parmesan cheese over the ricotta mixture.
Place baking dish on a rimmed baking sheet and bake until cheese golden and bubbly, 30-35 minutes. Let stand for 15 minutes before slicing and serving.
Nutrition Information:
Yield:

8
Serving Size:

1
Amount Per Serving:
Calories:

470
Total Fat:

31g
Saturated Fat:

17g
Trans Fat:

0g
Unsaturated Fat:

12g
Cholesterol:

152mg
Sodium:

696mg
Carbohydrates:

29g
Fiber:

7g
Sugar:

6g
Protein:

23g
Nutrition information isn't always accurate.