This recipe for Cranberry Streusel Pie is about as easy and flexible as any festive holiday dessert could hope to be!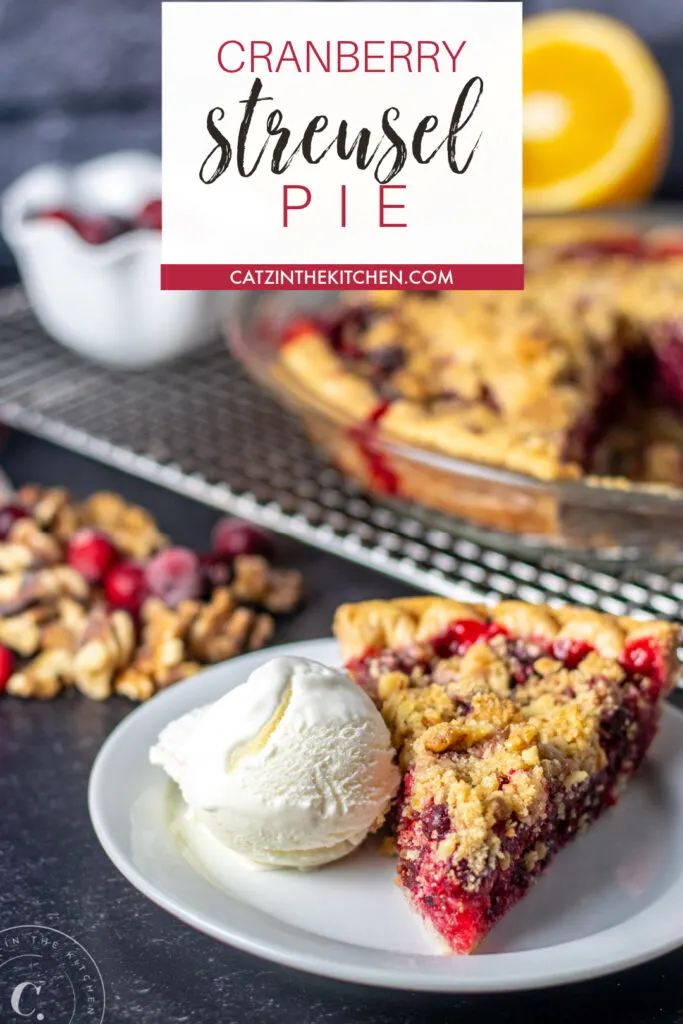 Have I got the easiest dessert for you! This will probably be the easiest recipe that I share with you throughout the rest of the year, and one of the reasons I really like it is because I truly feel like it will free you up and take off any pressure you might be feeling this holiday season.
The month of December is pretty much crazy for everyone. I mean, really, the crazy starts just before Thanksgiving and goes until New Year's Eve, I feel like. For us, Josh is working long hours (like a lot of people) and traveling about once a week. Grace is away at college but coming home soon. I'm busy taking care of a baby and beginning to wrap up our homeschooling season for the year.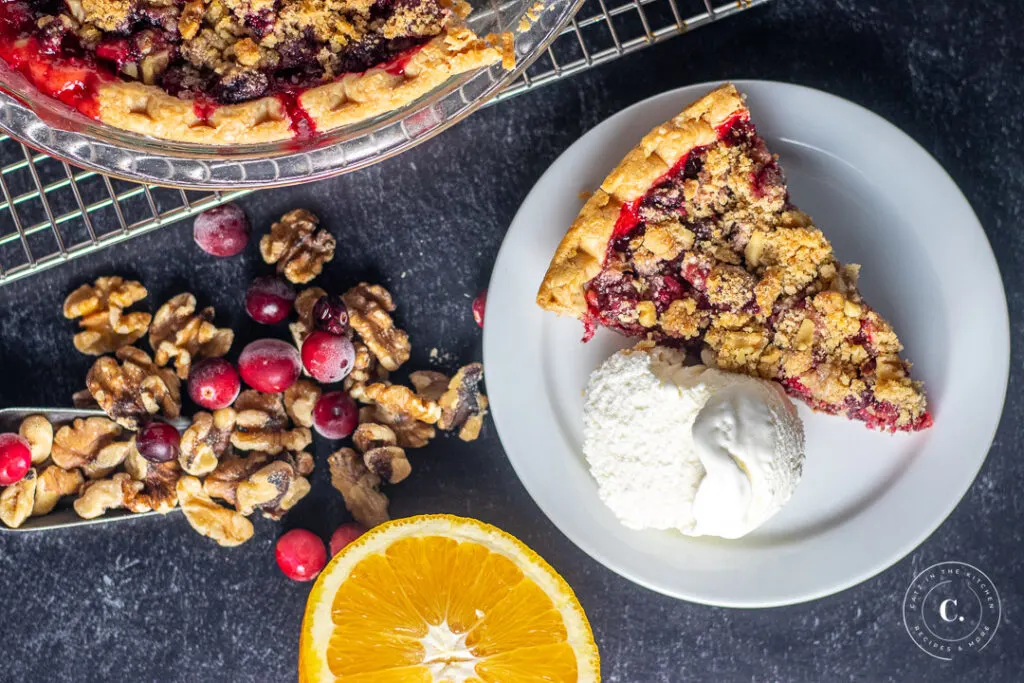 I'm feeling the pressure to buy, buy, buy from various social media accounts sharing gift guides that always seem to be really expensive for some reason, and trying to say yes to all of the things, in spite of myself!
But I'm refusing to give in this year. Last year I said I was going to take the season gently and I didn't. There was so much going on that by the time Christmas came around, I honestly didn't want to get out of bed…some of that could have been morning sickness, too – I was around 9-11 weeks pregnant around then.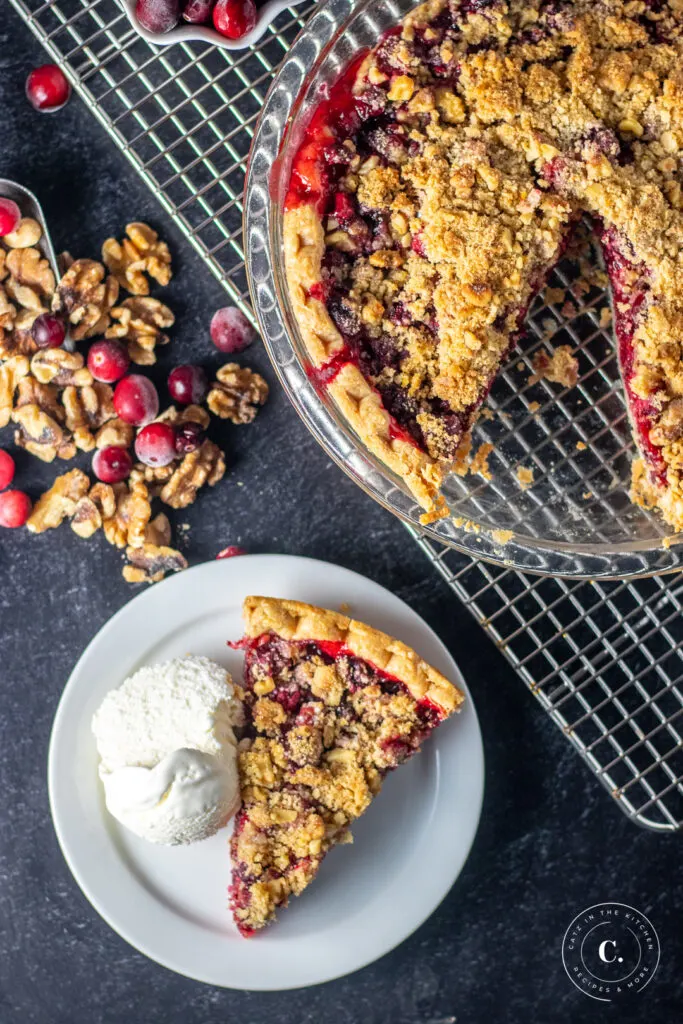 This year, I'm choosing to breathe instead of hyperventilating and choosing the season my family life is in verses the season we've been in other years.
This season, I want to bring you recipes that bring joy to the kitchen, the family you live with, and the people you surround yourself with. Doesn't that sound nice? I mean, I may not get to very many recipes for a lot of the same reasons, but, hey, I do have a pretty good catalog of Christmas recipes here already, thank goodness!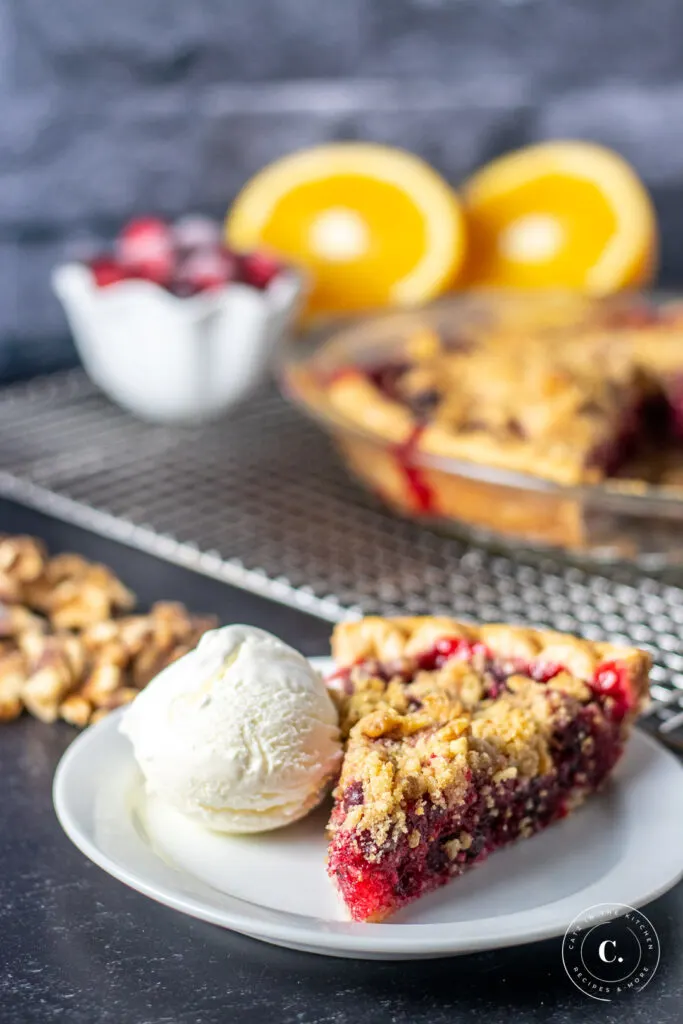 Enter this EASY Cranberry Streusel Pie!
For one thing, you use a premade frozen pie crust that has already been shaped and molded for you. I'm talking Marie Calendar style. Simple ingredients that you hopefully already have on hand, and one bowl…okay, two bowls…but that is it.
This is the dessert that you'll want to make if you don't have a sweet tooth, because cranberries are tart and they are the star of this pie. However, the cranberries are accented with some warmth from cinnamon and nutmeg and brightened up with a little orange zest.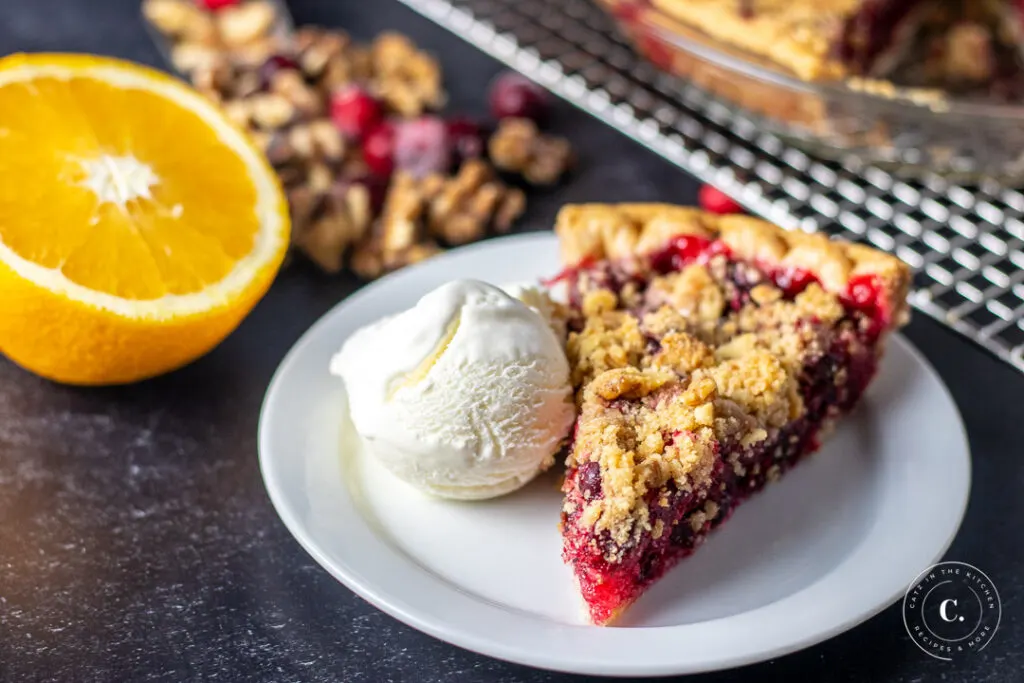 You can make this ahead or make this the day of. You can store leftovers at room temperature for one day or chilled and covered for up to five days.
As a bonus, you can even dress the pie up a smidge by removing the tin that comes with the purchased pie crust and transfer the pie to pie plate instead. That's what I did. Or you don't have to!
We served our pie with a good quality homestyle vanilla ice cream, but homemade whipped cream would be beautiful here as well. Or if you're ambitious, feel free to make your own vanilla ice cream. Or skip the homemade whipped cream and use canned whipped cream from Costco.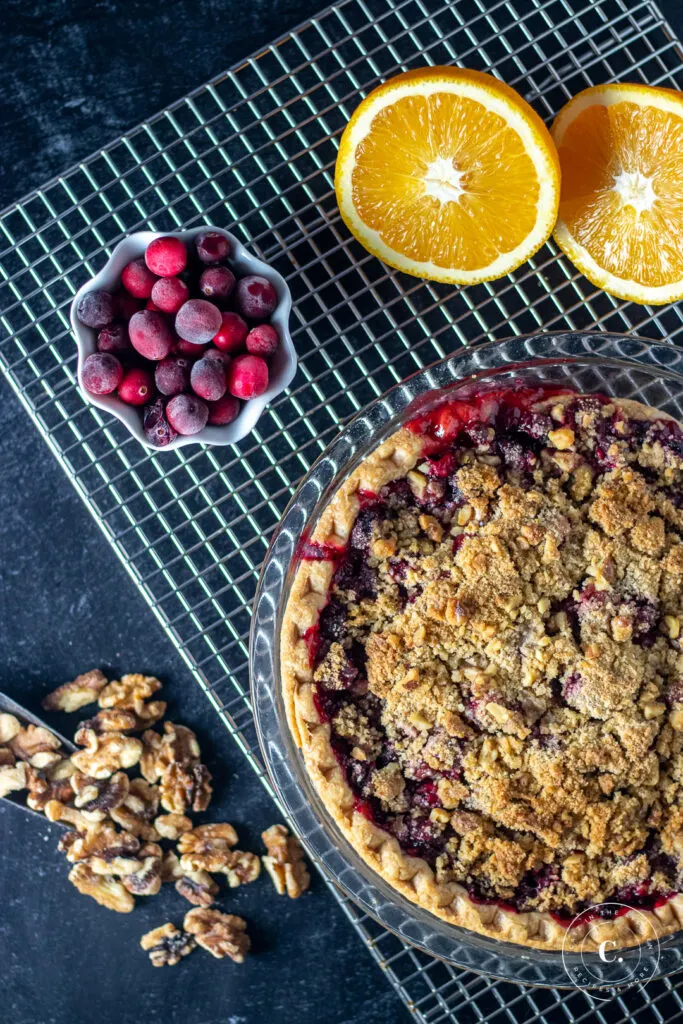 So many options to elevate or keep it simple.
If you've got 15 minutes…truly…that's all it takes to make this pie, grab the recipe and bake this for your family one night, a church potluck, a dinner party potluck, your Christmas dessert, or just because. Let's be honest, in my family you never need an excuse to make or serve pie. It is always a welcomed sight at our table. (Editor's note: YES)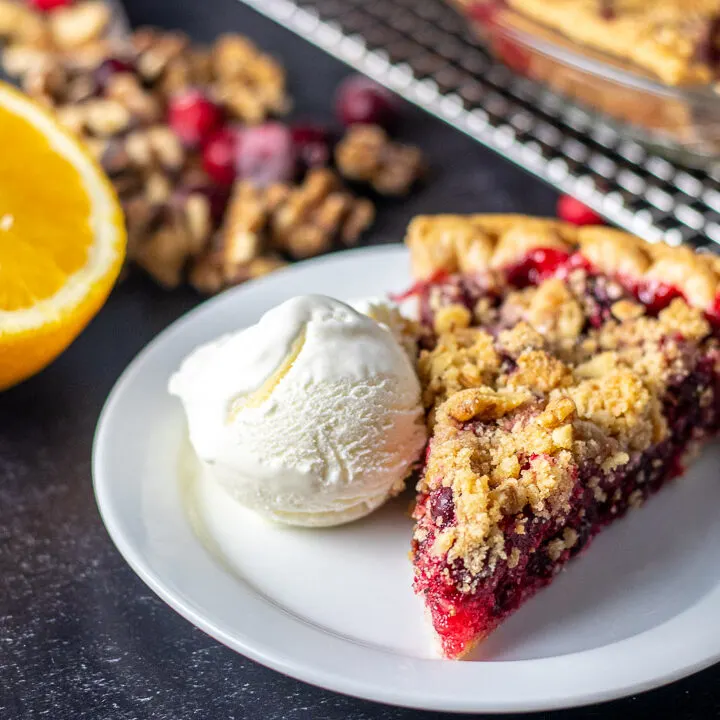 Easy Cranberry Streusel Pie
Total Time:
3 hours
10 minutes
This recipe for Cranberry Streusel Pie is about as easy and flexible as any festive holiday dessert could hope to be!
Ingredients
1 lb (16 oz) fresh cranberries
3/4 cup granulated sugar
1/3 cup quick-cooking tapioca
1/4 tsp ground nutmeg
1/2 tsp ground cinnamon
1/2 cup brown sugar
1/3 cup chopped walnut pieces
1/4 cup all-purpose flour
2 tbsp unsalted butter, cubed
2-3 tsp orange zest
1 frozen 9-inch deep dish pie crust (do not thaw)
Instructions
Position rack in lower third of oven and preheat oven to 350 degrees. For the filling, mash cranberries and sugar with a potato masher in a large bowl. Stir in tapioca and set aside.
Stir together brown sugar, walnuts, and flour; cut in butter using a pastry blender or use your fingers to work the mixture into coarse crumbs. Stir in orange zest.
Pour filling into pie crust. Top evenly with streusel. Bake pie on a foil-lined baking sheet until crust is golden and filling is bubbly throughout, about 55 minutes. Cool on a wire rack for at least 2 hours before slicing. Serve with whipped cream or vanilla ice cream
Pie will keep covered at room temperature for one day or chilled and covred, for up to 5 days.
Notes
Recipe Source: AllRecipes.com
Nutrition Information:
Yield:

8
Serving Size:

1
Amount Per Serving:
Calories:

350
Total Fat:

14g
Saturated Fat:

4g
Trans Fat:

0g
Unsaturated Fat:

9g
Cholesterol:

8mg
Sodium:

104mg
Carbohydrates:

55g
Fiber:

2g
Sugar:

31g
Protein:

3g
Nutrition information isn't always accurate.