This mandarin orange cake is a citrusy moist yellow cake draped in a fruity topping, making a delightful treat for spring and summertime!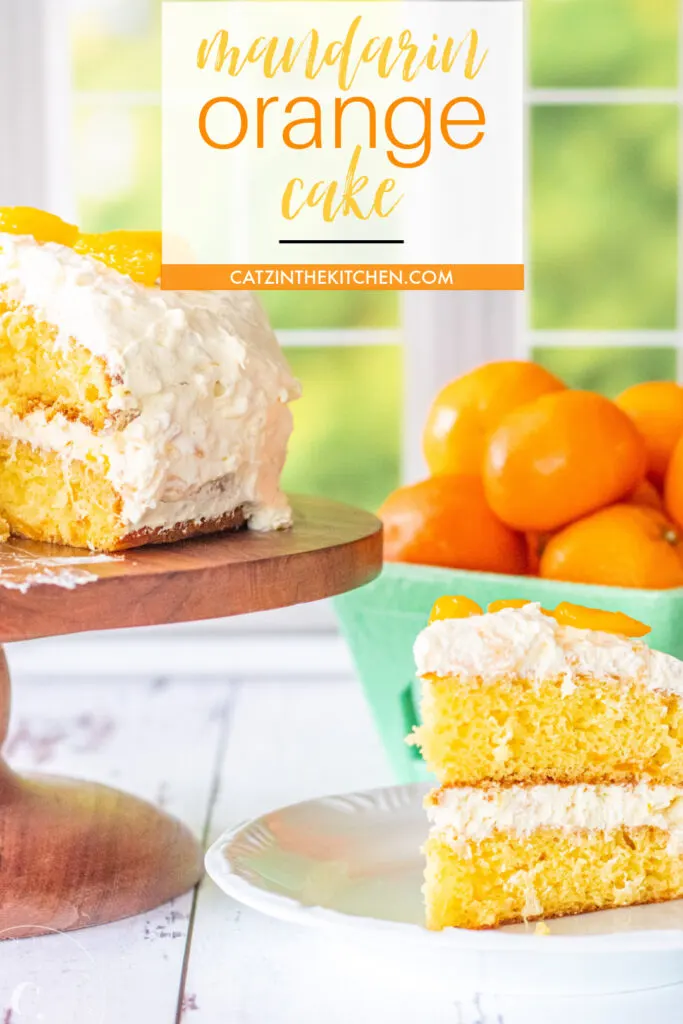 This recipe for Mandarin Orange Cake originally appeared on the blog back in May 2014! Nearly ten years later, we've remade and rephotographed this delightful cake again, and it seemed time to refresh the post and share it with you this spring!
Today, my little Eden finished Kindergarten! Which means one year of homeschooling for one of my kids is under my belt. I can't believe she is now officially a first grader! Eeek! She is such a small little thing and first grade is such a big deal. And not only that, but Grace is turning 10 years old on Sunday! There are so many big events going on in my house this week and to celebrate, I made cake!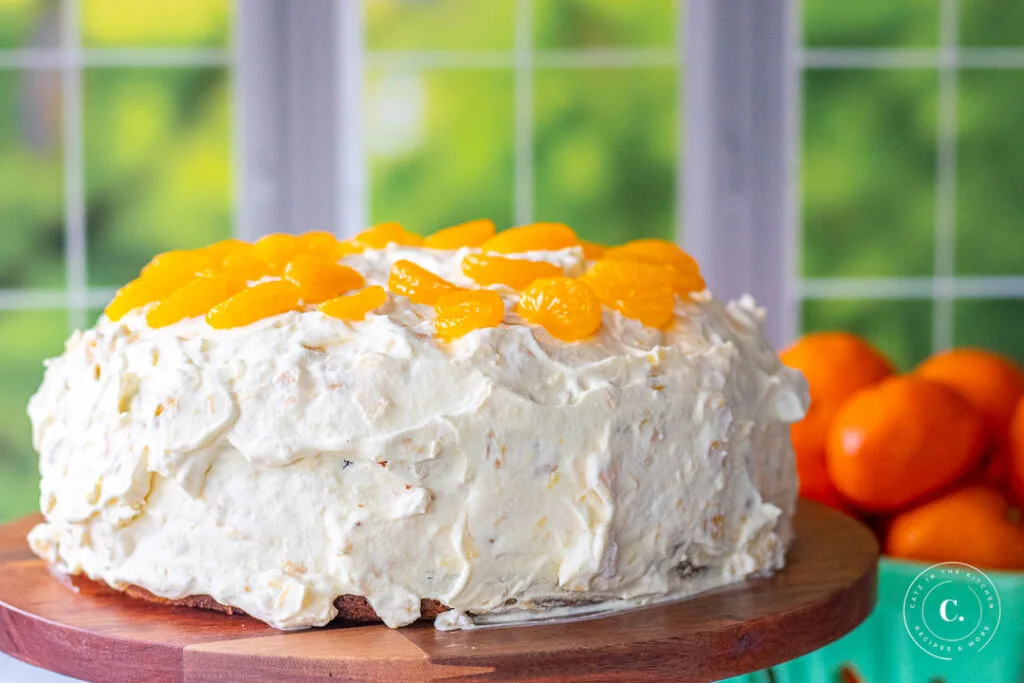 Cake is the perfect celebratory treat. Well, cake or ice cream. Or brownies. Or cookies. Or cake pops. Or pie. Okay, basically any treat is the perfect treat for celebrating. But in our case, this week, it's cake.
After I set up my little spot in the house where I take pictures, I was kicking myself for allowing my family to dig into the cake before I had time to photograph it. It was so pretty whole, lol! But Grace kept saying how good it smelled and when would it be ready to eat and saying things like," I'm so glad I have a mother who loves to bake for her family." #manipulator #ittotallyworked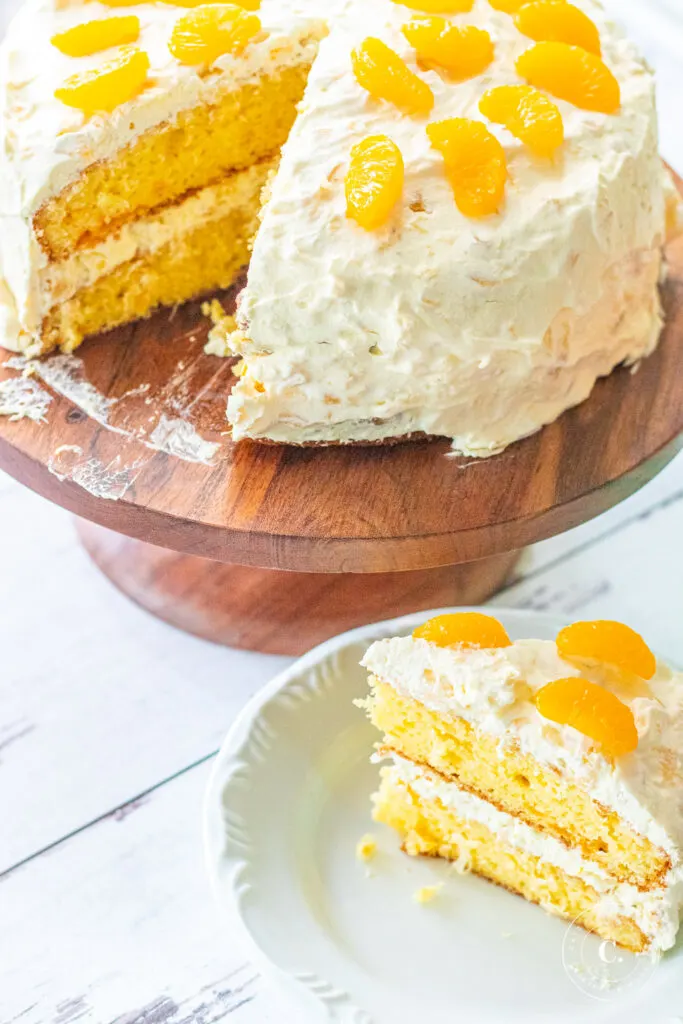 Obviously, once my daughter started stroking my ego a bit, I couldn't just say "no" to her. I told her she could have a slice after dinner. She's now since had two more slices since I took these pictures. She's a bit on the obsessed side. Much like her mother. I never say "no" to a slice of cake.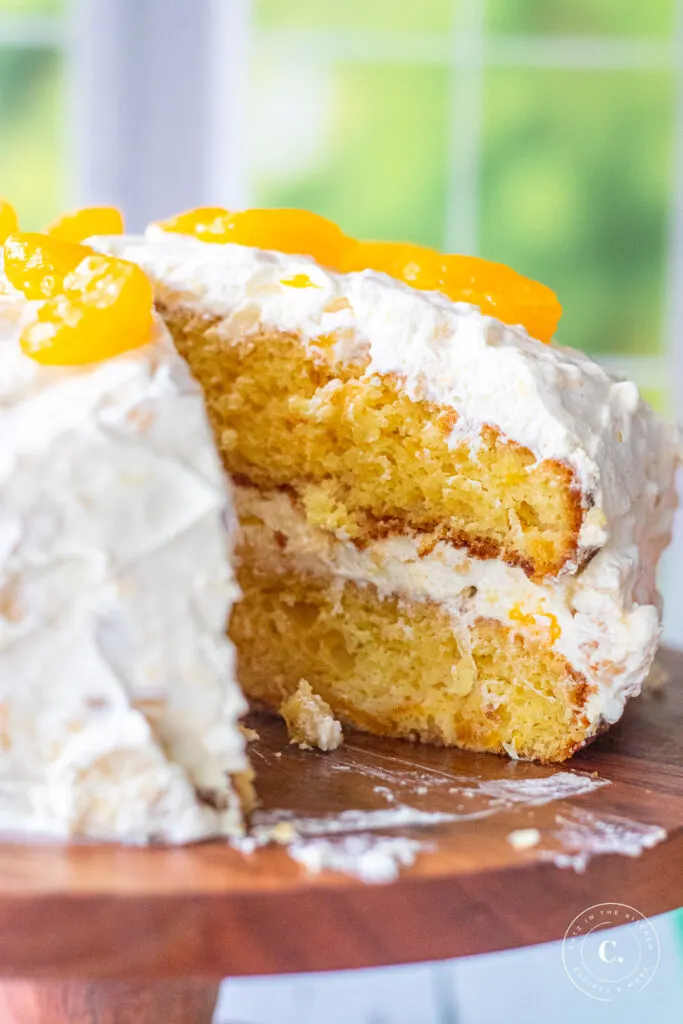 I actually came across this recipe through my cousin, Aleia. She's been making this for eons and is always bringing it to company picnics and she gets awards for it. If it gets awards, it must be pretty good right? The last time she made it, I asked her about it and she sent me over the link from where she found it and now, here it is!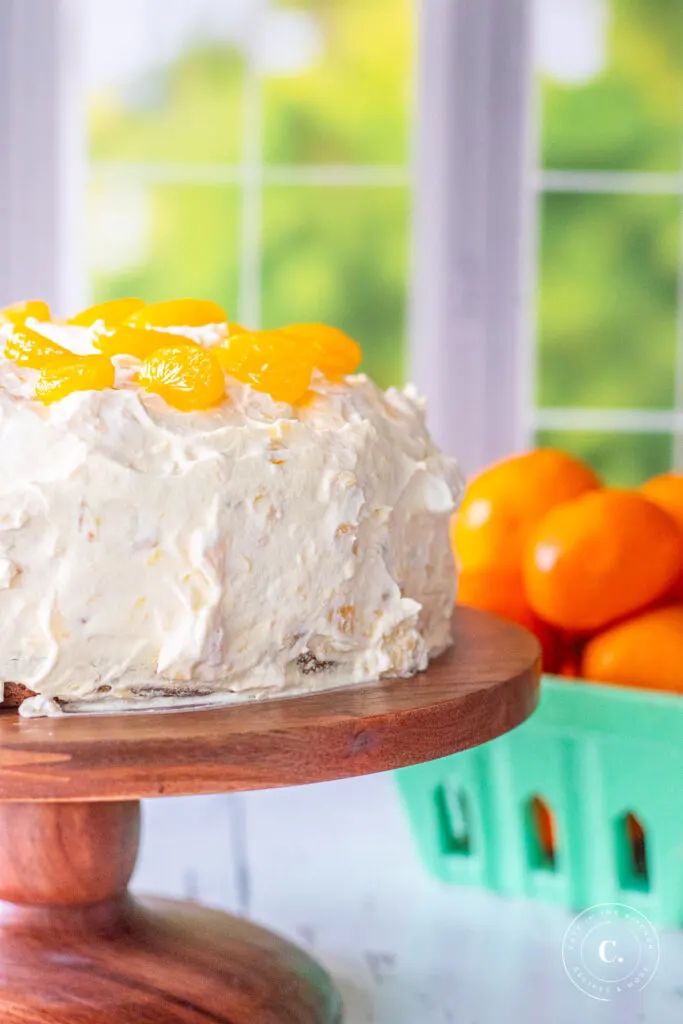 This is such a cheery bright cake! Super moist and really beautiful. Did I mention it was easy? Probably one of the easier cakes I've made, gotta love that! This cake just says to me," Welcome Spring" and makes days like today that are rainy and grey a lot sweeter. Was that a little sappy for ya? Sorry, couldn't help myself. #notsorry

Might I add, that since this cake is so amazingly good and easy, this would be a nice little sweet surprise for the Mother in your life. #justsaying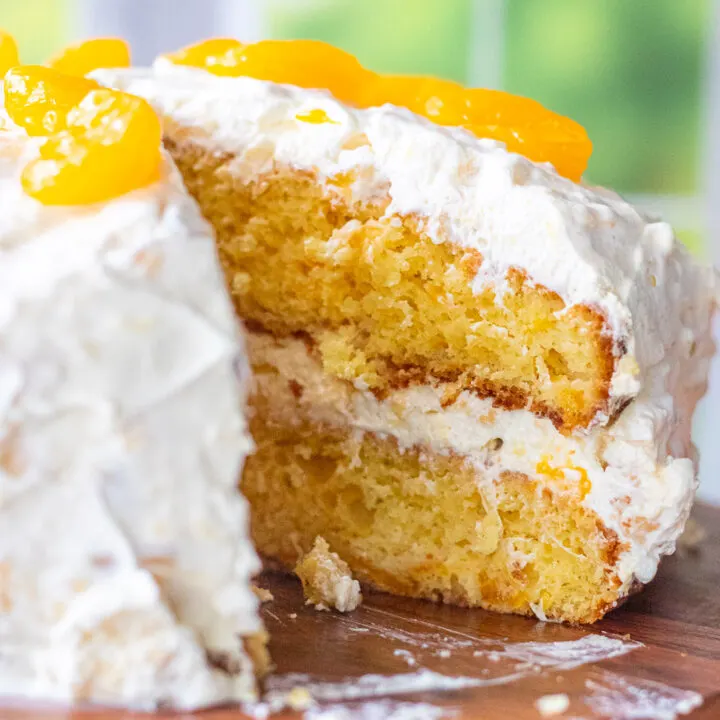 Mandarin Orange Cake
This mandarin orange cake is a citrusy moist yellow cake draped in a fruity topping, making a delightful treat for spring and summertime!
Ingredients
1 (18.25 oz) package yellow cake mix
4 eggs
3/4 cup vegetable oil
1 (11 ounce) can mandarin orange segments with juice
1 tsp pure orange extract
1 (8 ounce) container frozen whipped topping, thawed ( I used fat free)
1 (20 ounce) can crushed pineapple with juice
1 (3.5 ounce) package instant vanilla pudding mix
Instructions
Pre-heat oven to 350 degrees. Grease and flour two 8 inch or two 9 inch cake pans.
In a large bowl, combine cake mix, eggs, oil, mandarin oranges with juice, and orange extract. Beat until smooth. Pour batter into prepared pans.
Bake in pre-heated oven for 35-40 minutes, or until a toothpick inserted into the middle of the cake comes out clean. Allow to cool completely on a wire rack.
To make the topping: In a large bowl, beat together the dry pudding mix and pineapple with juice until blended. Fold in whipped topping.
Place one layer of the cooled cake on a cake stand or flat dish and frost the middle only, not the outer side of the cake. Gentle stack the second layer of cake on top of the frosting and frost to the top of the cake.
*Optional* garnish with a few mandarin orange slices for a pretty presentation.
Chill in the refrigerator for at least 3 hours. Will keep in the fridge for 3 days.
Nutrition Information:
Yield:

12
Serving Size:

1
Amount Per Serving:
Calories:

374
Total Fat:

17g
Saturated Fat:

2g
Trans Fat:

0g
Unsaturated Fat:

13g
Cholesterol:

62mg
Sodium:

473mg
Carbohydrates:

52g
Fiber:

1g
Sugar:

34g
Protein:

4g
Nutrition information isn't always accurate.