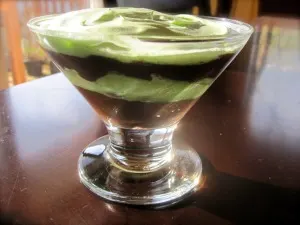 I'm not sure if I've celebrated St. Patricks Day since I was a kid. I was that girl though that didn't like wearing green just because it was St. Patty's Day so if someone ever went to pinch me, I was like waving my finger in their face saying," Uh-uh, I'm wearing green eyes. YOU can't pinch me!" It annoyed a lot of kids and I still got pinched. So I guess that finger waving didn't help my case to much huh?!
BTW- how do you celebrate St. Patricks Day. Is there a particular way you celebrate? Is drinking green beer how most people celebrate?? I've never celebrated that way…probably because A) Beer isn't my thang and 2) I have kids; so the desire and time works in my favor, lol! But if your like me, and not sure how to celebrate, I have just the thing for you. Celebrate with a dessert the whole family can enjoy. Not only is this Chocolate-Mint Parfait super easy, but super yummy too!
Speaking of super easy, you can use a box pudding mix or like I did because I didn't have boxed chocolate pudding on hand, I made my own and it took no time at all, which the recipe is printed below!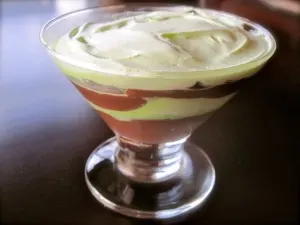 Chocolate-Mint Parfait
1 pkg (3.9 oz) JELL-O Chocolate Instant Pudding
2 cups Cold milk
1/4 tsp Peppermint Extract
1 cup Thawed Cool Whip Whipped Topping
6 drops of Green Food Coloring
Beat pudding mix, milk, and extract with whisk for 2 minutes.
Whisk COOL WHIP and food coloring until well blended.
Layer pudding alternately with COOL WHIP in parfait glasses.
Homemade Chocolate Pudding
Yield: 6-8 servings
1 cup sugar
1/2 cup baking cocoa ( I used Dutch Cocoa, it's what I had on hand)
1/4 cup cornstarch
1/2 tsp salt
4 cups milk
2 TB butter
2 tsp vanilla extract
In a heavy saucepan, combine the sugar, cocoa, cornstarch, and salt, gradually add milk. Bring to a boil over medium heat; boil and stir of 2 minutes. Remove from heat; stir in butter and vanilla extract. Chill until serving!