1. Josh and I finally got around to watching "The Help" this past weekend. O-M-G…I cried, I laughed, I got angry, and I became proud! This movie is life-changing. I can't wait to read the book now.
2. Everyone, Stop and drop whatever it is your doing and go out and buy The Pioneer Woman's Second Cookbook– I'm drooling and coveting it right now like crazy! I can't wait to run out and buy mine!
3. I'm convinced that Daylight Savings is out to kill me. All morning I was going by the one clock in our whole house that was not set for the correct time. When I finally realized my mistake, I cried, screamed and threw some pillows around. My bedroom is a big scary mess right now!
4. My husband is finally getting transferred to manage the Banking Center in our town. You know what that means??? Every day he gets to come home for lunch. We're saving a lot, and I mean A LOT of money in gas, and it also means my husband will have more time with our little family. I'm so happy I wish I could stop crying because my mascara is ruining my face!
5. We got a new patio set. Well, new to us I mean. My parents bought a new set for their backyard and offered us their old one. Do you know how happy this makes me??? We no longer have to drag out our dining room chairs to our patio now for our kids. We can entertain outside more now! I can't wait for Spring! Here's a Looky Looky at our new to us set!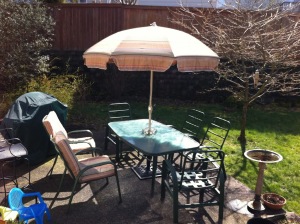 6. School starts back up today. We took a week off because we were sick and now we're behind. :( I hate, despise being behind :(
7. One of my friends posted this on their FB wall yesterday…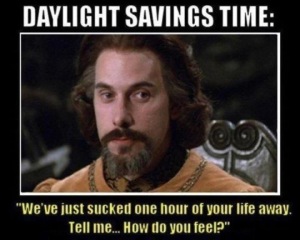 8. I'm so tired of the rain. *Sigh*
9. I want a nap!
10. Snooki's pregnant…I'm saying prayers for that child as I write this.