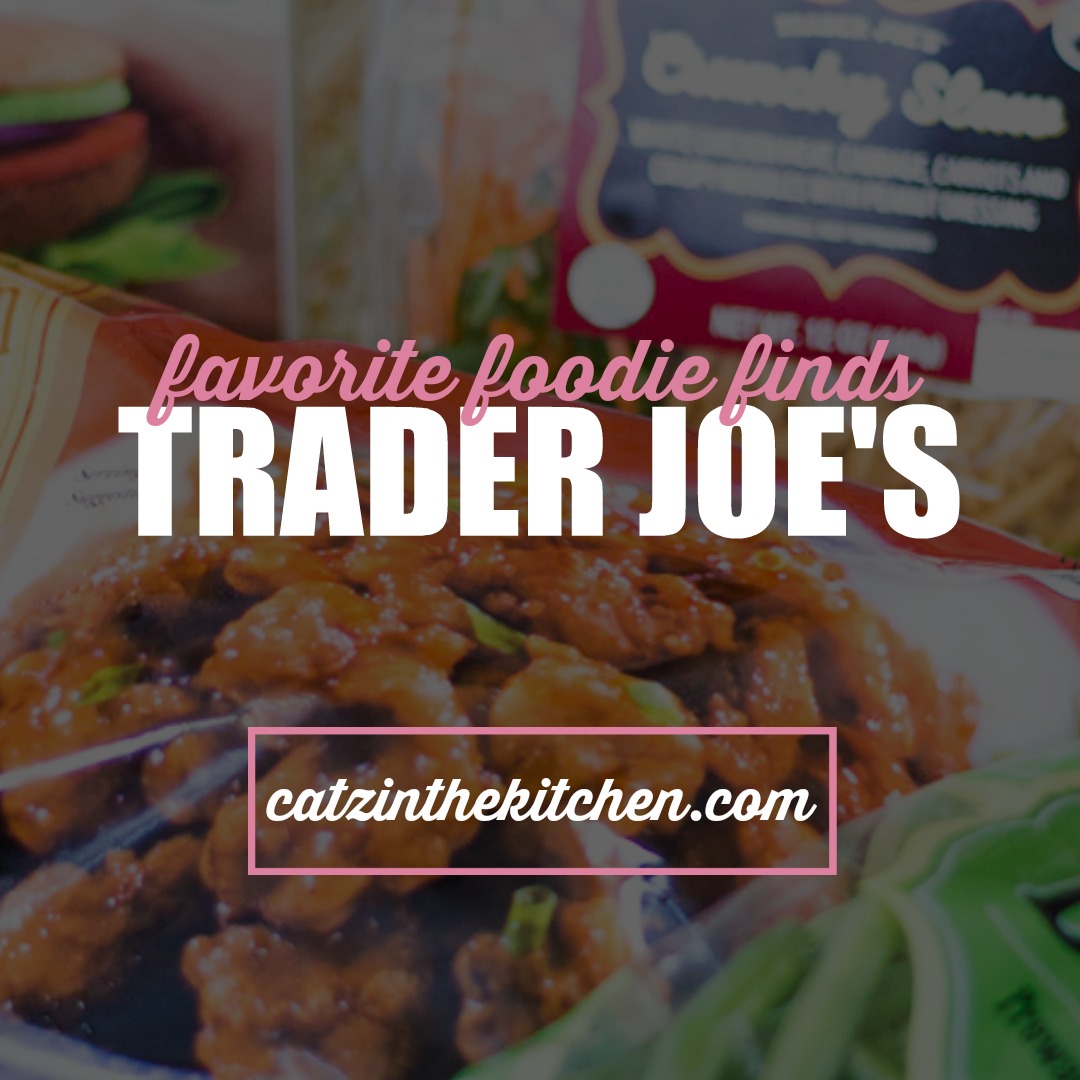 It's no secret that we love Trader Joe's in this house. We make a point to shop there and stock up on our TJ faves at least once a month. I should make the point here right at the beginning – this post is in no way connected to or sponsored by Trader Joe's! We just love shopping there!
I know not everyone has a Trader Joe's near them or even in their state! But, if you happen to be fortunate enough to live near one, I thought it would be fun to share some of products that we love and are on our monthly shopping list, as well as a few of the new things I picked up during this month's haul.
When it comes to quick and easy meals, I like to always purchase the frozen Mandarin Orange Chicken (we usually buy two bags). We actually stocked up on these big time when I was pregnant as well as right after Ruby was born because it just made dinner simple. Throw rice in the rice cooker and throw the chicken in the oven. Grace has become a pro at making this easy frozen meal, and Josh has also made it on the stovetop. I did pick up some frozen veggie burgers that I plan on wrapping in lettuce for a healthier lunch option, but haven't tried them yet. But the fresh green beans and crunchy slaw salad are always a must-buy for me.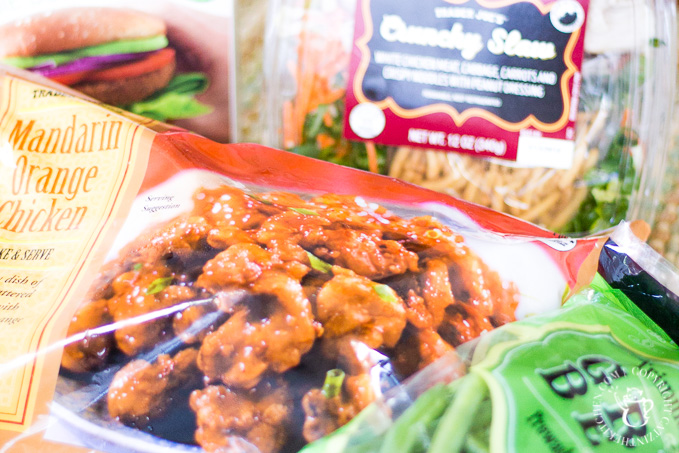 How many of you have tried simmer sauces? In the beginning I was really skeptical when I saw these first come onto the market a few years ago. But the busy mom in me has embraced the simmer sauce and I try and always keep a few jars on hand. What's great is that any kind of protein can go with these sauces and we just serve it with brown or white rice – usually whichever rice I have more of at the time, haha! I'm a fan of the Thai yellow curry sauce and am looking forward to trying these other varieties out. Watch your labels though guys – while Trader Joe's has many healthier and affordable options, they still do carry a few items with MSG, and I was lucky enough to be warned away from the red curry sauce by one of the always-helpful employees.
One of the reasons I prefer to keep a jar of the sun-dried tomatoes on hand is because they are really affordable at Trader Joe's, but on the expensive side at my regular grocery store. The difference is usually around $2 a jar. I love to make this linguini pasta with this product.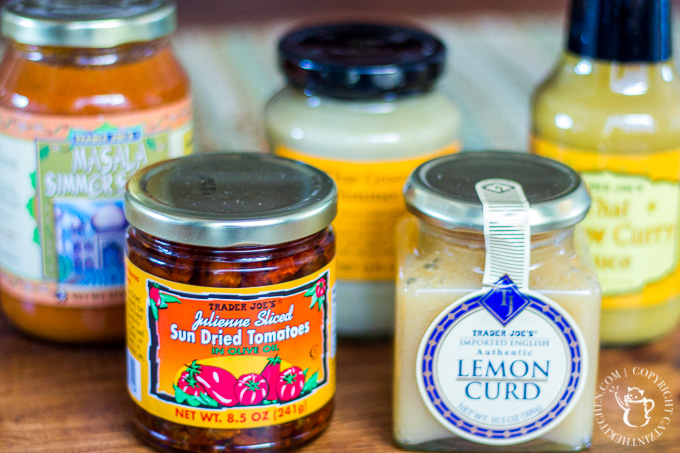 Here are a few of my favorite things! I actually have two jars of this pesto in my pantry, I'm a pesto nut and I love this jarred version. The pizza sauce is a must! The fire-roasted peppers we love to throw on pizzas, sandwiches, and summer salads. I keep like 3 jars of salsa at any given time in my pantry because I'm scared I'll run out. But the marinated artichoke hearts are a winner. Put them on a pizza, make an artichoke dip, throw it in pasta, or if I have a jar on hand, I usually throw them into this chilled orzo salad for potlucks.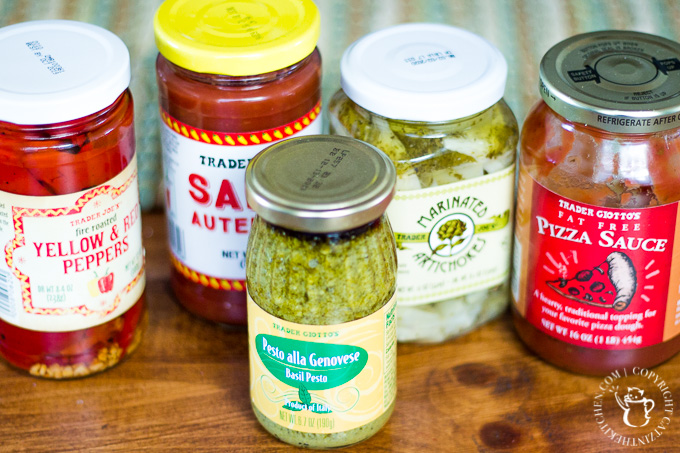 We love TJ's dark covered chocolate almonds. We usually eat just a couple at a time, but I'll throw a few in Josh's lunch with a bag of nuts as a treat. Christian loves the roasted plantain chips – it was one of their samples that sold us! We don't cook with canola oil a lot, but we buys ours there. Trader Joe's always has really good cookies and the kids like them for treats so we stock up on one or two boxes of those. When the seasonal sweets comes out, we have a hard time deciding! I generally buy my pasta at my regular grocery store, but the few times I've bought it at Trader Joe's it's been very good, not to mention a healthier, affordable option. I love their organic blue agave sweetener. I should buy more of these because Grace uses it in her tea and I've stopped using coffee creamer and opted for half and half with a bit of agave and it's delicious!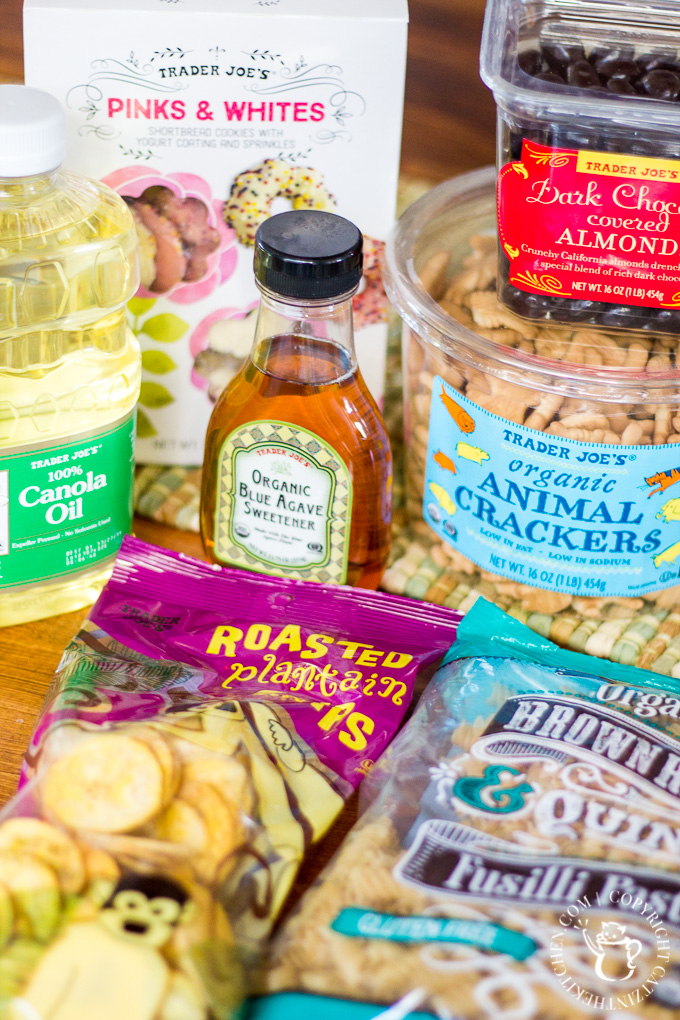 Some baking and cooking necessities are always the coconut oil and coconut spray. I keep the sesame oil in my fridge once opened and I love the flavor of the rice vinegar. But I like the Everything But the Bagel seasoning blend. Honestly, it's so good on chicken, bagels, avocado toast – there's a lot of flavor packed into that jar!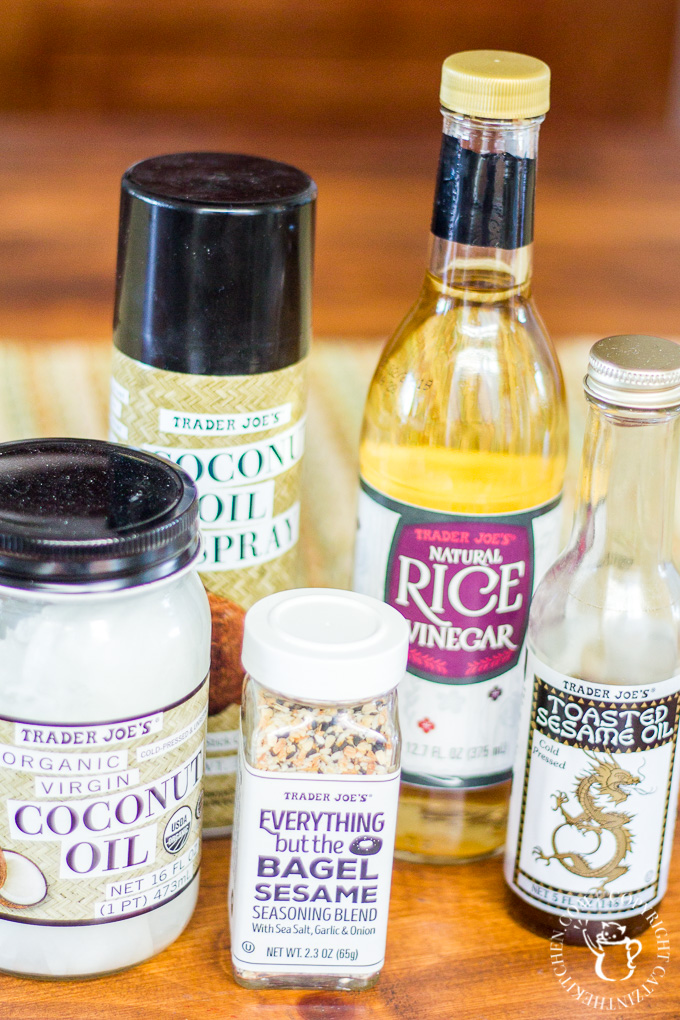 Some of the items we didn't snap pictures of are the wine and cheese. We buy our wine from Trader Joe's and here's why I like to buy it there – it's affordable, but mostly we can always find someone or someone finds us and they are always really excited to help us find a new flavor or blend we haven't tried yet. And the cheese selection seriously cannot be beat! The prices are so low and they have every cheese you could ever need. When we make our cheese boards, this is always where we go!
We also love their soups in the cartons. We usually keep a few of the tomato soups on hand for another quick, easy dinner option and two of those cartons will feed our family perfectly. We don't buy our meat or breakfast items here. We used to buy their steel cut oats, but switched to Bob's Red Mill brand after Costco started carrying a huge bag of it for roughly the same price.
That about covers what a typical shopping trip looks like! A lot of these items we have on hand, so we're only buying what we run out of.
Comment below and tell me what you like to buy there so I can check it out the next time I'm there!