This pregnancy, we tried a variety of the new non-alcoholic beers & wines that have hit the market recently – here are our thoughts!
We're planning to share a variety of baby-related product reviews and recommendations with you over the coming months, interspersed with our normal feed of recipes and DIY projects, of course. This post, though, looks back on the pregnancy Chels just completed with the birth of our little guy here about three weeks ago. Nothing in this post is sponsored, and this post is not affiliated with any of the companies mentioned in any way. This is just us sharing the non-alcoholic beers & wines we enjoyed, in hopes that it might help you find something you enjoy if and when you need it!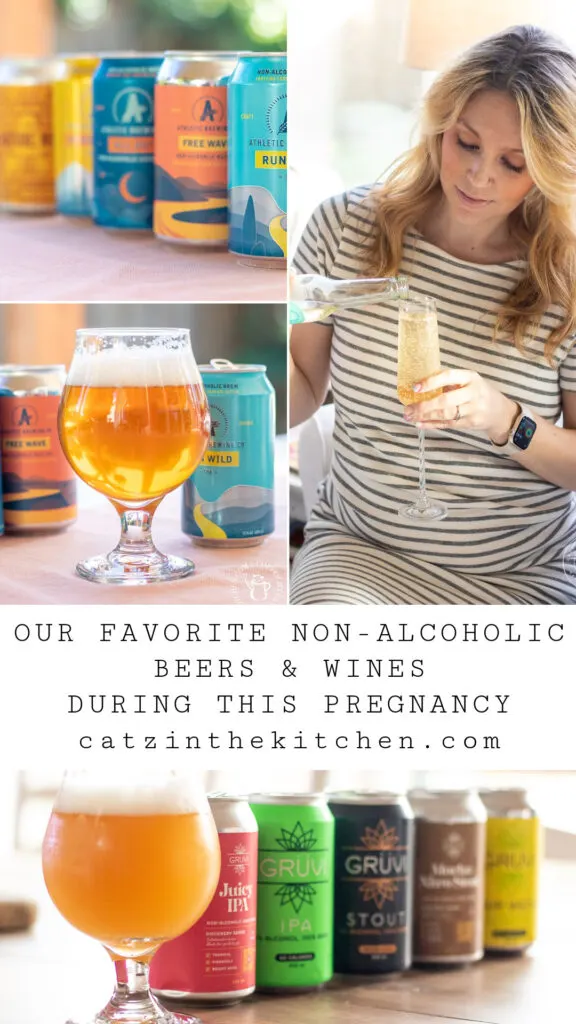 Naturally, Chels avoids alcohol during pregnancy, an abstention in which I generally joined her. Why? Well, for one thing, taking a long break from alcohol never hurt anyone! But, mostly out of a spirit of solidarity – Chels and I would normally have a glass of wine with dinner a couple of times a week, maybe a beer with pizza on Friday night, and perhaps a celebratory martini on the weekends. I just didn't enjoy my beverage of choice as much if she couldn't join me.
We're pretty light drinkers anyway, so this wasn't an enormous adjustment, but we did find that we missed the "celebratory" element of the occasional glass of champagne, or the satisfaction of sipping something special to recognize the end of a long week. I often replaced my "sipping" beverage with an espresso, but that didn't work well for Chels, with her limited caffeine intake during pregnancy, and, of course, it wasn't a great choice for either of us in the evenings!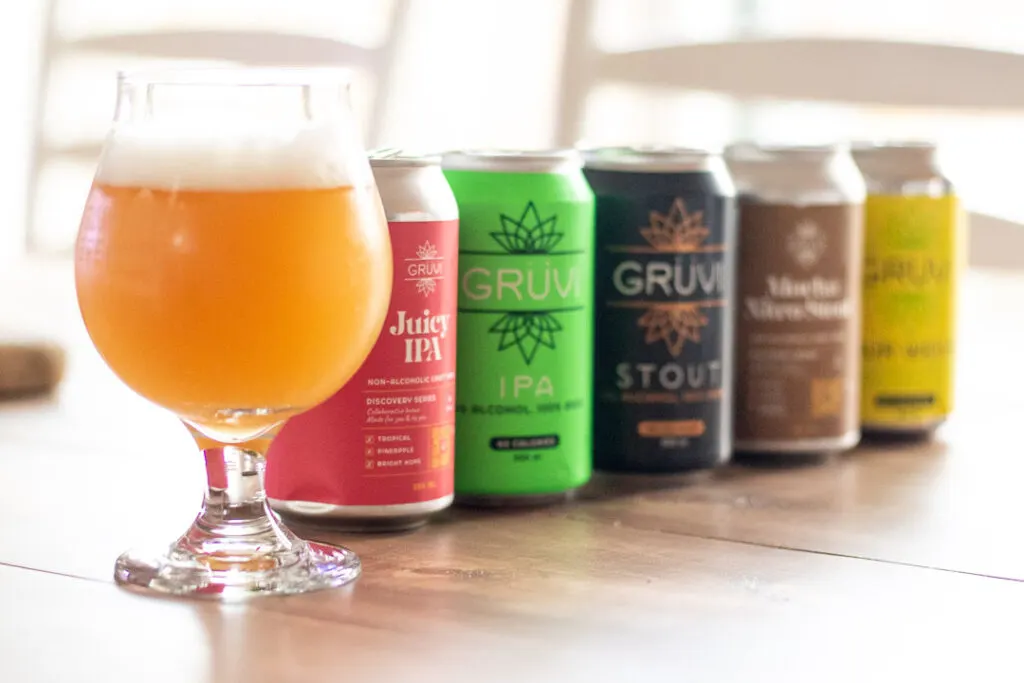 Early on in the pregnancy, I stumbled across an article (unfortunately I can't recall where now) about the explosion of the non-alcoholic ("NA") beverage market over the last couple of years, predominantly in NA beer, but also wines and even liqueurs. A number of innovative new companies have hit the market, with better and healthier products, closer to the real thing in flavor, texture, and variety, and, as an added bonus, significantly lower calorie counts, added electrolytes, and so on. My curiosity was piqued, and I started ordering stuff. Over the course of the last nine months, if I'm honest, I ordered a lot of stuff.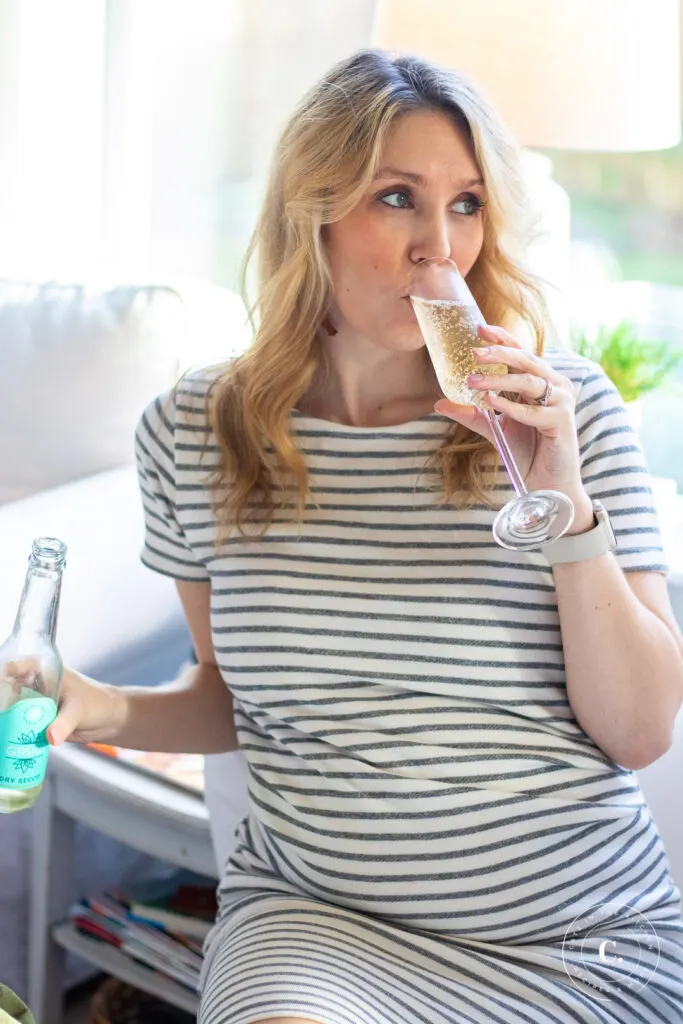 Chels knows I have a tendency towards the obsessive when I get intrigued, and this subject was no different. By the time little Cadáin actually arrived, I think I had ordered 20-30 different NA beers, 10-15 NA wines, and 5-10 NA liqueurs. Suffice to say, while we can't claim to have tried everything on the market, we tried a decent slice of it, and I'd like to think our opinions are fairly well-rounded.
As we usually do with our reviews here at Catz, we try to keep things positive, meaning we make recommendations of things we love, rather than takedowns of things that we found disappointing. To that end, we'll share here a few of the beverages we enjoyed over the past nine months, some of which we fully intend to continue to keep stocked in our fridge even post-pregnancy!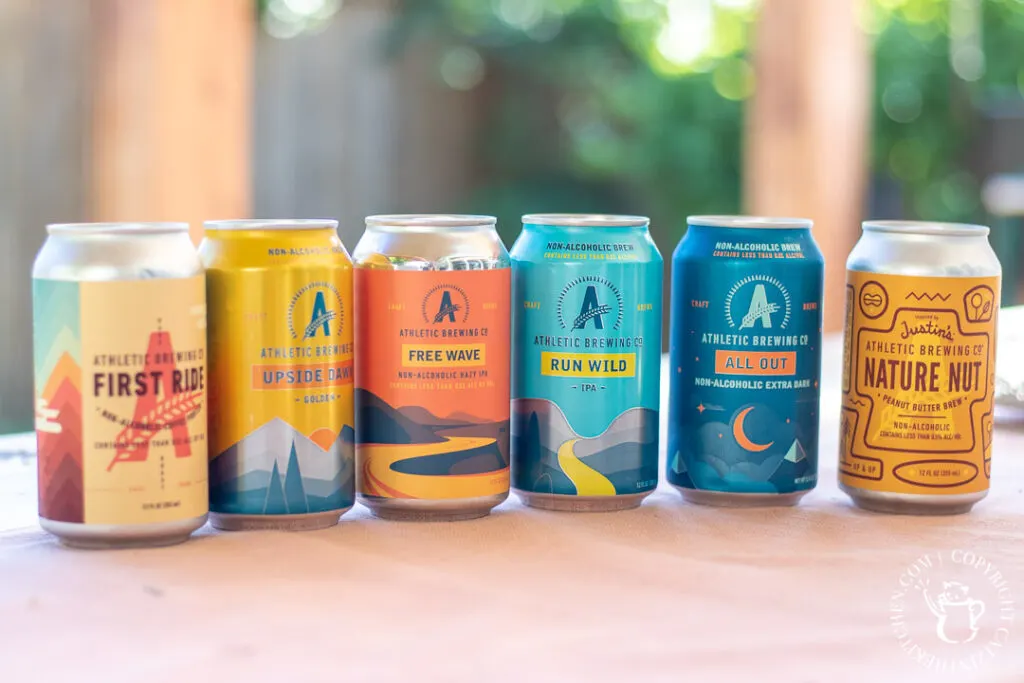 NA Beer
I think it's probably safe to describe the NA Beer scene as "exploding" a bit right now, and it's probably also safe to say that Athletic Brewing is leading the way. I've tried all of their "regulars" and more than a few of their limited releases (a pina colada sour is on the way right now – intrigued!), and most have been excellent and very, very close substitutions for "the real thing." My delivery driver dropped off a box one day and asked me what it was, so I gave him one to try out of the package. He came back by a few weeks later, saying he picked up a six pack for a weekend away, and couldn't believe what a hit it was! Athletic even has a "stork bundle" for someone expecting a new baby, an idea that is both brilliant and adorable. I'll list my favorites below, and note that I wasn't a fan of Athletic's porters, personally, and for some reason, the hazy always gave me a mild stomachache. That's just me, though – your mileage may vary!
The other brewery that really blew me away was Grüvi. They don't yet have quite the variety or scale of Athletic, but every brew of theirs I tried (and I tried them all) was fantastic. In addition, they put out some excellent sparkling wines, which I'll cover below.
Non-Alcoholic Beer Recommendations
Here are some specific recommendations, my personal favorites of the various NA brews I tried.
NA Wines
Generally speaking, the wine situation was a bit more disappointing. Chels and I aren't wine aficionados, by any stretch of the imagination, but we tried a wide variety of reds and whites. While some of the whites were okay, we quickly realized we'd rather just have some kind of sparkling water or something of that nature, especially at the price points being asked. We never really found a red that we both found satisfying, period (aside from the sangria mentioned below, if you consider sangria a red!). Almost all of the wines we enjoyed and ordered again were from Grüvi, interestingly. Sparkling wines were a much better situation, and we'll share a few that we used for celebrations during the pregnancy, including a night or two away and while we were in Maui!
Non-Alcoholic Wine Recommendations
Here are some specific recommendations, our personal favorites of the various NA wines we tried.
NA Liqueurs
Sadly, we found this category to largely be a bust. I'm a bourbon guy, Chels enjoys the aforementioned martini every so often, and during the summer we both enjoy the occasional "tropical" adult beverage. I ordered a number of different NA gins, whiskeys, rums, and tequilas. None were particularly inexpensive – generally $30-50 a bottle. One rather spendy gin, frankly, was so disappointing I actually asked for my money back, which is a rare move for me. The whiskeys, especially, talked a big game and made big promises, but all really just tasted like spice blends – and not necessarily in a pleasant way. I will say that we added NA rum to a bar-standard pina colada mix we occasionally keep on hand, and it was good…but not that much better than just preparing the mix without any alcohol at all. There were some creative ideas out there around using the NA liqueurs to make interesting and creative new takes on mixed drinks, and while some were enjoyable, especially those "spiced" style drinks popular around Christmastime, I found myself more inclined to just grab a high-quality ginger beer, save some time and money, and call it a day.
Either NA liqueurs are simply destined not to be, or they need more work – this is just our opinion, of course – there are definitely some enthusiastic fans out there!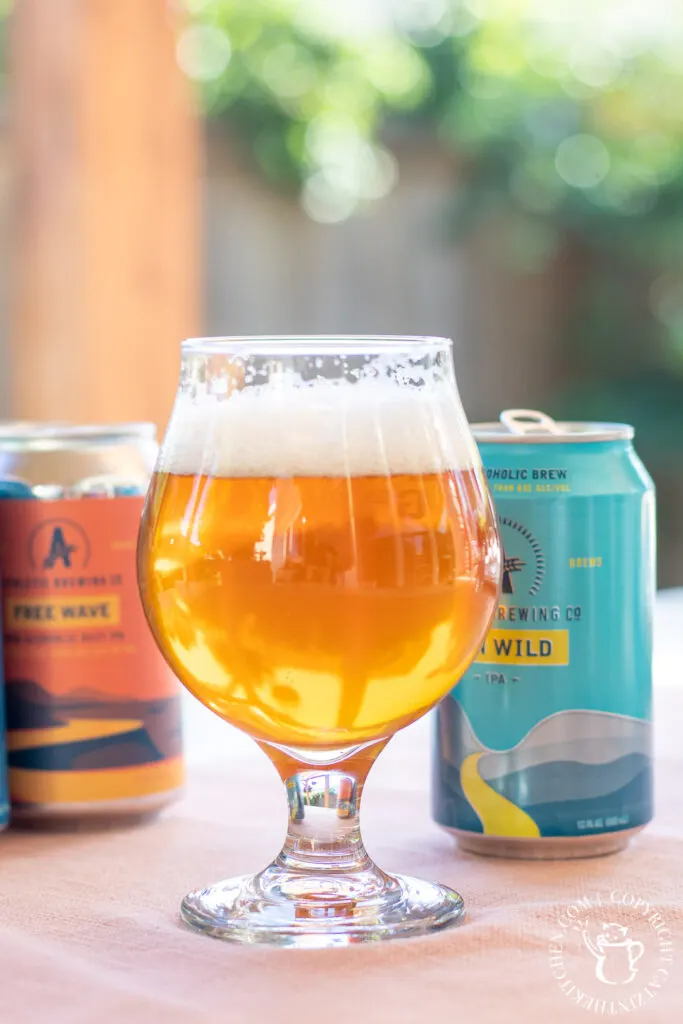 Summary
The quality and variety of NA beers on the market, especially from Athletic and Grüvi, were an unexpected delight, and will likely be a staple in my fridge. Some of the NA wines may make occasional appearances, especially Grüvi's bubblies. Regardless, alongside family favorites like Martinelli sparkling apple cider, Fever Tree ginger beer, Welch's Sparkling Rosé, and Trader Joe's sparkling teas, it was fun to have some new entries to add to the list of "special" or "celebratory" beverages that anyone can enjoy anytime, whether pregnant, underage, or just looking to make some healthier choices.