This simple, fresh recipe for flatbread huevos rancheros is slightly unconventional, but fresh, healthy, and ready in about 15 minutes!
Let's talk huevos rancheros for a minute. I'm guessing most of you already know this, but in case you don't (or you forgot!), I'll share with you the definition that was inadvertently drilled into my head as a small child.
RANCH-STYLE EGGS.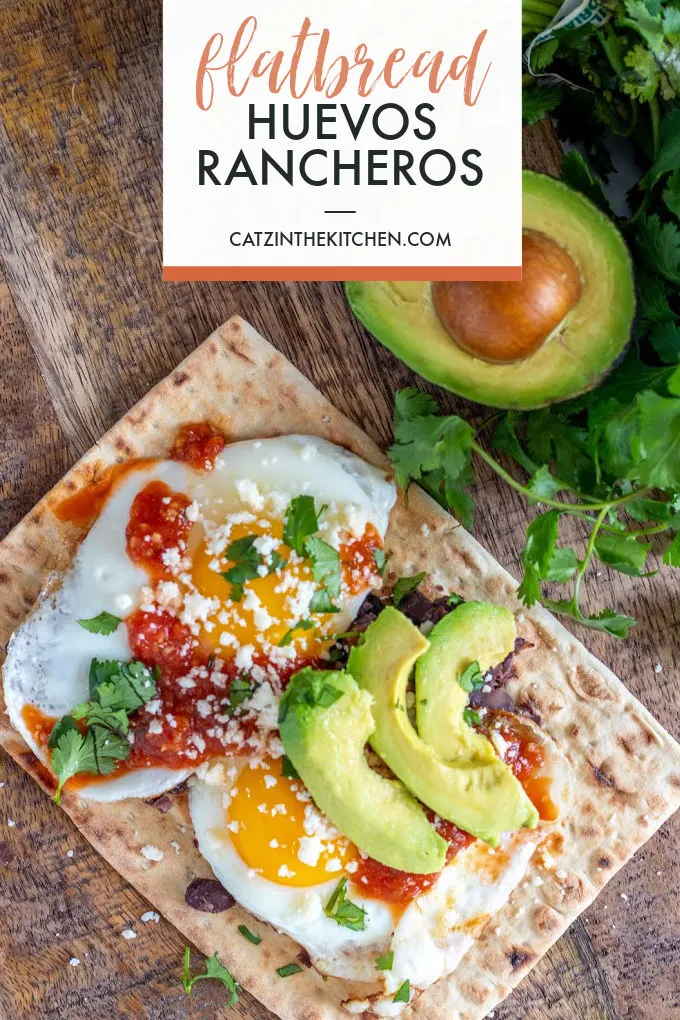 My dad grew up in Los Angeles, and during his teen and young adult years, spent as many weekends as he could manage across the border in Baja California. As so many of us have, he developed a deep appreciation for (and, perhaps, an addiction to…) the many wonderful flavors of Mexican cuisine.
When I was five, we moved to a tiny Arizona town even closer to the border, and dad remained free to indulge his love of Latin American food – sometimes, when the wind was right, we even got a little uninvited heat from the jalapeño packing plant up the road!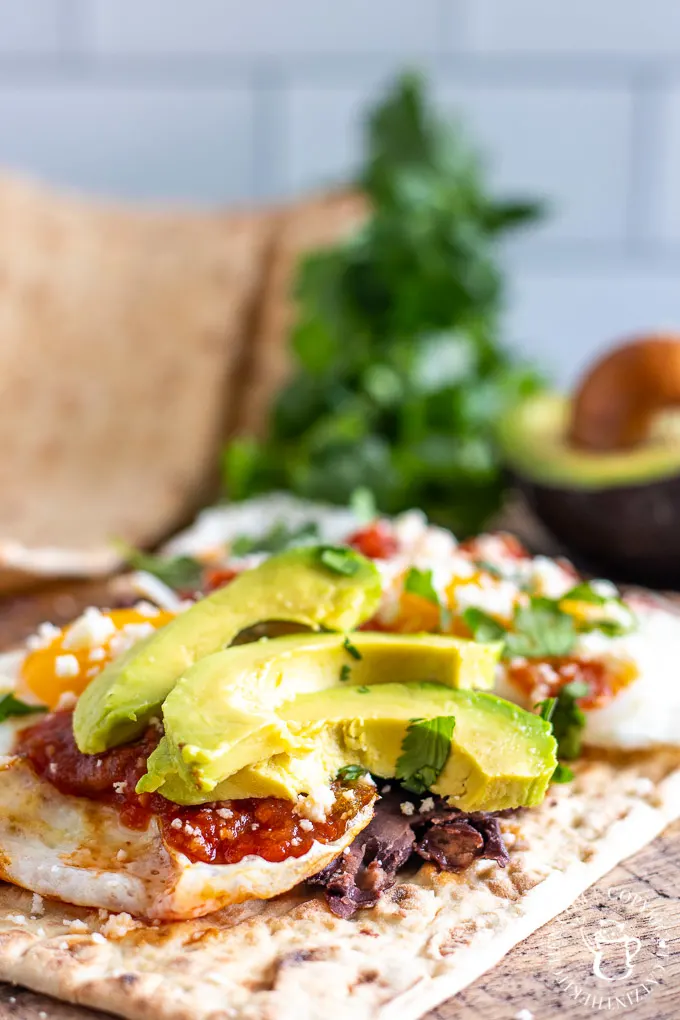 One of his favorite Mexican breakfast dishes was (and remains) the simple, fresh farm dish known as huevos rancheros, which he reminded me many times "just means ranch-style eggs." I think you could also translate it "rancher's eggs," but you get the point. The ingredients are rustic and straightforward, and the prep is minimal. Basically, everything you need should be something you can envision growing or making on your own (imaginary) hacienda. (I see this as equivalent in a way to bœuf bourguignon, one of those rustic French dishes where all of the ingredients originally might have come directly from the farm where it was prepared.)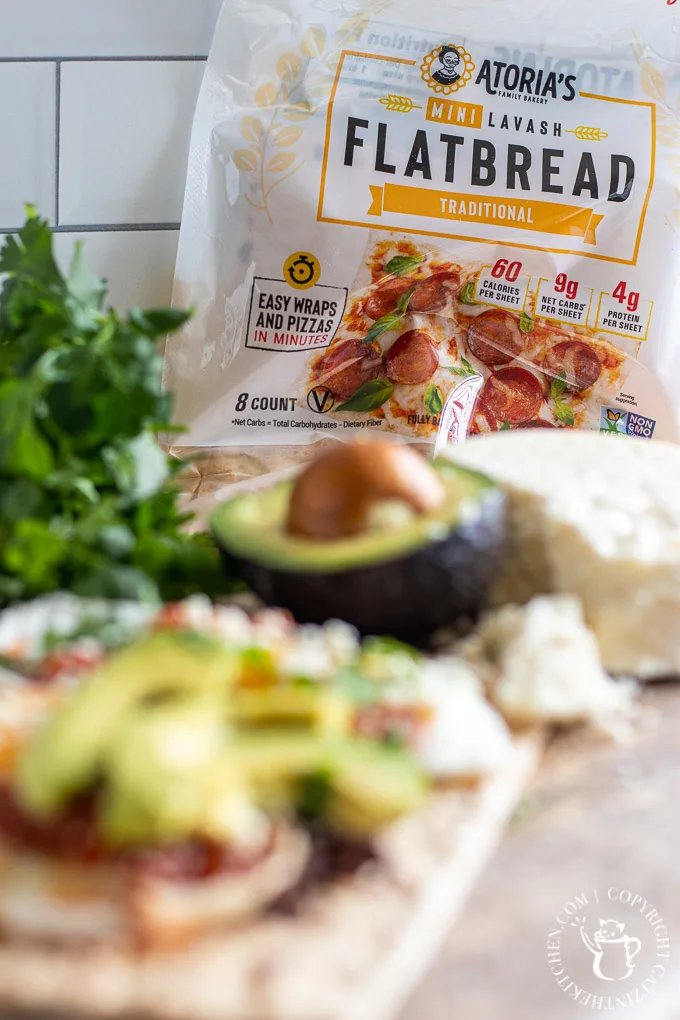 I have a hard time even growing cilantro here at my personal 0.17 acre hacienda, so a trip to the market is necessarily a part of this process, but I let that idea guide me in choosing my ingredients for this dish – if they're too complicated or exotic, they're out!
Ironically, I've never posted classic huevos rancheros here on the blog – maybe I'll rectify that one of these days! We have these huevos rancheros fried egg bagel sandwiches…darn tasty, but not exactly authentic!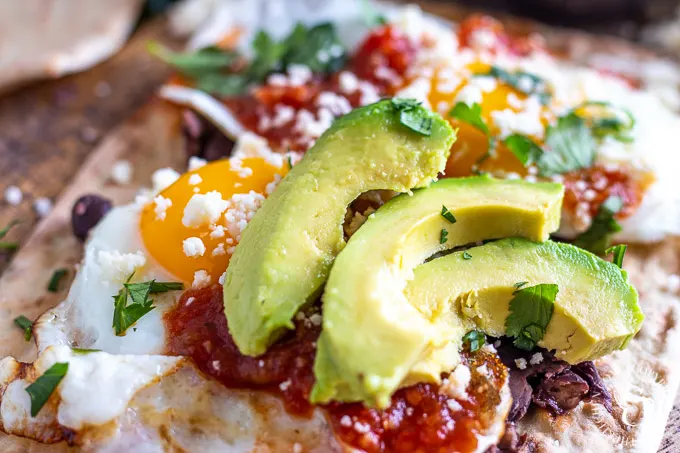 For this recipe, though, we have classic, fresh Mexican-style toppings on a base from a completely different culture…and it's excellent. Lavash flatbread takes the place of our tortillas here, and while I love me some tortillas, using the lavash instead is just as easy (maybe even easier) to prepare, actually a little easier to eat, and, depending on your tortilla preference, actually healthier, too!
As a family, we love our flatbreads. We use them to make grilled pizzas, top them with chicken, cheese, and lightly-dressed arugula to make an easy summer dinner, throw together some gyros, and, of course, serve on the side of middle eastern and Indian dishes (like this coconut chicken tikka masala). At this point, when we tell the kids there will be naan served with dinner, they don't care what the entrée is, they're here for it!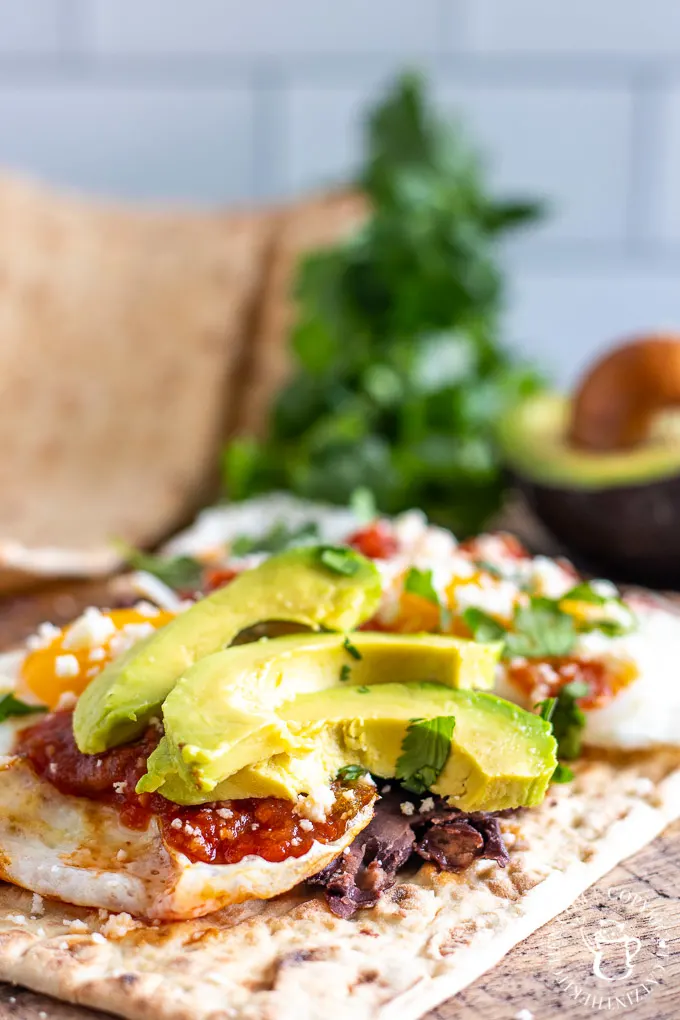 Atoria's Family Bakery recently sent us a few flatbreads to try (this happens sometimes when you blog about food…wish it happened when I blog about tools!), and while we were very familiar with some (pitas, for example, and naan), the lavash flatbread was new to us. I should say about the naan – we served Atoria's garlic naan the other night when we made the coconut chicken tikka masala again, and…outrageous. The kids gobbled it up, and there wasn't a crumb remaining – and this was after freezing it to keep it fresh! I was impressed. (Now is a good time to point out that this post is not sponsored by Atoria's Family Bakery. We receive food samples on a fairly regular basis – sometimes we like them and use them in a recipe, and sometimes we don't – in this case, we liked them very much and decided to share them with you! Regardless, the opinions expressed herein and the recipe we're making are our own, and we were not compensated for doing so.)
We had (and have) a lot of ideas about ways to use the different flatbreads – everything from healthy lunches to mini pizzas – but the first thing we decided to do was dish up some simple, delicious, healthy huevos rancheros. For this, we used the mini lavash traditional flatbread, though I suspect the whole grain and flax would have been excellent as well (we actually ended up using the whole grain and flax the next night for prosciutto and mozzarella flatbread pizzas topped with arugula…yum).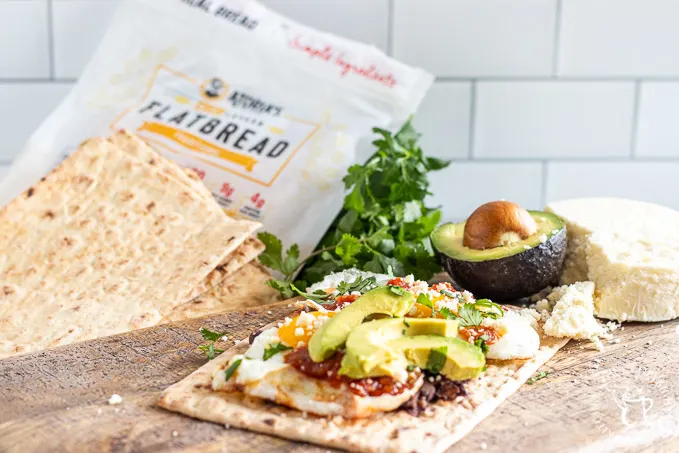 These flatbread huevos rancheros are about as fresh and simple as they come – my favorite! Some black beans and eggs, topped off with salsa, cotija cheese, cilantro, and avocado…so easy, so quick, and so addicting. Chels and I always joke about what cuisine we would choose if we were limited to only one, and while living without Italian or French food, not to mention the myriad flavors of Asia, India, the Middle East, and so many others, would be devastating…I still think I'd choose Latin flavors if forced into this awful choice. Breakfast, lunch, and dinner, Mexican-inspired dishes just bring it home!
We hope you enjoy this simple, fresh-tasting take on a rustic Mexican classic – our family sure did! When breakfast was over, there wasn't a piece of flatbread or an egg left in sight!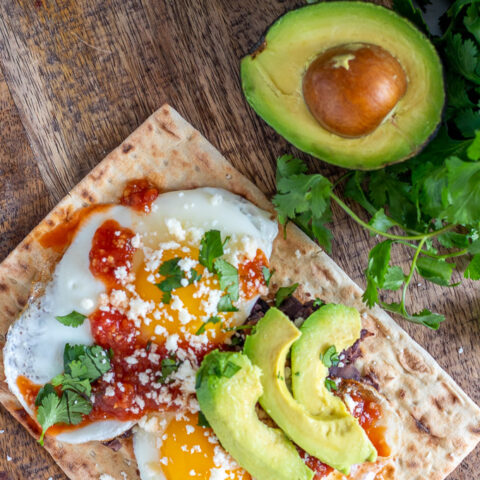 Flatbread Huevos Rancheros
This simple, fresh recipe for flatbread huevos rancheros is slightly unconventional, but fresh, healthy, and ready in about 15 minutes!
Ingredients
1 can black beans (15 oz), drained and rinsed
12 eggs
2 avocados
6 mini flatbreads (we used the Mini Lavash Traditional)
about 3 tbsp chopped cilantro
about 3/4 cup good quality salsa of your choice, at room temperature
about 1/3 cup crumbled cotija cheese
Instructions
Place black beans in a small saucepan and heat over medium heat until soft, and then mash lightly with a spatula or spoon, leaving some beans whole.
Preheat oven to 200 degrees
Heat a large non-stick frying pan to medium heat, and melt a small amount of butter (or oil of your choice) in the pan. Crack eggs into pan without crowding them or breaking the yolk (in a 12-in skillet, you can probably cook four eggs at a time).
While eggs are cooking, place flatbread in the oven for just a few minutes (you want to warm it slightly, but you don't want it to get hard or crispy).
Once eggs are well set, cover the skillet for a moment or two to lightly set the yolk (this will get you something just past sunny side up - if you want over easy, flip them for a moment, and, of course, if you don't want a runny yolk, go ahead and punture the yolk at your leisure - sad!). We'd recommend serving these as they come out of the pan, but you need to cook all 12 eggs first, you could use a larger griddle, or keep them warm in the oven on a plate for few minutes - again, not too long, or they'll be overcooked!
As the eggs are done, take each piece of flatbread, spread a some of the black beans on it, lay two eggs on top of that, and then top the eggs with salsa. To finish it off, sprinkle the eggs with some fresh cilantro and cotija cheese, and top with sliced avocado. You may season to taste, but keep in mind that the cotija will add saltiness.
Serve immediately!
Nutrition Information:
Yield:

6
Serving Size:

1
Amount Per Serving:
Calories:

582
Total Fat:

23g
Saturated Fat:

6g
Trans Fat:

0g
Unsaturated Fat:

15g
Cholesterol:

379mg
Sodium:

1198mg
Carbohydrates:

68g
Fiber:

12g
Sugar:

3g
Protein:

28g
Nutrition information isn't always accurate.