When you need an easy, little-to-no-effort dinner, try this recipe for yummy slow cooker salsa verde chicken street tacos!
I never tire of taco recipes and I hope you don't either. Especially taco recipes that can spend the whole day in a vessel that cooks it for you! I remember when I first tested this recipe – it was towards the beginning of last year and our family was going through a tough and tiring period. I remember not really wanting to cook at all, but also feeling like it was my duty, my job, my role to feed my family, and, yes, feed them well. But I also remember not having much energy to cook or having much brain power to even think about cooking.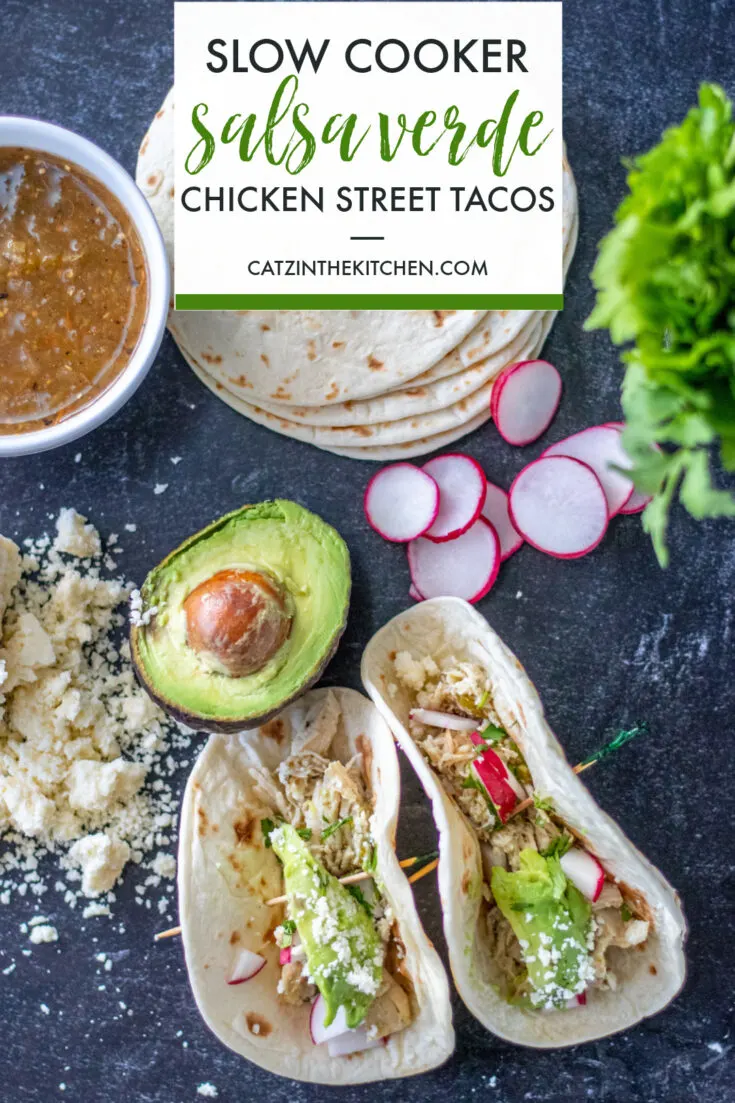 If you've gone through a hurdle in your own life (and who hasn't), maybe a specific memory of that time comes to your mind…or maybe you're in it right now. But if you know what I'm talking about, then you know how it feels to not want to cook, but at the same time wanting something easy that isn't frozen or out of a fast food line.
This recipe was born from that time. I remember one morning feeling stressed out and walking downstairs not knowing what to cook for dinner that night. The previous night we'd pulled together a hodgepodge of chicken nuggets and corn dogs for dinner – which is totally fine, I just didn't want to repeat the meal for a second night. I hadn't gotten to the grocery store and we were low on items in the freezer and fridge. But I did have was chicken breast, a can of diced green chiles (I almost always have a can stashed in my pantry), and a jar of salsa verde sauce. So I threw it all in the crockpot along with a few spices that sounded good to me and walked away.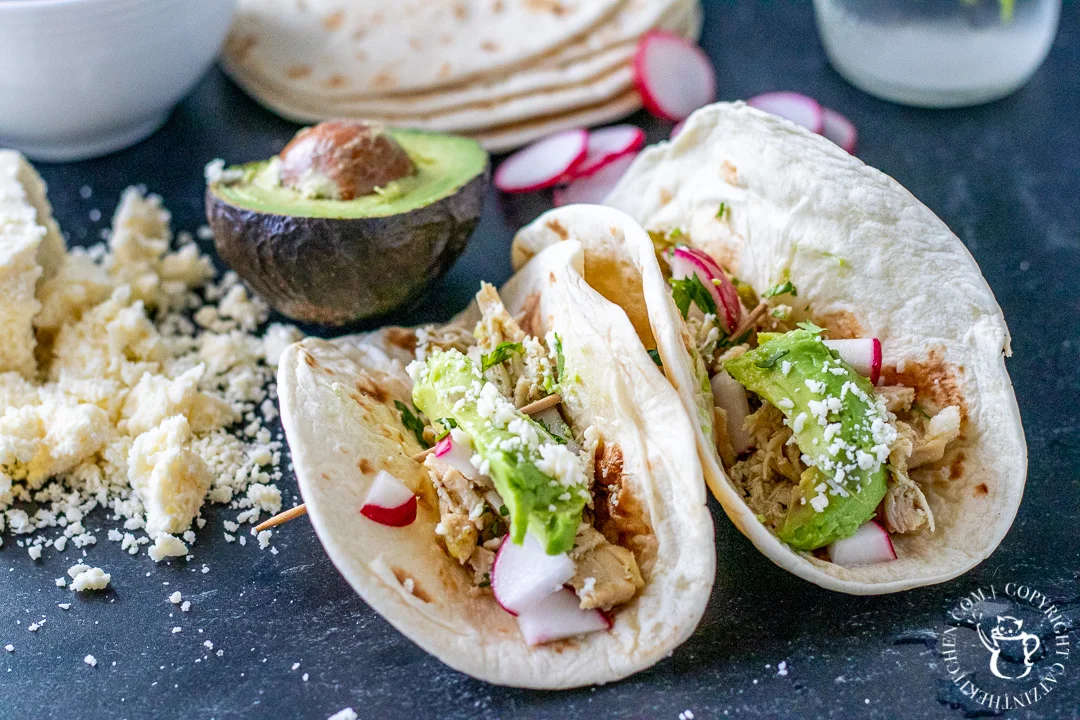 Meanwhile, while I was running errands in town, I swung by the store and picked up some street tortillas (I really like to use the Mission brand – it's just always easy to find and predictable in quality – no sponsorship here, and obviously locally made or homemade are amazing!), some cilantro, avocado, cotija cheese, and radishes. I love radishes on a street taco. I don't know if you've ever ordered an authentic street taco, but in the town where I live, we have a great, authentic Mexican food truck, and they always sprinkle diced raw onion, radishes, and cilantro onto their street tacos. I knew my kids wouldn't be a fan of the raw onion, heck, I don't even care for it that much myself, but I knew those other simple ingredients wouldn't overpower the tiny street tortilla – just add enough texture and flavor to compliment the basic taco.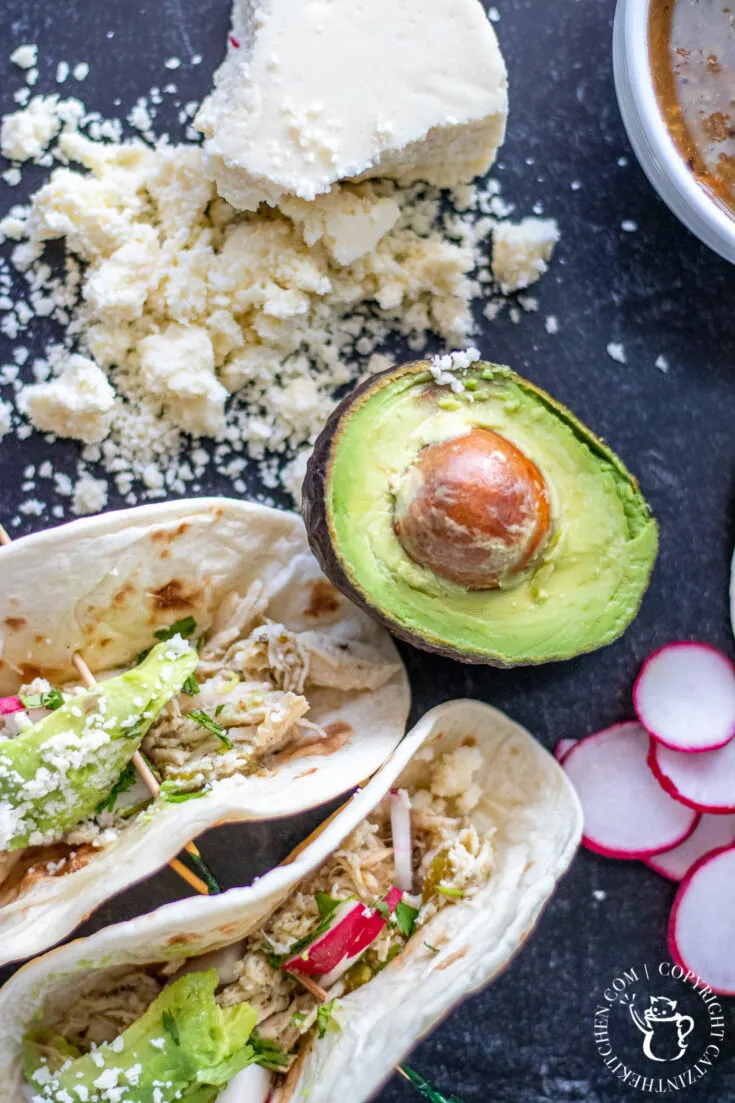 And it turned out great! So I wrote down the recipe as a keeper. I've made this several more times since, including when I made it in May for our Girl's Trip to the beach (which included three toddler girls and a baby who ate the chicken!). It was a true test to the recipe and while the toddlers didn't really prefer the taco with avocado, cilantro, and radishes, they did eat all of the chicken and tortilla that was put on their plate – so yay for flavor and simplicity!
This chicken mixture is delicious on a nacho or quesadilla, too, so if you've got extra, that's another meal for ya to try with it.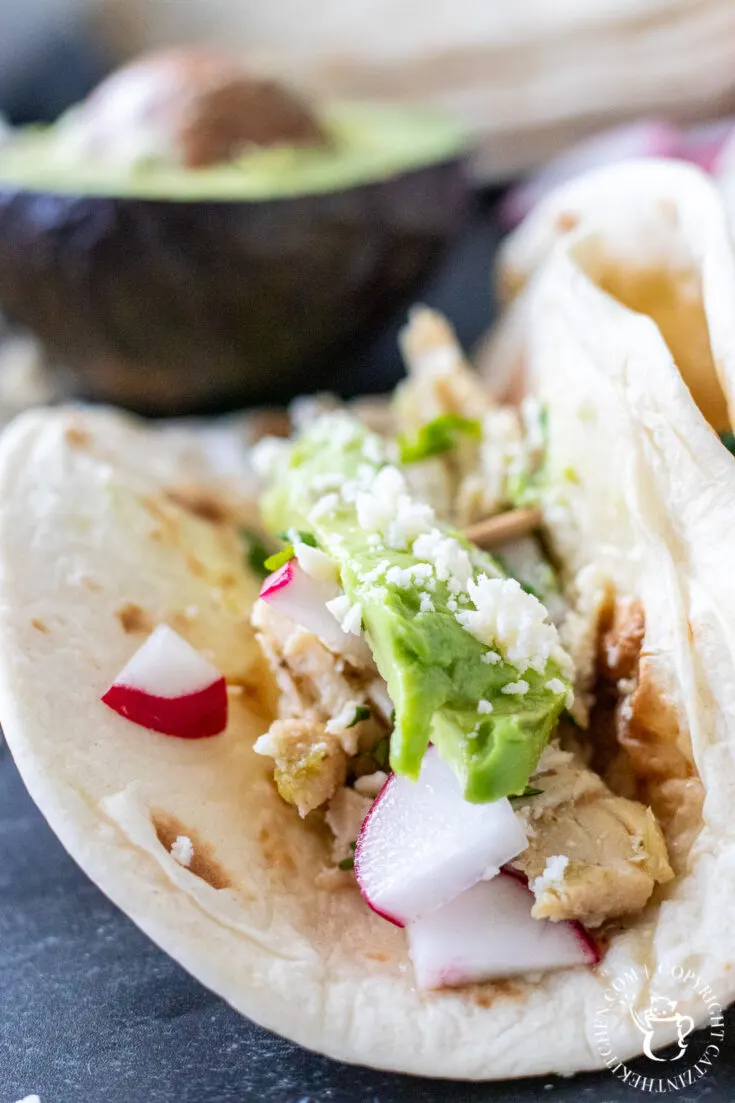 I know a lot of you prefer to use the instant pot and you could still use the instant pot if you like. I haven't tested this recipe with it yet – but I will soon and update the recipe card with cooking instructions for that, when I know for sure. But for now, I offer another slow cooker taco recipe, because really, can you ever have too many?
The answer is, never!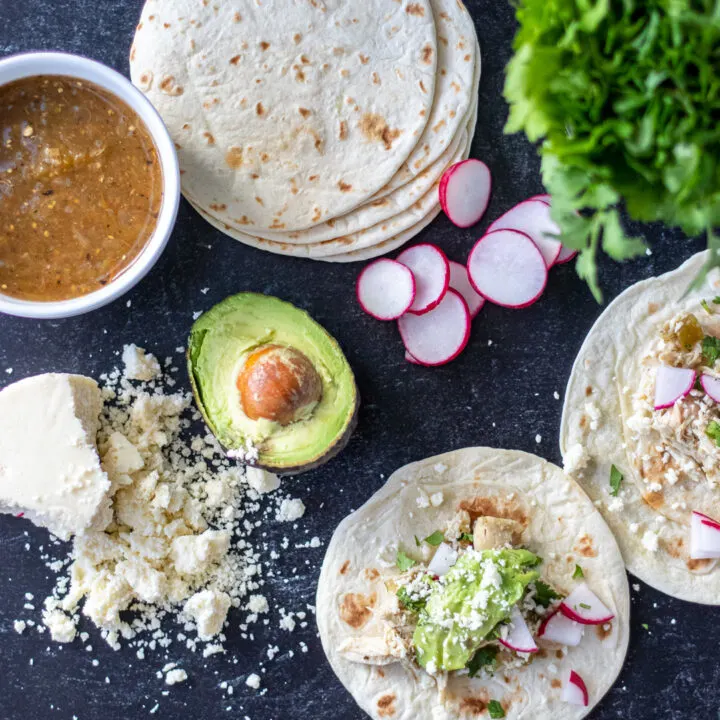 Slow Cooker Salsa Verde Chicken Street Tacos
Yield:
8 servings (approx 24 tacos)
When you need an easy, little-to-no-effort dinner, try this recipe for yummy slow cooker salsa verde chicken street tacos!
Ingredients
3 boneless, skinless chicken breasts
1 (4 oz) can diced green chiles
1 (16 oz) jar salsa verde sauce
2 cloves garlic, minced
1 tbsp ground cumin
1 1/2 tsp ground oregano
1/4 tsp ground pepper
12-24 (depending on how hungry you are) street taco tortillas - corn or flour
Toppings
Sliced radishes
Diced avocado
Chopped cilantro
Crumbled Cotija cheese
Instructions
Place chicken on the bottom of the slow-cooker. Pour in green chiles, salsa verde, garlic, and spices. Cook on low for 6-8 hours or high for 3-4 hours.
Remove chicken and shred, returning the meat to the slow clooker. Stir. Using a slotted spoon or tongs, serve chicken on warmed tortillas and top with desired toppings.
Nutrition Information:
Yield:

8
Serving Size:

3 street tacos
Amount Per Serving:
Calories:

538
Total Fat:

22g
Saturated Fat:

8g
Trans Fat:

1g
Unsaturated Fat:

12g
Cholesterol:

77mg
Sodium:

1027mg
Carbohydrates:

54g
Fiber:

8g
Sugar:

4g
Protein:

32g
Nutrition information isn't always accurate.