These Slow-Cooker Korean BBQ Beef Tacos have everything – texture, flavor, and timing! They're quick, easy, and oh-so-tasty!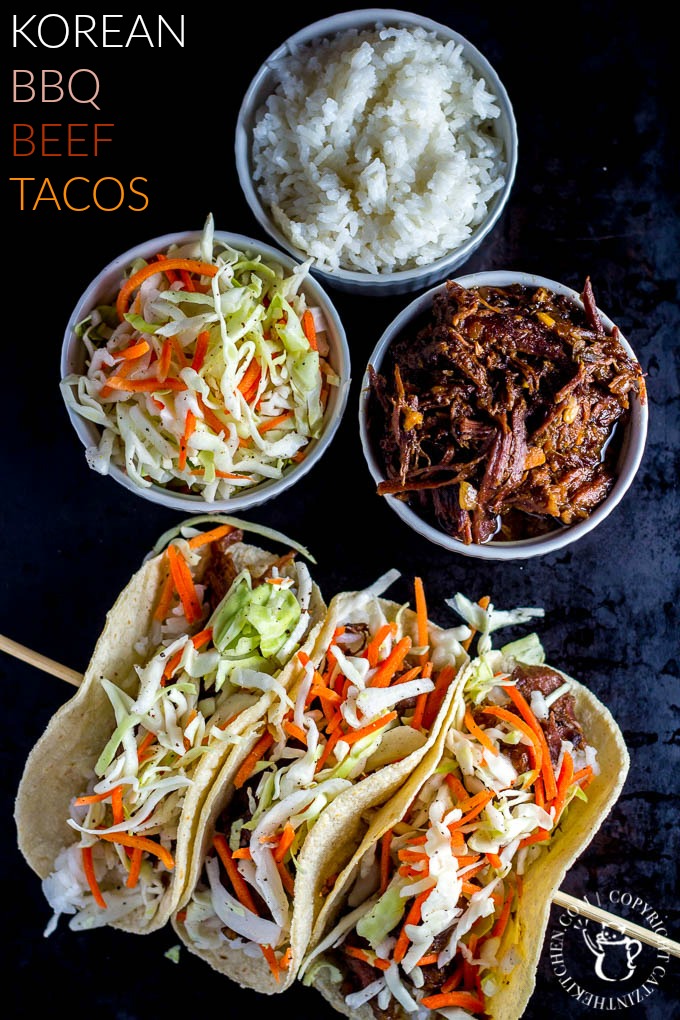 Now that the cat's (haha) out of the bag, so to speak, and we've announced that we're pregnant (I think this is the first time I've mentioned it here, actually, so…surprise!), I can finally talk about some of my cravings and foods that have sounded good to me. Which, there really haven't been that many. Usually my "go to" craving is Mexican food. But this time around, for the first time in all of my pregnancies, I am not craving it the way I usually do.
WHAT IS WRONG WITH ME?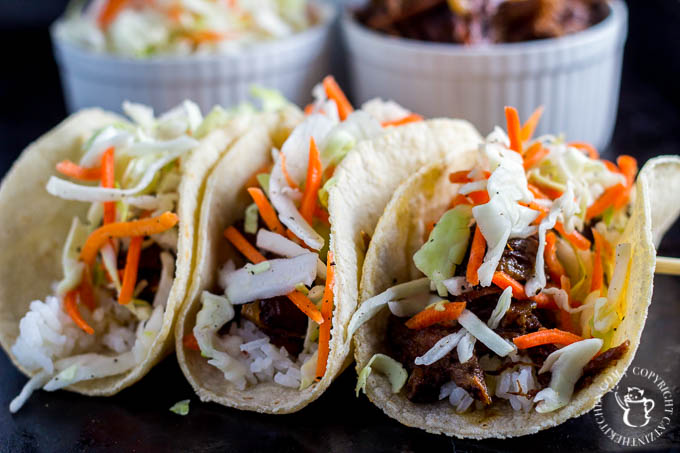 Well, obviously, some Mexican cuisine has sounded good to me, because today I'm sharing a taco post. (Okay, so, actually, this isn't really Mexican, it's a fusion.) But, on most days this time around…I could take it or leave it. My actual lack of cravings have been leaving me perplexed. All I really want is to go to Pastini (a small local pasta chain, for those that don't live in Oregon) and eat their Caesar salad. But I would settle for Olive Garden's salad, too. Just that. And maybe a breadstick!
I think I could live on that Caesar salad! It's not overly tossed with dressing. It's crunchy. It's peppery…it's perfect. And now that I'm talking about it, all I want to do is ask Josh to grab a salad to go for me!
(A little hint to the editor of our little blog.)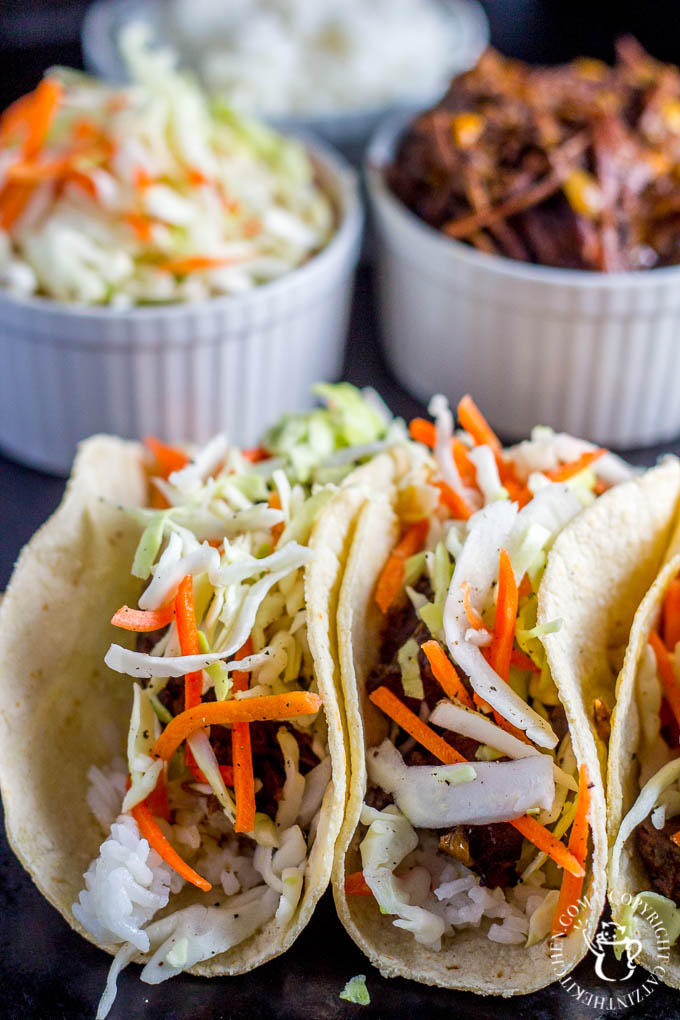 But since I can't have that salad right now, I'm going to tell you about these tacos, which are fantastic. Back last year when I had my miscarriage, one of my dear friends brought us a meal, and it was amazing! It was a ton of food that was packaged up so beautifully, we almost didn't want to dig in. But we did, because we were hungry, and it smelled outrageous! One part of the meal that really stuck with me in a craveable way was the Korean BBQ beef. Such a great smell. Such a great flavor.
It took us a while to get around to it, but we finally took the time to track down and test out a simple, slow-cooker recipe for Korean BBQ beef tacos, and wow…so good. I'll be honest, they're not quite to the level of the ones my friends brought over, but they're pretty dang close, and they're easy!
Josh was actually the one who put this together while I sat back on the couch and messed around on my computer! Josh was even going to write this post, but I've got a post I want him to share later in the week, so I thought I would take this one. Plus…I love these tacos!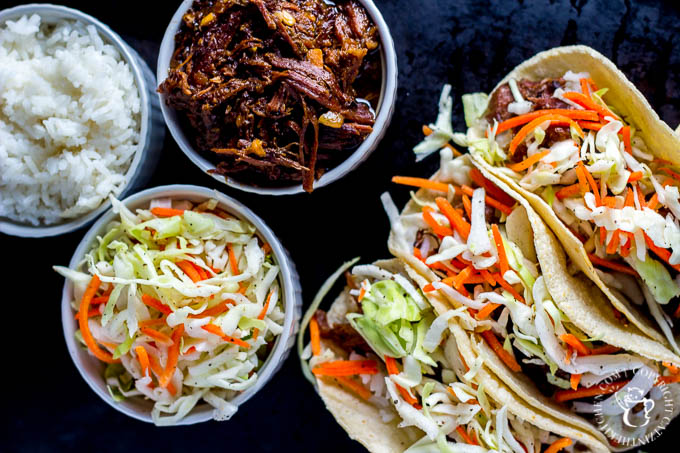 One thing I appreciate about this meal is, obviously, the time-saving factor. Pop the meat into the slow-cooker with a few ingredients and let it simmer away until dinner time. It also smells amazing cooking away which was a huge plus for me because, of course, a smell can either make something sound amazing or completely terrible. Thankfully, this was one of those awesome smells!
We bought a bag of slaw and dressed it lightly so that it wouldn't get soggy and keep that crunch (which, duh, I'm so craving), and while the meat was in the last 30-ish minutes of cooking, we started some rice in our rice cooker to go inside the tortillas that Grace was going to warm up. We used corn tortillas because we like the size, the fact that they are slightly healthier, and it made them feel more like a street taco. But if you like flour tortillas, go for it – I would just go with either a soft taco sized tortilla or maybe a smaller sized one.
There are so many good flavors in this taco dish. It's not all one flavor, just like it's not all one texture. Not to mention, our kids gobbled these up! I mean, how could you not – there isn't anything not to like in this!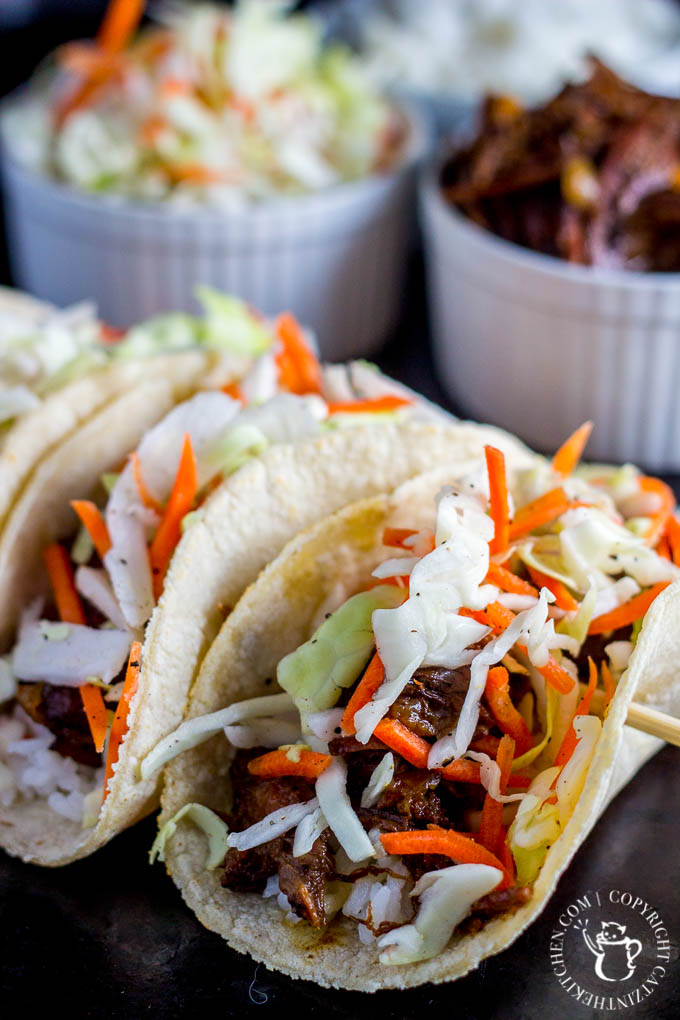 Feel free to make your own slaw, maybe adding purple cabbage and some mandarin oranges, or ya know…doing what I did which was grabbing a bag from the store. But, no matter what you decide to do with the slaw, you've got to add these Korean BBQ beef tacos to your dinner rotation. They're so wonderfully simple and yummy!
Slow-Cooker Korean BBQ Beef Tacos
Total Time:
8 hours
10 minutes
These Slow-Cooker Korean BBQ Beef Tacos have everything - texture, flavor, and timing! They're quick, easy, and oh-so-tasty!
Ingredients
BBQ Beef
2-3 lbs beef chuck roast
1/4 cup honey
1/4 cup brown sugar
1/4 cup soy sauce
1/2 onion, diced
5 cloves garlic, minced
1 tbsp fresh ginger, grated
1/2 jalapeño minced and seeded
1 tsp sesame oil
2 cups steamed rice
24 small corn tortillas
Slaw
1 bag of coleslaw, without dressing
Rice vinegar, to taste
Freshly ground black pepper, to taste
Kosher salt, to taste
Instructions
Place beef and remaining ingredients into slow-cooker
Cook on low 8-10 hours or high 3-4 hours
Prepare some white rice and a bag of coleslaw. Toss the slaw with salt, pepper, and a little bit of rice wine vinegar.
Shred the beef and serve in warmed corn tortillas with rice and coleslaw
Nutrition Information:
Yield:

24
Serving Size:

1
Amount Per Serving:
Calories:

373
Total Fat:

19g
Saturated Fat:

8g
Trans Fat:

1g
Unsaturated Fat:

11g
Cholesterol:

95mg
Sodium:

290mg
Carbohydrates:

21g
Fiber:

2g
Sugar:

6g
Protein:

30g
Nutrition information isn't always accurate.