These pork and peach street tacos are a bright, light fusion blend of flavors and ingredients in a recipe that is healthy, quick, and, actually, beautiful!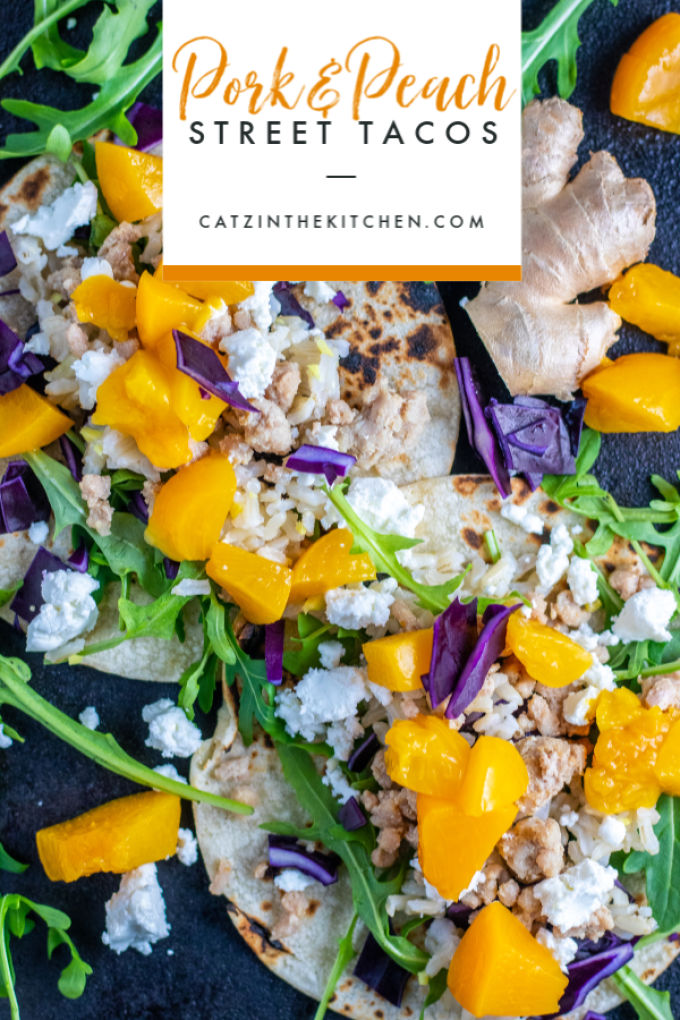 It's winter and I know we're all craving comfort food. Steaming pastas, roasted meats, hearty soups, and brownies right?
Don't get me started on brownies. I have a weakness for brownies.
My point is, it's the dead of winter. All of our trees, plants, and yards look kind of lifeless and so we crave those foods that "spark joy" (can I use that here?) and make us say, "Mmm." I used to love winter more than I do now. Not so much of a fan anymore except for the snow, which we typically have to travel to. And the clothes, because I'm always cold and I could wear a cozy sweater every day. And the food. Winter food is just good!
But…I am most eagerly looking forward to spring. Not the allergies that come with spring here in the PNW…those I could do without, ya know. I love catching that first bud on a tree, or hearing the birds singing in the morning, or if you live in the country like me, the first "ribbets" of your resident backyard frog – well, maybe there are frogs in the city, too.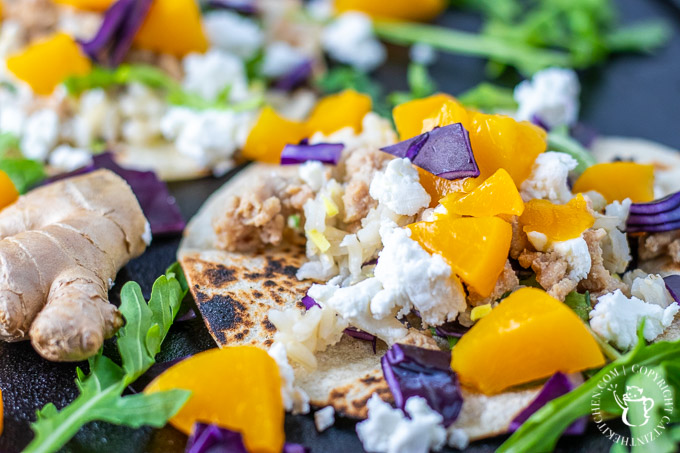 While I'm still enjoying winter food, as we turn the corner into February, I'm also craving a lightness and freshness that you typically get in the spring and summer. Enter these Pork and Peach Street Tacos. They taste like spring! Bright and fresh, with color and flavor…seriously, this could be a year round taco right here!
I think what I love about these tacos is the amount of flavor in them. If you look at the ingredients on their own, they all seem a little weird. Like, how does this all make sense together. But they do! The ground pork gets marinated in the peach juice along with a few other ingredients (which by the way, these tacos are a fusion of Mexican and Asian flavors), which just make the pork so flavorful. Zesty and sweet at the same time. The rice (we cooked ours in our rice cooker) is pretty basic, but then you add fresh minced ginger to it after it has cooked and suddenly it is a way more elevated brown rice. But the real surprise is in the toppings of the taco. You've got the ginger rice, arugula (Josh's favorite lettuce), red cabbage, the marinated pork, diced peaches, and here is the really surprising ingredient – goat cheese!
I almost didn't buy the goat cheese because I just didn't know how it fit with the flavors. Like maybe, the recipe author meant cotija cheese or queso fresco. Nope, goat cheese! And while it will be the most expensive part of this recipe (pssst, buy it from Trader Joe's if you have one near you), it is also an ingredient you don't want to swap or leave out.
I was really concerned that these tacos would be dry. I mean, we're not adding any taco sauce or sour cream. But the flavor of the marinated ground pork, the sweetness of the diced peaches, and the creaminess of the goat cheese add a lot of moistness without drying out the taco ingredients and it all just really works together.
I will say that I wasn't sure how my Eden and Christian would feel about this meal. They aren't the biggest fans of lettuce (although Eden is a huge fan of Caesar salad) and I thought that with the cabbage and the arugula they might pick it out of their taco. They didn't! They ate every single bite and then went back for seconds! Even Ruby enjoyed this meal – which is saying a lot, because she is one picky baby!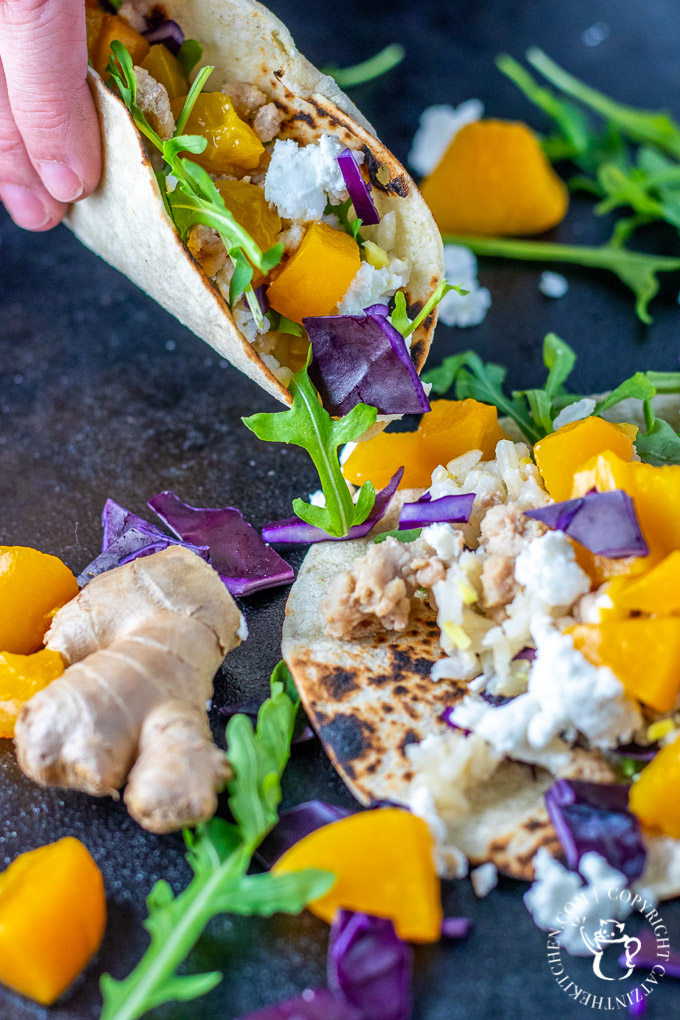 If you are looking forward to spring like I am and want to try a different kind of taco…a fusion blend of flavors and ingredients…and you've got goat cheese nearby – make this recipe! It's healthy. It's beautiful. It's quick. You will love it!!! This is probably one of my favorite tacos now!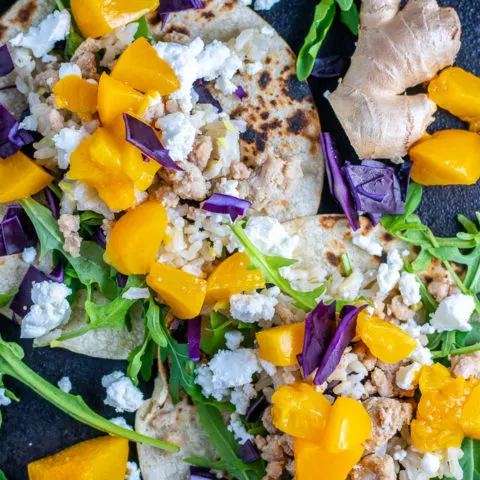 Pork and Peach Street Tacos
These pork and peach street tacos are a bright, light fusion blend of flavors and ingredients in a recipe that is healthy, quick, and, actually, beautiful!
Ingredients
2 (15 oz) canned peaches (in 100% juice), juices reserved and divided
4 cloves garlic, minced
2 tbsp honey
Salt and pepper, to taste
1 lb. ground pork (90% lean, 10% fat)
16 corn tortillas
2 tbsp fresh ginger, minced
2 cups cooked brown rice
2-4 cups baby arugula
2 cups chopped red cabbage
2 cups (8 oz) crumbled goat cheese
Instructions
Using a rice cooker or pot, cook the brown rice according to package directions about 30 minutes to starting dinner. It should finish cooking as your ready to assemble the tacos.
Mix reserved peach juice with garlic, honey, salt and pepper, and set aside. Place ground pork in a bowl and add peach marinade to the pork and set aside for 10-15 minutes.
While the pork is marinating, dice the peaches and chop the cabbage, setting it aside. Heat a sauce pan to medium heat and spray with cooking spray. Drain marinade from pork and discard. Add pork to pan and brown, cooking till it reaches an internal temperature of 145 degrees. Begin warming tortillas either by placing on the flame of a gas stove for a few seconds on each side, taking care to not burn them or warming in the oven or microwave.
Add ginger to cooked brown rice and mix well. Assemble tacos by adding arugula, red cabbage, rice, pork, and finally topping with goat cheese and diced peaches to your warmed tortilla.
Nutrition Information:
Yield:

8
Serving Size:

2
Amount Per Serving:
Calories:

557
Total Fat:

26g
Saturated Fat:

13g
Trans Fat:

0g
Unsaturated Fat:

11g
Cholesterol:

79mg
Sodium:

398mg
Carbohydrates:

53g
Fiber:

6g
Sugar:

16g
Protein:

31g