These steak street tacos are super tasty and incredibly easy to make! An inexpensive cut of steak works great, grilled alongside corn tortillas, with a fresh cabbage and salsa topping!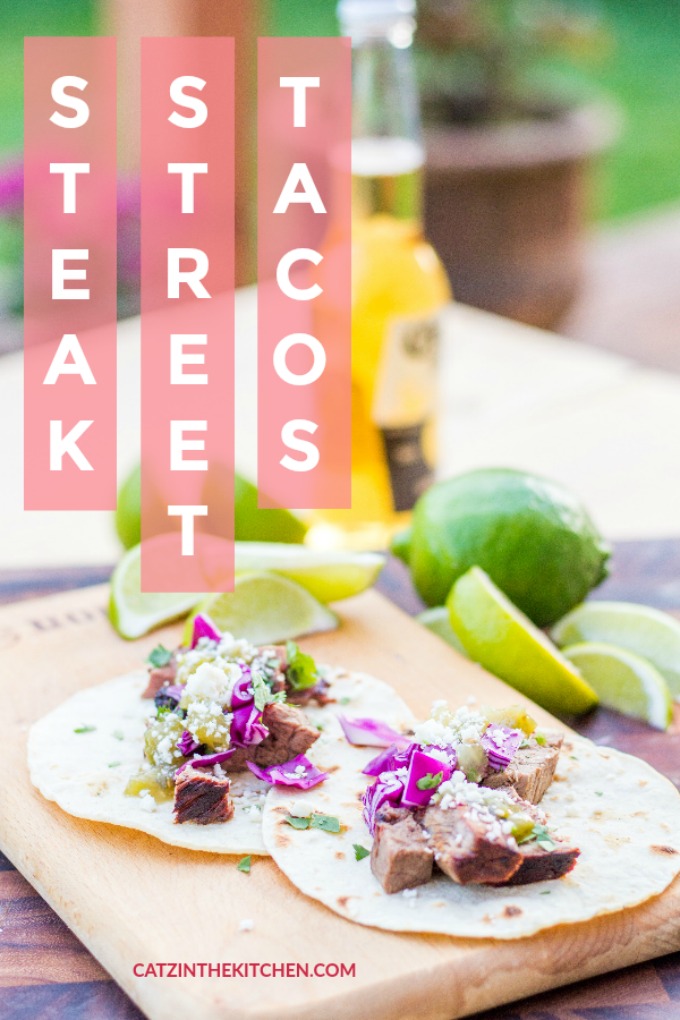 We love tacos. In fact, we have something like 19 different "taco" recipes on the blog these days (maybe 20, if you count this one). We may not quite be at the level of one of my colleagues, known colloquially as the "Chief Taco Inspector", but I'd like to think we're close. Five-year-old Christian sports his favorite t-shirt regularly on Taco Tuesday (it features a very cool taco wearing sunglasses), Chels carries a compact mirror in her purse adorned with "I ❤ Tacos" on the cover, and one of our favorite meals out is to the local taco truck down the street.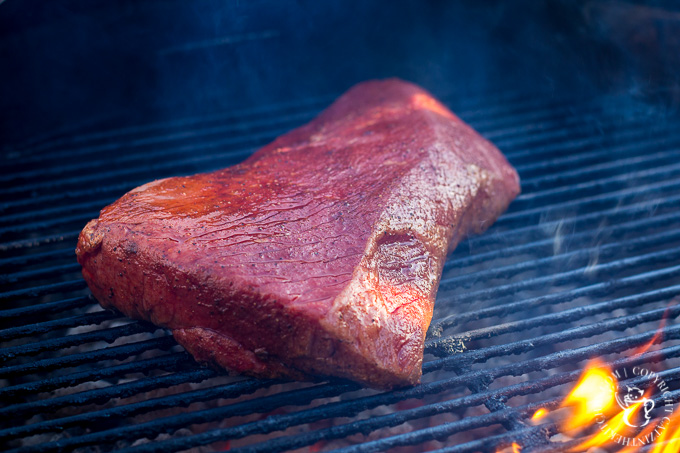 So, it will come as no surprise that Chels tries to keep an eye out for fun, new taco recipes to try (and occasionally blog). Awhile back (maybe a year?), she came across a recipe for the "ultimate fish taco" in Taste of Home magazine. Now, we love our fish tacos here at Catz, but as she perused the ingredients for this recipe, she couldn't help feeling like it would be better with…steak. And really, what's not better with steak?
Ice cream. Ice cream is not better with steak.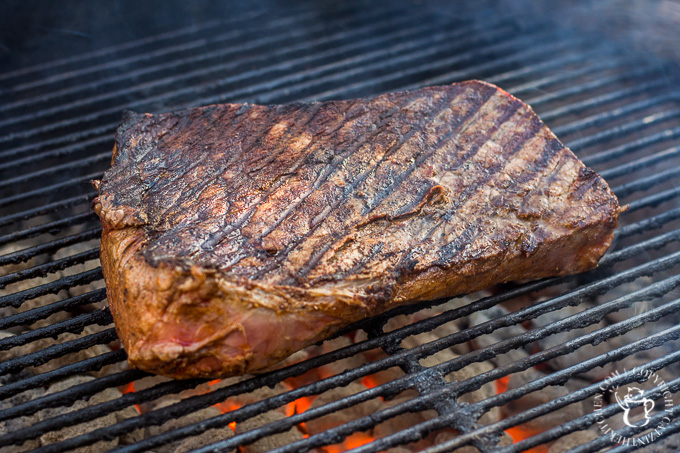 Anyway, she ran the idea by me, and I loved it. I also loved the idea of trying an inexpensive cut of steak with this recipe, as any recipe where you're going to be chopping the steak up into pieces has a tendency to be far more forgiving to tougher, leaner, or less flavorful cuts. For this one, I settled on a London broil around two pounds.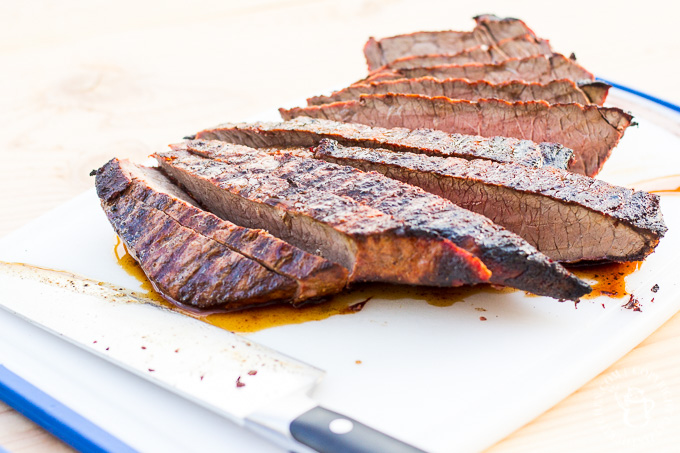 A London broil is technically a preparation method, not a cut of steak, but you'll usually find this top round steak labelled "London broil" at the meat counter, so we'll refer to it that way here. It's typically about $3 a pound, which is hard to beat! It makes this rather elegant, fresh, zesty taco dinner a cheap one, too.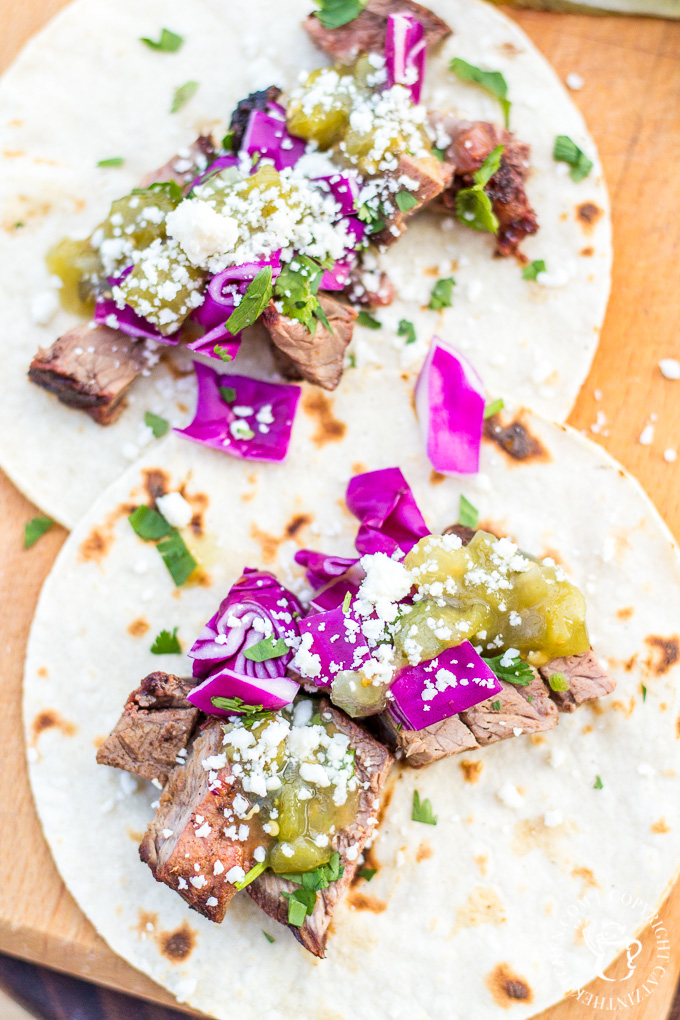 The simple marinade of spices and oil suits this meat just fine, and you can spice up the finished product with as much or as little spice as you want. For Chels and the kids, it's pretty much just the salsa verde. I might add a little hot sauce as well (or not – the salsa verde has a really nice, fresh zestiness to it).
These steak street tacos taste like summer. They're bright and colorful, with just the right amount of grilled, smoky flavor. And…you can eat a lot of them. Maybe get a little bigger London broil and make 18 or 20. You might need them.
Steak Street Tacos
Inactive Time:
30 minutes
These steak street tacos are super tasty and incredibly easy to make! An inexpensive cut of steak works great, grilled alongside corn tortillas, with a fresh cabbage and salsa topping!
Ingredients
2 lb London broil
1/4 cup olive oil
1 tsp ground cardamom
1 tsp paprika
1 tsp salt
1 tsp freshly ground black pepper
12-18 corn tortillas (6 in)
2 cups red cabbage, chopped
1 cup fresh cilantro, roughly chopped
Salsa verde
2 limes
Queso fresco
Instructions
Whisk together olive oil, cardamom, paprika, salt, and pepper in a small bowl.
Place London broil in a ziplock bag, and pour in marinade mixture. Seal bag and turn to coat the meat thoroughly. Allow to marinate for about 30 minutes.
While the steak is marinating, heat grill to medium high heat. When the grill has reached desired heat, place lid on and allow grate to heat up for about 5 minutes. Oil grill grate (preferably with canola oil), and place steak on grilling surface.
Discard remaining marinade, and allow steak to cook for about five minutes per side, or until the internal temperature reaches at least 145 degrees.
Remove steak from heat, tent with foil, and allow to rest for five minutes.
While the steak is resting, grill corn tortillas, allowing them to sit on the grilling surface directly over the heat for brief periods on each side (a few seconds), just until browning begins to occur.
Cut steak into bite-size chunks, place in center of tortilla, and top with cabbage, cilantro, salsa verde, and quest fresco. Serve immediately, with limes for squeezing.
Nutrition Information:
Yield:

18
Serving Size:

1
Amount Per Serving:
Calories:

258
Total Fat:

15g
Saturated Fat:

5g
Trans Fat:

0g
Unsaturated Fat:

8g
Cholesterol:

63mg
Sodium:

288mg
Carbohydrates:

13g
Fiber:

2g
Sugar:

1g
Protein:

18g
Nutrition information isn't always accurate.