This simple, flexible recipe for honey ginger stir fry with chicken should be one of your go-to easy weeknight dinner recipes!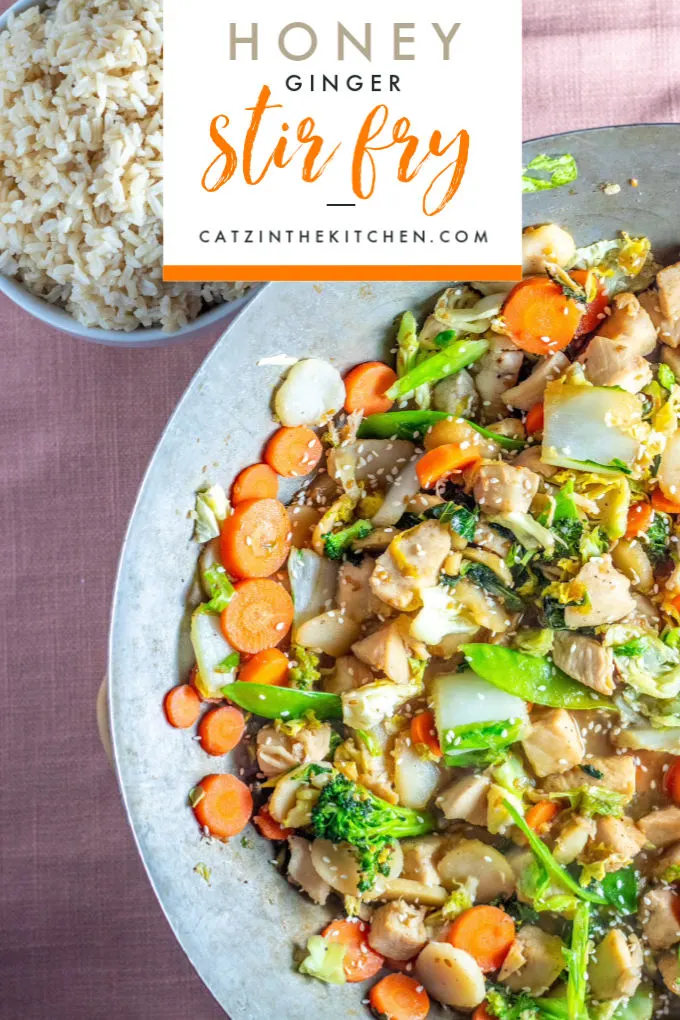 My mom owned a black and red wok when I was growing up, and when I would see that red lid on the counter, I knew mom was making stir fry that night. She always bought fresh vegetables for it, sometimes she would use tofu instead of meat (though that was rare), and sometimes she would even make some yakisoba noodles to go on the side!
I always got excited about stir fry because we didn't eat Chinese food very often, and the wok she used just seemed to make the meal more special because it was usually put away.
When Josh and I first got married and I didn't know a thing about cooking, stir fry was something we would make often. But it was with frozen vegetables that included a sauce bag that was always too salty. It took me awhile before I finally figured out that I could just make my own stir fry with the vegetables I preferred.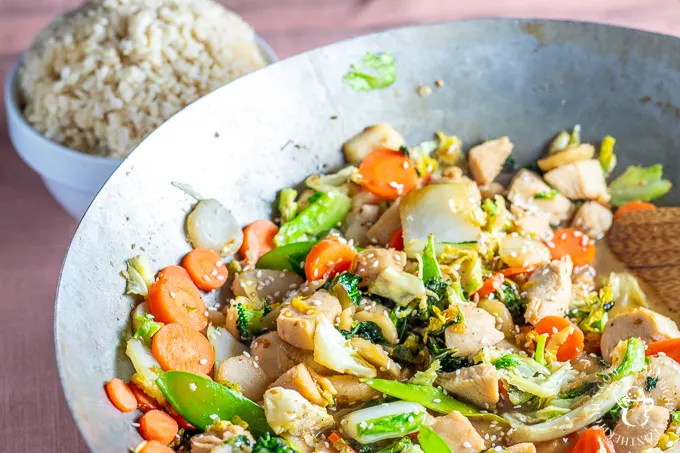 I think stir fry is one of those really affordable, flexible family meals. It can feed a lot of people and you can choose what produce you want in it. Broccoli, carrots, zucchini, mushrooms, bell peppers – even cabbages! I want to note that there is nothing wrong with using one of the frozen blends from the store, especially if you're in that dinner crunch mode, but I would avoid using the sauce packets if you go that route.
Do I have to use chicken breast in this meal?
No, you don't! You can use boneless, skinless chicken thighs or tenders, or you could even buy the beef strips from the meat department and use that instead. You'll just want to adjust the cook time to make sure it doesn't get overcooked.
What if I don't have soy sauce?
Teriyaki sauce works great in a pinch, and stores like Trader Joe's carry other varieties of soy sauce-like products that you can use, too.
How do I create more texture in stir fry?
I love to toast sesame seeds or use chopped peanuts and cashews to top our stir fry. Adding in frozen edemamme can also add more texture to your vegetable blend.
Any other tips on adding more flavor?
This is a pretty basic recipe meant to make dinner easier for you. But if you're wanting more flavor, here are a couple of ingredients you can add: freshly minced garlic, diced onions, fresh ginger (instead of ground ginger), sesame oil, 1/4 – 1/2 tsp ground cayenne, wasabi – you can even try topping your dish with a little sriracha!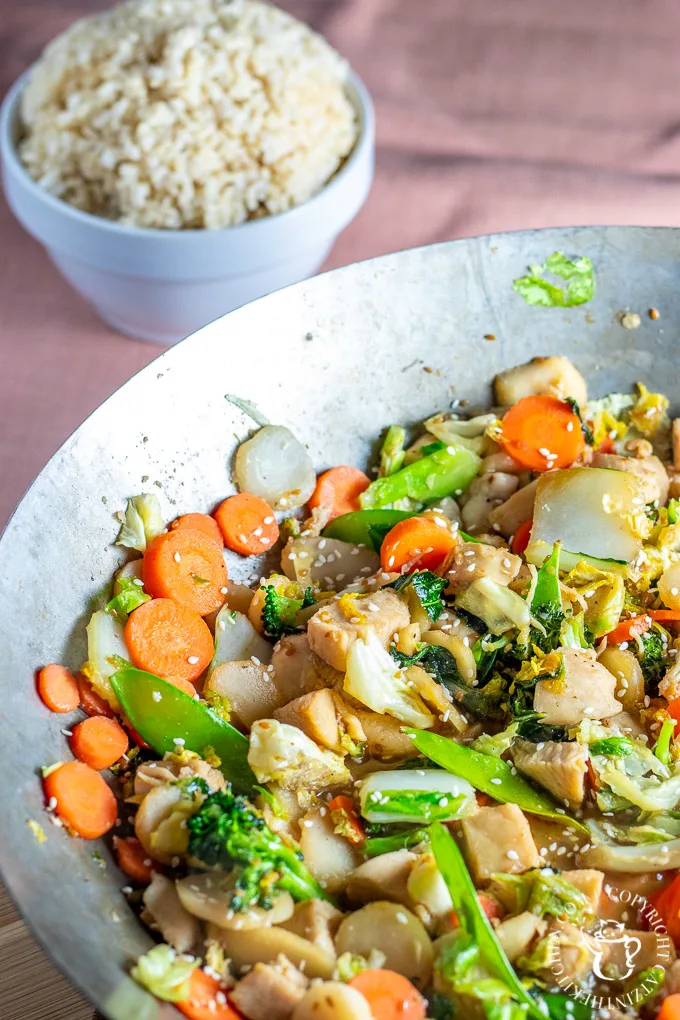 Feel free to serve your stir fry over white or brown rice (we prefer brown) – or you can try cauliflower rice for a low-carb option. You can use noodles, too. Any leftover vegetables can also be used for fried rice!
I hope this meal gives you another creative idea for dinner one night. If you've got picky eaters, take them into the store and have them pick out vegetables to put into the dinner. Ask them what kind of meat they'd like to use. To make this meal even simpler, I love using my rice cooker to prepare the rice. It makes dinner that much easier because it is one less thing I have to watch…and when it's done cooking, it's perfect and ready to go when I am!
Now, that's my kind of dinner.
Honey Ginger Stir Fry
This simple, flexible recipe for honey ginger stir fry with chicken should be one of your go-to easy weeknight dinner recipes!
Ingredients
1/4 cup honey
3 tsp soy sauce
1 1/2 tsp lemon juice
1 tsp ground ginger
1.25 lb boneless, skinless chicken breast diced into bite-sized chunks
1/2 tsp salt
1/2 tsp ground pepper
1 tbsp canola or vegetable oil
1 (24 oz) bag of fresh stir-fry blend (or you can use a combination of your favorite veggies)
1 (8 oz) can sliced water chestnuts, drained
4-6 cups cooked white or brown rice
Sesame seeds for topping
Instructions
In a small bowl, whisk together honey, soy sauce, lemon juice, and ginger; set aside.
Sprinkle chicken with salt and pepper. In a large skillet or wok (we use this one), stir fry chicken for 3-8 minutes or until chicken is cooked (and lightly browned) and liquid is mostly dissolved. Add in the chopped vegetables and water chestnuts. Stir 3-4 minutes longer or until vegetables are crisp-tender.
Stir honey mixture into the chicken and veggie blend. Cook for 3-5 minutes or until heated through. Serve over prepared rice.
Notes
* I love to also add minced garlic and finely diced onion if I've got it on hand and the time to chop it for dinner.
*Teriyaki sauce instead of soy sauce works well too.
* For more crunch, add chopped cashew nuts instead of sesame seeds to the top of the stir-fry.
*Boneless, skinless chicken thighs & boneless skinless chicken tenders work great too!