Tired of the same old taco on your "Taco Tuesday" nights? Give these easy loaded baked nachos a try! They're bright, filling, and easy as pie!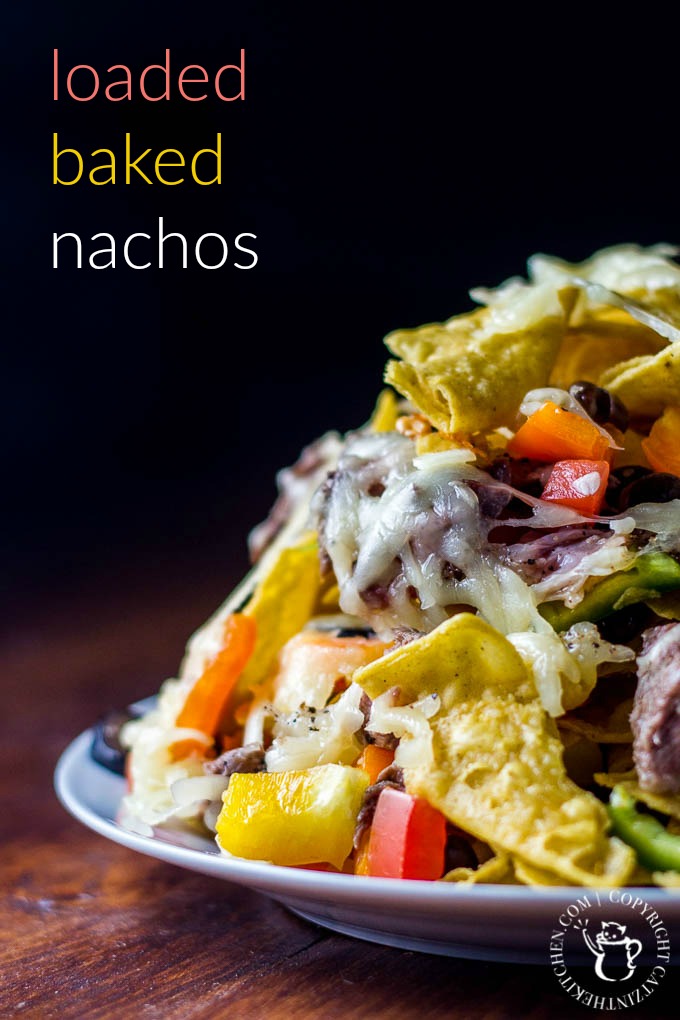 This post originally appeared on Catz in August of 2013. We've updated the recipe just a bit – though it's still one of those "do whatever you want" kind of dinner ideas – and the main pictures are new as well. Though the step-by-step photos aren't great, they are helpful, so we've left them in, and left the post itself alone as well. Enjoy!
We like to have what most people have dubbed "Taco Tuesday" in our house. If I go a week without Mexican food, I start to twitch and shake from withdrawals. Our taco Tuesday's don't always involve tacos though. On a Tuesday, pretty much any kind of Mexican variety will do.
One of my family's favorite Tuesday dinners are nachos. They are pretty quick to assemble, filling, and full or color!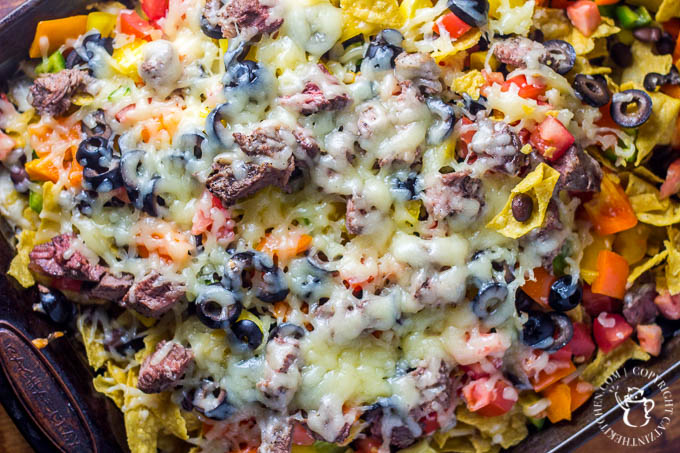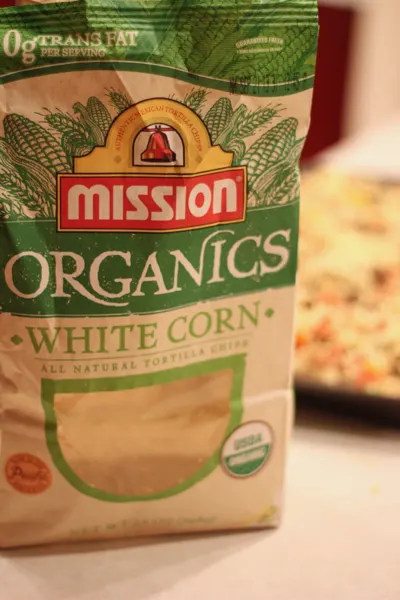 Chips are the most important component to a nacho-we really like these Mission Organics white corn tortillas. They have a really delicious flavor to them and they don't soak up as much moisture as some other tortilla chips do. Update: While these are still great, if you have a local store that carries Juanita's, get Juanita's. They are wonderful.
Get your largest baking sheet (with high sides) out and pour the chips onto your baking sheet.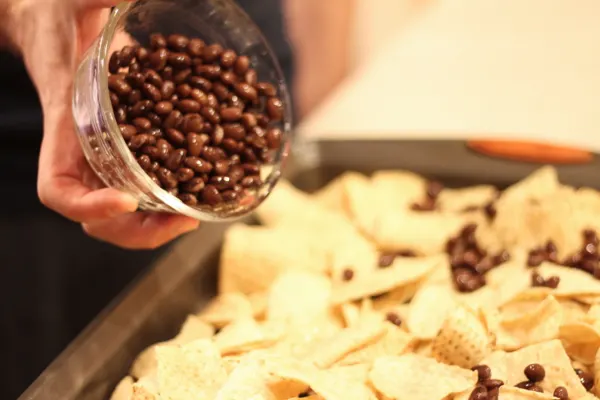 Sprinkle some black beans over the tortilla chips. (The beans should be drained and rinsed.)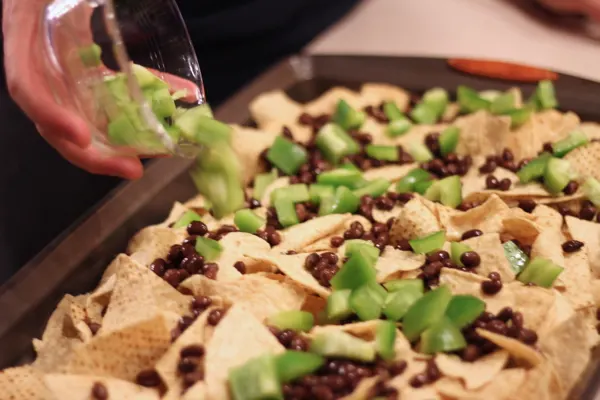 Sprinkle some chopped green bell pepper over the chips and beans next. One bell pepper is perfect!
If you want something with more kick, you could add a chili pepper in its place.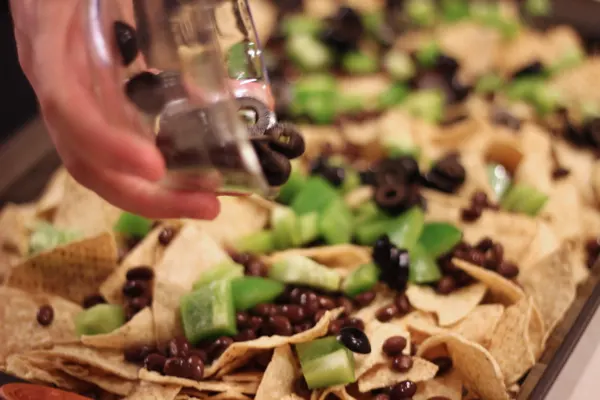 Don't forget the sliced black olives. ( About 1/2 cup.)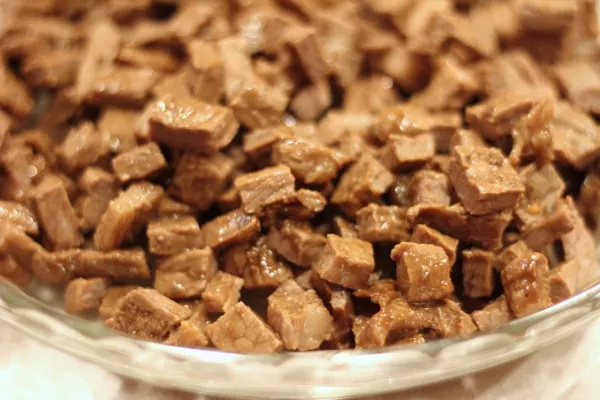 Let's talk meat for a second – we used about 2 cups of a thin cut steak that had been marinated in a store bought marinade, but we've used chicken, ground beef, and ground turkey before and they are all delicious. You want roughly two cups of meat…or half a package of ground beef/turkey that's been already browned and seasoned. So, we've probably made these nachos about 25 times since writing this post, usually without any meat at all. It's a great Meatless Monday meal in addition to being a Taco Tuesday special! Most recently, we've picked up a decent piece of rib eye, seasoned it with oil, pepper, and salt, and cut it into strips. Wow, that is yummy…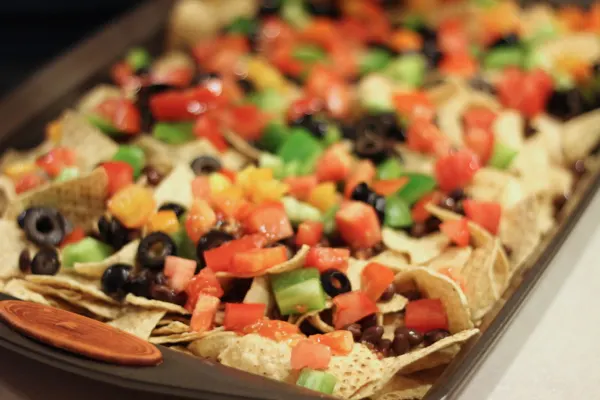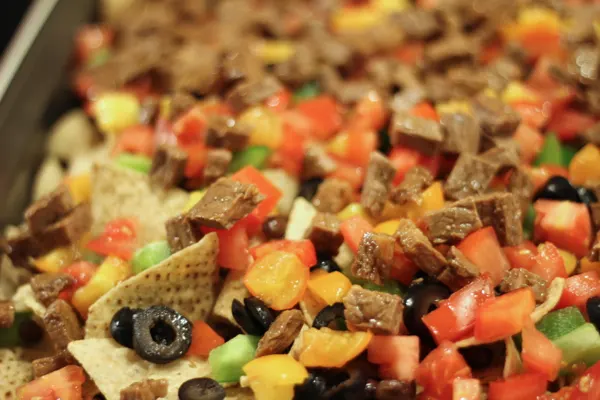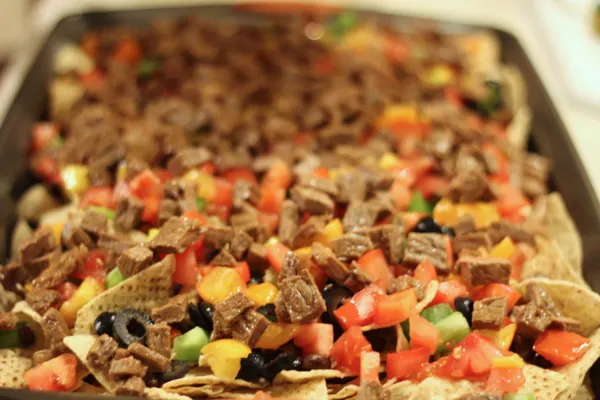 Evenly distribute diced tomatoes and your meat.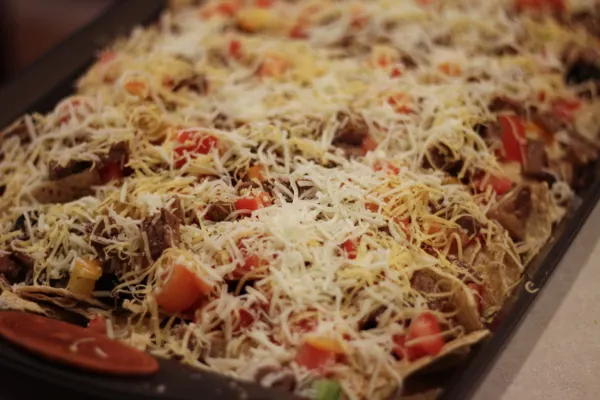 Cover with shredded cheese and stick in a 350 degree pre-heated oven for 10 minutes.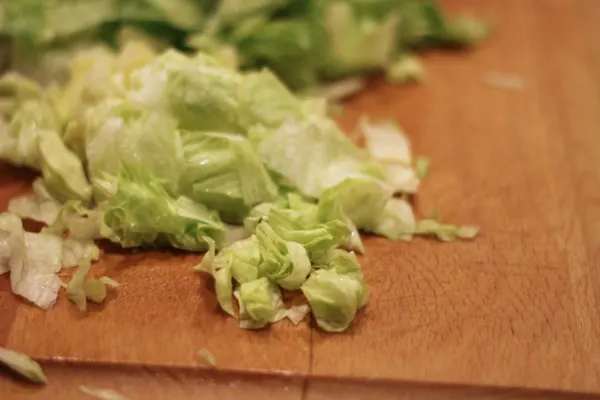 While the nachos are baking, chop up 3 cups of crunchy iceberg lettuce…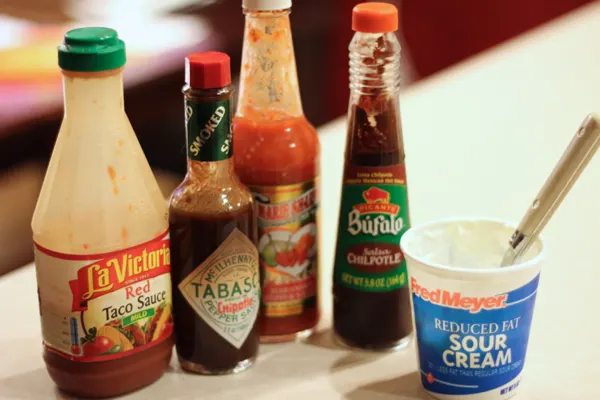 and set out your condiments.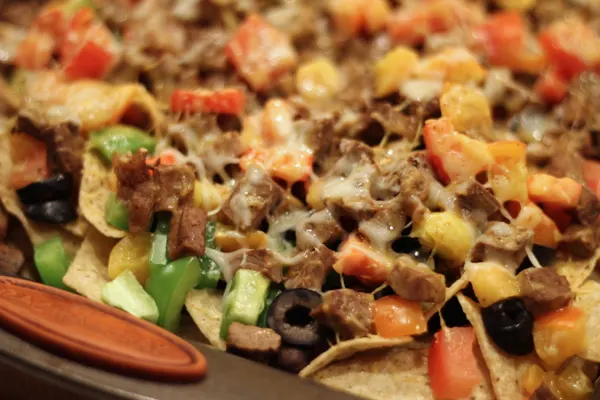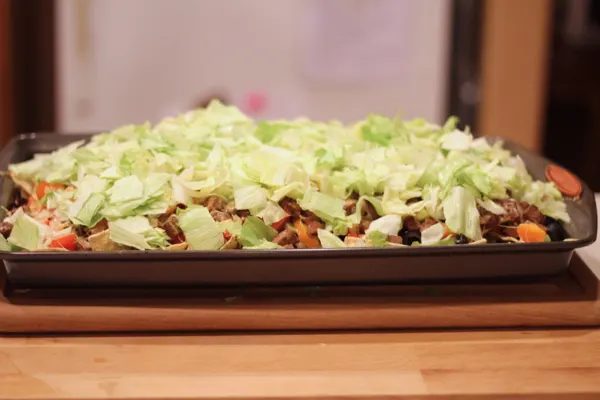 Remove from oven when the cheese has melted and cover the nacho with the lettuce. The lettuce is definitely optional.
Serve up a plateful (you might want to use a fork as well as your fingers to eat this) and top it with your favorite Mexican-style condiments.
This a great dinner to make when your running short on time, your kids are having their friends over for dinner, or even a game day snack! Trust me, it feeds a ton! So if you need something new to try on "Taco Tuesday" give this nacho a try!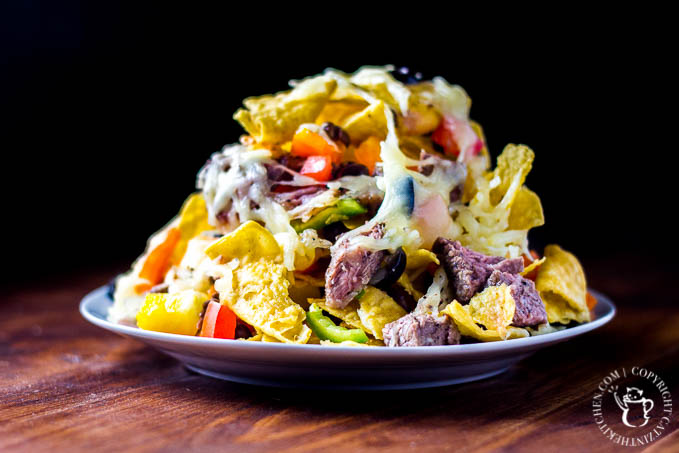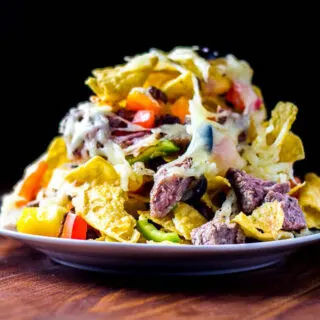 Loaded Baked Nachos
Tired of the same old taco on your "Taco Tuesday" nights? Give these easy loaded baked nachos a try! They're bright, filling, and easy as pie!
Ingredients
1 whole package of good quality, sturdy corn tortilla chips
1 (15 oz can) black beans, drained and rinsed
1/2 cup sliced black olives
2 whole bell peppers, seeded and chopped (grab different colors)
2 cups of diced rib eye steak, ground beef or turkey breast, or shredded chicken (already browned, seasoned, and cooked)
3-4 tomatoes on the vine, diced
1 cup shredded cheese, cheddar or a Mexican blend
1 cup shredded Monterey Jack cheese
3 cups iceberg lettuce, chopped (optional)
Additional toppings - sour cream, sliced avocado, chili peppers, hot sauce, etc
Instructions
Pre-heat oven to 350 degrees. Cook, brown, shred and season any meat toppings you are using. Set aside.
On a large baking sheet with sides, pour the tortilla chips out and spread them around evenly.
Top the chips with beans, bell pepper, olives, meat, tomatoes, and cheese.
Place baking sheet in oven and bake for about 10 minutes, or until cheese is totally melted.
Remove and optionally top with chopped lettuce and condiments. Serve warm.
Nutrition Information:
Yield:

8
Serving Size:

1
Amount Per Serving:
Calories:

447
Total Fat:

29g
Saturated Fat:

12g
Trans Fat:

0g
Unsaturated Fat:

14g
Cholesterol:

105mg
Sodium:

440mg
Carbohydrates:

14g
Fiber:

4g
Sugar:

5g
Protein:

35g