This recipe for beef stew with cheddar herbed biscuits has become our family's ultimate winter comfort food!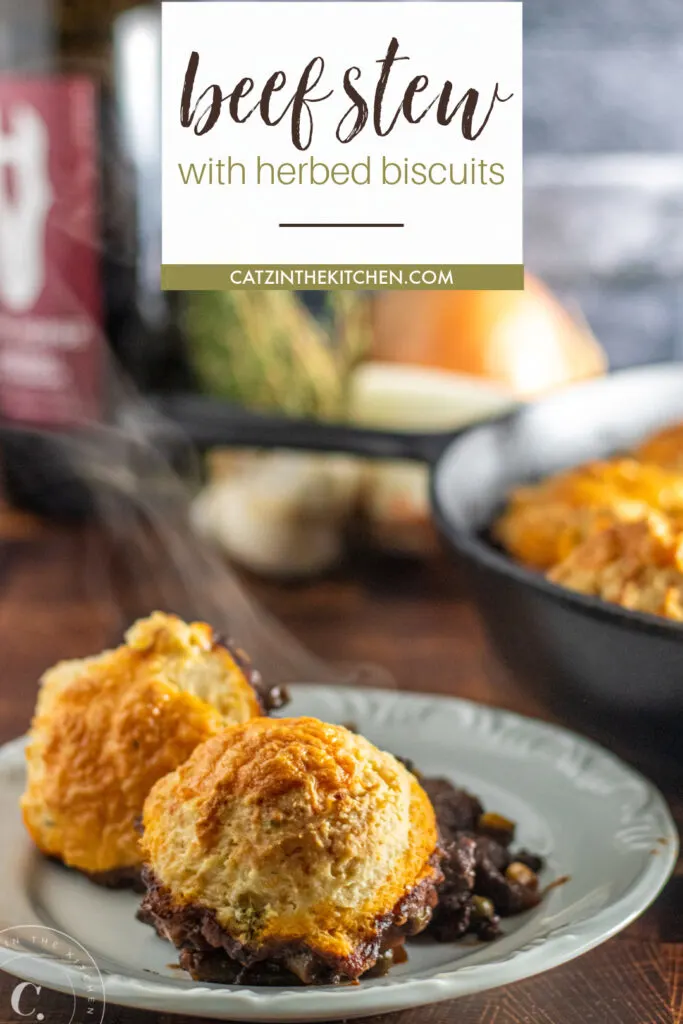 I have been so excited to share this recipe with you. I've tested it and tested it and made it until we (my family) thinks it is perfect! This is the meal you want to make when it is either really cold out – maybe even snowing – OR when it is just a yucky stormy day and you don't want to go anywhere. It is the kind of meal that feels, smells, and tastes like pure, homey comfort, AND it is also the kind of meal that you could easily serve to some guests in your home if you wanted to warm them up and make them feel cozy.
Basically, to me, this is the perfect winter dinner and I've been itching to share it with you.
I'm going to tell you something else that I think you're going to be excited to read about. This is a one pan meal…except for when it comes to making the biscuits. For that you need an extra bowl, but other than that, one bowl. But still…basically, one pan + one bowl. It honestly does not get any better.
I know in January I'm probably supposed to be sharing recipes with you that are uber healthy because new year, new you right? I get it. After the holidays, I think we're all craving less sugar, more vegetables, and feel-better foods. However, I really believe in balance when it comes to food, because it is all about living a lifestyle that we can maintain and enjoy. Diets only last so long, and while I personally could probably eat a salad every day, I still want food that I can indulge in a bit.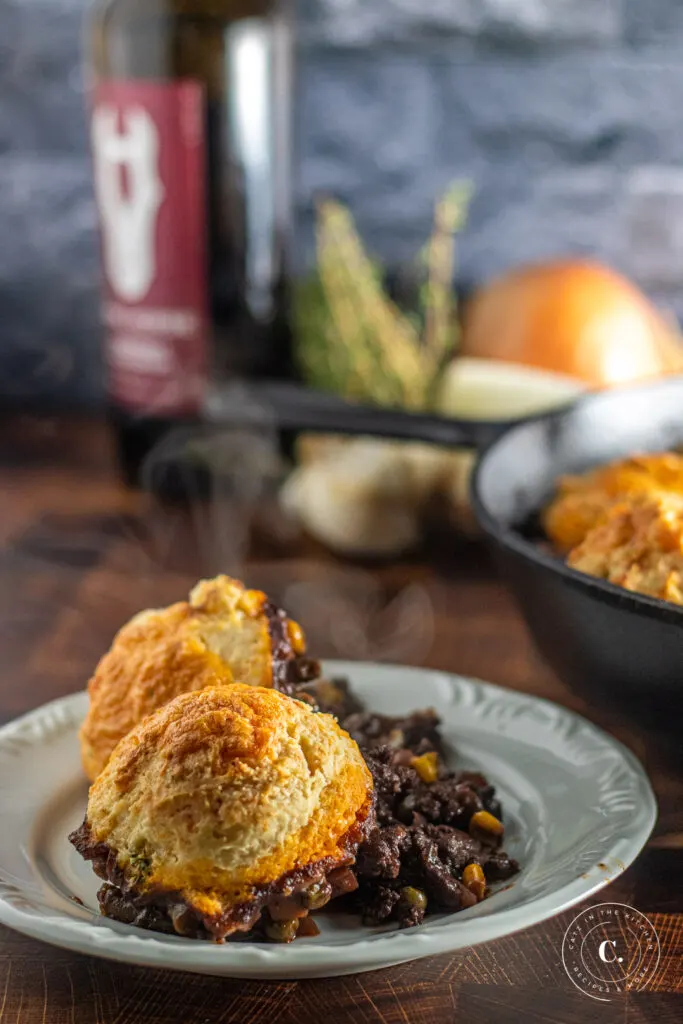 However, I don't really qualify this meal as one of those indulgent meals. It tastes fancy because of how the flavors have coalesced into this aromatic explosion that seems to hit every sense (and because it has an entire bottle of red wine in it), but it is definitely one you can eat, enjoy, and go on with your life…because enjoying food should never be about any kind of punishment. You should never feel like you need to run that extra mile or be at the gym for an extra 30 or so minutes. I love to work out, and I love to eat tasty meals!
Balance.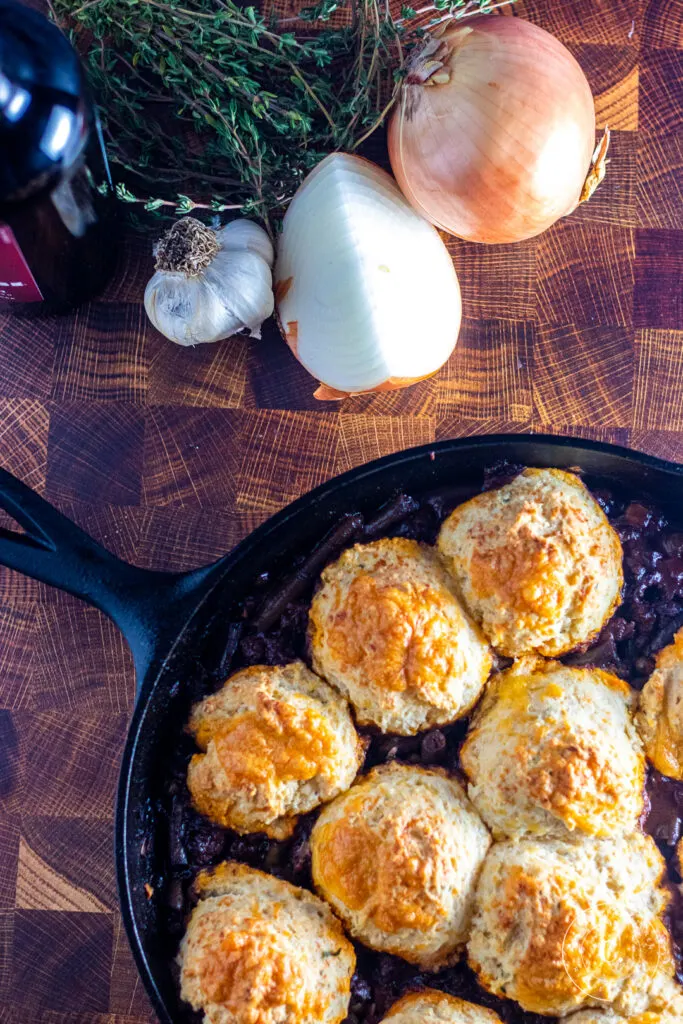 This meal is all about balance. It has ground beef (protein + iron), vegetables, and some carbs. It even has dairy thanks to the cheese and buttermilk. Basically every part of the food pyramid is supported here in this one pan meal. Balance! Am I Right?
For this meal, I highly recommend a cast-iron skillet. A 12-inch one if you've got it. If you don't have a cast-iron pan, you could use a dutch oven, or an oven safe pan with high sides. It just needs to be able to handle the heat of a 450 degree oven. Otherwise, you could make this meal in a pan and transfer it to a baking dish – but that feels like more work. But it is worth that extra step if need be!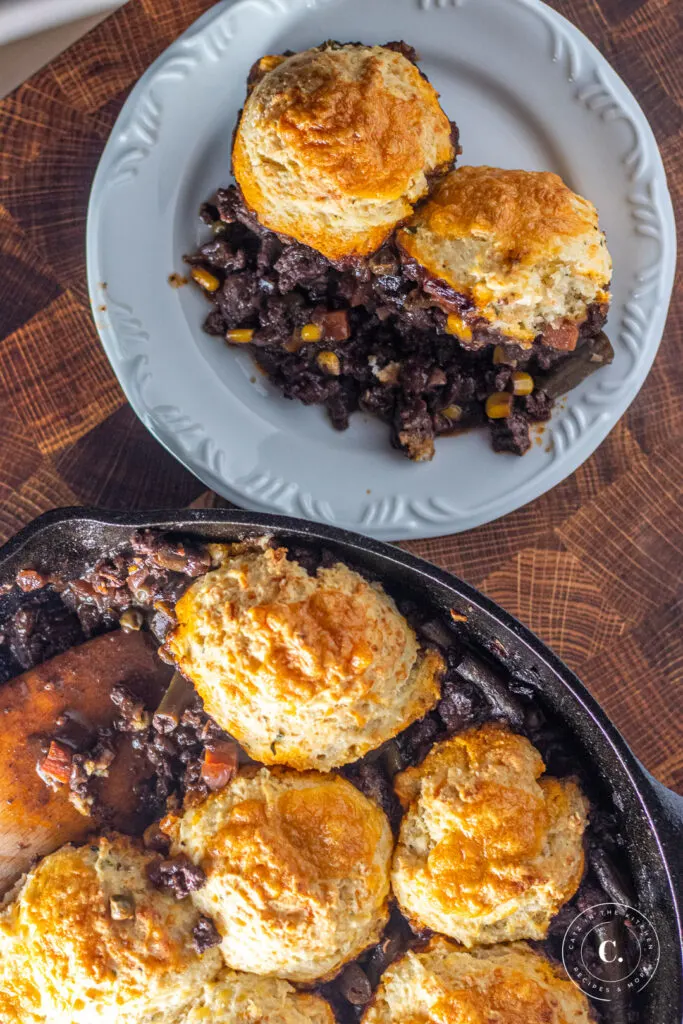 You will also need self-rising flour. This is for the biscuits. Normal flour will not work here because then your biscuits will not rise otherwise. You want them to rise. (I also realized that in the making of this recipe this was a specific ingredient that Josh was omitting whenever he tried to make Joanna's biscuits. I'm not sure he knew there was a difference or that I had this specific flour on hand. Don't be like Josh.) Editor's note: He didn't know. Don't be like Josh.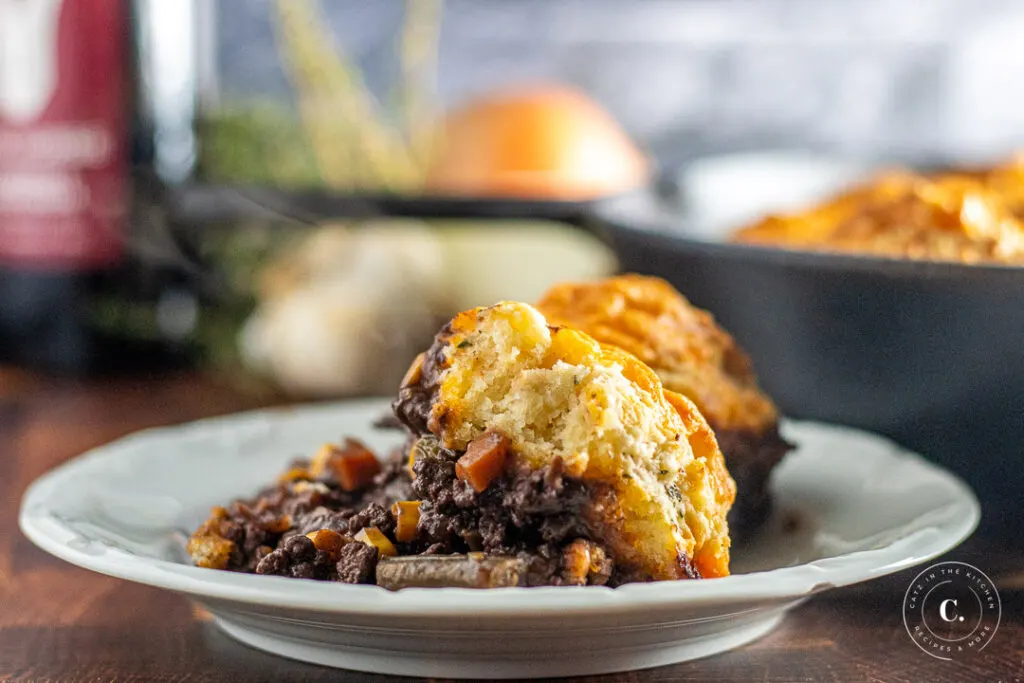 A few other key ingredients you need: fresh thyme. It makes all the difference in the stew, but you also want that flavor in the biscuits. It won't be the same if you used dried. Buttermilk. This helps get that pillowy texture in the biscuits. And red wine, specifically, Cabernet Sauvignon or a robust red blend. You will want to buy a good quality red wine and use the whole bottle – all 750 ml. However, you can sub the wine out for beef stock…or use half beef stock and half wine, but trust me, you want the wine. All the alcohol cooks out anyways – it's just the delightful flavor that remains!
This meal has been requested over and over again in my family. I had no idea it would be such a hit but even Josh was nuts about it which was a total surprise to me. I just wasn't expecting that.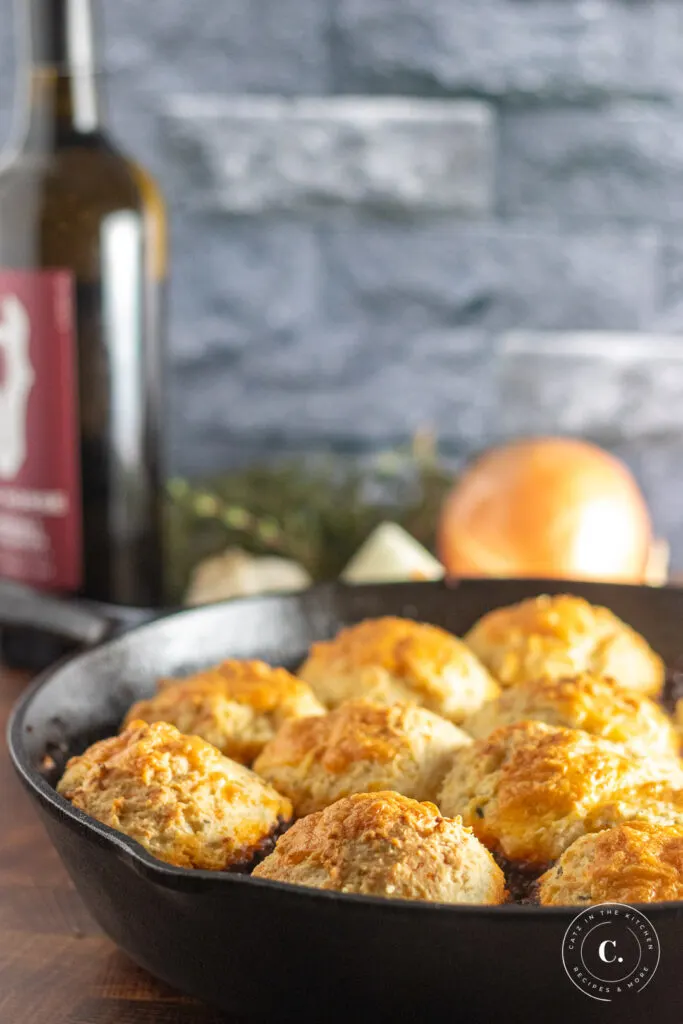 My only disclaimer is this – stew is a little chunky and soupy, right? Not thin, but really thick. Almost chili-like. This has a much thicker texture than your typical stew because it really does tighten up once it hits the oven. So maybe you will claim that this "isn't a real stew." To-mae-toe. To-mot-toe. Each to their own. Just make it and don't judge it by what it's called in this specific recipe.
Now get cooking!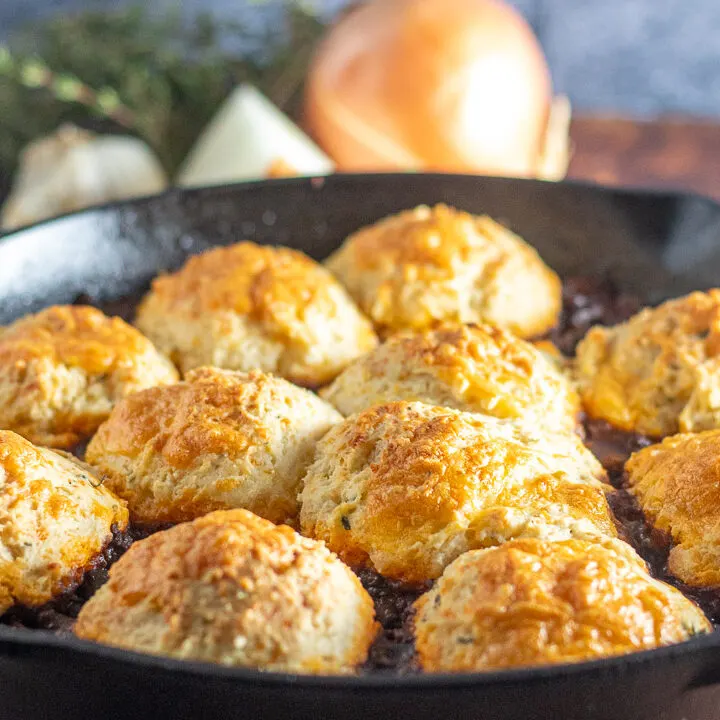 Beef Stew with Cheddar Herbed Biscuits
This recipe for beef stew with cheddar herbed biscuits has become our family's ultimate winter comfort food!
Ingredients
1 lb. ground sirloiin
1 onion, diced
2 tsp fresh thyme, minced
1 tsp minced garlic, 2-3 cloves
Freshly ground pepper and Kosher salt to taste
3 tbsp tomato paste
1 tbsp all purpose flour
3 cup (750 ml) bottle red wine -Cabernet Sauvignon
1 12 oz pkg frozen vegetable medley, thawed
Cheddar Herb Biscuits
2 cups self-rising flour
1 tsp kosher salt
1/2 cup unsalted butter, cold and diced into small chunks
1 cup cheddar cheese, shredded
2 tbsp fresh thyme, minced
1 cup buttermilk
Instructions
Preheat oven to 450 degrees. Heat a large ( 12-inch) cast-iron pan over medium-high heat. Add ground sirloin, cooking breaking up and stirring with wooden spoon, about 6-8 minutes. Add diced onions, cook. Add fresh thyme, garlic, and salt and pepper. Cook until fragrant and softened, 2-3 minutes. Stir in tomato paste and 1 tbsp flour. Cook stirring often until well-incorporated, about 2 minutes.
Add thawed vegetables and stir to combine. Pour in red wine and bring to a boil. Reduce heat to medium-low; simmer until thickened 15-20 minutes. Meanwhile in a large bowl, whisk together self-rising flour and kosher salt. Using your hands work in the small pieces of cold butter until it clumps together and is evenly distributed. Stir in 1/2 cup cheddar cheese , minced herbs, and buttermilk until incorporated.
Using an ice cream scoop, drop biscuit dough onto stew, leaving 1/2 inch space between biscuits. Sprinkle cheese on top. Place skillet on rimmed baking sheet and bake for 20-22 minutes. Let stand for 5 minutes and serve.
Notes
Adapted from Southern Living magazine
Nutrition Information:
Yield:

8
Serving Size:

1
Amount Per Serving:
Calories:

388
Total Fat:

19g
Saturated Fat:

11g
Trans Fat:

0g
Unsaturated Fat:

6g
Cholesterol:

50mg
Sodium:

795mg
Carbohydrates:

34g
Fiber:

3g
Sugar:

4g
Protein:

9g
Nutrition information isn't always accurate.