It's classic, it's traditional, it's French, & it's absolutely spectacular. Whether you love it or have never tried it, you must make this bœuf bourguignon!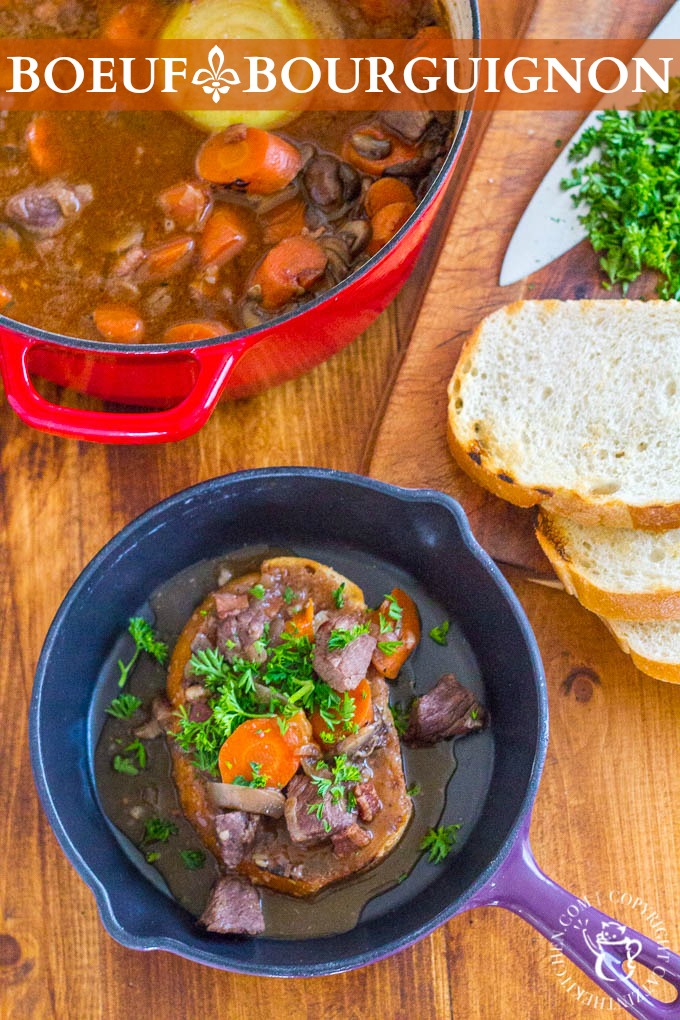 Bœuf Bourguignon. If you're like we were, you've never tried it. You've heard of it, of course…and wondered, it's "beef" right? What is "bœuf" anyway? Or maybe your menu French taught you that much, along with œuf and fromage. Perhaps you're actually unlike we were, and you have tried it – it does show up on the occasional restaurant menu now and again, even if you aren't in the habit of frequenting restaurants gastronomique français. Made famous in the States about fifty years ago by the incomparable Julia Child, it's a centuries-old French dish that made another pop culture splash with its big scene in Julie & Julia back in 2009.
And it's outrageously good.
No, I mean it. Chels and I both came into this with high expectations (it's French food, after all!), and even our lofty hopes were completely blown away by how ridiculously fantastic the flavors of this dish are. Stupid good, as they say in more refined society. Now, before we go any further, I should clarify – this is not Julia Child's recipe. This one is a very slightly modified version of Ina Garten's, and you really can't go wrong following Ina's lead either!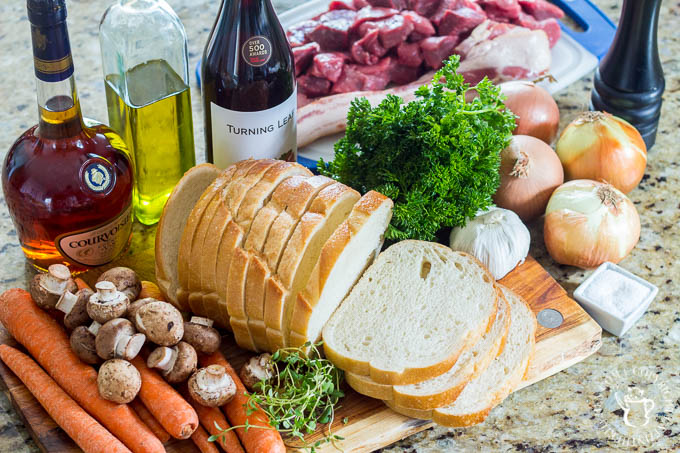 Once you assemble the rather large cast of ingredients for this particular culinary undertaking, it becomes obvious that the dish has its roots in French peasantry – plainly, it wasn't always haute cuisine. Every ingredient is something you could picture on the counter of an old French farmhouse, from the rustic onions and carrots to the bottle of Cognac. By the way, if you haven't cooked with Cognac before…you'll have plenty left over to make our favorite cake. Apparently, bœuf bourguignon remained a rustic, albeit classic, country dish from the Burgundy region of eastern France until sometime around the late 1800's, when Auguste Escoffier is believed to have nailed down the basic recipe that we still follow today (thanks, Wikipedia!).
This recipe can be a fairly spendy undertaking if your liquor cabinet isn't already stocked with pinot noir and Cognac, but it can also be incredibly cheap if you've got the aforementioned liquid ingredients on hand, along with some bacon and chuck steak in the freezer. For us, this is a special occasion meal – it's a multi-hour process we only go through once or twice a year, but oh-so-worth-it when we do!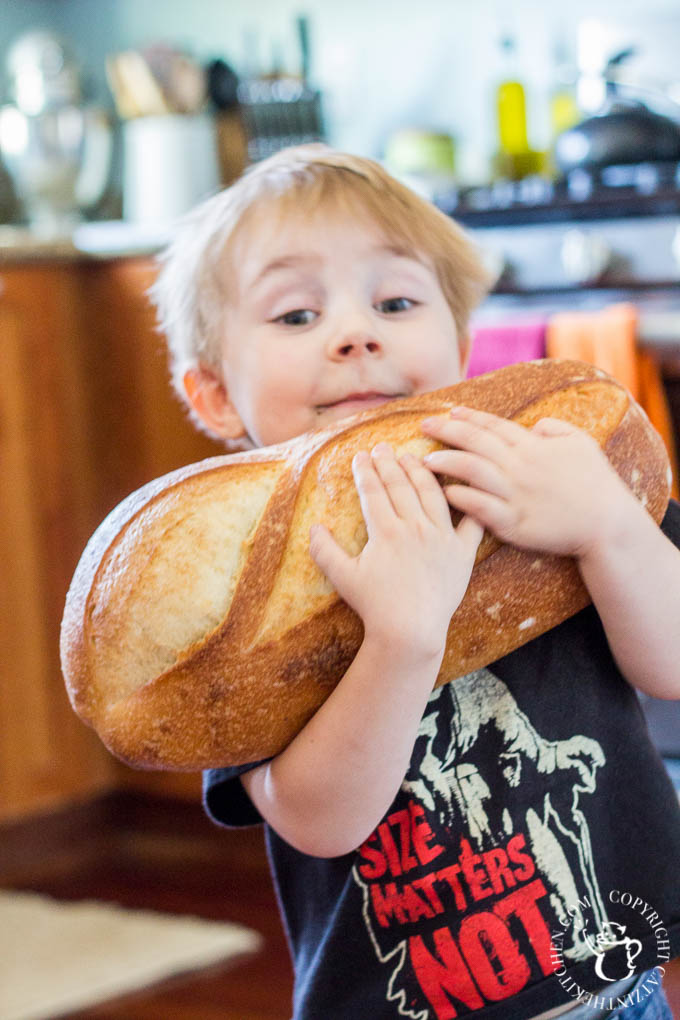 The bread is just your serving vessel here – nothing more than a sturdy platform for your fancy French stew to rest upon – but picking out a good, thick loaf with a crunchy crust that will hold up to garlic and grilling is important.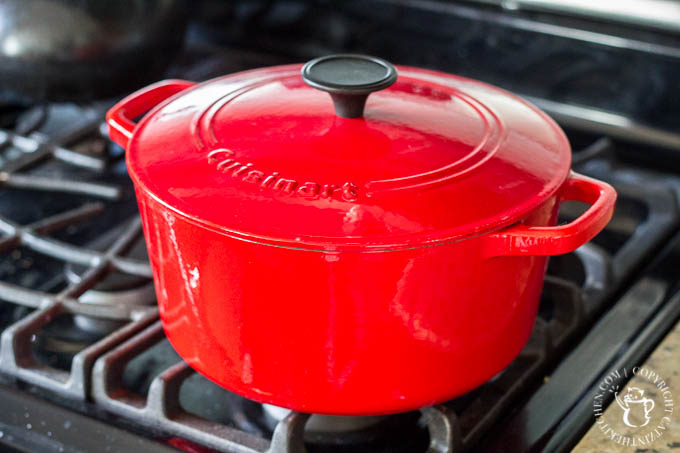 Another key element is the Dutch oven. You need it – no real way around that! You don't have to have an expensive one, but there isn't a good substitute when making a dish like this. If you've got a beautiful Le Creuset, more power to you, but otherwise, grab yourself any solid one (we picked our Cuisinart up at TJ Maxx!) – you'll use it all the time!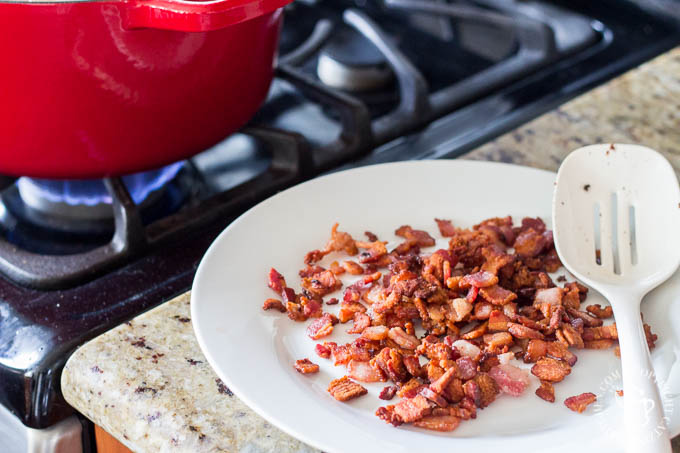 You know a recipe is going to be alright when it starts with bacon. I mean, really, how far wrong can you go?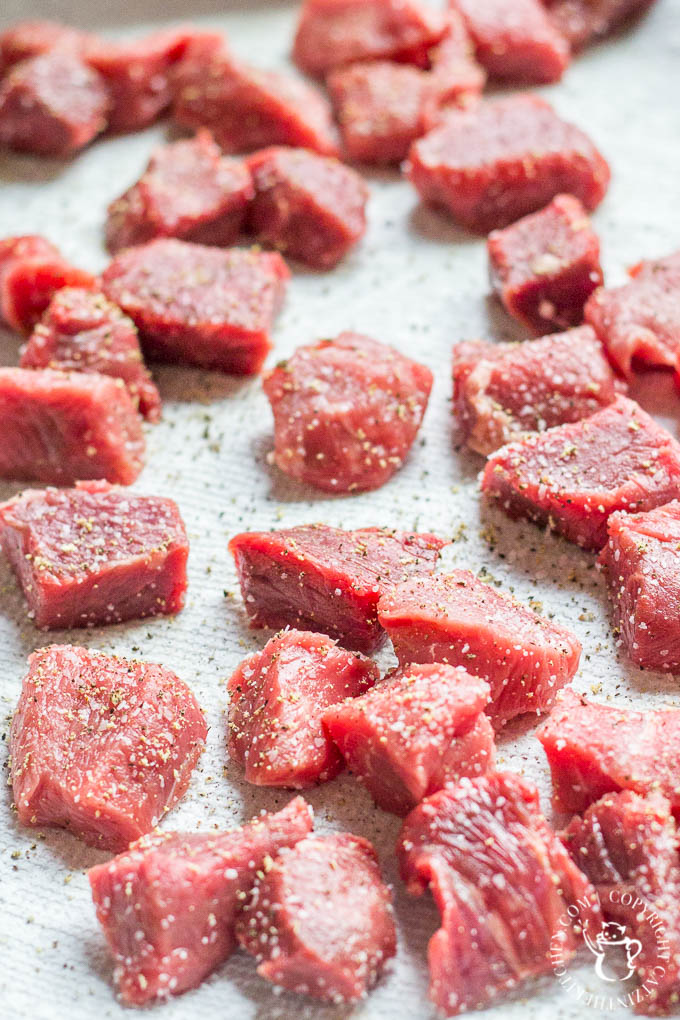 Drying chunks of beef with paper towels still never ceases to strike me as strange, but it does make a difference in the way it sears in the oil – don't skip this step!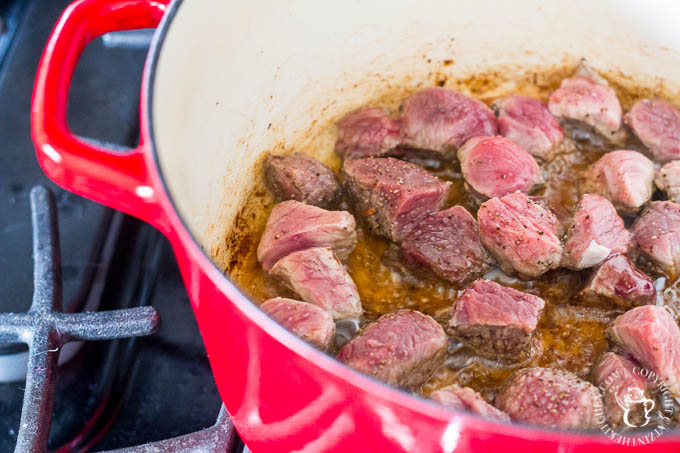 Obviously, I would make a terrible vegetarian – I absolutely love the way the beef smells as it browns in the oil and bacon grease in the bottom of the Dutch oven. Carnivore heaven right here.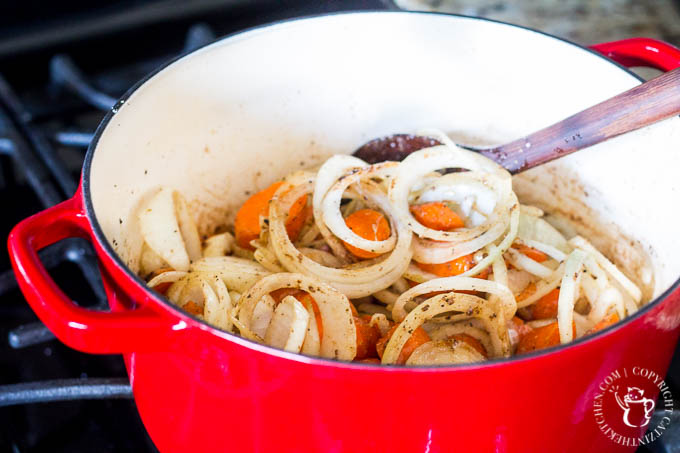 You'd think nothing could top that marvelous meat medley, but as the onions and carrots cook down in that same oil, the situation does not worsen – oh, no. It just keeps getting better. Why? Well, not only does it smell amazing, but we're about to get to the part where you try to burn the house down. Literally.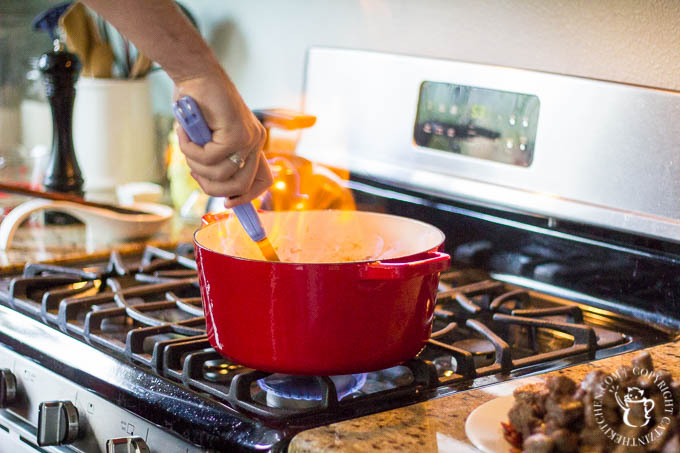 So, when you add the Cognac to the vegetables and oil, you've got to burn off the alcohol. You want the flavor, but not the booze. Naturally, to achieve this, you reach in and set the whole thing on fire. If you've never done this before, it's either a total blast or super scary, probably depending on your sanity level. It will crackle and burn for a few minutes, leaving your veggies with this wonderful slightly charred look and unbelievable aroma. Don't be afraid. Do be careful.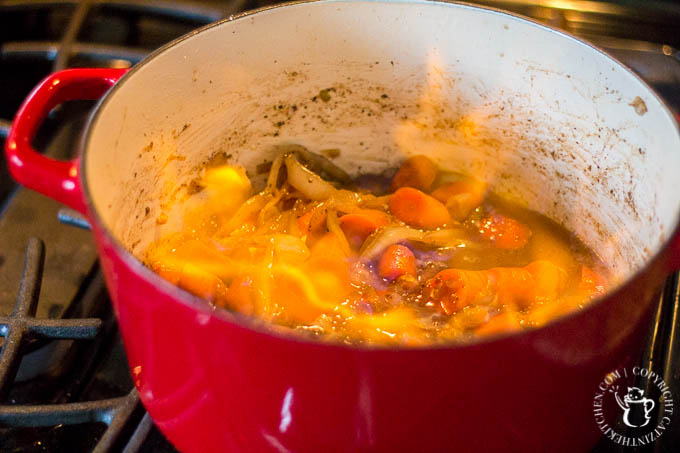 And then, because your stew wasn't boozy enough, you're going to add a whole bottle of pinot noir (Ina says any good, dry red wine is probably fine). Okay, obviously, all of the alcohol cooks out, but the residual flavor will knock your socks off. This is not a subtle dish. It's one of the ones you crave.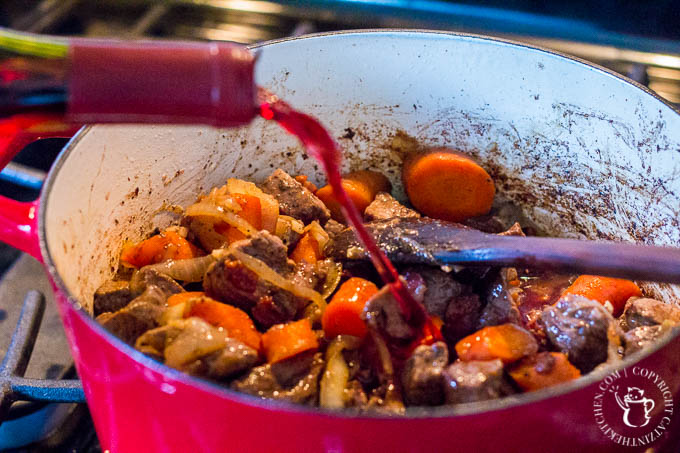 I'm not typically a big "broth" guy – just ask Chels – but as you work your way through the many steps of this bœuf bourguignon, you'll come to realize that the broth, even more than the steak, really is the star. Spices, bacon, olive oil, onions, Cognac, pinot…it's all come together to achieve a unique and complex flavor that's really something special.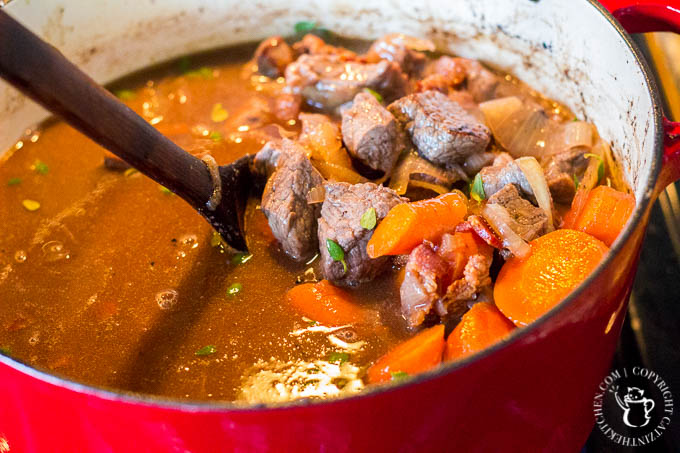 One important note of variation from Ina's recipe: she uses the traditional pearl as her frozen onion. We've made this a few times, and we've never been successful in finding these frozen pearls! So, instead, we've frozen some whole onions, and added them to the stew for flavor. If you can find the pearls where you are, go for it – and let us know where you found them! I'm sure we'll stumble across them eventually. Frankly, I think the kids found it more approachable sans the whole pearl onions, so that may have worked in our favor anyway.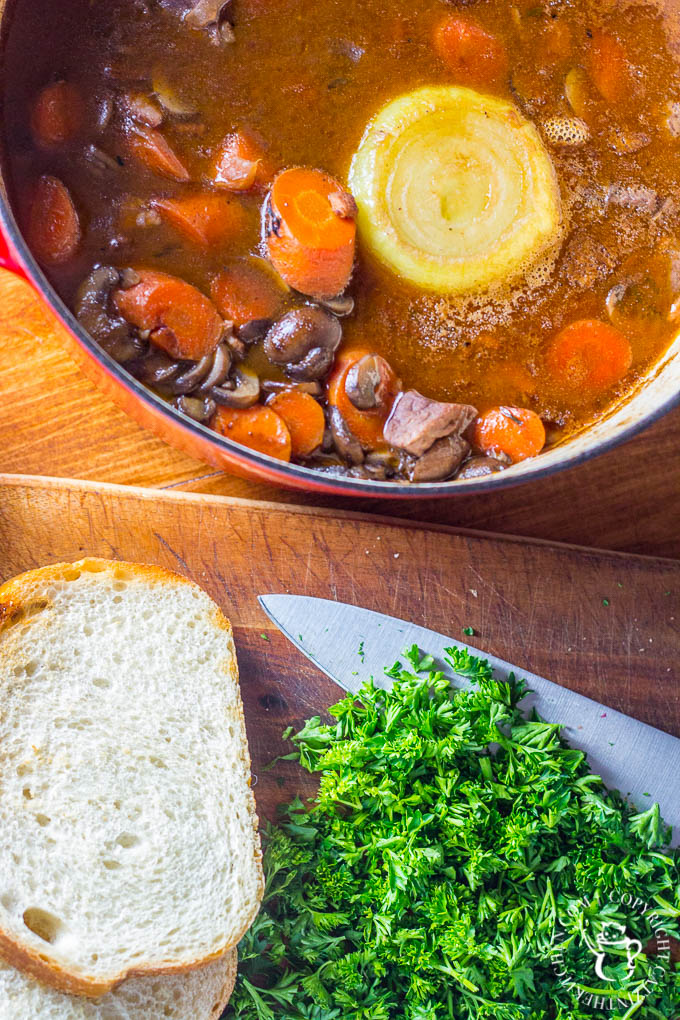 I can't say it enough – this is one of the best things you will ever put in your mouth. Make Julia's, make Ina's, make Auguste's, make ours with our tiny little variations – just make somebody's bœuf bourguignon your bœuf bourguignon!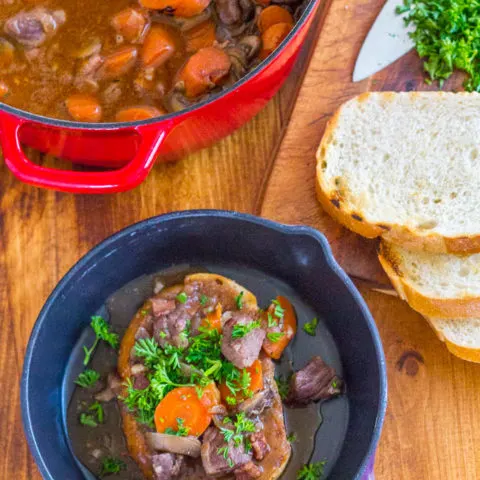 Bœuf Bourguignon
Cook Time:
1 hour
15 minutes
It's classic, it's traditional, it's French, & it's absolutely spectacular. Whether you love it or have never tried it, you must make this bœuf bourguignon!
Ingredients
1 tbsp olive oil
1/2 lb bacon, diced
2-3 lbs chuck steak, cut into 1-in cubes
1 lb carrots, sliced diagonally into 1-in chunks
2 cloves garlic, chopped (plus more for rubbing)
1/2 cup Cognac
1 (750 ml) bottle Pinot Noir (red wine)
2 cups beef broth
1 tbsp tomato paste
1 tsp fresh thyme (or 1/2 tsp dried)
4 tbsp unsalted butter
3 tbsp all-purpose flour
2 yellow onions, sliced
1-2 large, frozen whole onions
1 lb fresh mushrooms, stems discarded, caps thickly sliced
Chopped fresh parsley
Kosher salt
Freshly ground black pepper
Instructions
Heat olive oil in a large Dutch oven. Add bacon and cook over medium heat for 10 min, stirring occasionally, until the bacon is lightly browned. Remove the bacon with a slotted spoon to a large plate.
Dry the cubes of chuck steak thoroughly with paper towels and then season them with salt and pepper.
Working in batches in single layers, sear the steak in the hot oil for 3 to 5 min, browning on all sides.
Remove seared cubes to the plate with bacon. Continue searing until all the steak is browned. Set aside.
Preheat oven to 250.
Toss carrots, onions, 1 tbsp salt and 2 tsp of pepper in the fat in the pan and cook for 10 to 15 min, stirring occasionally, until onions are lightly browned. Add garlic and cook for 1 min.
Add Cognac and carefully ignite with a match to burn off the alcohol (warning - it will flame up!).
Put the bacon and steak back into the pot with all the juices.
Add full bottle of wine and enough beef broth to almost cover the meat.
Add tomato paste and thyme. Bring to simmer, cover pot with tight-fitting lid and place it in oven for about 75 min (until the meat and vegetables are very tender).
Combine 2 tbsp butter and the flour with a fork. Stir into the stew. Add the frozen onions, whole.
Saute mushrooms in remaining 2 tbsp butter for 10 min until lightly browned. Add to stew.
Bring stew to a boil on top of the stove, then lower heat and simmer for 15 min. Season to taste with additional salt and pepper.
Grill bread on grill pan or in toaster oven for serving. Rub each slice on one side with cut cloves of garlic.
Spoon the stew over bread and sprinkle with parsley.