This recipe for grape clafoutis is a delightful, and incredibly simple, rustic French dessert. Part flan, part pie, part custard…all good!
I feel like we have to deal with the obvious question first – the elephant in the room, if you will. If you're a connoisseur of traditional French desserts, then perhaps this is no mystery to you, but otherwise, I'm going to assume you had the same reaction I did when I stumbled across this recipe…what's a clafoutis, precious?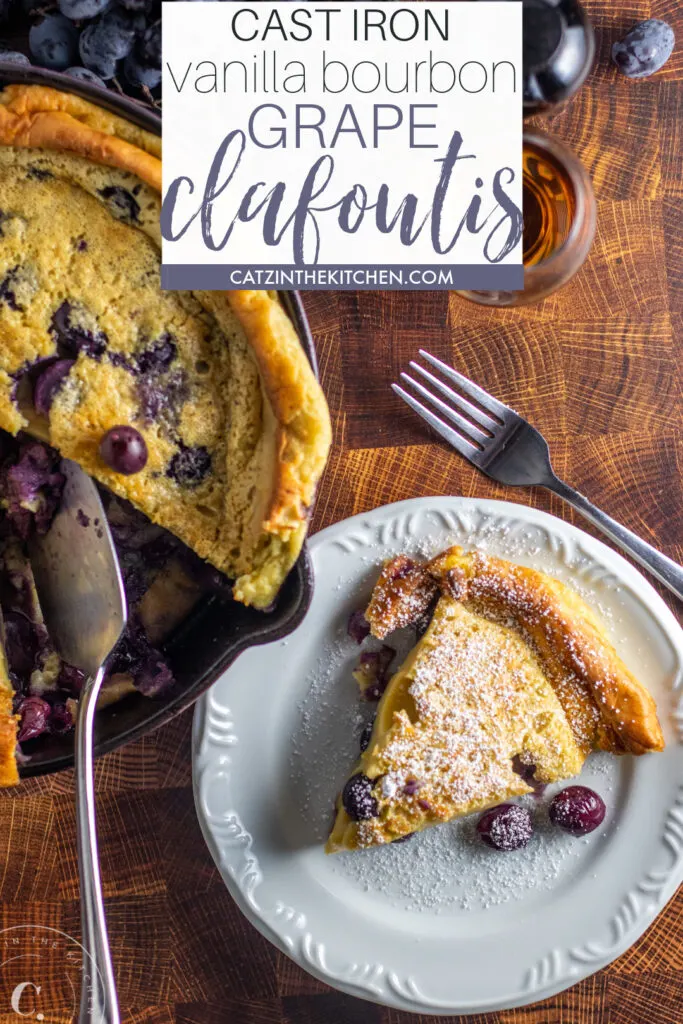 Sorry (not sorry) for the LOTR nerdery there. Let's start with how to pronounce it. It's a French word, of course, but surprisingly only one of the letters is silent (it's the "s"), so the pronunciation is more like "klah-foo-tee". According to the internet, clafoutis is originally from the Limousin region of France, and made with their local sweet, black cherries, but can be made with a wide variety of fruits. For Americans who are familiar with the rustic French dish, I would guess that much of that familiarity comes from the fact that Julia Child has a published clafoutis recipe using berries (which actually sounds amazing).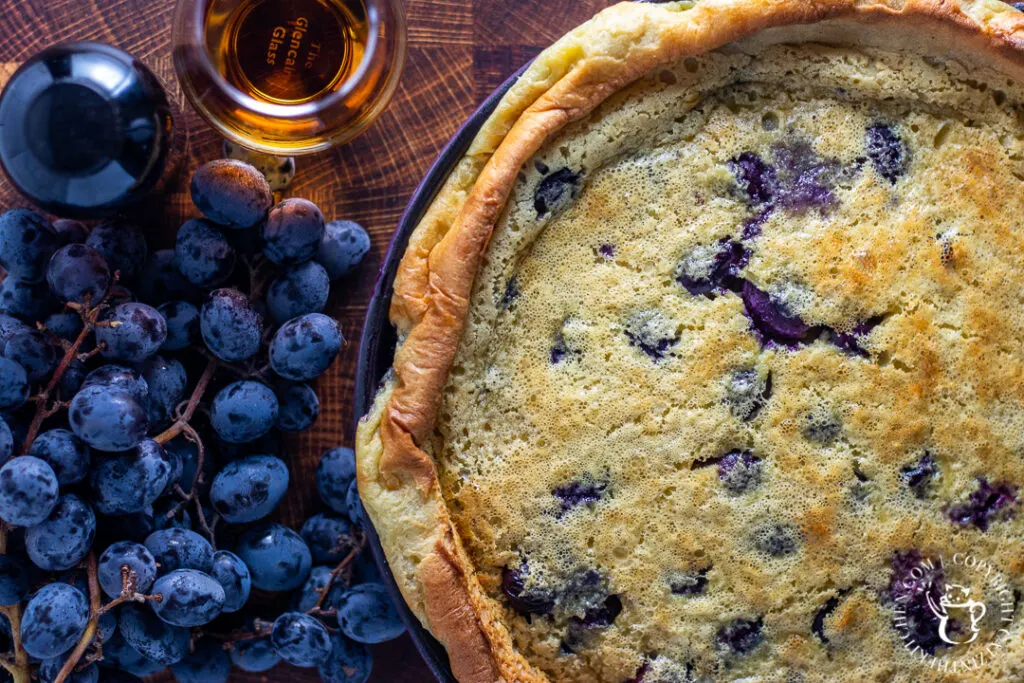 The dessert itself I found rather fascinating – it's baked in a buttered skillet, much like the dutch baby recipe we shared with you last week. The batter reminds me very much of pancake batter, but the consistency of the finished clafoutis is much more like flan. In our case, we added some vanilla and bourbon, and both flavors come through beautifully. As always, the bourbon is completely optional, and if you'd rather not cook with it…leave it out!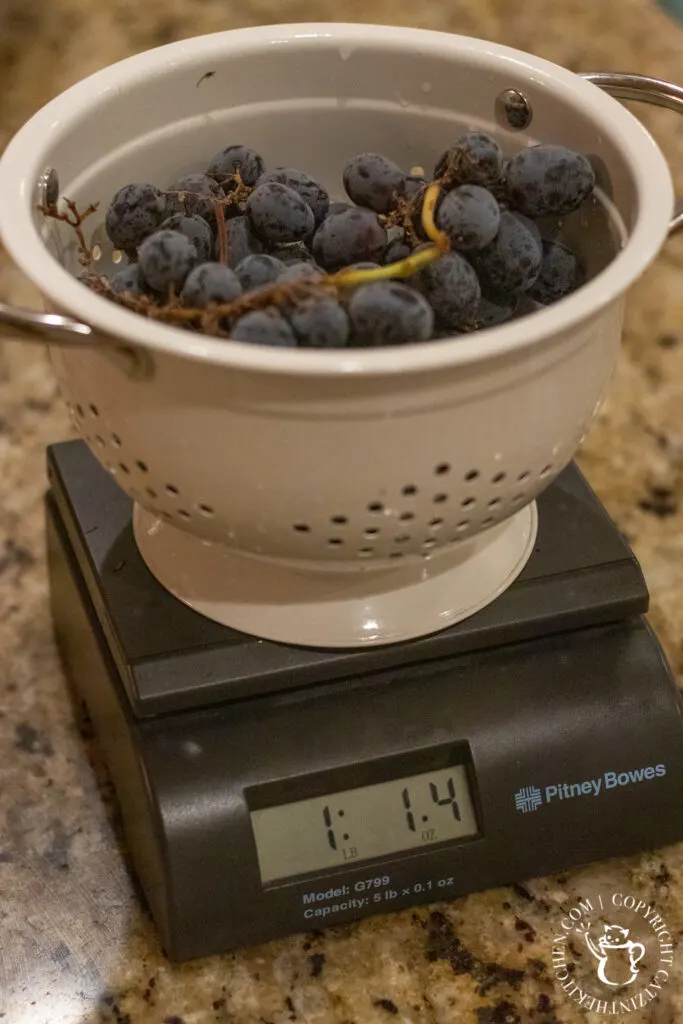 The inspiration for this post came from our neighbors a few miles down the highway, Mt Hope Farms, when they generously gifted us a few varieties of grapes from their harvest. (This post is not sponsored.) Having freshly picked grapes grown here in our little farming town was a treat enough, and our children would happily have snacked on them all day, but we got to wondering what desserts one might make with fresh grapes – I realized I personally couldn't think of one!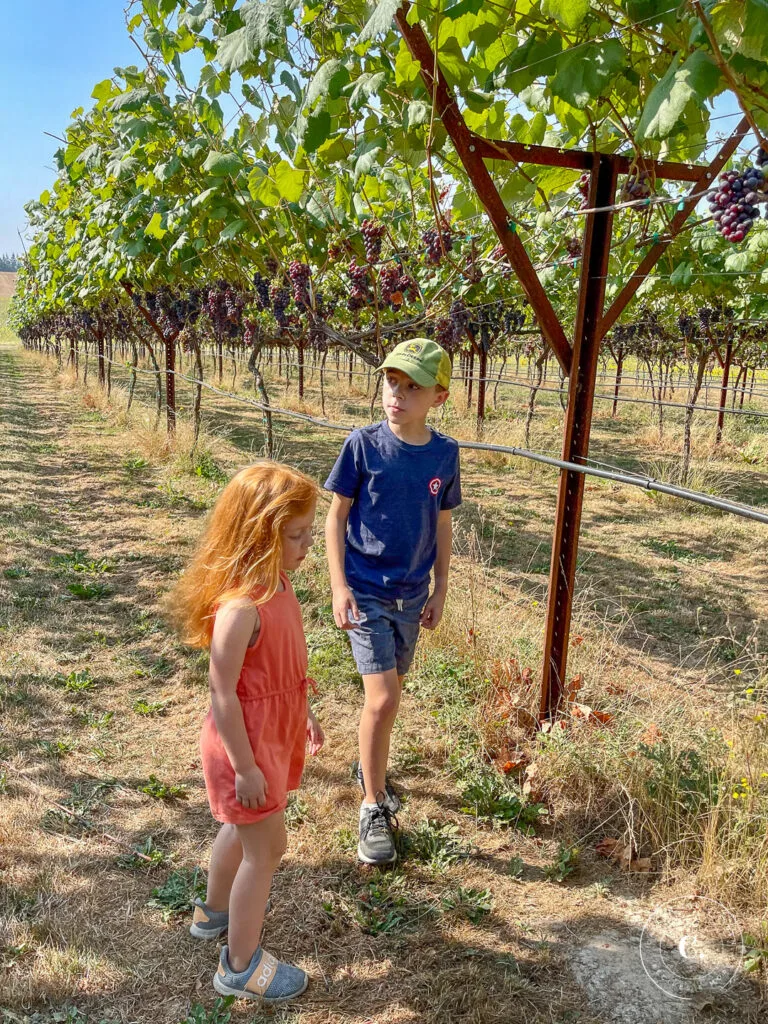 While this post is not sponsored, we'll still plug our friends over at Mt Hope Farms here, as we love any opportunity to work with and share local food and farms! If you're local to the Pacific Northwest, you can find grapes from Mt Hope Farms at New Seasons Market, Market of Choice, and some other small retail locations as well. We're also huge fans of their amazing fruit spreads! Mike and Laura are fifth generation local farmers, and it's a special thing to be able to cook with ingredients you know were grown not just down the road, but with that level of expertise and care. If you've got local, family-owned farms near you – seek them out!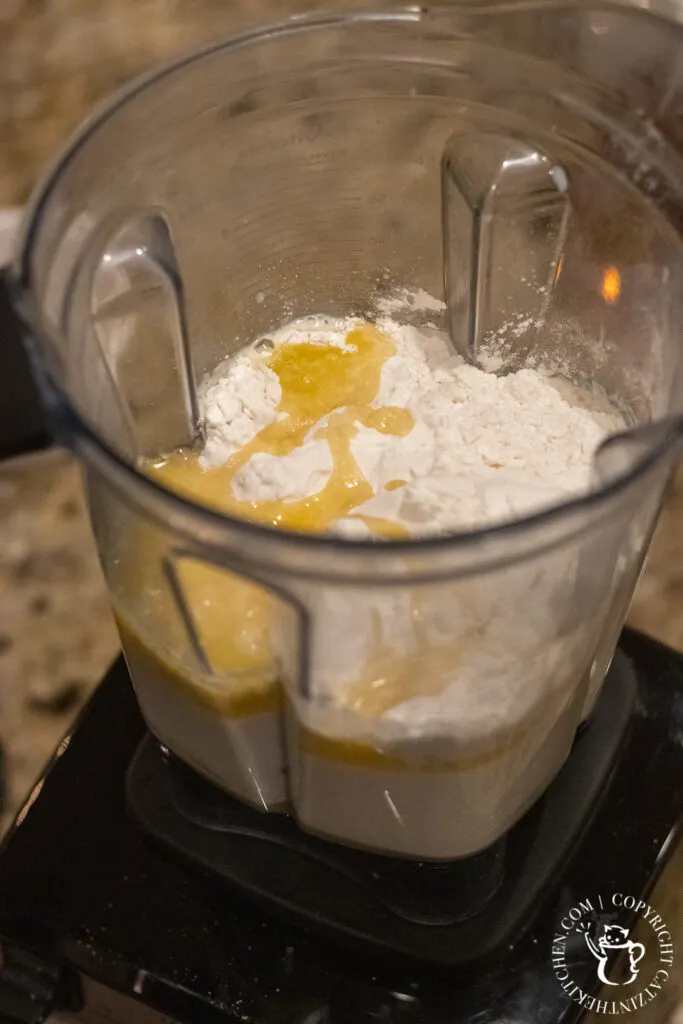 Back to this grape clafoutis recipe. Once I discovered this dessert, I realized pretty quickly that you could use a wide variety of different fruits as the base / filling, including grapes! The recipe is outrageously simple. You're essentially blending all of the ingredients except the grapes and butter, much like you might for some crêpe or pancake recipes, and then pouring them over the grapes in the pan, which has been heating up and melting butter in the oven.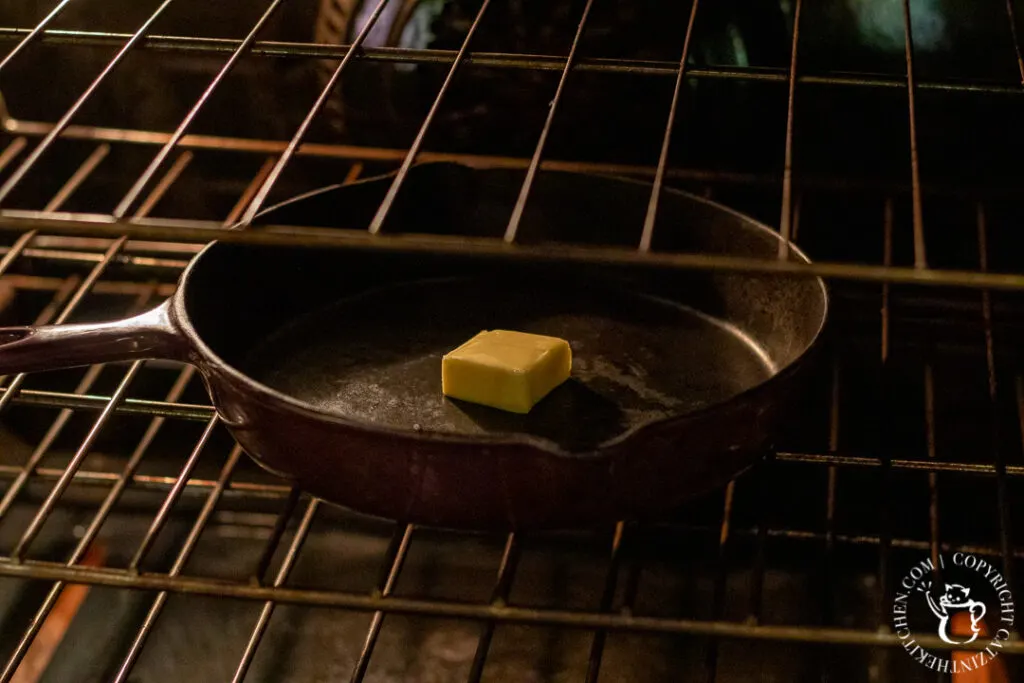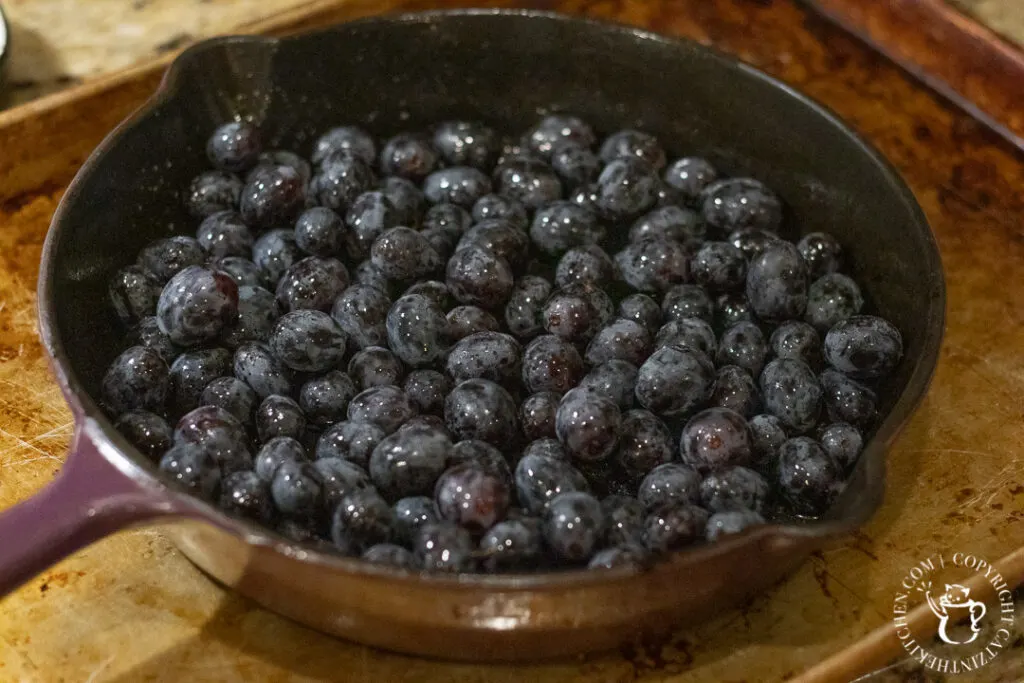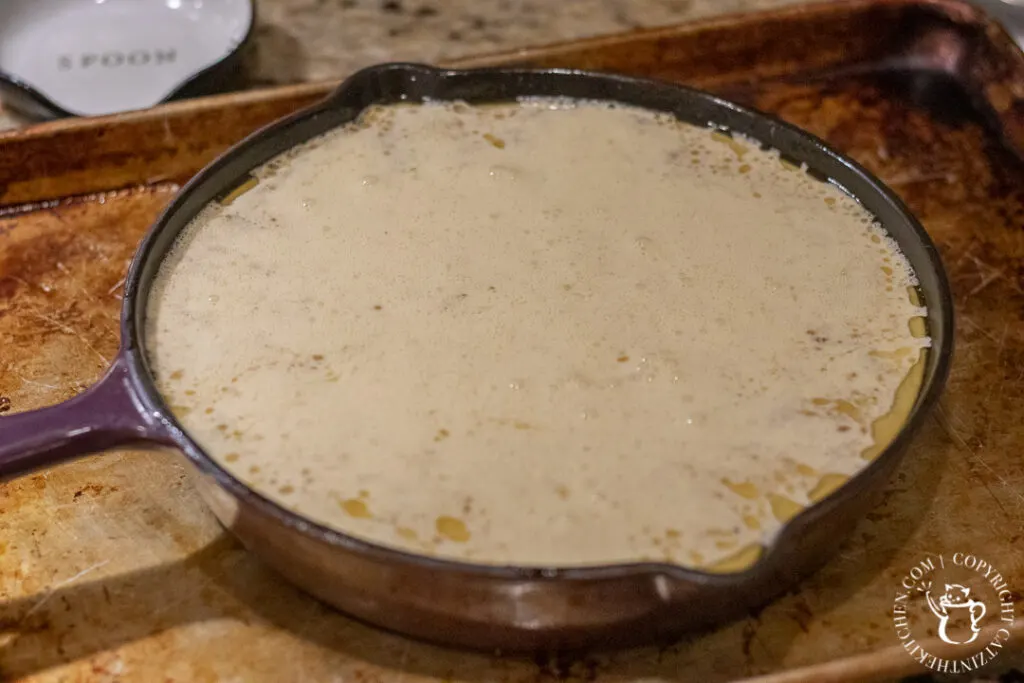 In fact, if you don't count the blender, I guess this is a one-pan dessert, which is pretty great for clean-up! I haven't made that many French desserts, but I can tell you that most of them are not this simple…and require a lot more pans. In some ways, I feel like this dessert would be a nice complement to something like this recipe for bœuf bourguignon, which has that same, rustic, French farmhouse feel to it (and is also made in one pan, albeit a dutch oven in that case).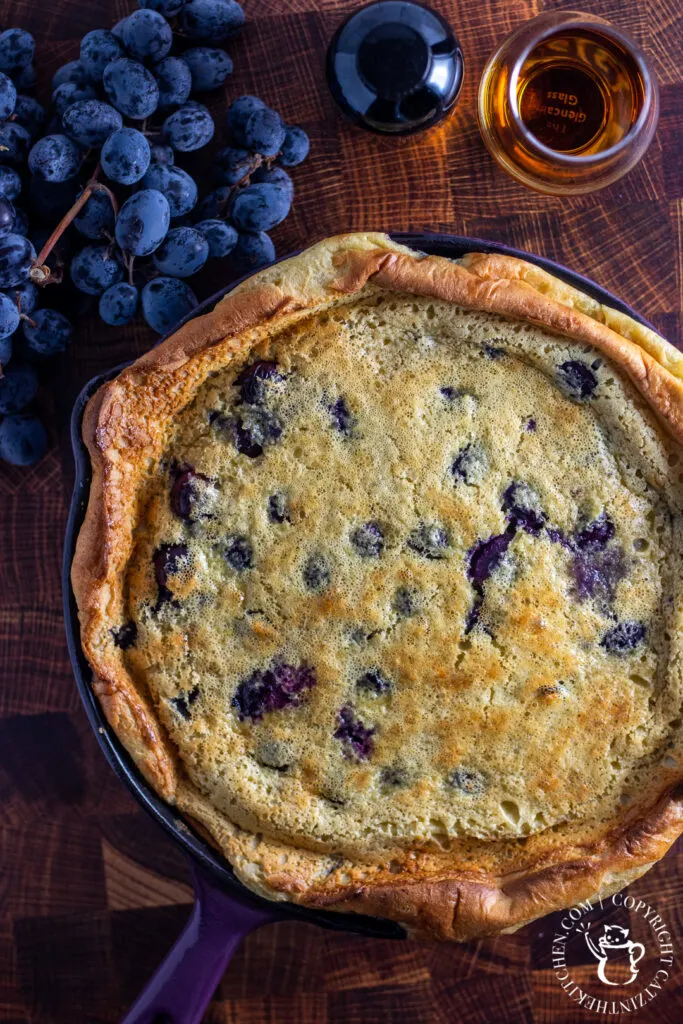 At any rate, that's really all there is to this recipe. Blend the ingredients, melt the butter, add the grapes to the pan, pour the batter over the grapes, and bake! After about an hour, you should have a lightly browned, delightfully buttery cross between a pie, a flan, and a custard, and the grapes should be both figuratively and literally bursting with flavor.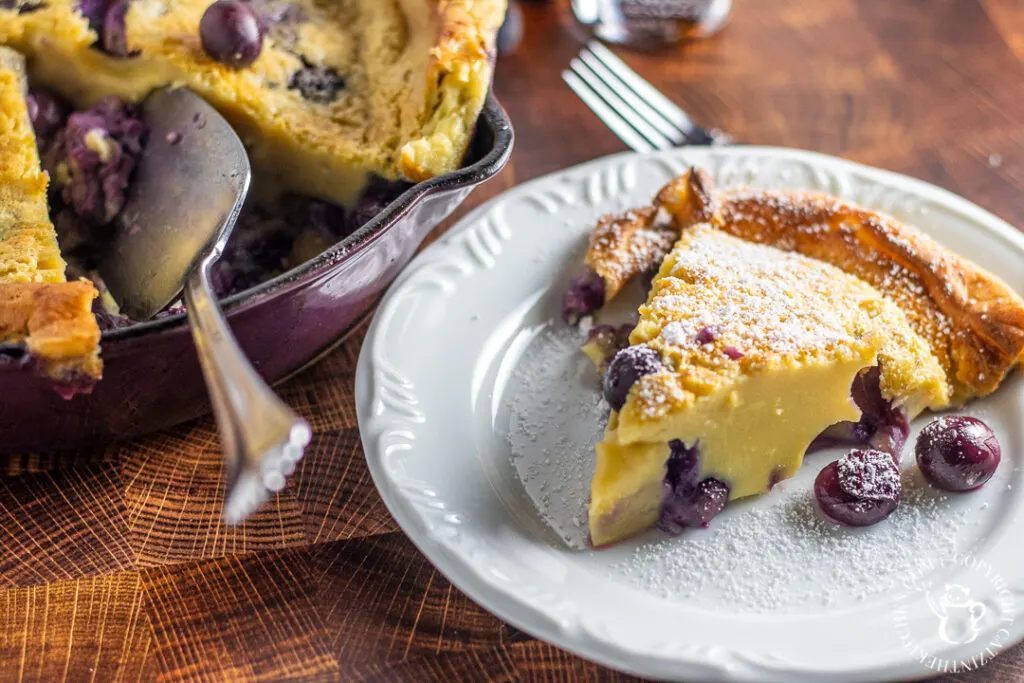 We hope you find this grape clafoutis recipe as fun and delectable as we did. It may not feature apples or pumpkins, but it still very much has that early autumn feel about it. So, as we approach October, go grab your cast iron skillet and some fresh grapes, and try a new dessert!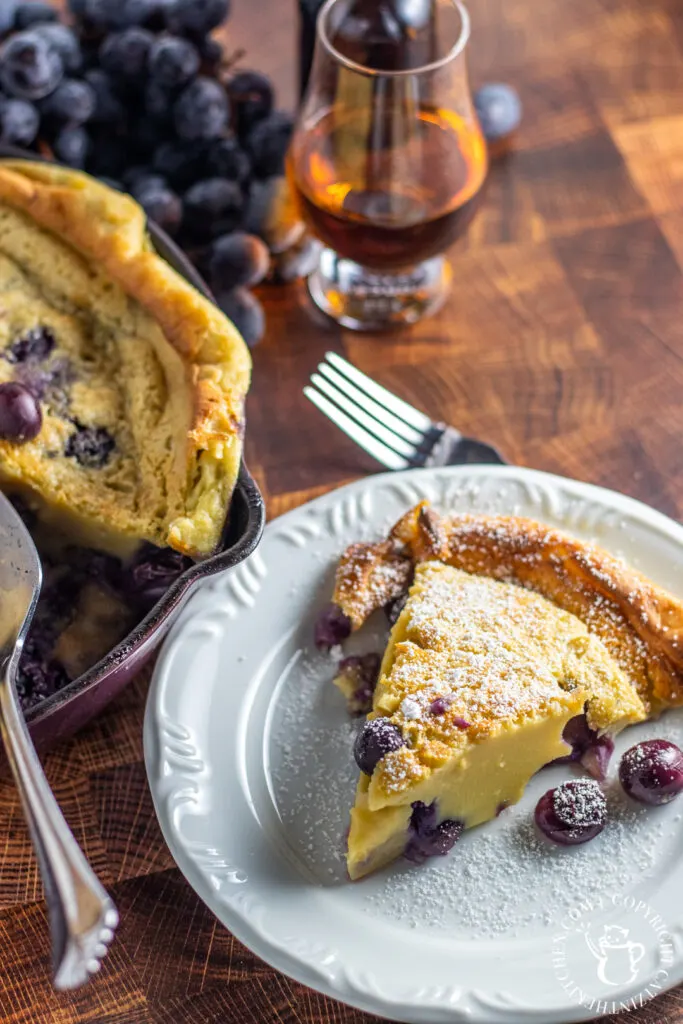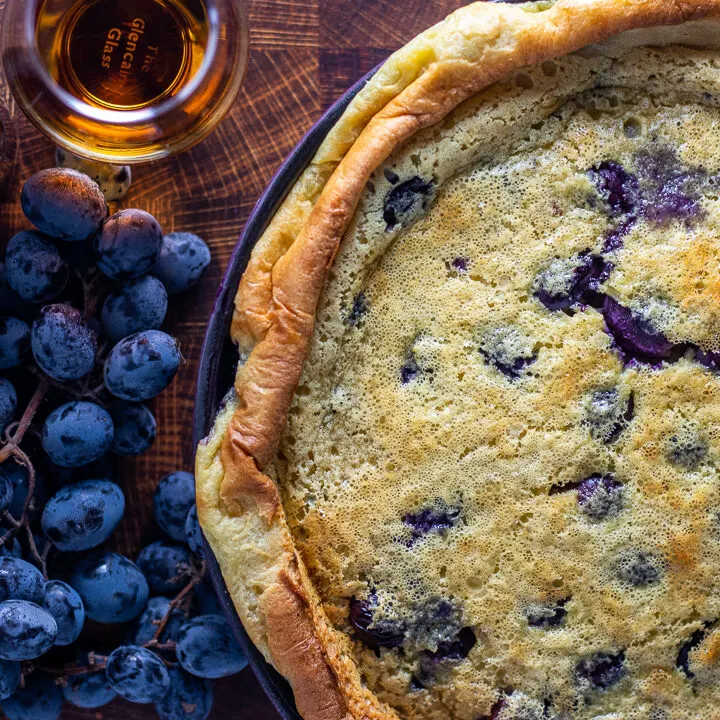 Cast Iron Vanilla Bourbon Grape Clafoutis
Total Time:
1 hour
10 minutes
This recipe for grape clafoutis is a delightful, and incredibly simple, rustic French dessert. Part flan, part pie, part custard...all good!
Ingredients
1 3/4 cup milk
1 tsp vanilla
4 eggs
1 cup flour
1/2 cup sugar
1/4 cup butter (half stick)
1 pound grapes
2 tbsp bourbon (optional)
Instructions
Preheat oven to 375.
Place half the butter in skillet, and place skillet in oven while it is preheating, to melt the butter. Remove when butter is just melted - do not allow to brown.
Meanwhile, melt other half of butter in microwave or saucepan, and then add to blender along with vanilla, milk, eggs, flour, sugar, and bourbon, if using. Blend until batter is smooth and thin.
Add grapes to skillet, and then pour batter over grapes evenly.
Bake for approx 1 hour, or just until the center of the clafoutis is set. Top with powdered sugar, if desired.
Nutrition Information:
Yield:

8
Serving Size:

1
Amount Per Serving:
Calories:

265
Total Fat:

9g
Saturated Fat:

5g
Trans Fat:

0g
Unsaturated Fat:

4g
Cholesterol:

113mg
Sodium:

108mg
Carbohydrates:

37g
Fiber:

1g
Sugar:

24g
Protein:

7g
Nutrition information isn't always accurate.