This easy recipe for a Dutch Baby with Sweet Cream is a simple, homey way to get a tasty, flexible breakfast on the table in no time!
We love our brunch and breakfast recipes around here, and for a few years, a dutch baby has been a favorite quick and easy way to get food on the breakfast table. The ingredients are simple, the process is easy, there are minimal dishes involved, and everyone loves the resulting "giant pancake".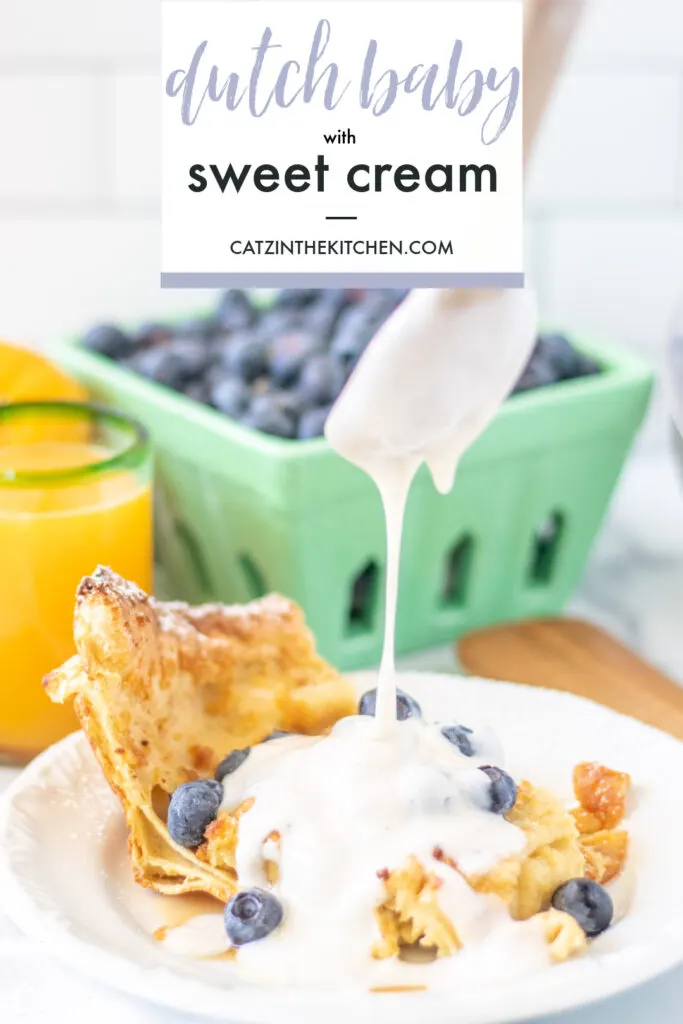 Apparently what we call a "dutch baby" is also known by a variety of other names, including a Bismarck, a German pancake, or, my favorite, a Hootenanny! We definitely need to call this breakfast a Hootenanny from now on. Technically, it's a giant popover – and, according to the internet, is somewhat similar to a traditional English Yorkshire pudding, though I sadly would not know anything about that…someday we'll get over to London! (A sad note – as a I write this post, a news alert just came in that Queen Elizabeth II has passed away – the end of era, we can say, with no hyperbole whatsoever.)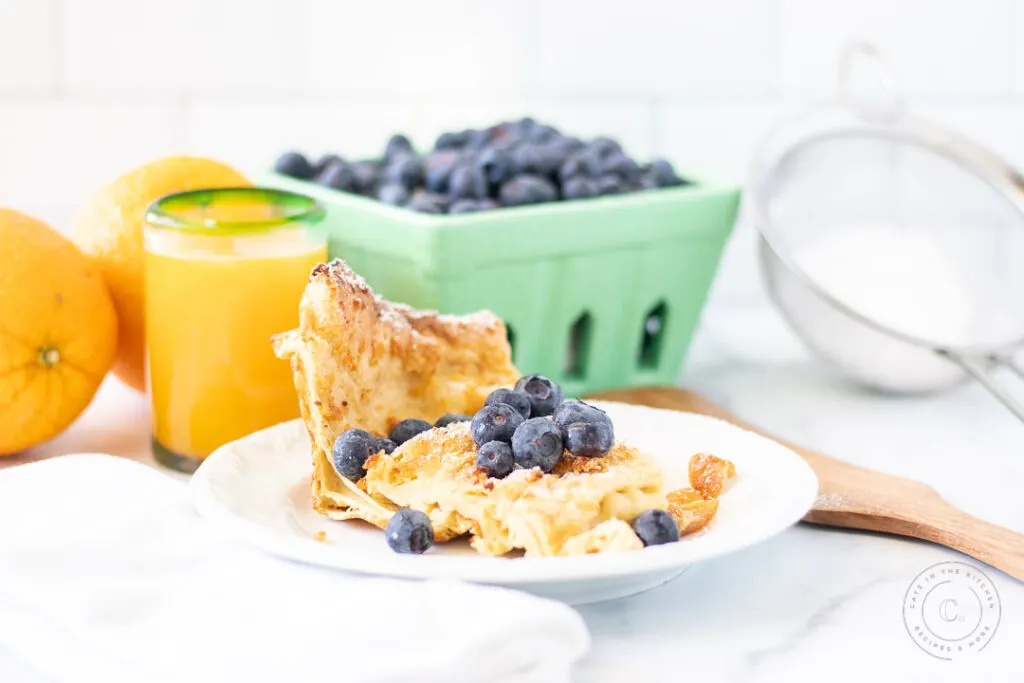 It occurred to Chels and I that we didn't have a dutch baby recipe on the blog, so we decided to share this one from Magnolia that we just love. It's a simple, classic recipe that we double to feed our family (which is how we'll share it here). The last time we made the Magnolia dutch baby recipe, we found it was made even more delightful by pairing it with an easy recipe for sweet cream that we found on the Traeger blog, submitted by one of their contributors. There's no Traeger needed for the sweet cream – it's posted there as a topping on a delightful-looking cherry crisp recipe (which we need to try one of these days)!
The combination of the fluffy, buttery dutch baby topped with fresh berries and the sweet but slightly tangy cream is just a delight – it's beautiful to look at, smells amazing, and is one of those meals that is somehow emotionally comforting to eat (comfort food!), if that's something you need in your life one morning!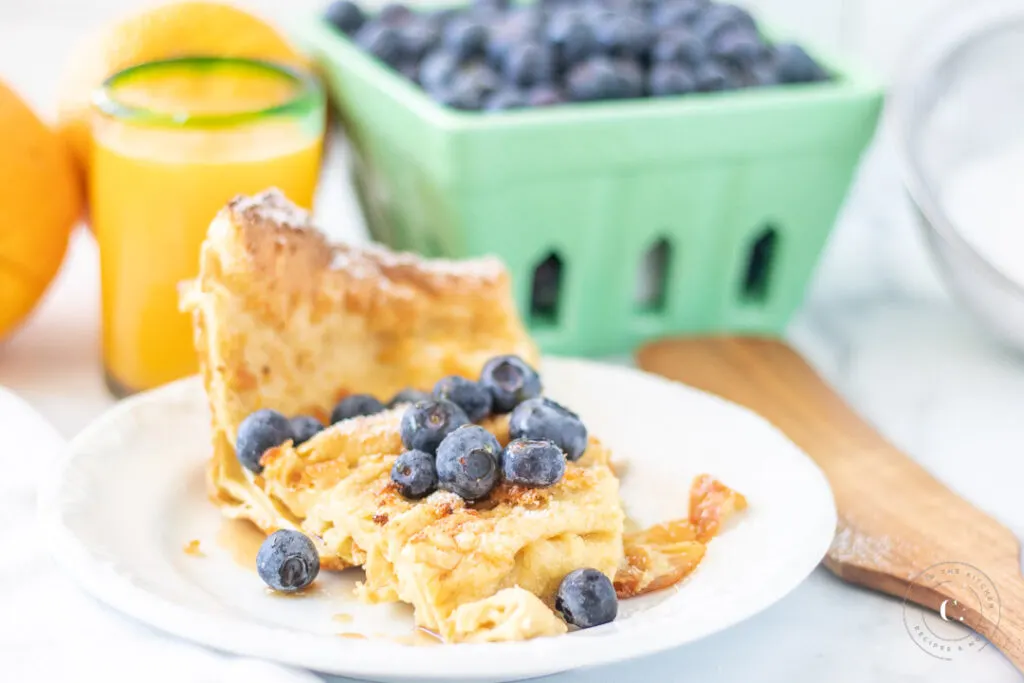 If you've never made a dutch baby before, the concept is wonderfully simple. You're essentially making batter for a big pancake, pouring it into a skillet coated in melted butter, and baking it until it's fluffy and golden brown. You can cut it into slices and top it with syrup, just like a pancake, or you can get creative – Magnolia suggests a caramelized apple topping, we've got this sweet cream recipe for you here, and there are a million other things that would be equally delightful.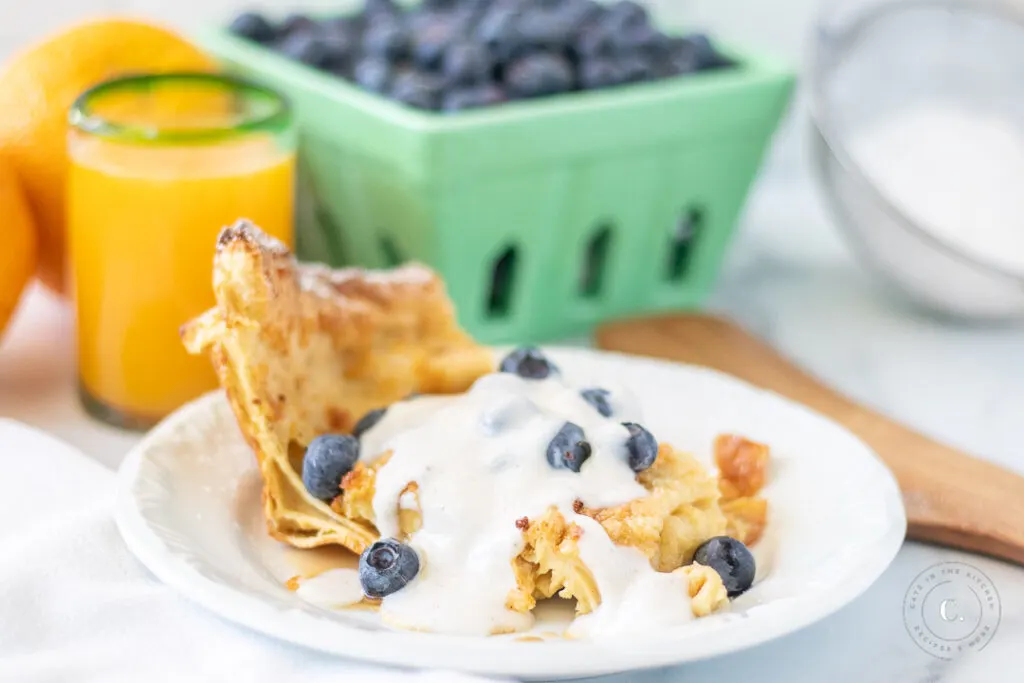 If you have an oven-safe non-stick skillet, feel free to use that. We like to make ours in cast iron – that way we can bake it inside, or outside on the Traeger if we want it slightly smokier, and it comes out with this beautiful, rustic presentation. For this doubled recipe, we use our large 15-inch cast iron skillet, but if you're halving it (4 eggs), I would use a 10-inch skillet instead.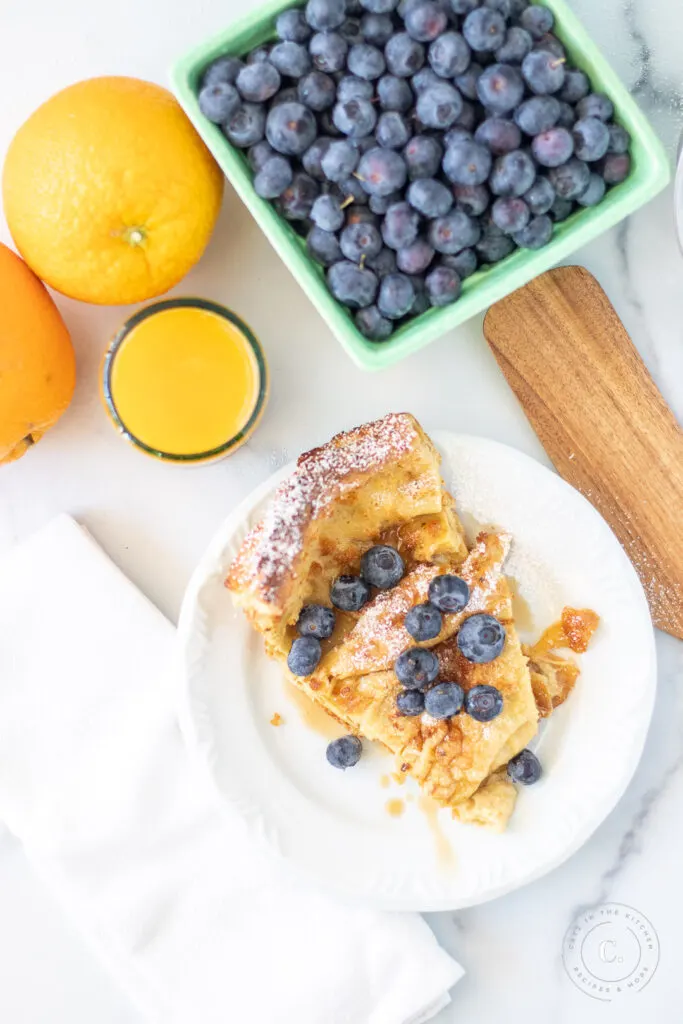 Whatever you do, and however you top it, enjoy this simple, traditional homey breakfast recipe for a dutch baby with sweet cream!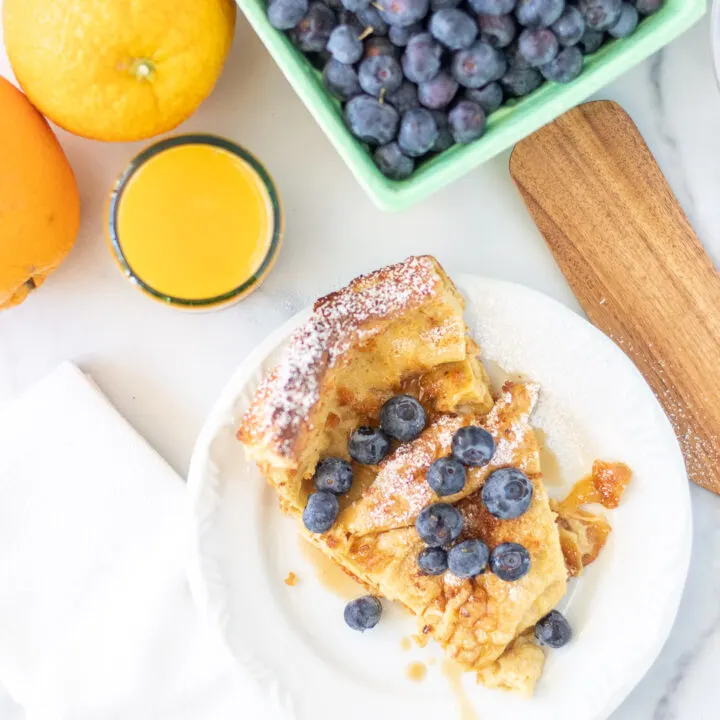 Dutch Baby with Sweet Cream
This easy recipe for a Dutch Baby with Sweet Cream is a simple, homey way to get a tasty, flexible breakfast on the table in no time!
Ingredients
Dutch Baby
8 eggs
2 cups milk
2 cups all-purpose flour
2 tsp vanilla
1/2 tsp cinnamon
1/2 cup salted butter (1 stick), cut into 1/2-inch cubes
Sweet Cream
1 cup sour cream
1/2 cup sugar
1/2 cup buttermilk
1 tbsp vanilla bean paste (or vanilla extract)
Instructions
Preheat oven to 425. If using cast iron skillet, place in oven to preheat.

In a large bowl, whisk together eggs, milk, flour, vanilla, and cinnamon until completely smooth.
While oven is preheating, prepare sweet cream by whisking all ingredients together in a bowl. Refrigerate until needed.

Once oven is preheated, add butter to skillet and leave in oven until butter is melting and bubbly but not browned (roughly 5 min, but will depend on your oven)

Remove skillet from oven and carefully pour batter over melted butter. Return to oven and bake until golden brown, risen, and puffy (about 30 min).
Serve immediately, with powdered sugar and/or maple syrup, as desired. Top with sweet cream and berries of your choice.
Nutrition Information:
Yield:

8
Serving Size:

1
Amount Per Serving:
Calories:

436
Total Fat:

23g
Saturated Fat:

13g
Trans Fat:

1g
Unsaturated Fat:

8g
Cholesterol:

239mg
Sodium:

230mg
Carbohydrates:

42g
Fiber:

1g
Sugar:

18g
Protein:

13g
Nutrition information isn't always accurate.