This simple recipe for baked brie with dried apricots and pistachios is a savory, slightly elevated snack that will delight your tastebuds!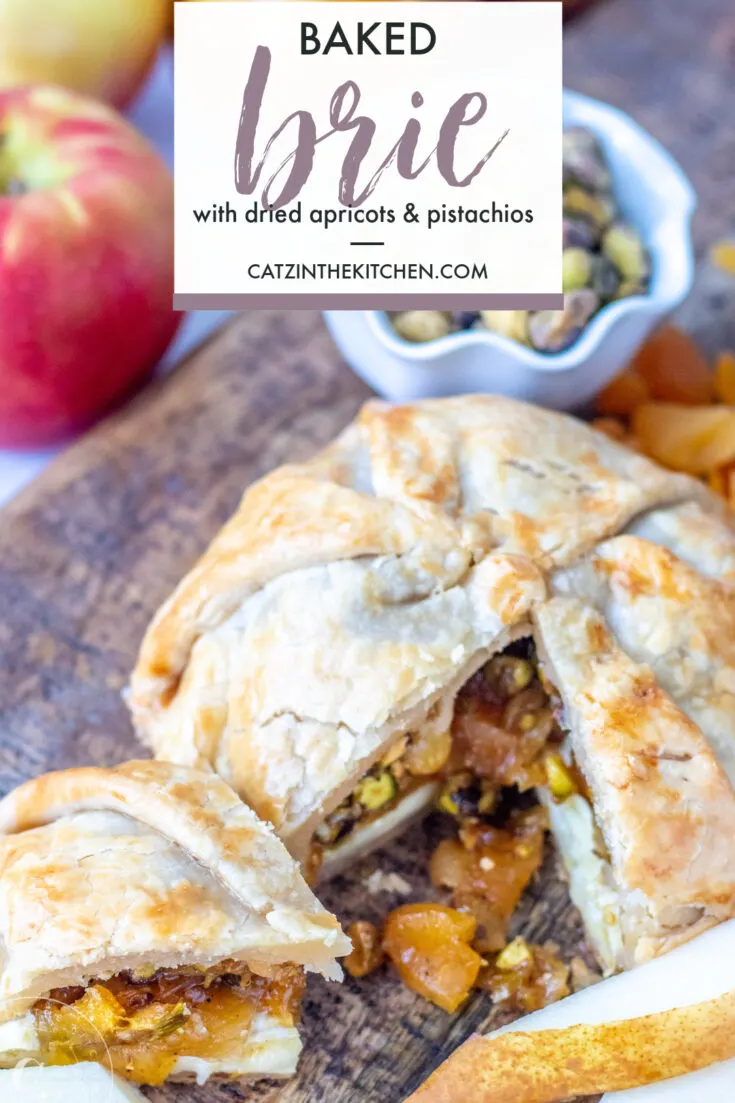 Do you guys have a New Year's tradition? One of my sisters watches Lord of the Rings and makes homemade pretzels most years, I think, which sounds delightful. I know others always make black-eyed peas for good luck…I think? We don't really have a set tradition! At least not one I can point to and say this is what we do every year.
If I had to claim a tradition it is usually this – we make a lot of snack food (a different variety every year) and we play board games. A few years ago we played Catan…I can't remember what we played last year. I can't even remember if we had people over last year (hey, it was 2020…)!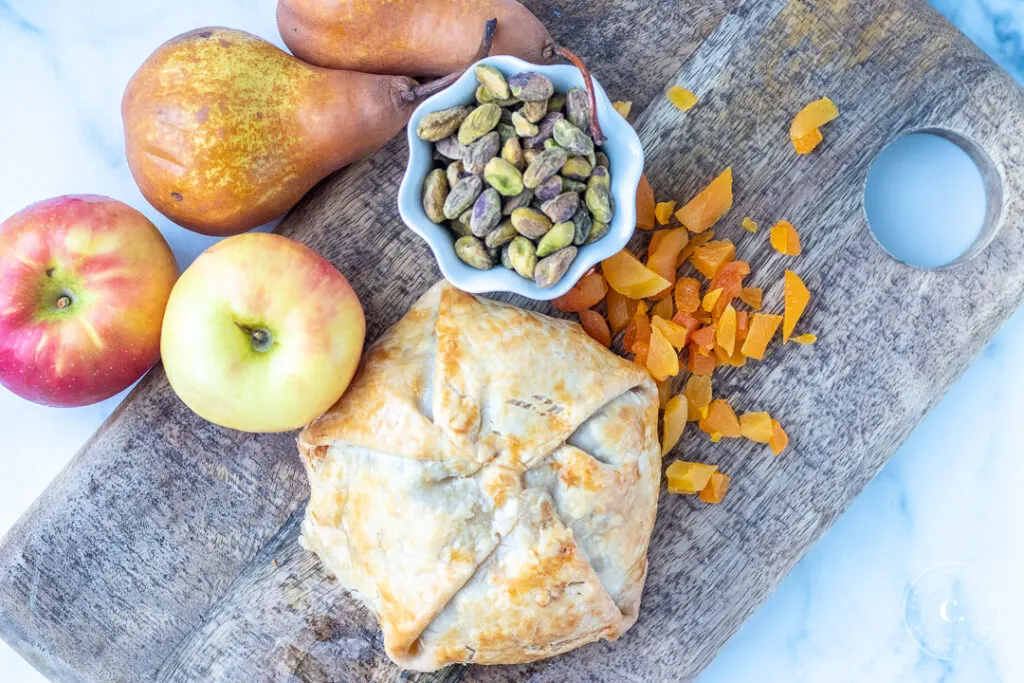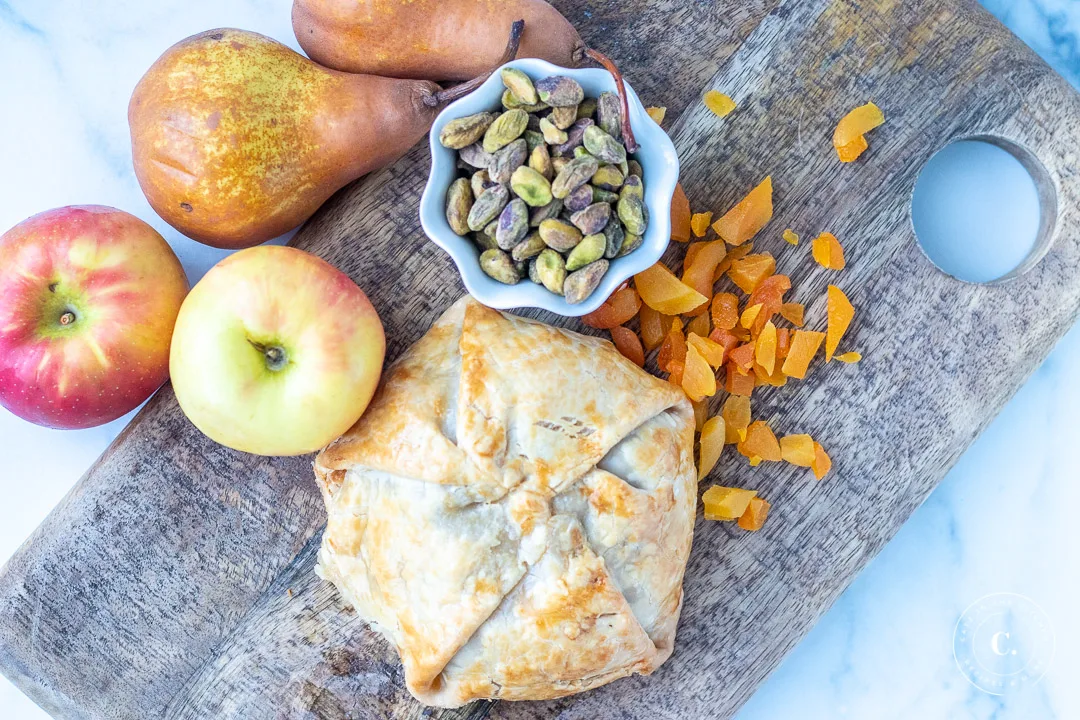 I do however, remember blowing out a candle a few nights after New Year's, I think it was two or three days after New Year's Eve, and I leaned over and some of the ends of my hair that I had tried, rather unsuccessfully, to pull back ended up landing in the flame. Yes, you heard that right…I burned the ends of my hair. If I'm quite honest, it was a good amount of hair too and I was desperately trying to snip the damaged ends off the next day.
The things you remember right?
I am happy to report though as of the time that I'm writing this post, my hair has recovered. It's not as thick, full, or long as I would like (I suppose most of us feel that way), but the ends of my hair are probably at their healthiest point in a long, long time. Less heat. Better hair brush. Better products. Avoiding contact with open flames – you know, the basics.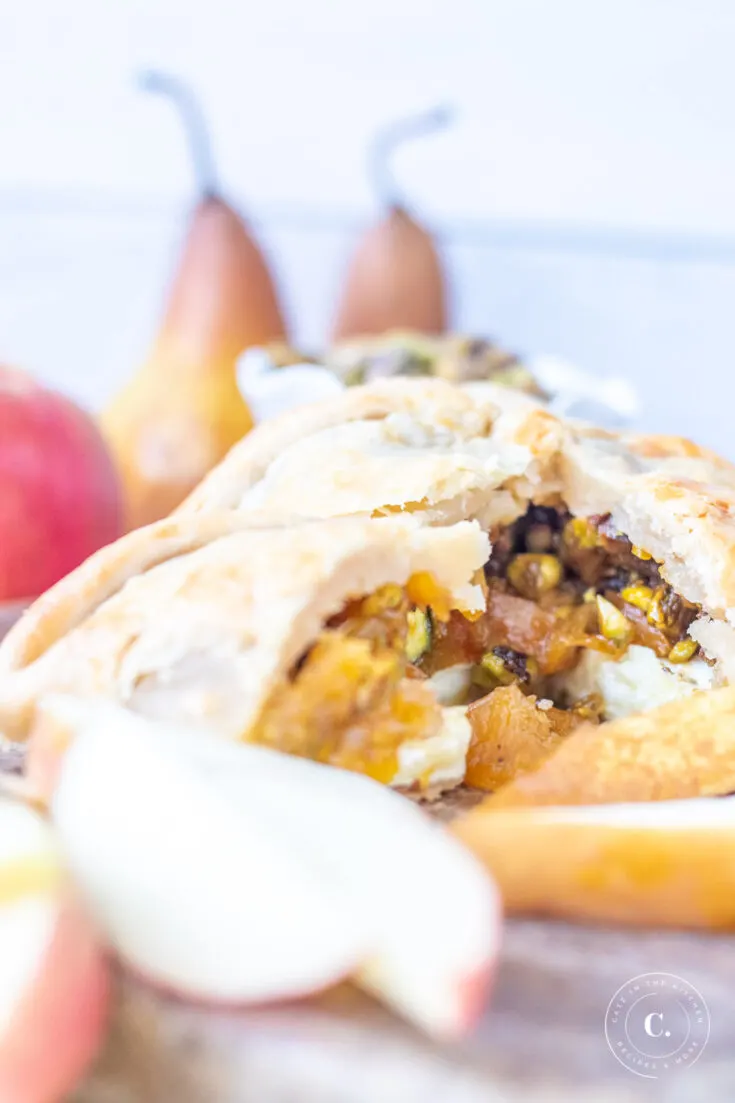 So if you burn your hair at the beginning of the year, don't fret. Your hair will overcome it. Haha! (Also, random rants like these are why we have a "jump to recipe" button at the top of the post, folks!) 😉
Snacks. We love snacks for our game nights even when it's not New Years. Josh is actually quite the snack guy. I'd pretty much be happy with a bowl of Cheetos or some Juanitas tortilla chips and some Wholly Guacamole. But Josh likes to experiment and I am just just not much of a snacker. Which is why our appetizer/snack sections on our blog are always lacking!
No more! Or at least, not as much. I've got a new appetizer for you that is perfect for any holiday or game night or just because. It basically covers the whole gambit of affairs.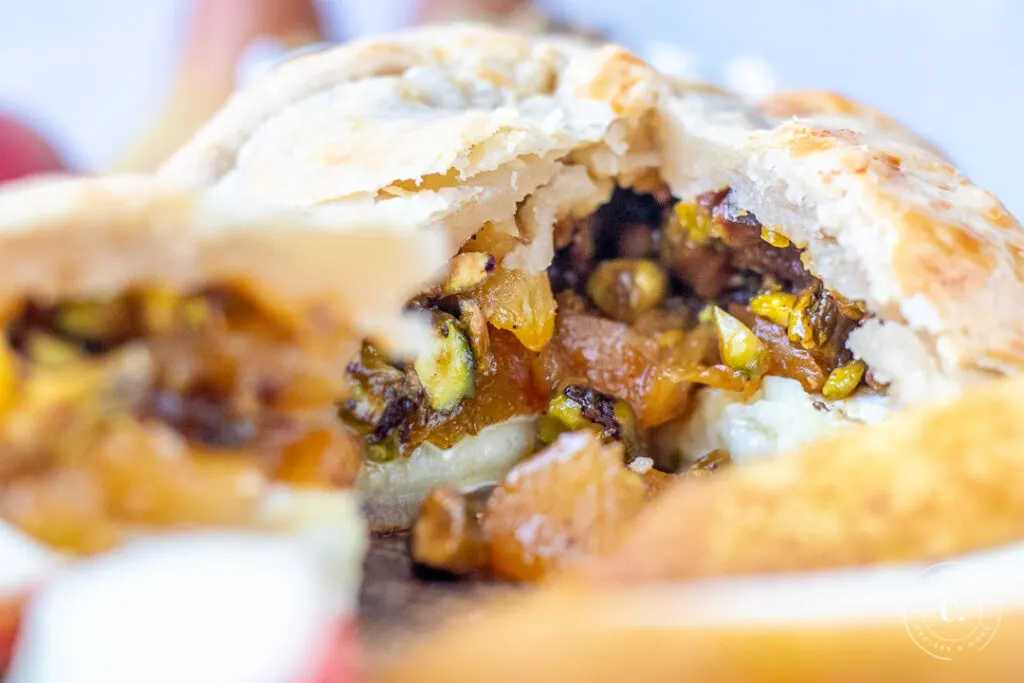 Have you ever made Baked Brie? I hadn't, but I LOVE BRIE! Aside from goat cheese and Swiss cheese, it is my other favorite cheese. It's perfect on its own, with a firm exterior but creamy inside, or it just gets perfectly gooey and delicious when you bake with it. Which is what happens in this recipe.
But before we get to the creamy and gooey brie part of the filling, let's talk about what gets cooked and placed on top of the brie. A surprising (to me) mix of spices, chopped dried apricots, and salty pistachio bits. It gets simmered together in a delightful sauce that becomes thick and compact and layered on top of the cheese.
Let's talk about how we bake it. We wrap it in pie dough! I mean, you could probably use puff pastry, but its a little bit more expensive than pre-made pie dough and I like to sometimes stick with the less expensive option. Plus, the flavor between puff pastry and pie dough is pretty different. One is definitely more rich and buttery and one is a little more neutral in flavor – which is perfect for the context of this recipe since the star of the show is…well, I can't decide if it is the baked brie or the topping that goes on top of the brie. The pie crust just adds one more flaky texture element to the whole treat.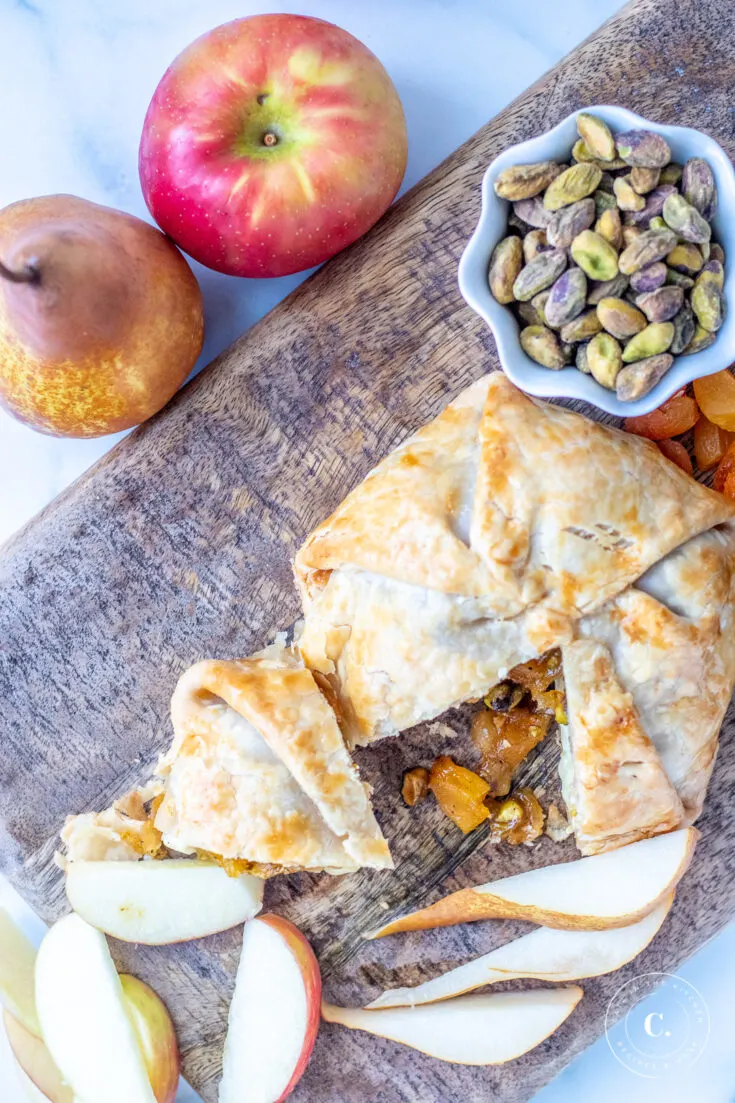 Everything gets baked up and then you slice the whole thing into wedges and serve with sliced apples and pears – which is perfect for the season because apples are still affordable and we're in pear season!
It's a win/win for everyone who will devour this dish and be asking why you didn't make two of them. Which maybe you should, but you don't have to take my advice. Bake one up and see what happens.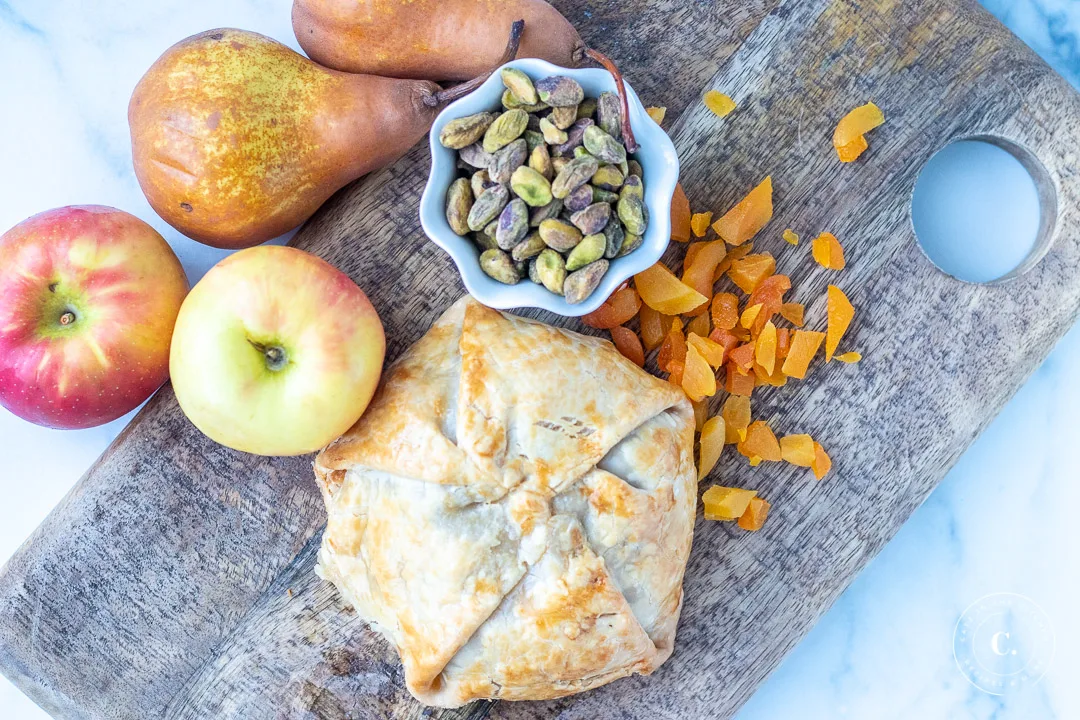 Baked Brie with Dried Apricots and Pistachios
Additional Time:
20 minutes
Total Time:
1 hour
25 minutes
This simple recipe for baked brie with dried apricots and pistachios is a savory, slightly elevated snack that will delight your tastebuds!
Ingredients
1/3 cup dried apricots, finely chopped
1/2 cup apple juice or cider
1 tbsp apple cider vinegar
1 tsp packed brown sugar
1/4 tsp ground allspice
Kosher salt and freshly ground pepper
1/4 cup roasted salted pistachios, chopped
1 round refrigerated pie dough (half of a 14 -ounce pkg)
1 7-to 8-ounce wheel brie cheese
1 large egg, lightly beaten
Sliced apples and Pears for serving
Instructions
Combine the dried apricots, apple juice or cider, vinegar, brown sugar, allspice, a pinch of salt and few grounds of black pepper in a small saucepan and bring to a simmer over medium heat. Cook until the apricots are plump and all the liquid has been absorbed, about 8-10 minutes. Remove from heat and let cool; stir in the pistachios.
Line a baking sheet with parchment paper. Unroll the pie dough on a clean surface; gently roll out the outer 2 inches of the dough to make the edges slightly thinner. Put the brie in the middle of the dough and top with the fruit-and-nut mixture. Trim about 1 inch off of the edge of the dough, all the way around. Brush the edges with some of the beaten egg with a basting brush. Pull the dough up and over the cheese to meet in the middle, folding and pleating as needed; pinch the dough at the top to seal. Transfer the wrapped cheese to the baking sheet and brush with the remaining beaten egg. Freeze until firm, about 30 minutes.
Preheat the oven to 375 degrees. Transfer the baking sheet to the oven and bake until the cheese is golden brown, 35 to 40 minutes. Let cool at least 20 minutes. Slice into wedges and serve with apples and/or pear slices.
Notes
Recipe Source: Food Network Magazine
Nutrition Information:
Yield:

8
Serving Size:

1
Amount Per Serving:
Calories:

882
Total Fat:

65g
Saturated Fat:

38g
Trans Fat:

0g
Unsaturated Fat:

23g
Cholesterol:

222mg
Sodium:

1431mg
Carbohydrates:

32g
Fiber:

3g
Sugar:

14g
Protein:

44g
Nutrition information isn't always accurate.