This recipe for caprese orzo salad is a fresh, summery, low-cal take on a simple pasta salad. Serve it alongside your favorite summer dishes!
Last summer, I had so many plans. SO MANY! I had a list of recipes I was going to make and share with you and then I broke BOTH of my wrists. Yes, I'm still a bit salty about it, haha! This Caprese Orzo Salad happens to be one of the many recipes I had already tested multiple times and then never got around to sharing because then it was fall and then I was pregnant and then it just made sense to wait until after the baby was born to share with you this summer. I'll be honest – those last ten weeks of my pregnancy, I wasn't in the kitchen much, so not a lot of cooking got done (by me).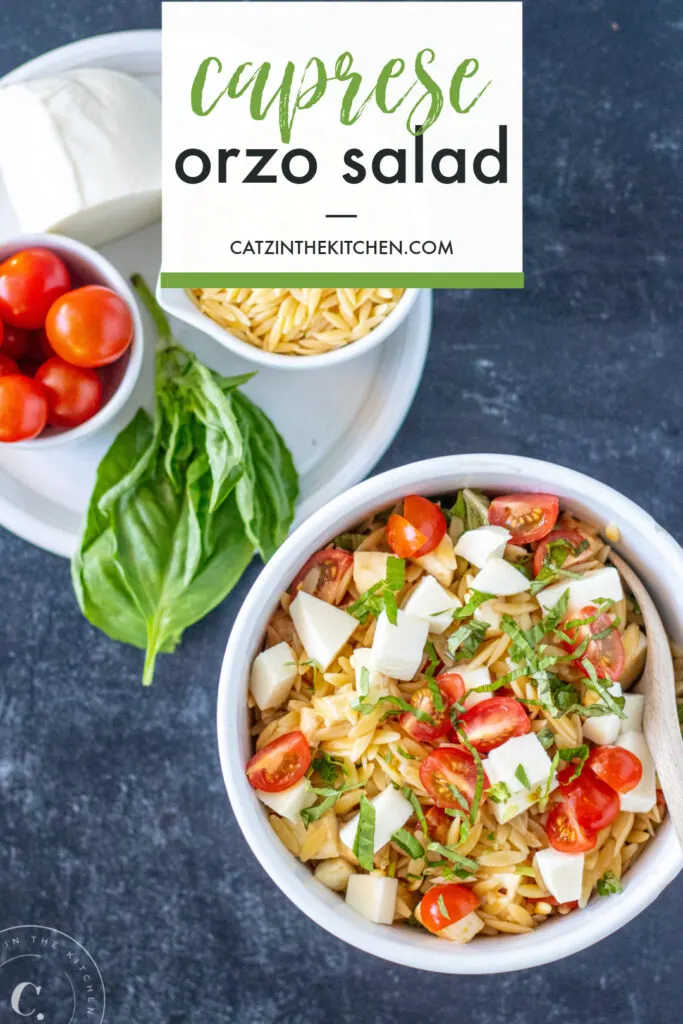 I realize it is now August (where did the last month go?!), but there is still plenty of beautiful summer cooking to be done and this simple pasta salad just needs to be made. You will absolutely love how simple it is and even more, how good the leftovers (if there are any) are too.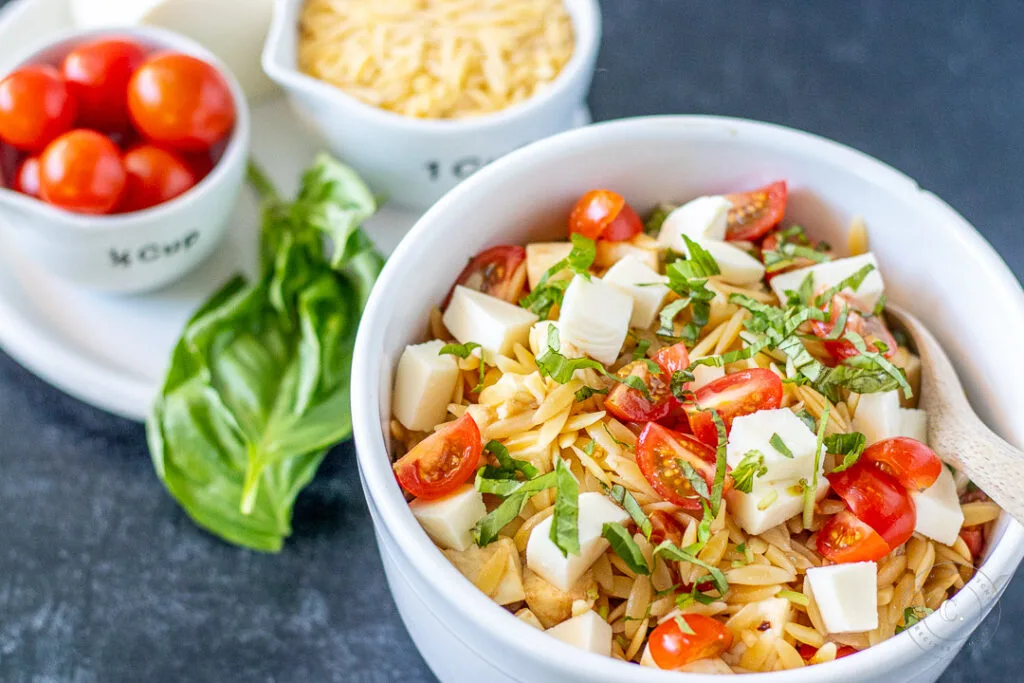 You only need a few specific ingredients:
Orzo pasta (Don't substitute this one for a different pasta! You want those delicate and tiny pieces of pasta)
Fresh mozzarella cheese (you only need 6 oz, but buy the 12 oz size because then you can either throw the remaining pieces in a salad or snack on it, or throw it on a pizza…or make this Mediterranean caprese salad…)
Cherry tomatoes or grape tomatoes – even better, grab some pretty ones fresh from the Farmer's Market!
Fresh Basil – don't use dried. Just don't. Not saying you can never use dried (I have it in my pantry), but not for this recipe!
The rest of the ingredients (olive oil, salt, crushed red pepper – cayenne works, too, and balsamic vinegar) in this pasta salad should already be in your kitchen pantry. The only exception might be the balsamic vinegar, but it's not an expensive ingredient and has a ton of uses. I buy my balsamic at Costco, and it is affordable and good quality.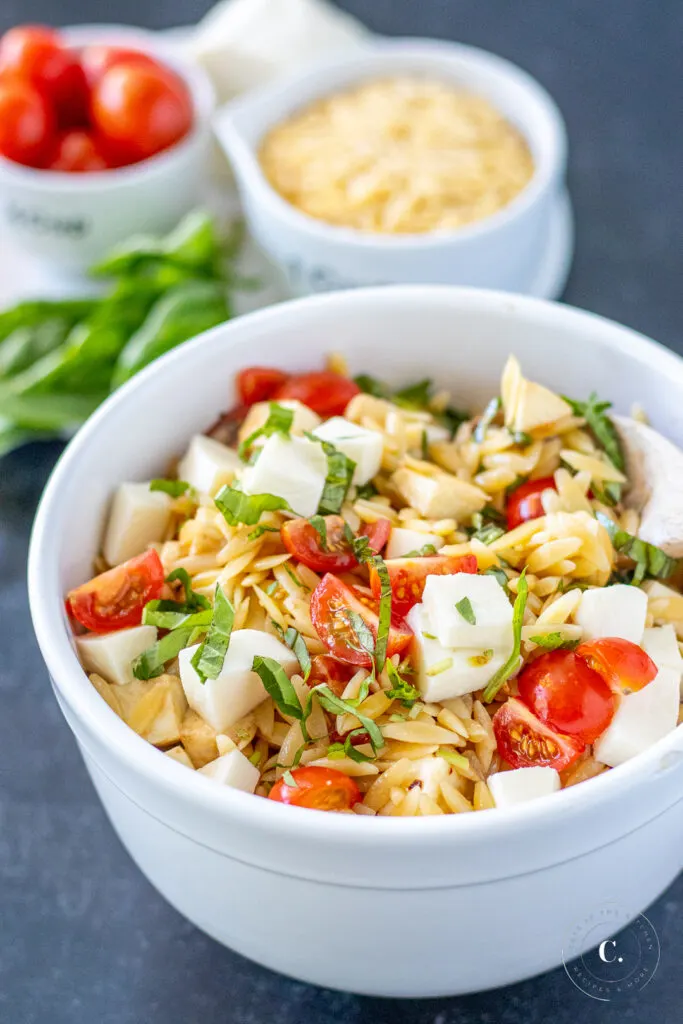 In terms of shelf life for this salad – it is easy and simple enough to make day of and only keeps in the fridge for 24 hours covered. But if you wanted to make it the night before for a picnic or potluck, I wouldn't add the chopped basil until just before serving because it will oxidize and turn black – which just isn't cute in a salad this yummy and pretty.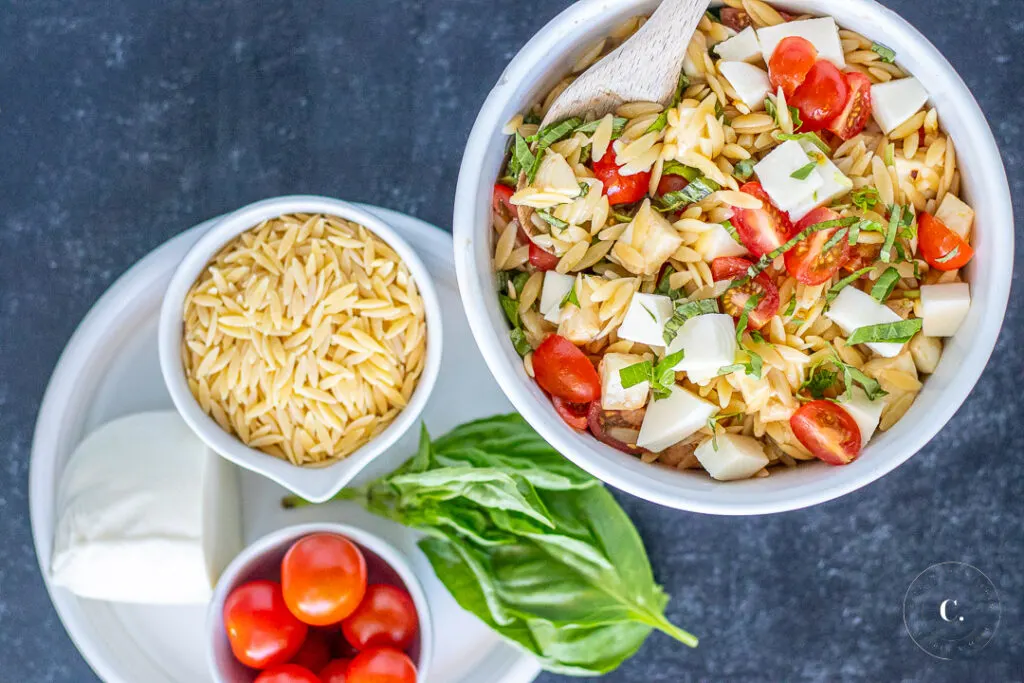 This caprese orzo salad is one recipe you will definitely want to make before summer is over, so let me know what you think, if you added anything to it, or what changes you made. Y'all are so creative, I love hearing how you make these recipes your own!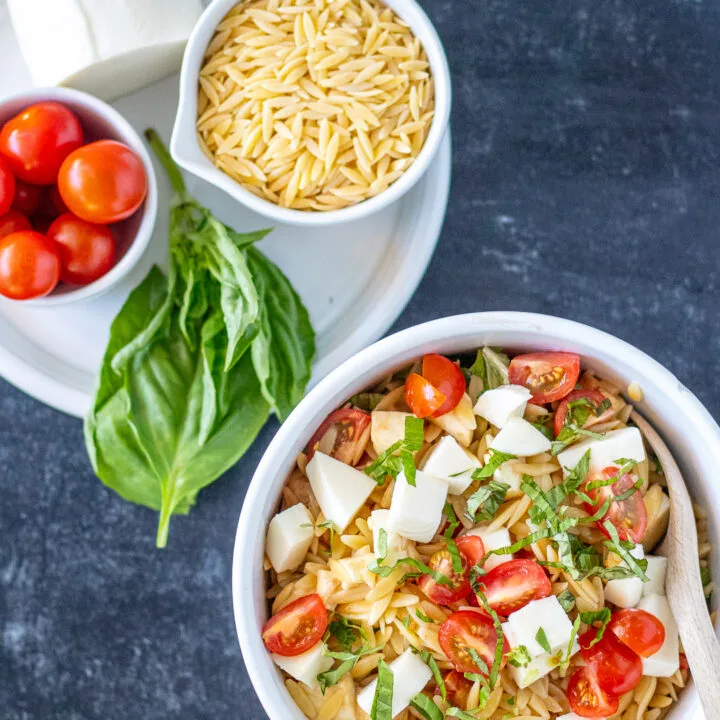 Caprese Orzo Salad
This recipe for caprese orzo salad is a fresh, summery, low-cal take on a simple pasta salad. Serve it alongside your favorite summer dishes!
Ingredients
1 cup dry orzo pasta (about 6 oz)
1 1/2 cups cubed mozzarella cheese (about 6 oz)
1 cup quartered cherry tomatoes
1 tbsp extra-virgin olive oil
2 tbsp balsamic vinegar
1 tsp crushed red pepper
1/2 tsp salt
1/4 cup fresh basil, chopped
Instructions
Coor orzo according to package directions until al dente. Drain well and allow to cool.
In a salad bowl, mix together, mozzarella, tomatoes, oil, vinegar, red pepper, and salt.
Gently stir in cooked and cooled orzo and basil; toss gently to coat.
Notes
Recipe Source: Adapted from Allrecipes.com
Nutrition Information:
Yield:

8
Serving Size:

1
Amount Per Serving:
Calories:

191
Total Fat:

7g
Saturated Fat:

3g
Trans Fat:

0g
Unsaturated Fat:

3g
Cholesterol:

17mg
Sodium:

281mg
Carbohydrates:

23g
Fiber:

1g
Sugar:

2g
Protein:

9g
Nutrition information isn't always accurate.